Planning for a trip across the border to Johor Bahru (JB) and looking for a family-bonding fun time, especially with the young ones?
Also searching for a suitable place close to Singapore-Johor Causeway; so that you can return home without any difficulties?
JB now has an all-new reason to jack up their entertainment and a new location to include in their itinerary – Angry Birds Activity Park.
The most raved and hype mobile game has come to life and everyone get to enjoy all these in one big Activity Park.
Not just the young ones, but adults can join in to play too- it is fun for everyone! How cool is that?
Angry Birds Activity Park In Johor Bahru
1. Angry Birds Activity Park Johor Bahru Review
A Finland-born company 'Rovio Entertainment' unveiled a new series of the game on Apple's iOS platform.
This game featured comic wingless birds with an infuriated, shrewd look on face, producing strident chirping sounds. The moment it launched, it became the next gaming sensation.
Rovio Entertainment brought this digital delight in its most fulfilling physical form by launching Angry Birds Theme Park in Johor Bahru, Malaysia in collaboration with Damansara Assets.
Also read: 5 Theme Parks In Johor For Families & Kids
It has been opened for public eye on October 31, 2014, and in just a span of ten days, it has racked up billions through perpetual visits throughout the day.
The amusement park, having derived its name from popular gaming app Angry Birds, is South Asia's first such park. The new indoor theme park is the perfect exemplar of Angry Birds video covering a land of 26,000 sq ft.
The park has been built to the tune of RM 1.5 billion. It is a giant site comprising restaurants, party roofs, retail outlets, 4-star hotel, shopping complex and several retail outlets.
The founders and partners of Angry Birds Theme Park hail it as the jolliest venture where friends and family can experience the fun-filled world of angry birds in a benevolent way. The sole purpose is elevating the joys of the life of people visiting Johor Bahru.
Rovio Entertainment with Damansara Assets has wisely constructed this exuberant structure in the centre of Johor Bahru for making it highly accessible to fun-chasers and merrymakers.
This freshest arrangement in town joins the list of other Johor Bahru popular theme parks that includes:
2. How To Get To Angry Birds Activity Park From Singapore
Taking a right transportation means is imperative for saving precious time and money. As Angry Birds Activity Park is situated right in KOMTAR JBCC which is just a few minutes walk from Johor Checkpoints.
The location is highly accessible by bus and private taxi.
2.1 Private Car From Singapore To Angry Birds Activity Park Johor
The most ideal and enjoyable way to get to Angry Birds Activity Park is riding a private car. As Johor Bahru has many fun tourist attractions and has witnessed a surge in a number of visitors, taxi services are adequate for travelling to Johor Bahru from Singapore and vice versa.
Hiring a private taxi SGMYTAXI  in Singapore for reaching Angry Birds Theme Park is a breeze.
It is easily available in Singapore round the clock and can bring you to Angry Birds Park in minimum turnaround time.
It comes at reasonable rates without costing an arm or a leg.
They are happy to provide you with a taxi anytime with no extra cost or hidden charges.
The company works with only trained, attentive drivers which are well-aware of immigration formalities and traffic norms.
So what are you waiting for?  Book online for your 7-seater taxi now.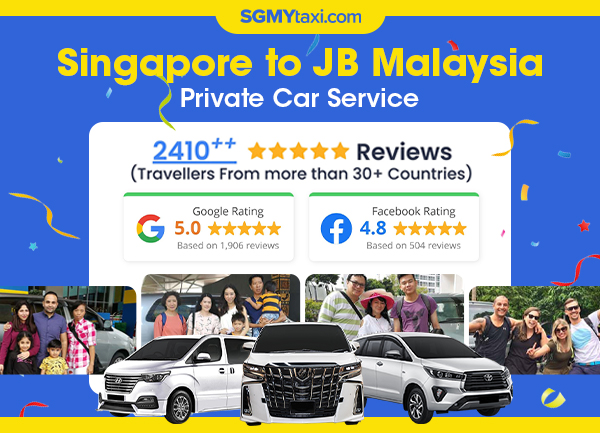 What SGMYTAXI always offer?
SGMYTAXI offers comfortable and flexible transportation services from Singapore to Malaysia and vice-versa at affordable rates. Their experienced drivers will pick you up any point from Singapore to theme parks in Johor Bahru with comfortable and well-maintained MPV private cars.
Check out our fleets (cars) ⇒ https://www.sgmytaxi.com/fleets/
SGMYTAXI has won many laurels among the sphere of customer service owing to the willingness to transform the travel landscape in Singapore and Johor Bahru, Malaysia.
Check out what our customer said ⇒ https://www.sgmytaxi.com/testimonials/
2.2 Bus From Singapore to Angry Birds Activity Park, Johor
If you're travelling alone or on a budget, this can be your next best transport. However, it is not the best idea if travel with elderly or young children.
If you're still keen on taking the bus, do keep a lookout for the buses (CW1/ CW2/ CW5/SBS170) from Kranji or Bugis Bus Queen Street Bus station. These buses will alight at JB Sentral.
Angry Birds Activity Park is located just a walking distance from JB Sentral. For more details about transportation, click here: How To Go To JB Sentral From Singapore
3. Attractions In Angry Birds Activity Park
Get yourself prepare for the amount of fun you'll be having when you enter Angry Birds Activity Park. It will leave you and your child breathless with endless laughter and happiness!
Also read: Top 27 Johor Attractions (Updated 2019)
3.1 Danger Zone
It is not as dangerous as it sounds but there's a thrill in jumping off the playground onto a huge airbag and riding on a scooter as fast as you can! It gets your adrenaline pumping!
3.2 Utopia
Jump, shoot, leap, walk and go crazy in this huge pit of soft foam and a large trampoline. Show off your parkour moves or your cheer leading flips (cartwheel or handspring), you can do wonders!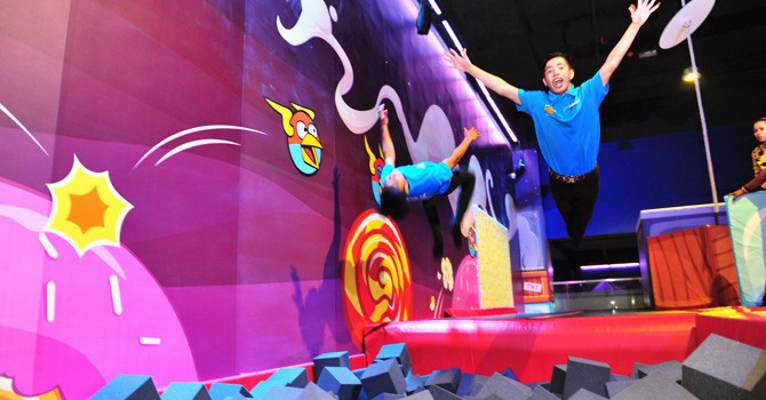 If jumping around is not your style, try keeping your balance on the slack line or master your aim at the Piggy Shooting Gallery. Make your way through the lasers in Laser Maze Space Ship or be entertained by the performers on the mini stage.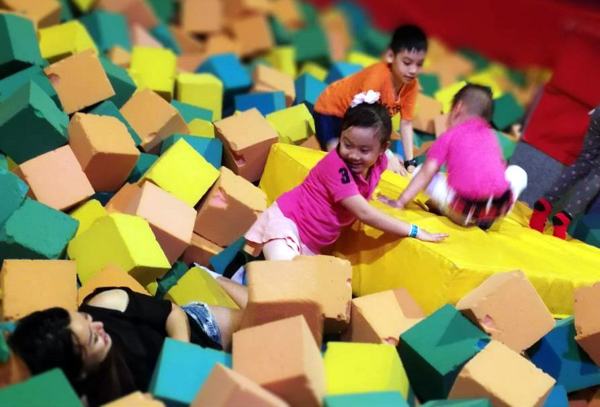 3.3 Classic
Test your driving skills by riding on the go-kart. Although it may look cool, drifting can be really dangerous if not done properly, hence, it is best to ride safely.
Aside from riding, there's a playground for the young to slide, walk, cross the bridge and climb on the ropes.
3.4 South Beach
Throd along Captain Black Bird's Ship with hanging bridges and ropes. Or maybe, the young-uns can get that feeling of riding the bike for the first time at Balance Bike Lagoon.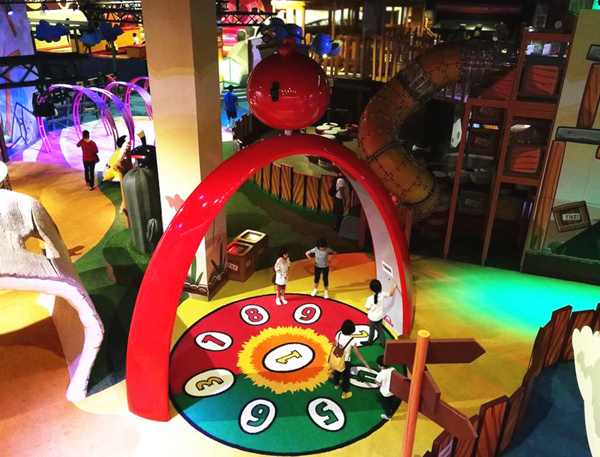 Take some breather by playing video games on a larger screen or watch Angry Birds show in the Cine Mine.
3.5 Red's Jungle Run
Gear up for an obstacle course! Try Red's Jungle Run where you'll be climbing, crawling, jumping, hopping and finally sliding down on the giant slide to the end.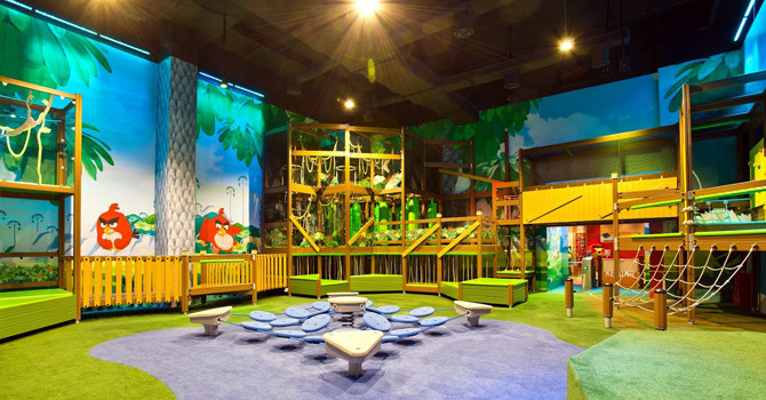 Have fun in challenging with your friend or family in getting to the finish line first!
4. Hotels Near Angry Birds Activity Park Johor Bahru
Angry Birds Theme Park is fantastically connected to some of the most exquisite, beautiful and urban hotels in town. Some hotels surrounding the activity park are as follows:
1. Puteri Pacific Hotel
2. Citrus Hotel
3. Crystal Crown Hotel
4. DoubleTree Hotel
5. KSL Resort Hotel
6. New York Hotel
7. Grand Paragon Hotel
8. Hallmark Regency Hotel
9. Mutiara Hotel
10. Thistle Hotel
Also read: 10 Best Hotels In Johor Bahru
Let's check out the hotels nearby using Google Map if you need more selection:

5. Angry Birds Activity Park Johor Bahru Ticket Price
Thankfully, experiencing Angry Birds Theme Park does not dent your pocket. The ticket price as stated below:
Normal Rate
Single entry: RM75 (SGD$24.60)
Annual pass: RM230 (SGD$75.40)
Family pass for 4 person: RM280 (SGD$91.80)
Family annual pass: RM850 (SGD$278.70)
MyKad/MyKid holder rate
Single entry: RM60 (SGD$19.70)
Annual pass: RM180 (SGD$59.00)
Family pass for 4 person: RM218 (SGD$71.50)
Family annual pass: RM700 (SGD$229.50)
*Note: Family tickets allow entry to a family of four – two adults and two children.
6. Angry Birds Activity Park Johor Bahru Location
Angry Birds Activity Park, Johor Bahru is located in the heart of Johor Bahru city centre.
Simply said, it is located just NEXT to City Square Shopping Mall and you can get there just by walking from Johor custom checkpoint by following the direction to City Square shopping mall.
Situated on the third floor of Komtar JBCC, which is considered one of the biggest shopping malls in JB, boasts a wide network of sophisticated cafes, spacious lounges, upmarket eateries, modern supermarket and activity parks.
7. Angry Birds Activity Park Johor Bahru Visitor Info
There is a lesser crowd on a Sunday because it is considered a working day in Johor.
Customers are advised to wear socks while entering the premise. Shoes are left at the shoe rack.
It is best to bring your own socks as they sell a pair of socks for RM3.
Parents can relax at the Parent's Lounge for those who only want to watch over their children and not enter the park.
You can purchase the tickets online or on-site at their ticketing counter.
Lockers are available for a small fee.
Location:
 Level 3, KOMTAR JBCC, Johor Bahru City Centre, 80000 Johor Bahru, Johor, Malaysia.
Contact:
+607-300 5090 / 5091
Opening hours:
Daily: 10:00am to 10:00pm
3 sessions; 10:00am – 1:00pm, 2:00pm – 5:00pm, 6:00pm – 10:00pm
Facebook