Singapore Changi Airport
Singapore Changi International Airport is an arrival and departure point to get to Singapore from other country and is a major airport in Singapore. The airport has won a lot of awards.
It has 4 terminals and 2 runways with an annual ability greater than 65 million passengers.
It has 6 environments –friendly areas outsides. There is wide range of selection of restaurant and many duty-free stores to shop.
The airport is located at Changi and run by Changi Airport Group.
It is an outstanding international airport and leading airport in regards to customer care and facilities.
It is believed that if Singapore is the "garden city" then Changi airport is the garden airport.
It is simply exotic to be here before you head towards your final destination.

From taking a sip of your pet wine while taking a shower at its rooftop pool to settling into a massage chair to unwind yourself to refreshing stroll in the butterfly gardens to watch a movie to indulge in duty-free shopping and so on this airport has everything to amuse your senses.
MPV Taxi Hire In Singapore Changi Airport
SGMYTaxi.com provides private airport transfer service to Johor, Malaysia and other states such as Malacca. Our services ensure you have a memorable and hassle-free trip to Johor and Malaysia. Travellers can discover the tourist attraction places in Johor, Malacca and other areas in Malaysia at your convenience.
Book online for your MPV taxi service in advance to get to Legoland Malaysia from any location in Singapore such as hotel, office, residential area, airport, factory. It is really easy and convenient. Besides that,  you can also rent a car from car stands and drive by your own to Legoland Malaysia. This option is more expensive and you have to drive on your own.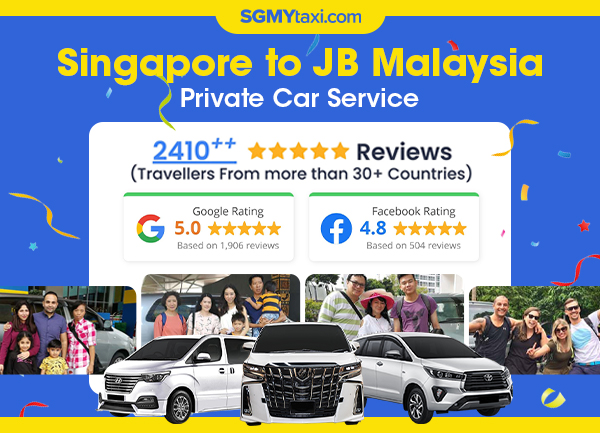 But then a thought came to my mind that you are already occupied a traveler then getting a taxi booked by yourself may not sound interesting when you want to make most of every moment here in Malaysia.
Spending time in taxi booking or looking haywire will be a sheer waste of time. How about getting in touch with someone who is professional and really knows inside out of both countries? For instance SGMYTAXI.
Traveling with them has always been a traveler's delight especially when you get to book private taxi which is not just convenient but also affordable ride.
There are numerous transportation modes available from Singapore Changi Airport to Legoland Water Park Malaysia or other places in Johor Bahru. Bus service available at Singapore Changi Airport and reach Woodlands.
From Woodlands Checkpoint, you need to take bus again to JB Sentral, Johor. From JB Sentral, you need to hop a bus again to Legoland Malaysia.
It is quite frustrating when you travel with your kids or in a big group. This is because you need to get in and off from bus or multiple bus exchange in order to reach your final destination. It makes your journey hassle and headache, especially under the very hot sun.
Furthermore, when you have your luggage along with you and you need to alight it for long queues in Singapore-Johor custom for immigration clearance. There are two routes to Legoland Malaysia: Bus to Legoland via Tuas 2nd Link and Bus to Legoland via Singapore Woodlands Causeway.