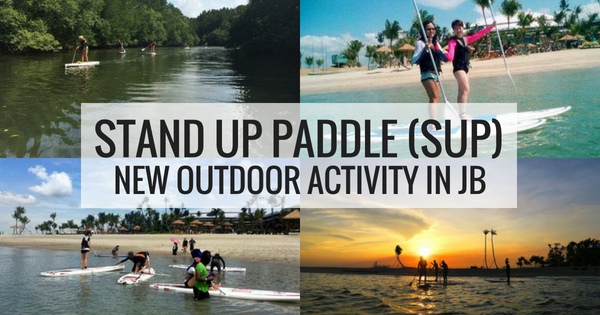 If you travel a lot, sometimes it may seem that all entertainments in different countries are not so different anymore.
The era of globalization makes most restaurants and hotels look alike, tours and parks feel almost the same.
Therefore, it has become a problem to find unique, real way to have fun in each place you visit or even experience something different in your country as a local.
So you don't want the same kind of entertainment everywhere you go.
In this way, you are just missing the real spirit of the place and true meaning of travelling.
1. Stand Up Paddle At dTeluk Kabong, Johor Bahru
Coastal Paddle proudly presents you an exciting coastal activity – Stand Up Paddle (SUP) in Teluk Kabong, Johor Bahru.
Their previous SUP centre located at Forest City has returned to their former location at Teluk Kabong, next to Pasir Putih, Pasir Gudang.
SUP is one of the unique and fun outdoor activity in Johor Bahru and is another perfect choice activity to add to your itinerary for your holidays.
You can choose morning paddle, sunset, night or even rain paddle and enjoy each moment of this and make great memories for your travel.
Through this coastal activity, you get the golden chance to explore the wonderful coastal surroundings.
Imagine yourself paddling through the sea and mangrove with your loved ones while "standing on water", this could be one of the most memorable experiences in your life.
a. Stand Up Paddle Experience
Your journey begins at the coastal paddle and you will paddle through the mangrove swamps later. Seeing the seafood kelong at Kg Tanjung Adang marks the end of your adventure.
Paddle Tour Route: Coastal Paddle > Kim Kim River > Pulau Nenas (Pineapple Island) > Coastal Paddle.
Here, you can choose any of the 3 sessions to enjoy your paddling experience:
morning (10:00am – 1:00pm),
afternoon (2:00pm – 5:00pm)
evening (3:00pm – 6:00pm)
Have a fun and relaxing day among friendly and adventurous people like yourself!
Also read: 11 Eco Parks & Farms in Johor
Pros:
Can be enjoyed by the whole family
Kids can enjoy paddling too
A great adventure
A chance to explore the natural coastal surroundings and waterways of Johor Bahru
A lot of positive emotions
friendly and nice instructors
A good chance to enjoy nature of Johor, spend your weekend in an active and original way.
Cons:
Not suitable for non-swimmer
Don't try paddle if you are afraid of water
b. How Much Does Paddling Cost & Choose Options?
You can choose one of the option below for a great outdoor activity in the weekend.
Self-paddling – RM20 per 20 minutes or RM60 per hour
3-hour coastal tour with guide (need booking) – RM100 for three hours
Sunset Paddle – RM100 per pax (start anytime from 4:30pm to 7:30pm)
c. Coastal Paddle Provide:
Board
Paddle
Life Vest
1 instructor on the safety boat
1 instructor as lead
d. Meals Before Paddle Session
It is better to have breakfast or lunch before the SUP adventure starts.
Self-paddling require one hour and coastal tour require 3 hours
After the paddle session, you may want to taste local seafood dishes, click here for more info: Top 11 Seafood Restaurants in Johor Bahru
e. What To Bring For Sunset Paddle?
Some snacks before your session;
Sports Camera (GoPro, etc) ;
A hat/cap;
Sunscreen and sunglasses;
Long sleeve tees;
Small waterproof bag;
Boots (Optional);
A set of clothing and a towel for shower and change.
f. Stand Up Paddle Safety
1. A leash to attach the paddler to the board.
2. Safety boat to follow
3. Wearing life jacket is compulsory
2. Dirt Biking At Tristan Park, Johor Bahru
If you want to try something really Malaysian, dirt biking can be a good choice. It's a very popular activity in Malaysia, as well in Singapore. If you are keen on extreme and active ways of having fun, you are in the right place!
There are some very fun parks for riders in Johor such as Tristan Park. It has been attended by thousands of riders since its opening in 2009.
Advantages of Dirt Biking in Tristan Park, Johor Bahru:
friendly atmosphere;
extreme;
great fun.
Disadvantages of Dirt Biking in Tristan Park, Johor Bahru:
some risk;
so interesting and emotional, that it's hard to stop and go home
Dirt Biking in Tristan Park
Riders love Tristan Park – a dirt-bike training centre for off-road motorcycle riders, where we provide you with all the equipment for a fun-filled adventure.
For the best adventure in your life you will need:
long sleeve shirt;
long pants (jeans are acceptable);
sturdy shoes that come up over the ankles;
your courage and desire to have  fun!
Don't worry if you're seeing a motorcycle for the first time in your life. The Tristan Park is designed for riders of all level, from a novice/beginners to expert riding. We offer different types and sizes of dirt bikes and provide all the necessary equipment.