Feeling headache in searching for the transport that bring you from Singapore to Grand Paragon Hotel?
You don't need to worry about it from now own!
In this article, we've discovered for you the best transport that safely bring you to Grand Paragon Hotel directly from Singapore!
A stay in Grand Paragon Hotel is very convenient to all Singaporeans because it boasts a very strategic location which is right beside Tebrau Highway that links to northern part of Singapore.
And the hotel requires only 5 minutes' drive to the causeway!
Let's scroll down and discover more about the transport and Grand Paragon Hotel!
Taxi from Singapore to Grand Paragon Hotel
Yes, the best transport that take you from Singapore to Grand Paragon Hotel is by taking private taxi!
There are almost no cons of taking private taxi compared to public transport such as public bus and train. This is because private taxi serves as a personalised cross border service where all arrangements are designed to suit your time and preference.
In Singapore, SGMYTAXI offers this exceptional cross border taxi service to you. While riding with them, you don't need to alight at customs and even waiting at the long queue. It really saves a lot of time!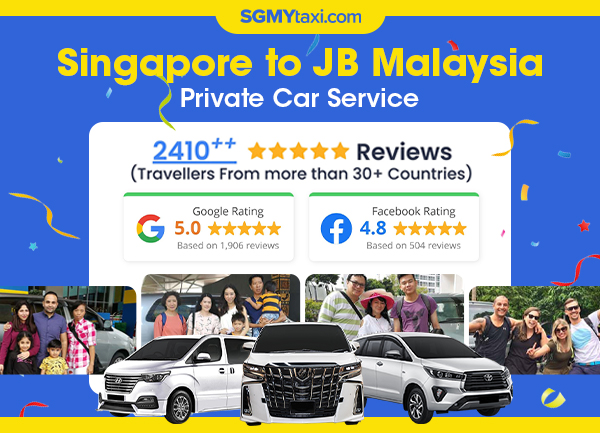 Why Choose SGMYTAXI Services:
This is a direct cross border service where you will be transferred directly to Grand Paragon Hotel from Singapore.
Flexible pick-up point and pick-up time. You can request to pick you up at doorstep too.
While clearing customs, you don't need to alight from vehicles and wait for the long queue to get a stamp on your passport. All process can be completed in the car.
The drivers are expert in driving and they are familiar with the routes to Grand Paragon Hotel.
You will travel in luxury car such as Toyota Innova, Toyota Alphard and Hyundai Starex. Seats are very comfortable.
You have the privacy in car as you don't share ride with other passengers.
The rates are very reasonable and affordable.
Best for those who want to arrive at Grand Paragon Hotel in the shortest possible time.
Very recommend to family travellers so that children or elderly can travel in comfort.
You can book a ride online and the procedure is very simple.
Now, let's have a look at the testimonials or feedbacks from their customers to decide whether to take this cross border services.
If you have made up your mind to book a ride with SGMYTAXI, kindly click here to fill in the online booking form. If you have any enquiry, feel free to contact them too. You won't be disappointed with their services!
Grand Paragon Hotel
Grand Paragon Hotel is truly a modern city hotel that offers you more than merely a pleasant stay. It caters to both leisure travellers and business travellers.
Featuring 358 rooms ranging from standard rooms to presidential suite, guests can comfortably stay at their luxuriously furnished rooms where all modern amenities you need will be provided.
Price Starting From:
RM177 @ SGD$59 (include hotel tax and service fee)
Grand Paragon Hotel Highlights:
Coffee and tea making facilities
32 inch & 42 inch LED TV with Astro channels
Complimentary Wi-Fi access
In-room dining service
Personal electronic safe
24-hour CCTV security system
Café Para Para – offers both local and international delights
Kishin-Tei – serves exquisite fusion of Japanese cuisines
Sky Lounge
Paragon Ginza Lounge – features karaoke rooms and open hall for light social
Mingzu Reflexology
Zicon Hari Studio
GP Spa
Gym
Rooftop swimming pool – can catch good view of city landscape
Tips & Reminders:
Connecting rooms and disability accessible rooms are available under presidential suite. All are non-smoking rooms.
The hotel has an event team who can help you to organise your business or personal events. Half day packages and full day package are offered too.
Some rooms come with no window so remember to request for a room that has window at the counter.
Higher floor rooms offer you better views. You can look at the causeway from your room.
Bar and KTV are located on 14th and 26th Stay away from these floors to avoid noises at night.
Some room might have poor Wi-Fi signal problem. If possible, get the rooms close to the Wi-Fi router.
Additional charge is required if you need to check in earlier.
Not all rates provide you with free breakfast.
Extra guests above 4 years old must use extra bed that come with additional charges.
If you want book a special arrangement with the hotel – like birthday arrangement and wedding anniversary, you need to contact them at least 3 days prior to your arrival date.
Location:
No. 18, Jalan Harimau, Taman Century, 80250 Johor Bahru, Johor, Malaysia.
Contact:
+607-268 5331 / +607-268 5332
Email:
[email protected]
Facebook