Want to know the most convenient way to go to Hotel Granada Johor Bahru from Singapore?
Yes, the answer is taking a taxi from Singapore to Hotel Granada Johor Bahru.
But which taxi to take?
In this article below, we will show you how you can book a direct taxi to Hotel Granada Johor Bahru from Singapore.
With the ideal location right at the heart of Bukit Indah, this hotel is easily accessible to attractions and eateries nearby.
And your stay at Hotel Granada is definitely a pleasant one.
Let's check it out!
Taxi From Singapore To Hotel Granada Johor Bahru
No more long queues at Singapore checkpoint just to get a stamp on your passport! With the private taxi ride, you can directly arrive at Hotel Granada Johor Bahru from any places in Singapore.
Now, the leading private taxi company in Singapore – SGMYTAXI offers you the best taxi ride to Hotel Granada Johor Bahru from Singapore. More benefits are stated as below.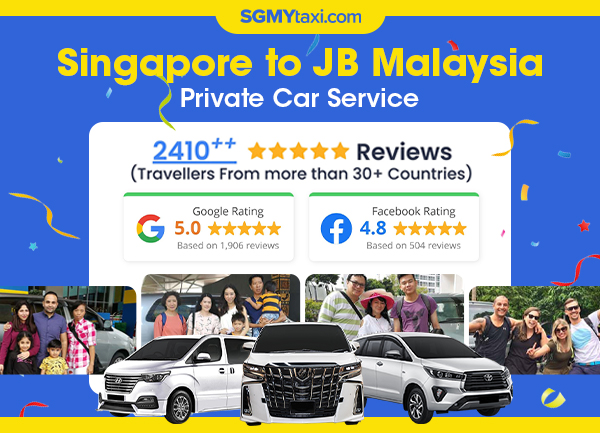 Why Choose SGMYTAXI Taxi Service:
The fastest possible way to arrive at Hotel Granada Johor Bahru.
Flexible pick-up time and pick-up place. Picking up at doorstep is possible.
No more alight at customs with all belongings. You can clear the customs right in the car. Best for travellers with many luggage.
Direct transfer to Hotel Granada Johor Bahru. There is no stop in between.
Professional and experienced drivers will be serving you throughout the ride.
Fleets offered are clean, luxury and can accommodate up to 10 passengers. It has ample luggage space too.
This is a non-sharing ride. You have ultimate privacy in car.
You only need to sit back and relax along the journey.
Affordable price – charged per car instead of per passenger. It comes with no additional or hidden charge.
Cash payment is made only after you have safely arrived at Hotel Granada Johor Bahru.
Simple yet user-friendly booking process.
Now you have seen all the advantages of hiring a private taxi from SGMYTAXI, why not let their customers speak to you. Let us see what are the customer feedbacks by clicking here!
Decided to book a ride to Hotel Granada Johor Bahru? Just fill in the booking form online and provide them your trip details. Once they send you the booking confirmation email, please confirm your booking or your trip will be cancelled! If you have other questions, don't hesitate to contact them too!
Hotel Granada Johor Bahru
A stay at Hotel Granada Johor Bahru is a rewarding yet special experience. Designed as a Business Class Hotel that offers 192 luxury rooms which inspired by the medieval architecture in Spain and Granada, it is truly one of the hidden gems in Johor Bahru.
From individual travellers to business travellers, the hotel has everything you need. Facilities and amenities are well-provided as well as variety of international and local cuisines at the on-site restaurants. Best of all, the hotel services are rated 5-star to ensure the most pleasant stay.
Price Starting From:
RM158 @ SGD$53 (include hotel tax and service fee)
Hotel Granada Johor Bahru Highlights:
Olla Restaurant – serves Malaysia Classic and International cuisines
Foreign currency exchange
Urban Escape Day Spa & Beauty Lounge
Sauna
QQ Bistro & Café – features Spanish style bar
Laundry service
Complimentary Wi-Fi
Flat screen TV
Tea and coffee making facilities
Concierge service
Luggage storage
Meeting and banquet facilities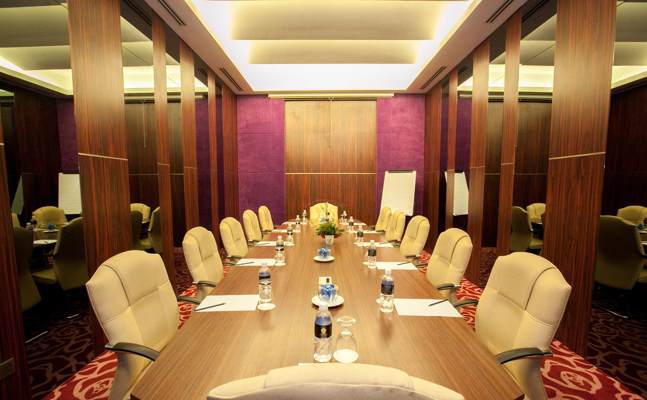 Tips & Reminders:
Earlier check in before 3pm is not allowed.
If you want to get a spacious room, ask for the corner room or junior suites.
For better views, request for rooms that come with park view or city view. Some even offer view of the Aeon Mall.
To avoid noises, avoid staying in room facing the road or near to the lift.
Ironing board, iron and hair dryer are all available in room. If there is none in your room, you can request for it at the reception.
At the on-site spa, Swedish Massage, Aromatherapy Massage, Traditional Thai Massage and Hot Stone Massage Therapy are offered. For beauty, different types of facial treatment, pedicure, manicure, waxing, body scrub and slimming treatments are available.
Private dinner, private birthday parties or informal gathering lunch can be held on-site.
Free breakfast is provided for 2 persons per room. If there is additional guest, the breakfast rate will be charged accordingly.
Some room has access to the executive lounge.
Basement parking is available on site and is free to all in-house staying guests. Redeem your complimentary parking at the front desk.
Outdoor swimming pool is not available. There is only a small wading pool strictly for kids.
Children 11 years old and below can stay for free using the existing bed.
For all non-Malaysian guests, you will be charged a tourism tax of RM10 per night per stay. Payment is made during check out.
Only Granada Suites provide bathtub in room.
Hotel Granada Johor Bahru Details:
Address:
No 55, Jalan Indah 15/2, Taman Bukit Indah, 81200 Johor Bahru, Johor, Malaysia.
Contact:
+607-231 8888
Email:
[email protected]
Facebook