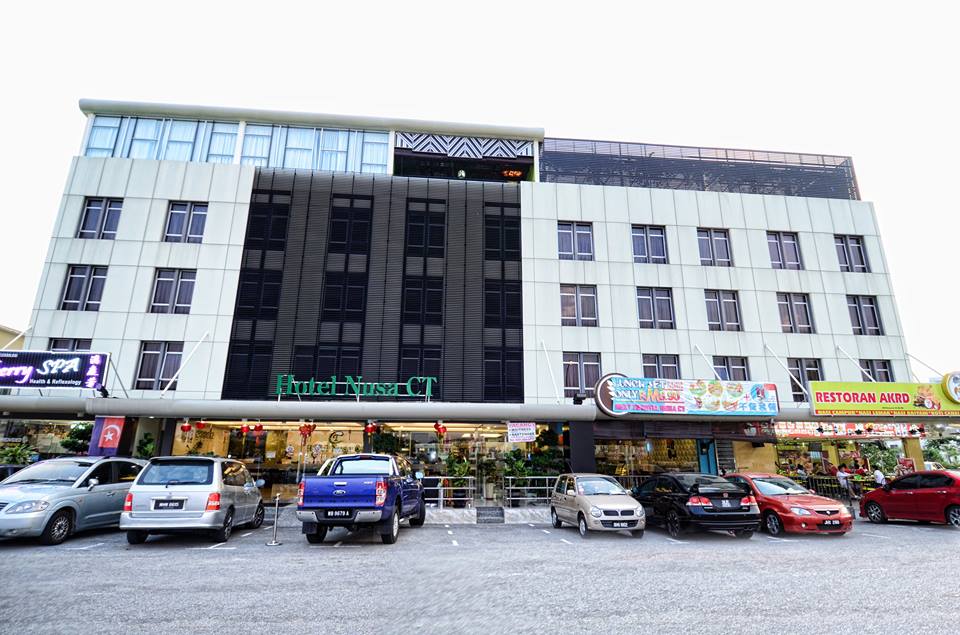 Taxi from Singapore to Hotel Nusa CT
In the Johor area at the southern tip of Peninsular Malaysia, you will find many hotels with a wide range of facilities and rooms.
To be sure that you get what you want, make a beeline for the
Hotel Nusa CT
in the city.
Here, you will find great accommodation at great prices, high class facilities, fine dining and a generally comfortable stay in a clean serene environment.
Standing proudly in the Nusajaya section of the city, Hotel Nusa CT offers value for tourists and business travellers and families.
Facilities & Service Offered By Hotel Nusa CT
1. Accommodation
You have a choice of rooms depending on your preference and also depending on the size of the visiting party. There are no less than 78 rooms available for occupation. There are boutique rooms as well as new rooms.
With free WiFi in all rooms, a mini-fridge, en-suite bathrooms, air conditioning, free coffee and tea, and cable television, your stay will be as comfortable as it will be relaxing and fulfilling.
You can choose from family Suites, Superior Threes, Superior Kings, Superior Queens, Superior Twins and Deluxe suites.
2. Dining
The hotel restaurant is open throughout the day for meals and refreshments. With a fantastic menu for your selection, and the fine meals prepared by award winning chefs, you will have the best food in town.
Whether you decide to have your meals in your room, or if you want to join the other guests in the restaurant, it is your choice, but the service is exceptional either way.
3. Facilities
For the guest who is in town for business, the business center will be quite convenient for him/her as it is well equipped for the most particular business guests.
There is free WiFi for the guests' use as well. In the hotel you will find a fitness center for your relaxation and good air conditioning all over.
4. Security
With guards strategically stationed and out of the way, CCTV cameras at the parking area and other common places, security safes and a general air of safety, your mind will focus on relaxation and enjoyment as well as the company of your friends or family.
Hotel Nusa CT Location
Hotel Nusa CT is conveniently located in the Nusajaya area. The distances to world famous theme parks, shopping malls, entertainment areas, restaurants and cafes, the sea and Singapore are unbelievable.
Johor Bahru City Center proper is only 20 minutes away from Hotel Nusa CT. There you will find the famous KSL Mall, Danga City Mall and others. There you will find floors upon floors of stores brimming with all shopping items that you would desire.
Closer to the hotel though are world famous theme parks like Legoland Malaysia which is only 5 minutes away, Hello Kitty Town which is 10 minutes away, and Educity which is only 3 minutes away from the hotel. Puteri Harbour and Johor Premium Outlets are both about 10 minutes away from Hotel Nusa CT.
Contact Information
Address:
15, Jalan NlP 2/8, Taman Perindustrian Nusajaya 2, 79200 Nusajaya, Johor Bahru, Johor, Malaysia.
Tel:
+607-5562800
Fax:
+607-5562579
Email:
[email protected]
Transport From Singapore To Hotel Nusa CT
Being a short distance away from the link road to Singapore, you will arrive at the hotel rested and ready for what brought you to Nusajaya, be it business or pleasure.
For people travelling in a group, SGMYTAXI will provide you with chauffeured private taxis to and from Singapore in safe, comfortable and spacious 7-Seater Taxi. Call on them for great rides into Johor Bahru and surrounding areas.