Have you ever experience living in an eco-farm Johor?
If the answer is no, you've come to the right place!
Now, Kahang Organic Rice Eco Farm gives you the chance to stay on a rice farm in unspoiled countryside.
While learning more about the "kampung" lifestyle, you get to return to rural roots and live a slower pace.
Isn't it attracting activity to do in Johor Bahru?
Let's check out of the eco farm and have fun in this picturesque village.
It's really a fun and exciting nature experience!
1. Kahang Organic Rice Eco Farm (Permanently Closed)
Set over 260 acres of land, Kahang Organic Rice Eco Farm (KOREF) is an eco-farm located in Kahang, Johor. In Malaysia, it pioneers in organic rice farming and merges together with eco-tourism.
Also read: UK Farm Kluang Johor (Include Transport & Tour Package)
The farm is all about nature. Trees, plants, lake, animals and blue sky, it all happens here. During the stay, you will feel yourself living in a "kampung" that has wonderful scenery. Get ready to enjoy the farm living to the fullest!
The accommodation provided is designed in traditional style and comes with different sizes. We recommend you to stay at the floating chalets rather than the other accommodation. This is because the view is even more attracting!
Also read: HS Farmstay Muar
There is plenty to do during a stay. All activities provided get you involved around the farm and bring you closer to nature. You are welcomed to take part in the rice harvesting too! Try involving in as many activities as you can. All could be a whole new experience for you!
2. How To Go To Kahang Organic Rice Eco Farm From Singapore
2.1 Private Car To Kahang Organic Farm From Singapore
Among all, I choose the private car because it's the most convenient transportation options to Kahang from Singapore. And I sincerely recommend you to ride with SGMYTAXI because it's one of the trusted private car company provides private car service between Singapore and Johor.
Why Choose SGMYTAXI Private Car Service:
Pick you up at the doorstep.
Experienced and caring driver.
Travel in comfort due to the spacious and comfortable car.
Save time as we need not alight to clear customs.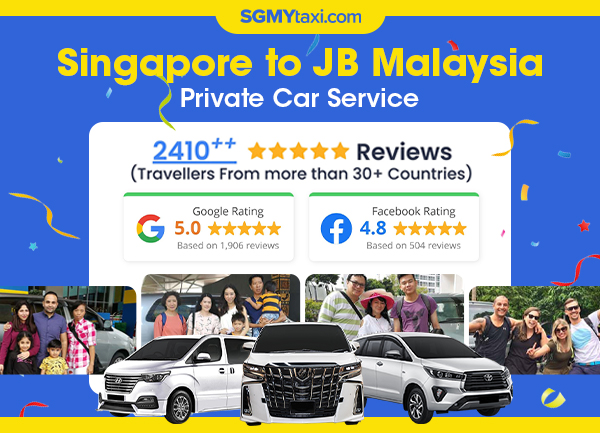 Suitable for family and a large group of friends, SGMYTAXI aims at offering a pleasant and hassle-free journey to any designated drop off point.
There're 3 types of luxury fleets offered, Hyundai Starex, Toyota Innova and Toyota Alphard. All these can accommodate up to 7 passengers and luggage. Besides, the fleets are spacious enough to ensure a smooth journey.
The rates are affordable too! There's no hidden or extra charge imposed once the booking price is confirmed.
Booking is available here. If you have any enquiry, do not hesitate to Whatsapp them and they will reply to you as soon as they can.
2.2 Self-Drive to Kahang Organic Farm From Singapore
From Singapore, you should clear both immigration checkpoints to arrive at Johor. After clearing the Tuas Checkpoint, exit at the Ayer Hitam signboard. Then, drive through the towns, Kluang & Kahang and you should be reaching the destinations soon.
If you afraid of losing the way, just download the Google Map or Waze Application on your phone. The instructions will accurately bring you to KOREF farm.
However, if you really plan to drive to KOREF, avoid the peak hour when everyone goes to work. Otherwise, be prepared for the long-awaited journey as there's always jam at the checkpoints.
3. What To Do In Kahang Organic Rice Eco Farm
3.1 Rice Harvesting
During the rice harvesting season, you can experience weeding, rice seedling transplant, harvest and even winnow. This is to let you appreciate the endless hard work of farmers. The golden chance should not be missed!
3.2 Exciting Challenge Course
Designed by Singaporean guide, the water obstacle courses is great for team building events. Some people is pretty smooth and never fell into the water while concurring the obstacles. Let's challenge them!
3.3 Bamboo Rafting
Bamboo Rafting tests your balance, ability in group coordination and cooperation. It is an eco-friendly activity that can see the beautiful landscapes of the lake. Rafting along the lake is more fun if you're with friends!
3.4 Fish Catching
Catch both small and large fish with the trawl net provided by the KOREF farm. As the activity needs to be done in a group, it can enhance cooperation with friends. Also, it requires prearrangement with the person in charge.
Also read: Desaru One Day Trip
3.5 Flying Fox
Launch yourself from the three-storey high chalet and fly over the lake until you reach the opposite end of the eco-farm. It's truly a thrilling adventure activity that lets you enjoy the full speed of air flow!
3.6 Jungle Trekking
Exploring the lush green tropical rainforest is another thrilling and adventurous experience offered by KOREF farm. The mystery in the jungle awaits you to uncover them all. Pre-booking is required with minimum of 10 people.
3.7 Firefly Boat Trip
Watching Firefly colonies is truly a magical and enchanting experience. The boat will move along the Sungai Tambang and eventually, you will be surrounded by dazzling fireflies in the darkness.
3.8 Cycling
Rent a bicycle and cycle around the farm. The stunning view of rice farm is all in your eyes. The golden field blends so well with the sunset view during the harvest season. It's great for photo shooting too!
3.9 BBQ
If you come with more than 5 persons, just book a BBQ and enjoy the feast till midnight. The food itself brings the taste every mouth craves. Suitable for family and group of friends.
Also read: 16 Fun Activities In Johor Bahru
4. Kahang Organic Rice Eco Farm Resort
Don't expect to be waited on like at a usual resort, there are very few frills available here. Accommodation is simple but comfortable and is available for an extremely modest fee but you'll have to bring your own towels and toiletries.
There are 7 types of chalets available in Kahang Organic Rice Eco Farm.
4.1 Deluxe Floating Chalet
This is the most luxury and most comfortable chalet among all. Built with quality wood that reinforced by the steel, the chalet has a wooden exterior but a hotel-like interior. Besides, each room comes with a private balcony and an independent bathroom.
4.2 Standard Floating Chalet
There are 4 floating chalets in total. The room can accommodate 4 people. Each has different exterior design and located right above the lake. You can choose to stay in your favourite chalet design. Ideal for family trip and friends gatherings.
Also read: Endau Rompin National Park (Ultimate Guide)
4.3 Semi-Detached Chalet
Being the newest chalet, it comes with several windows for good ventilation, spacious rooms with attached bathroom and high ceiling that makes it look spacious. Still, it has a simple wooden design but the stay is truly a comfortable one.
4.4 A-Frame Chalet
Inspired by the Ancient Netherlands house design, the A-frame dormitory has a triangle shape with colourful rooftop and supported by woods that stick firmly into the ground. Inside, it can accommodate up to 10 people and attached with a single bathroom.
4.5 Lake View Chalet
There's a must-do if you stay here. Look through the windows and you'll be rewarded with wonderful lake view. In total, it has 12 spacious rooms and each room can accommodate 14 people. It is suitable for big gatherings and family trip.
4.6 Dormitory
The dormitory is ideal for large group of friends or organisation group. Some budget travellers prefer to stay here too. Each room can sleep up to 17 people and the bed is quite comfortable.
4.7 Camping
If you really want to experience the nature, camping would be the most ideal option. It's loved by most of the primary school students as they could step out to nature. At the campsite, there're bathing facilities nearby.
5. Kahang Organic Rice Eco Farm Package
5.1 Full Day Kahang Organic Rice Eco Farm Trip Package
9:00am – 10:00am: Arrive at KOREF Resort
10:00am – 12:00pm:
– Eco-farm tour
– Visit to fish pond
– Experience fish petting and fish feeding
– Visit to organic paddy field
– Experience hands-on fish catching using net (group activities that requires team bonding and coordination)
12:00pm – 1:00pm: Lunch at Kahang Organic Rice Eco Farm
1:00pm – 3:00pm:
– Exciting obstacles activities
– Bamboo Rafting
3:00pm – 4:00pm: High tea
4:00pm: Depart
Price Range:
Adults: RM80.00 per package
Children (4 to 12 years old): RM70 per package
5.2 Half Day Kahang Organic Rice Eco Farm Trip Package
9:00am – 10:00am: Arrive at KOREF Resort
10:00am – 12:30pm:
– Visit to fish pond
– Experience fish petting and fish feeding
– Visit to organic paddy field
– Experience hands-on fish catching using net (group activities that requires team bonding and coordination)
12:30pm – 1:30pm: Lunch at Kahang Organic Rice Eco Farm
1:30pm – 2:00pm: Depart
Price Range:
Adults: RM70.00 per package
Children (4 to 12 years old): RM65 per package

Tips:
Free guide provided if booking more than 10 persons.
Extra charge of RM5 is imposed if booking with less than 10 persons.
Children (below 12 years old) must be accompanied parents or guardians.
Price for elderly is 80% the price of adults.
Children who equal to or less than 3 years old is free of charge.
6. Facilities Available In Kahang Organic Rice Eco Farm
6.1 Dining On The Lake
KOREF offers you a romantic dining experience by setting the dining place over the lake. In the evening, you can watch the stunning sunset while having meals with your loved ones.
Also read: 13 Best Local Foods in Kluang
6.2 Large Accommodation Volume
There's no need to worry if you come along with large group of people even if it is more than 100 people. The dormitories and chalets can accommodate 150 guests and even more than that.
6.3 Huge Campsite
To those who like camping, KOREF offers a big campsite that can accommodate up to 700 campers. Since the establishment, many schools have been organizing camping activities here to reconnect the students with nature.
6.4 Beautiful Lake
There's a beautiful lake in the farm where many water-bound activities can be carried out. For example, bamboo rafting and fish catching. The lake is approximately the size of 7 football fields. And in the evening, the sunset view is extremely stunning.
6.5 Dining Halls
KOREF offers 3 big dining halls that can hold approximately 700 people. This is specially designed for school and organisation to carry out indoor activities or give a talk to the participants.
6.6 Conference & Activity Hall
The company can also hold a conference here. Standard modern facilities such as LCD projector, large conference table, public address system, and whiteboards are provided. All facilities are in good condition.
6.7 Bathing Facilities
There're 70 bathing facilities in KOREF and there are also mural paintings on the walls. This is only provided for those who stay at the campsite. Otherwise, bathing facilities is attached to every accommodation.
6.8 Great Environment
The environment of KOREF is big enough to carry out many water and land activities. These activities can create strong bonding as it requires cooperation among each other. Besides, the activities also bring one closer to nature.
6.9 Diverse Wetland Ecosystem
Near the eco-farm, there is a huge wetland that occupies 50000 square meters. It homes to many creatures that you never seen before. Sometimes you may see the creatures hunting for food!
6.10 Long Sandy Beach
Have a stroll along the 120m long beach. The cool sea breeze is so refreshing that it can fully recharge your body, mind and soul. You can bring volleyball along to play with family or friends too.
7. Kahang Organic Rice Eco Farm Map
View Kahang Organic Rice Eco Farm, Johor in a larger map