Booked a room at Mutiara Hotel Johor Bahru and still figuring how to go to this hotel from Singapore?
Look no further than hiring a direct taxi from Singapore to Mutiara Johor Bahru!
We highly recommend you to take a taxi because this is the fastest and the simplest way among all the transportation options including public transport.
Despite the hotel's facilities and amenities, we have also included some of the insider tips – the things you need to know about Mutiara Hotel Johor Bahru to help you in different areas.
Come, let's scroll down and find out how you can hire a direct taxi from Singapore to Mutiara Hotel Johor Bahru!
Taxi From Singapore To Mutiara Hotel Johor Bahru
Hire a direct taxi to Mutiara Hotel Johor Bahru from Singapore could have saved your time, energy and money more than you expected! It is best suited all kinds of travellers ranging from leisure travellers, business travellers to family travellers especially family who travel with elderly and children.
You can hire a direct taxi through a private car company. Even though there are many private car companies in Singapore, SGMYTAXI tops the list with their professional service and they have always put customers' safety as priority.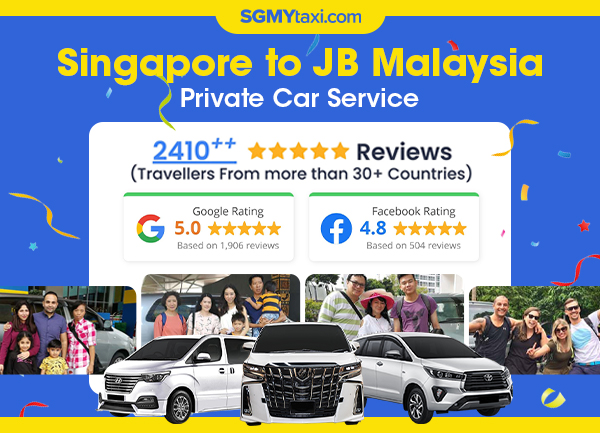 Why Choose SGMYTAXI Taxi Service:
From Singapore, their driver brings you directly to Mutiara Hotel Johor Bahru.
All drivers are experienced and friendly. They help with your luggage too.
Pick-up place and pick-up time are highly flexible and based on your quotation. You can request to pick up at your doorstep too.
At immigrations, you just need to sit in the car and don't need to alight with all luggage and belongings. You save time from queuing long at the checkpoints to clear customs too.
Their luxury yet well-maintained fleets are fully air-conditioned. It also comes with comfortable seats and ample luggage space.
Their taxi price is fixed and there is no hidden or additional charge. It's better than taking a public taxi where you only know the taxi fares until you have reached Mutiara Hotel Johor Bahru.
Unlike public bus, you don't share ride with strangers.
You just need to sit back and relax all the way.
Payment is made only after you arrived at Mutiara Hotel Johor Bahru.
It requires booking in advance but the process is very simple and fast.
Feel like want to book a ride with them? First, let's have a look at some of the feedbacks and testimonials provided by their beloved customers!
Now, I bet you have decided your mind to book a ride with SGMYTAXI. Kindly just fill in the booking form online and click the submit button. They will get back to you through e-mail. If you have any enquires, you can contact with them too. I hope you will enjoy your ride!
Mutiara Hotel Johor Bahru
Consistently impressed their guests for their prime location – right at heart of the Business District in Johor Bahru, Mutiara Hotel features 336 guestrooms and suites that come with luxury yet modern design.
This hotel is suitable for all types of travellers as wide range of facilities and amenities are offered to satisfy your every need. Guests always like their spacious room, clean private bathroom as well as their friendly yet professional service.
Price Starting From:
RM176 @ SGD$59 (include hotel tax and service fee)
Mutiara Hotel Johor Bahru Highlights:
Complimentary Wi-Fi
Spa and massage
Steam room
Outdoor Swimming pool
Poolside bar
Concierge
Currency exchange
Dry Cleaning service
Kid's Club
Fitness Centre
Florist
Business Centre
Mutiara Terrace and Deli Corner
Free local calls within Johor Bahru's city limit
Seri Mutiara Restaurant – serves breakfast and weekly buffet dinner
Meisan Szechuan Restaurant – specialises in offering Oriental cuisine
Polo Lounge – offers beverages and live band
Tips & Reminders:
This hotel is wheelchair friendly as they provide elevator to all floors.
There is a Lobby shopping arcade inside the hotel which offers hair salon, fashion wear, watches, souvenirs and beauty treatment.
Cribs are available upon request.
All rooms come with mini bar and coffee and tea making facilities.
Some rooms have direct access to Mutiara Club.
Smoking rooms are available at this hotel. At their business lounge, you can also smoke at the outdoor terrace.
For the suites, the windows in rooms are all locked and cannot be opened. So please don't smoke in the room.
If you travel with little ones, you can book a Jr Club Suite that filled with cuddly soft toys and playstation – a heaven for child.
If you need room service or laundry service, please proceed to the reception counter.
There are free underground parking lots for guests. You just need to get yourself a coupon from the Front Desk. Safety guaranteed as there will be 24-hour security at the parking area.
Guests who book a Suite room can request for their preferable pillow types ranging from Microfiber, Duck Down to Memory Foam.
Buffet breakfast is provided and it is charged at RM25 per person.
All non-Malaysian guests will be charged a tourism tax of RM10 per night per room.
Mutiara Hotel Johor Bahru Details:
Address:
Jalan Dato Sulaiman, Taman Century, KB No 779, 80990 Johor Bahru, Johor, Malaysia
Contact:
+607-330 0300
Email:
[email protected]
Facebook