Singapore to Iskandar Puteri (Nusajaya), Malaysia
Departure
Any point in Singapore
Arrival
Nusajaya, Malaysia
(via Second Link)

Rate
SG$90 (direct from Singapore)
Toll Fee
SG$10
Fleet
Toyota Innova
Toyota Alphard (extra cost applies)
Book now to reserve your fleet.
SGMYTAXI  provides taxi services from Singapore to EduCity in Iskandar Puteri Malaysia and vice versa. Our experienced & friendly drivers will pick you up at any location in Singapore and bring your to any college, university or research center in Johor as listed below:
Marlborough College Malaysia
University of Southampton Malaysia Campus
University of Reading Malaysia
Raffles University Iskandar
Multimedia University
Netherlands Maritime Institute of Technology
Primary & Secondary Trust Schools
Newcastle University Medicine Malaysia
Sunway International School, Sunway Iskandar
It is a hassle free method and good choice for those who want to go to EduCity in Iskandar Puteri without worrying about transportation. We are willing to serve you better as our valuable customer. Fill out our Special Travelling Request Form to get your latest quotation or contact us directly.

View Iskandar Puteri (Nusajaya) in a larger map
Iskandar Puteri (Nusajaya)
If you are visiting Singapore, you also have to visit Iskandar Puteri (Nusajaya) in Malaysia where two of the most popular tourist attractions are waiting for you, i.e. the Legoland and the Puteri Harbour Family theme parks.
1. Legoland Malaysia
Children find it fascinating, and adults cannot stop taking pictures in this land of LEGO. This is a wonderful place which has all types of famous building in Kuala Lumpur, Singapore and other countries carefully reproduced in a 1:20 scale.
You will feel transported into a magical land of perfect miniaturization when you step into this theme park. Everywhere you go, you will find a famous building that is scaled down to the last detail. Watch out for the 4D shows which add to the charm of the place.
Hotel Nears Legoland Malaysia:
2. Puteri Harbour Family Theme Park
There is more to see and enjoy in Iskandar Puteri (previously known as Nusajaya) than the astounding miniature LEGO buildings. Here are some of the exciting things you will see in the Puteri Harbour Family Theme Park:
You will need to dedicate the better part of the day to enjoy this amazing multi-storied theme park. You will be greeted by Hello Kitty at the entrance of Sanrio Hello Kitty Town which, by the way, is the first Hello Kitty Town established outside Japan.
And then you can have all the time to go through Hello Kitty's world where absolutely EVERYTHING is shaped like Hello Kitty. You can also dress up like Hello Kitty, make cookies and jewelry in Hello Kitty style.
Spread across two unending floors, the Little Big Club offers the most amazing fun and enjoyment for visitors of all ages. Here, the theme is focused on Barney, and Thomas and friends.
Watch the children's eyes light up with delight when they see Barney come alive and sing and dance with them. On the other hand, there are so many games and rides on the Thomas and Friends park that you will wish time will stop so this wonderful experience never ends.
3. Shopping Mall in Johor Bahru, Johor Premium Outlets
After a delightful day of fun and excitement, if you are not too tired to stand, you can try your hand at shopping. Visit the Johor Premium Outlet for some wonderful buys while you are in Malaysia.
For dinner, check out the retail mall right across the park, or the famous Aeon Bukit Indah which is a stone throw away from the theme parks.
Taxi Services from Singapore to Iskandar Puteri @ Nusajaya
The distance between Singapore and Iskandar Puteri  or Nusajaya is about 47 kilometers, and the approximate time it takes to reach your destination is 40 minutes. There are many ways to get to Nusajaya, but the best and most recommended for comfort, safety, reliability and even cost effectiveness is to travel by taxi.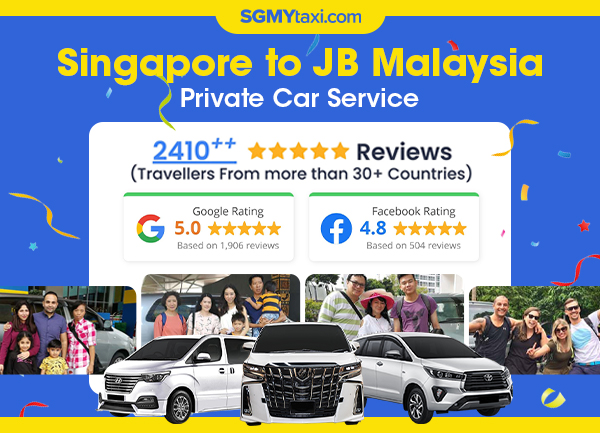 Do not let a lousy means of transport dampen your family's happiness. If you want the safest, most comfortable and reliable method to move around, you can book a taxi with us.
For any enquiry, you can reach us through Whatsapp or submit the online booking form here -> Book your taxi now.