Mersing is an underrated place that is only well known for its ferry services that bring you to the beautiful islands such as Tioman Island.
Actually, it is a quaint and cosy town wrapped up with many interesting things to do in it.
In this post, I would like to share with you all that you need to know about Mersing.
I will be sharing information such as transportation options from Singapore to Mersing, things to do in Mersing, where to stay in Mersing and what to eat in Mersing.

How To Get To Mersing From Singapore
1. Private Car From Singapore To Mersing
Compared to taking bus or van, the journey is more comfortable and much less hassle if you take a private car services from SGMYTAXI.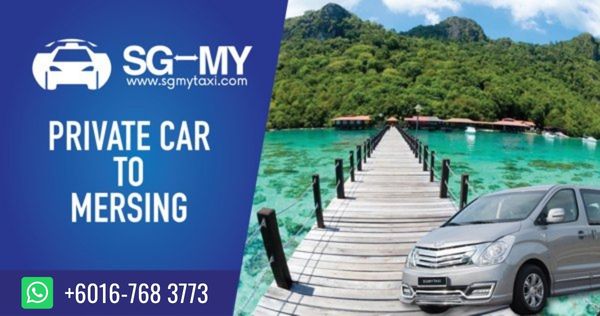 Every effort they made is to ensure hassle-free and convenience of customers. Their experienced driver's warm and reliable services will definitely make your day.
Why Choose SGMYTAXI Private Car Service:
Provides door-to-door service, drivers pick you up at any location in Singapore
Sit back and relax while our driver bring you to Mersing or Mersing Jetty
You can choose your preferred pick-up date and time
Select one way or return trip from Singapore to Mersing or Mersing to Singapore.
No need to get off from vehicles twice to clear Singapore and Malaysia immigration, you can save up to 1 to 1.5 hours
Affordable private transfer & reasonable pricing rates
No more alight belongings up and down from the bus
Go straight to Mersing or Singapore in comfort of private car without need to wait for other passengers
Easy booking via Whatsapp or online booking.
Quick Links:
Vehicles Details:
Toyota Innova
No. of seaters:
6 passengers
Comfort capacity:
5 passengers, 1 big luggage & 3 hand carry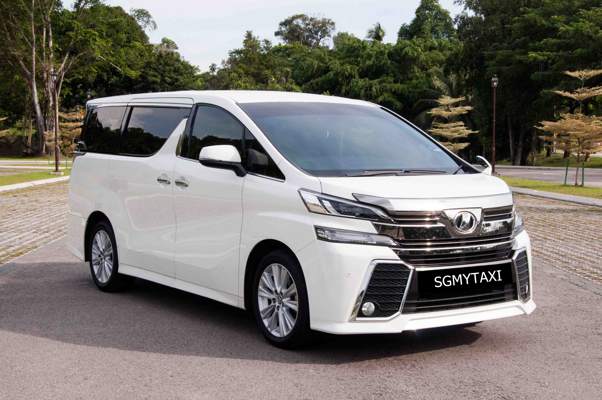 Toyota Alphard/Vellfire
No. of seaters:
6-7 passengers
Comfort capacity:
6 passengers, 2 big luggage & 4 hand carry
Hyundai Starex
No. of seaters:
10 passengers
Comfort capacity:
7 passengers, 2 big luggage & 4 hand carry
SGMYTAXI Happy Customers:
SGMYTAXI private car is new and well maintained and has been receiving good feedback from customers' experience.
Prompt communications. Punctual and polite driver, Hadif. Thanks for a smooth trip1
Kerk Kim Por
08:25 28 Sep 23
They answered booking inquiries quickly. Driver was courteous and car was clean
Gmeleen Tomboc
08:38 27 Sep 23
First time using their service the journey was smooth driver very efficient and punctual... i decided to check out earlier than the booked timing and texted to

...

informed that we are ready to leave and driver replied in an instant and arrived 5 mins later.... thumbs up for Mr Faizal keep up the good service ..

read more
Sarimah Mohamed ishak
05:00 27 Sep 23
Our trip to and from Lexis Hibiscus Port Dickson were pleasantly enjoyable. Alex and Tiew are both friendly and they accommodate our request to stop over for

...

lunch before going to our destination. Excellent service.

read more
Nooraine Ya-akub
04:23 27 Sep 23
Awesome service. Driver is on time, best with family trips especially with kids.
Junaroine Inventor
05:04 26 Sep 23
Very good and pleasant 👍👍👍👍I gave 100 ****
arti manikam asrun
03:40 26 Sep 23
2. Bus & Coach From Singapore To Mersing
Consider taking a bus if you travel on a budget. Return bus tickets which cost SGD$60 per person can be booked via easybook.
It is recommended to book the earliest bus to avoid traffic jam so that you manage to catch the ferry to Tioman.
Later, you will need to alight from the bus to clear the customs. Bring along your luggage as well for scanning.
2.1 KKKL Singapore
Singapore To Mersing Jetty Bus Schedule & Ticket Price
| | | |
| --- | --- | --- |
| Departure Location | Departure Time | Ticket Price |
| Kovan Hub 206 | Daily 6:00am | SGD$39/pax |
| Bugis MRT Exit D | Daily 6:30am | SGD$39/pax |
| Katong V Mall | Daily 10:30pm | SGD$39/pax |
Singapore To Mersing Bus Terminal Bus Schedule & Ticket Price
| | | |
| --- | --- | --- |
| Departure Location | Departure Time | Ticket Price |
| Kovan Hub 206 | Daily 10:00pm | SGD$39/pax |
| Katong V Mall | Daily 10:30pm | SGD$39/pax |
Note: 6 mins walk to Mersing Jetty from Mersing Bus Terminal
Also read: How To Travel From Singapore To Johor Bahru By Bus (The Cheapest Transportation Options!)
2.2 Diamond Coach Singapore
Singapore To Mersing Jetty Bus Schedule & Ticket Price
Departure Location
Departure Time
Ticket Price
The Plaza Singapore
5:45am

Monday
Wednesday
Friday
Saturday
Sunday

SGD$39/pax
Novena Square Singapore
6:00am

Monday
Wednesday
Friday
Saturday
Sunday

SGD$39/pax
Serangoon Nex MRT Station Exit E
6:20am

Monday
Wednesday
Friday
Saturday
Sunday

SGD$39/pax
Woodlands Singapore
6:45am

Monday
Wednesday
Friday
Saturday
Sunday

SGD$39/pax
Mersing Town (Every Travellers Must Passing Through Before Getting To Johor Islands)
Mersing is a small town located at the southeast of Malaysia, is the only gateway to Tioman Island and many other gorgeous tropical islands.
It is located 136km off Johor Bahru. The jetty here is the most well-known place in Mersing. Many tourists waited here for the ferry and boat to take them to islands nearby.
Also read: Tioman Diving
If you want to explore Mersing town, take a 15 minutes' drive to Air Papan. It offers white sandy beach and some beach facilities.
Visit here in the evening. The sunsets that shine over the golden rice paddy fields is extremely stunning.
Top 7 Mersing Hotel & Resort
Traveller requires to find the accommodation to sleep either missed the last ferry, arriving very late at Mersing jetty or no ferry on that day due to tidal season.
Here is the list of accommodation that we suggest for you to choose from. Actually, there are many hotels or inns you can stay but we purposely leaving out those that we think are terrible.
1. Embassy Hotel Mersing
Strategically located in Mersing town, Embassy Hotel is easily accessible to the city's must-see destinations.
The main tourist destination in Mersing, Air Papan Beach, is just a stone's throw away from the hotel.
Embassy Hotel offers clean rooms with outstanding customer services their main priority. All of the rooms feature private bathroom, complementary WiFi, laundry service and soft beds to provide utmost comfort.
Besides, exciting recreational facilities are offered to entertain the guests. The hotel is best suited for budget travellers. With low and affordable prices, they get to experience a pleasant stay in Mersing.
Address: No.2, Jalan Ismail, Bandar Mersing, 86800 Mersing, Malaysia
Phone: +607 – 799 3545
2. Timotel Hotel Mersing
With stylishly furnished rooms and fabulous room facilities, Timotel Hotel offers a luxury and a comfortable stay in Mersing town. Up until now, it has served countless foreigners as well as personage in Malaysia.
The hotel comes with a roof top garden which offers the perfect views of the entire Mersing town. Besides, the hotel even provides transportation to Mersing Jetty.
For business travellers, a conference room well equipped with meeting facilities is offered. Complimentary WiFi and computer access are also provided to complement the needs of them.
To convenience the guests, other specialised services can also be made upon request.
Address: 839, Jalan Endau, 86800 Mersing, Johor, Malaysia
Phone: +607 – 799 5888
3. Hotel Havanita Mersing
Being a boutique hotel in Mersing, Hotel Havanita values one's stay by offering home-like environment and providing warm hospitality.
It has 41 well-furnished rooms and all of them feature a television with ASTRO channel, complimentary WIFI, mini-bar and full kitchen facilities. By offering affordable room rates, it is best suited for budget travellers.
Rampai Sari is its on-site restaurant which opens all day long. Wide range of local and international favourite is served here.
To further enhance one's stay, Fantasia KTV Lounge is offered to guests. They can sing and enjoy karaoke to wraps away all the stresses.
Address: 88, Jalan Endau Mersing, 86800 Johor, Malaysia.
Tel:  + 607 – 799 8666
4. Riverside Hotel Mersing
Riverside Hotel Mersing was built in 2012. It lies perfectly at the center of the city, thus providing access to various town destinations.
The hotel keeps improving their services to make the guests feel themselves at home. Therefore, it is often rated a comfortable and pleasant stay.
The hotel features clean rooms which include standard double, standard triple single, standard family, standard twin and family deluxe. The rooms have a simple and fresh furnishing, thus offering a warm environment.
With the cheap room rates which are ranged from RM60 to RM 120, you can enjoy the facilities at Riverside Hotel Mersing.
Address: Jalan Sulaiman, 86800 Mersing, Johor, Malaysia
Phone: +607 – 798 2589
5. Sri Mersing Resort
Located in Air Papan Mersing, Sri Mersing Resort provides chalet-like accommodations decorated in traditional Malay style.
The guests get to experience local living in a comfortable and clean environment. With only a stone throw distance from beach, the resort offers some beach facilities.
The chalet features a living room, bedrooms, bathrooms and even a veranda. The living rooms are equipped with television, refrigerator, kettle, rotan sofa and air-conditioning.
For the bedrooms, their features are king-sized bed and air-conditioning. Hot and cold shower is also provided. As there is BBQ sites provided, it will be great if you can bring food along for BBQ.
Address: Pantai Peranginan, Air Papan Laut, Johor, 86800 Mersing, Malaysia
Phone: +607 – 799 2384
6. Hotel Seri Malaysia Mersing
Aim to make the stay the most perfect one in Mersing, Hotel Seri Malaysia has made great effort to provide excellence hotel facilities and charm hospitality.
The nearby attractions are Tioman Island, Tengah Island, Pemanggil Island and Tinggi Island. Endau Rompin National Park and Pulau Tioman can also be reached easily from the hotel.
Therefore, it offers great opportunity for natural lovers to discover the mysterious part of nature.
95 rooms which come with modern facilities and amenities are offered. The on-site swimming pool is built to provide leisure. Besides, there is a convenience store which sells daily necessities and souvenirs.
Address: Lot TTB 641, Jalan Ismail, 86800 Mersing, Johor, Malaysia.
Phone: +607 – 799 1876
7. Mersing Hotel
Mersing boasts an orange building, Mersing Hotel, which is often the traveller's accommodation choice. Standing in strategic location, the major tourist destinations in Mersing can be reached within close distance.
In the rooms, the walls are painted in white and the beds are extremely soft. Numerous room amenities are offered to provide utmost comfort.
Apart from that, recreational facilities are offered to further enhance your stay. The hotel also provides transport to the jetty.
The staffs speak two languages, which are English and Malay. They are friendly to provide assistance if you need any help.
Address: No.1, Jalan Dato Timur Mersing, Bandar Mersing, 86800 Mersing, Malaysia
3 Best Mersing Beach Resorts
1. Air Papan Beach Resort
What makes Air Papan Beach Resort an inviting and attracting resort is that it has successfully preserved the nature's splendour.
The resort offers comfortable rooms which are near to the beach. You can take in the wonderful views of sea while staying here.
There is an on-site restaurant which serves mouth-watering cuisines. In the evening, BBQ meals are prepared for guests. Hotel facilities such as swimming pool and karaoke are also specially designed for the guests.
Besides, lots of activities can be enjoyed here with your loved ones. Time spend with them here is worth every seconds.
Address:
Air Papan Beach Resort, 86800 Mersing, Johor Darul Takzim
Phone:
+607 – 799 5566
Fax:
+607 – 799 5566
Email:
[email protected]
2. Mersing Beach Resort
10km away to the north of Mersing, Kampung Air Papan lays a unique attraction known as Mersing Beach Resort. It is set off with crystal clear water and pure white sand.
Consequently, it came along with dazzling flora and fauna. With such a remarkable place, it would be nice if you can take an adventure to explore this place.
Also read: 15 Best Beach Resorts in Johor You'll Absolutely Love
There is nothing to worry about staying in such tranquillity place. The resort is fully facilitated to welcome all of you.
There are a lot of activities can be enjoyed here. The activities include jungle tracking, run with sack, beach volleyball and water sports.
Address: Lot 456, Pantai Peranginan Air Papan, Mersing, Johor 86800, Malaysia
Phone: +607 – 799 4545
3. Fishing Bay Resort
As the name indicates, there is an angling spot near Fishing Bay Resort, which is the angler's all-time favourite. To satisfy the guests, high standard accommodations are offered. All of the room facilities and amenities are in good quality and in good conditions.
The resort is far from the busy life in city, thus providing a great place for a simple hideaway.
Unwind yourself in the outdoor pool and leave all your worries and stresses behind. Or, cycle around the resort and enjoy the pristine nature surrounds the resort.
Recreational activities such as jungle trekking and non-motorized water sports can also be enjoyed here.
Address: 525, Teluk Buih, Air Papan, Bandar Mersing, Mersing, Malaysia 86800
Phone: +607 – 799 6753
Things To Do In Mersing
1. Teluk Buih Beach
Take in the wonderful sunrise and sunset views of Mersing at Teluk Buih Beach. The alluring scenery offered at all times has made it popular among the locals and even foreigners.
Also read: 29 Best Things To Do In Tioman Island
Every weekend, the villagers often enjoy quality bonding time with their families at the beach. They swim, relax and even have a wonderful picnic here.
The beach offers long stretch of fine sand and blue water. It is named Teluk Biuh after the locals saw lots of frothy white surf washes onto the shores.
Strongly recommended by the villagers, it is definitely a must-see destination in Mersing.
What to Do
Swimming
Picnic
Viewing nice sea view
What to See
Beautiful Fine Sand
Blue Water
Beautiful Scenery
Location: Teluk Buih, Air Papan, 86800 Mersing, Johor Malaysia.
2. Air Papan
Perfectly set in between small hills in Mersing, Air Papan offers a long sandy beach which is clean and beautiful. The villagers usually plan their weekend activities here.
Air Papan Festival, an interesting local event is held annually at the beach. It offers wide array of delightful local dishes and no end fun.
Lots of interesting activities can be carried out at the beach. Jungle trekking area is also offered to natural lovers.
At night, you can hold a campfire and sleep in the tents with friends or family. Camping experience at Air Papan is definitely a memorable one.
What to Do
Swimming
Beach walk
Picnic on the beach
Beach volleyball
Photo shooting
Jungle trekking
Camping
What to See
Kampung view
Faint bluish silhouette of several islands
Location: 86800 Mersing, Johor Malaysia.
3. Teluk Gorek Beach
Visit Teluk Gorek beach to enjoy the natural's beauty of Mersing town. Located at the north of Mersing, it is a bay beach which offers authentic and beautiful scenery of South China Sea.
The bay bears with the rough sea and strong winds. Therefore, your safety is guaranteed while swimming in the sea.
A simple beach resort is within close proximity to the beach. You can spend a few days of holidays here.
Picnic, beach volleyball, sandcastle building are some of the beach activities that can be enjoyed. Or, simply take a stroll along the coastline and let the gentle waves wash over your feet.
What to Do
Picnic
Swimming
Play game on the beach
What to See
Beautiful fine sand
Beautiful scenery
Blue water
Location: Endau, Mersing, Johor Malaysia.
4. Pantai Penyabong @ Pantai Pasir Lanun
Pantai Pasir Lanun, which means Pirate Sands Beach in English, is the old name of Pantai Penyabong.
In old times, this is the hiding place of pirates. They choose this place as their shelter because it is lesser-known and fresh water can be accessed easily.
Currently, four beach resorts operate in Pantai Penyabong. The accommodations are offered at the most affordable rates.
Exciting outdoor activities such as canoeing, jungle trekking, fishing and camping are available. You can also visit the Malay villages and fish farm nearby to learn more about the locals' daily lives.
What to Do
Water-based activities
Camping
Jungle trekking
What to See
Clear water
Beautiful scenery
Location: 86900 Endau, Johor, Malaysia
5. Tanjung Resang Beach
Tanjung Resang Beach is near to Penyabong beach. Pristine nature and serenity is the main attractions of the beach.
During milder monsoon season, the beach is protected by jutting capes so that water sport activities can still be carried out safely.
Nowadays, Tanjung Resang beach has become an ecotourism hotspot. Different types of flora and fauna await tourists to discover them.
If you are lucky, you can even see lovely dolphins in the sea. The hill near the beach is named Gunung Arong by the locals.
The views at the top of the hill are extremely beautiful. The entire beach and islands nearby can be seen clearly.
What To Do
Scuba diving
Free diving
Snorkeling
Kayaking
Skim boarding
deep sea fishing
Windsurfing
Kitesurfing
What To See
Various pods of dolphins
Beautiful Scenery
Location: Endau, Mersing, Johor Malaysia.
Mersing Jetty, Tanjung Gemok Jetty & Tioman Ferry Schedule
1. Mersing Jetty
From Mersing, you can get to Tioman Island by taking hi-speed ferry services offered by CataFerry (It is comfort and wider seats) & Bluewater Express Ferry.
Sometimes, the ferry ride might be affected by the tidal condition. Therefore, check for Mersing to Tioman Ferry Schedule or Tioman Ferry Schedule details to avoid disappointment.
Step By Step Getting Ferry Ticket To Tioman From Mersing Via Counter
Go to the Bluewater Express tickets counter or CataFerry tickets counter immediately once you have reached Mersing Jetty.
Buy round-trip tickets (Tioman Island does not sell ferry tickets to Mersing). Your destination can be any bay on Tioman Island.
Next, go to the counter right beside you to register your tickets for ferry.
Head to the Marine Park Permit counter after the registration. Each person has to buy one Marine Park Conservation permit.
Now, wait for the departure time of ferry. If you still have plenty of time, you can explore the town or relax at the restaurants nearby. However, make sure you return to the jetty on time.
Alternatively, wait for the ferry at the seating area provided. Get your boarding pass before queuing up for the ferry.
Tips: You MUST buy ferry ticket to Tioman from Mersing online before go to Mersing Jetty to avoid fully book in advance.
Why Choose CataFerry to Tioman:
Every ticket sold via their official website is guaranteed a seat.
Ticket price is cheaper than another ferry.
Cataferry departs on time.
The only ferry provides light refreshment in the ferry.
Very good service by trained cabin crew.
Proper seat numbering and many more.
Also read: Why Choose Cataferry to Tioman Island.
2. Tanjung Gemok Jetty
In case you've missed the ferry at Mersing Jetty, you can go to Tanjung Gemok Jetty and take the Bluewater Express to Tioman Island. The journey from Mersing Jetty to Tanjung Gemok Jetty is about 40-minute drive.
Also read: Senai Airport To Tanjung Gemok Jetty (2 Simple Ways)
Bluewater Express is a old ferry offers economy seats from Tanjung Gemok Jetty to Tioman Island.
The ferry ride would not be affected by the tidal condition.
You can book your ferry ticket in advance via their official website: https://bluewater.my/. The booking process is simple and convenient.
Island Near Mersing
1. Tioman Island
Tioman Island also called Pulau Tioman, a diver's paradise, is one of the most beautiful islands in the world.
It is located 32km off the east coast of Pahang. With its idyllic setting and rapid development, the island has become the major tourist destination in Malaysia.
Check out here for more details about 3D2N Singapore To Tioman Island Full Itinerary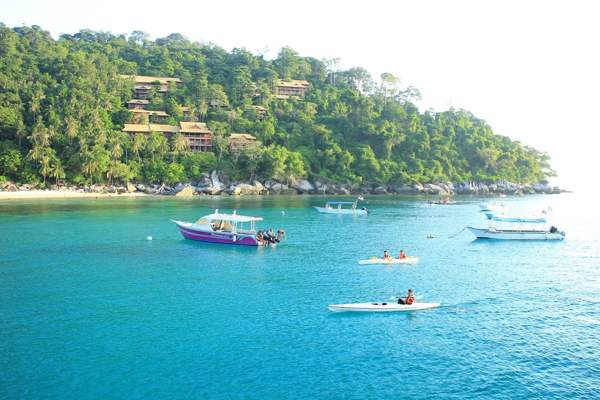 A decent tropical rainforest occupies the middle of the island. Hence, it is a great place for nature lovers to discover flora and fauna.
Also, fine sandy beaches and crystal-clear water surrounds the island perfectly. Snorkelling, deep-sea fishing, windsurfing, scuba-diving and any water sports activities that you can name it, can be enjoyed on the island.
2. Rawa Island
Gorgeous, serene, unspoilt, these are the words that can truly describe Rawa Island. It is not as famous as Tioman Island. Not as developed as Tioman Island.
There is fewer people, no TV, and no WiFi. However, little development has kept the island pristine and has successfully drawn tourists from all over the world.
Also read: Rawa Island Packages (Which One Should You Really Pick?)
Rawa Island is perfect for a family vacation and a simple getaway. The tourists are often impressed by the white sandy beach and beautiful coral reefs that surround the island.
Hike to the hilltop and you will be rewarded with amazing ocean views that you have never experienced before.
3. Pulau Besar
Pulau Besar is located 15km off the east coast of Johor. It is a marine park that homes to countless marine life.
Besides, the island offers clean and crystal clear water. Delicate sea creatures can be seen clearly right from the water's surface.
The island is ideal for island-hopping as it is surrounded by many small islands such as Pulau Hujung, Pulau Harimau, and Pulau Tengah. Several diving sites are available all around the island.
It gives a great opportunity for tourists to discover the South China Sea. Lots of water sport activities can also be enjoyed here.
Mersing Bus Terminal
All of the buses heading to Mersing will arrive at Mersing Bus Terminal. It is within close proximity to the Mersing jetty as well as the centre of Mersing's town.
Recently, a covered walkway without staircases was specially designed for travellers with roller-luggage. Ferry terminal can be reached by walking through the walkway followed by a short walk.
Where To Eat In Mersing
1. Calypso Café Mersing
Located at the corner of shop lot of Jalan Ismail, Calypso Café serves a wide array of local's favorites and western dishes. Muslims are also welcomed as all the dishes prepared are halal.
The combination of modern decoration and funky background music offer the finest dining experience.
The incredibly clean environment here is the main reason why locals like to dine in here.
You can even make friends with the staffs as they are very friendly. Free WiFi is available.
Address: No.49, Jalan Ismail, 86800 Mersing, Johor, Malaysia
Opening hours: Daily: 9:00 am to 10:30 pm
2. Mersing Seafood Restaurant
Along Jalan Ismail, you can find Mersing Seafood Restaurant which is located right next to Guardian. It is a humble Chinese restaurant and is reputed as the best Chinese Restaurant you can ever find in Mersing.
It serves the freshest seafood and many other cuisines which are all prepared in Chinese style.
You can share your dishes among your friends or family so that you get to savour more scrumptious food. Keep in mind that smoking is prohibited here.
Address: 56, Jalan Ismail | 86800, Mersing, Malaysia
Phone: +6019 – 753 8919
Opening hours: Daily: 11:30am – 2:30pm & 5:30pm – 10:30pm
3. The Port Cafe @ Mersing Jetty
Famous among the tourists, The Port Café is within close proximity to the ferry terminal.
The tourists get to enjoy the food while waiting for the arrival of ferry. This is why the seats are often fully occupied.
It serves Western cuisines as well as local cuisines. Fans and shades are provided to ensure a comfortable and pleasant dining experience.
The café serves no alcohol but there are a lot of drinks offered. The food are however, costs a bit higher than other restaurant.
Address: No.11, Mersing Jetty Point, Mersing, Malaysia
Phone: +607 – 799 7982
4. Restoran Ee Lo
Restaurant Ee Lo is operated by local Chinese. They are friendly and the services they provided are good. You can find the restaurant at the centre of the town. The restaurant is an ideal place for a casual family gathering.
It is spacious, clean and there are big tables for a large family. The seafood they served are the freshest ones in the town.
Due to the cheap and delicious seafood they served, the restaurant is often recommended by locals.
Address: No. 10A, Jalan Dato Mohd Ali, Mersing Kechil, Mersing Town, Malaysia
Phone: +6012 – 771 1774
Opening hours: Daily: 11:30am – 02:30am
5. Fong Kopitiam Lucky Star Seafood Restaurant
Fong Kopitiam Lucky Star Seafood Restaurant is near to the Restaurant Ee Lo. It is a Chinese seafood restaurant and is famous among the local Chinese. Sometimes, you can see foreigners dine in here too.
Breakfast, lunch, dinner and even supper can be enjoyed here. Try the fresh coconut water offered. It is tasty and good for health.
Besides seafood which is cooked to perfection, the restaurant serves other Chinese side dishes to satisfy the customers.
Address: 1, Jalan Dato Timor, 86800 Mersing, Johor
Phone: +6013 – 768 9118
6. Loke Tien Yuen Restaurant
Loke Tien Yuen Restaurant is a modest restaurant which has been operated for more than 100 years. It serves Cantonese dishes at the most affordable prices.
The staffs try their very best to keep the environment clean everyday as to provide a pleasant dining experience. No menu is provided in the restaurant.
The order can be made through a phone call to Margaret Siaw at +607-799-1639. She will help you to book the dishes. Or, simply ask the staff for the highlight dishes of the day.
Address: 55, Jalan Abu Bakar, Mersing, Johor
Phone: +607-799-1639
Opening hours: 12:30pm to 3:30pm and 6:30pm to 8:30pm