When you've just landed at Singapore Changi Airport and you start to wonder where is your next place of visit.
Wonder no more because the best city to visit is definitely Johor Bahru!
Johor Bahru is poised to be the most enthralling tourist destinations in the world for international vacationers.
Located about 30 to 40 minutes away from Singapore, is the second-largest city in Malaysia which sees a large number of visitors every year at an exponential rate.
Now, are you curious how to get from Singapore Changi Airport to Johor Bahru, Iskandar Puteri or Medini?
Getting to this fantastic city can be daunting sometimes, but don't let that deter your journey!
How To Go To Johor Bahru From Singapore Changi Airport
If you are planning to go Johor, remember to choose the right mode of transportation from Singapore Changi Airport. You must plan ahead in advance to avoid any last-minute lapse.
There are a few choices that we have picked out for you- the ideal transportation which best suits your needs and schedules.
1. Taxi From Singapore Changi Airport To Johor Bahru
SGMYTAXI is a renowned and reliable private taxi service that provides transportation from Singapore Changi Airport to Johor Bahru.
This is the most suitable mode of transport for those who have big, heavy bags to carry whilst travelling with family or a big group of people with more than 3 people.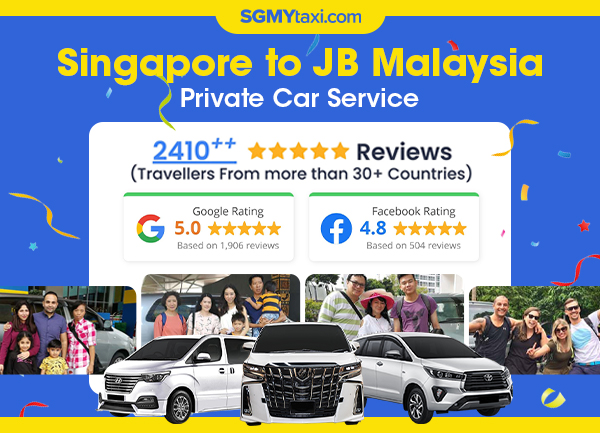 What makes SGMYTAXI the ideal transportation mode?
Once you land at Singapore Changi Airport, you will be welcomed by our warm and friendly driver who will then escort you to the vehicle and assist with your luggage.
Get that VIP treatment and stay relaxed in the car throughout the entire journey.
Our taxi operates 7 days a week at 24 hours a day to serve tourists and locals whole-heartedly.
We offer apt services which are unrivaled at an affordable price.
The most salient feature is it can directly book online and are available right away.
For those who love to travel, SGMYTAXI.com taxi services are handy and versatile. We have crafted and designed plans for providing maximum satisfaction. Choose us and we will prove you right in your decision.
Note:
Get to pick-up from Singapore Changi Airport to any destination in Johor Bahru.
Avoid the hassle of explaining your destination with local taxis or haggle prices.
2. Bus From Singapore Changi Airport To Johor Bahru
Bus service from Singapore Changi Airport to Johor Bahru is bliss for many Singaporeans and other worldwide tourists.  It is the most efficient and reasonable transportation form between Singapore Changi Airport and Johor Bahru.
The bus pick-up area is at Terminal 2 at the airport; while it drop-off at Johor Bahru CIQ.
For those who arrive at Terminal 1 and 3, you have to get to Terminal 2 Arrival Hall to catch the bus. The bus service to look out for is Transtar 1 (TS1).
One-way fare from Singapore Changi Airport
Adult SGD$10
Child SGD$5
The service starts in the wee hours around 8.15am and the last departure happens at 11:15 pm.
Note:
The passengers are to wait at the departure point 10 minutes before the scheduled time.
The online schedule could be different due to unexpected removal or addition of time slot.
3. Train From Singapore Changi Airport to Johor Bahru
Taking the train from Singapore Changi Airport to Johor Bahru is really tedious and time-consuming. Also, there are no direct trains from the airport to Johor Bahru.
However, if you prefer to ride the train, firstly you will need to get on the MRT train from Terminal 2 MRT station which will bring you to Tanah Merah Station.
From there, you must make your way to Woodlands Train Checkpoint. Once you arrived at Woodlands, hop onto the shuttle KTM train to Johor Sentral and in 5 minutes, you have reached Johor Bahru!
Note:
A very long journey and need to wait for the train to arrive.
Required to switch trains.
Have to carry your luggage with you all the time and may get really crowded during rush hour.
Also read: How To Go To Johor Bahru From Singapore
Tourist Attractions In Johor Bahru
Johor Bahru is the city frequently visited by a large number of Singaporeans and other global sightseers every year. Widely known hot-spots of Johor Bahru include:
Sanrio Hello Kitty Town,
and many more.
For all those who admire greenery, there are several green patches around such as Desaru Beach, Kota Tinggi Waterfall, Gunung Pulai Rainforest and others