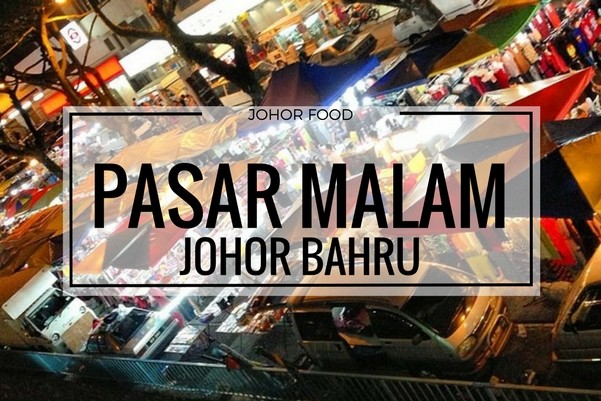 If you are planning for short getaways from Singapore to Johor Bahru, do make sure to visit one of the night markets in Johor Bahru.
Night market, or so called "Pasar Malam" is really not a common sight in Singapore.
And this is why some Singaporeans are curious and willing to travel far for a night market adventure.
Every night, Johor Bahru boasts many night markets at different streets which have so much to offer.
Be it local delights, crafts, clothes, street food, vegetables, fruits, snacks, jewelleries and many more, all are offered at a cheaper price.
If you're lucky, you may even dig into special food or something that never seen before.
When there's night market, there's a crowd.
So be prepared to squeeze through the streets for amazing local talents that offered by the neighbourhoods of Johor Bahru!
Here is a list of all "Pasar Malam" and schedule in Johor Bahru where you can try out some mouth-watering street food.
Johor Bahru Pasar Malam
Monday
Taman Universiti, Skudai (Jalan Pertanian 54)
Taman Perling, Skudai (Jalan Layang)
Taman Sutera, Skudai (Jalan Sutera Biru)
Taman Teratai, Skudai (Jalan Enau 15)
Taman Kota Masai, Masai (Jalan Durian 1)
Taman Rinting, Masai (Jalan Sena 12)
Taman Century Garden (Jalan Seladang) -> Map: https://bit.ly/2Gy5Cjk
Taman Setia Indah (Jalan 12/1)
Taman Permas Jaya 1
Taman Indahpura, Kulai (Jalan Siantan 3)
Kampung Melayu Majidee (Jalan Rahmat)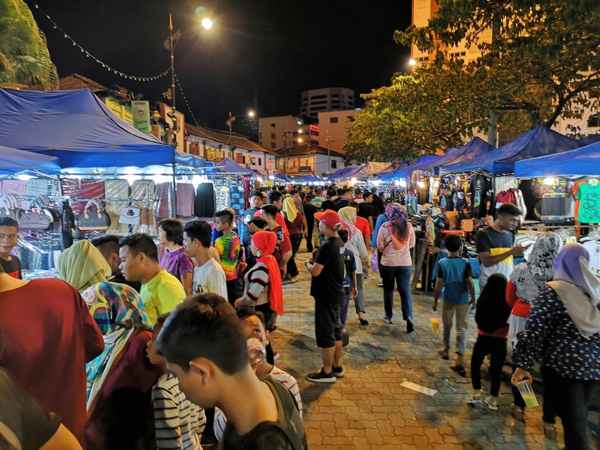 Tuesday
Taman Tampoi Utama, Skudai (Jalan Sri Perkasa 1/1)
Bukit Chagar
Gelang Patah, Jalan Kacang Panjang
Taman Tampoi (Jalan Gajus)
Taman Johor Jaya, Tebrau City (Jalan Dedap 13) -> Map: https://bit.ly/2GVi8sc
Taman Manis, Kelapa Sawit, Kulai
Taman Pelangi, JB (Jalan Perang)
Taman Anggerik, Kempas (Jalan Anggerik)
Taman Sri Bahagia, Tampoi (Jalan Sri Bahagia)
Taman Sri Yacob
Taman Setia Tropika
Nusa Perintis, Iskandar Puteri (Jalan Nusa Perintis 6)
Kg Pasir Putih, Pasir Gudang (Jalan Pantai)
Taman Cahaya, Masai (Jalan Intan)
Wednesday
Taman Skudai Baru, Skudai (Jalan Nakhoda 20)
Taman Bukit Indah, Skudai (Jalan Indah 5/7)
Plentong, Masai (Jalan Rotan Bakau)
Taman Desa Harmoni, Masai (Jalan Haroni 4)
Taman Desa Jaya, Tebrau (Jalan Lembah 1)
Taman Daya, Tebrau (Jalan Sagu)
Kampung Ungku Mohsin, Tampoi
Taman Aman, Senai (Jalan Senang)
Taman Suria, JB (Jalan Suria 7)
Taman Dahlia, Kempas (Persiaran Dahlia)
Taman Bayu Puteri (Taman Sri Stulang), JB (Jalan Sri Stulang)
Taman Pasir Putih, Pasir Gudang (Jalan Siakap 3)
Thursday
Kulai, Pekan Bukit Batu
Bandar Selesa Jaya, Skudai (Jalan Silat Harimau 1)
Taman Muhibbah, Saleng, Kulai (Jalan Jambu Mawar 2)
Taman Impian Emas, Kempas (Jalan Impian Emas 4) -> Map: https://bit.ly/2GA6srr
Taman Ehsan Jaya
Kampung Meayu Pandan, Tebrau (Jalan Pandan Ria Utama)
Friday
Kg Bakar Batu, JB (Jalan Sekolah & Jalan Kubur)
Bandar Baru Uda, JB (Jalan Padi Mahsuri 1)
Kampung Setanggi, JB (Jalan Cendana)
Taman Mewah, Kulai
Taman Puteri Wangsa, Ulu Tiram (Jalan Badik 16) -> Map: https://bit.ly/2uNKXlG
Taman Universiti, Skudai (Jalan Kumuliaan Utama)
Taman Kempas
Taman Mega Ria, Masai (Jalan Jelatang)
IOI, Kulai
Bandar Putra, Kulaijaya (Jalan Kenari 19)
Taman Mawar, Pasir Gudnag (Flat Taman Mewar)
Saturday
Kg Nong Chik, JB (Jalan Nong Chik)
Kangkar Pulai, Skudai (Jalan Kunang-Kunang)
Taman Ungku Tun Aminah, Skudai (Jalan Perkasa 2/3/4) -> Map: https://bit.ly/2GUfqmR
Taman Senai Baru, Senai (Jalan Utama 1)
Taman Perling
Taman Desa Tebrau, Tebrau (Jalan Harmonium 13 & 14)
Taman Air Biru, Pasir Gudang (Jalan Perjiranan 9)
Taman Daya, Tebrau (Jalan Nibong 17)
Taman Pulai Indah, Skudai ( Jalan PI 10/1)
Taman Saujana Masai, Plentong (Jalan Saujana Utama)
Sunday
Kampung Bendehara, JB (Jalan Bayam)
Larkin, JB (Nearby Larkin Stadium)
Tampn Permas Jaya, Masai (Jalan Permas Jaya 2/1) -> Map: https://bit.ly/2GywbEN
Taman Bukit Indah 1
Taman Gembira, Tampoi (Jalan Riang Utama)
Taman Putri, Kulai (Near Econ Save)
Taman Sri Skudai, Skudai (Jalan Emas Putih 4)
Taman Desa Cemerlang, Ulu Tiram (Jalan Johar 3)
Bandar Seri Alam, Masai (Jalan Suria 66, 68, 69)
Kampung Kangar Tebrau
Masai Town (Jalan Pasar)
You Also May Like: