16 Outdoor Activities You Can Try in Johor Bahru
We all want to have fun sometimes and let all the pressures of life be washed away.
In fact, we should find ways to channel our inner child who is always lurking beneath the surface.
You might have probably heard doctors recommending on having more outdoor exercises to keep sickness at bay.
The question is, where should we start the outdoor activities in Johor Bahru area?
Here's a list of 16 fun outdoor activities that guarantee to leave you a precious yet memorable experience!
Whether for a weekend with your friends, family or colleagues, these activities will absolutely get you relaxed both physically and mentally.
Activity #1: Go Karting
Option 1:  Plentong Circuit
There are a couple of places with awesome karting facilities around Malaysia. One of these is the Plentong Circuit also known as the Permas Jaya Circuit.
This circuit has been in existence for over ten years and covers over ten acres of land. It's, in fact, one of the longest karting facilities in Malaysia!
If you're bringing along your little ones, it is important to ensure their safety (and yours too) by making sure they wear helmets and seat harnesses each time they go Karting.
Plentong Circuit is located just 20 km from Johor Bahru and can be accessed through a variety of channels. One being via the North-South Expressway or through the various Railway Links from Johor.
Plentong Circuit is only 30 minutes from the Singapore Check Point which is one of the ways of accessing it.
For booking or inquiries, send an email to [email protected]
Important Information:
Location: Lot 1195, Jalan Bunga Matahari, Taman Plentong Baru, 81750 Johor Bahru
Contact: +60 197111733 or +60 127760733
Operating hours: 10am to 6.45pm (weekdays) / 8am to 6.45 pm (weekends)
Option 2: Desaru Dirt Kart Ride
Here's another fun Go-Karting Park — Desaru Fruit Farm, located in Kota Tinggi. It's only a few hours from Singapore by road. You can spend the whole day in Desaru Fruit Farm if you're interested in trying different activities other than go-karting.
They even provide tour packages like Desaru Adventure Package which include one-day group farm tours with buffet lunch provided.
Important Information:
Location: 92, 82200 Kota Tinggi, Johor, Malaysia
Contact:+60 7-822 3886 or +012-772 1817
Business Hour: 8:30 am – 6:00 pm (Mon-Sun)
Activity #2: Pasir Gudang World Kite Festival
An international event which held annually on month February, it is said that the World Kite Festival in Pasir Gudang is the largest one in Asia.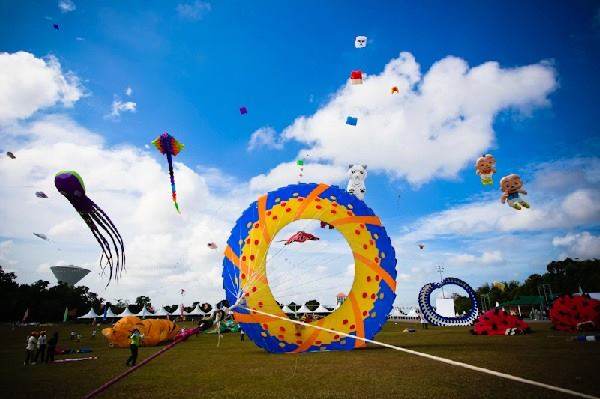 This event has attracted overseas kite enthusiasts who pride themselves in the techniques of kite-making and kite-flying. All of them are eager and passion to fly over to meet new friends and share their creations.
Also read: 31 Best & Cheap Things To Do In JB
The kites do not just flying high; they can also be shinning in the sky! With the LED kites competition, we have the golden opportunity to see kites dazzling in the night sky like a moving star.
And besides kite-flying sessions, the festival features cultural performances and kite-making workshops as well. Both of the participants and visitors can gain insights into the unique culture of Malaysia during this festival.
Be mesmerised by the colourful yet artistic kites flying gracefully in the sky; it's truly a wonderful sight to behold.
Important Information:
Location: Bukit Layang-Layang, Taman Bandar Pasir Gudang, Johor
Contact: +607-251 3720
Activity #3: Horse Riding
Option 1: Riders Lodge
Riders Lodge is a leisure getaway with great horse riding packages. Included are the riding lessons for beginners where anyone from the age of 8 can come learn how to ride a horse or polish their horse riding experience all at an affordable fee.
For children and first time riders, the Lodge offers groom led rides where you get to experience a horse ride under the guidance of their well trained grooms.
Riders Lodge is about 1 hour from Singapore through the Tuas Checkpoint and advance bookings can be made at [email protected] or on their website.
Important Information:
Location: Lot 1302 Kebun Sedenak, 81000 Kulai, Johor, Malaysia (Inside the Legends Golf and Country Resort)
Contact: +607 652 5330
Option 2: Amigos Horse Riding
Amigos Horse Riding is another great riding getaway and offers to ride packages from Paddock riding to Jungle Trails through the oil fields and straits of Johor.
There are also 8 horse riding lessons with professional trainers to learn and improve on your horse riding.
Also read: Top 8 Horse Riding In Johor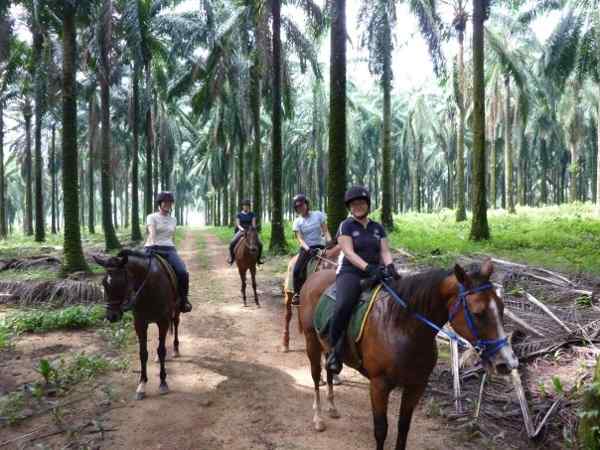 Amigos is less than an hour from Singapore and can be accessed through road or rail service.
Important Information:
Location: Tanjong Puteri Golf Resort, P.O. Box 117, 81707 Pasir Gudang, Johor, Malaysia.
Contact: +60127966806
Operating Hours: 7:00am to 7:00pm Daily
Option 3: UTM Equine Park
Another horse riding facility is UTM Equine Park which offers leisure rides where you can choose to go with or without an instructor, Trail Rides, a short fun ride and a lesson package consisting of 8 riding sessions.
Important Information:
Location: Equine Centre Universiti Teknologi Malaysia, 81310 UTM Johor Bahru, Johor Darul Ta'zim, Malaysia.
Contact: +607-5536343 or +607-5535761
Operating Hours: Opens daily| Session 1: 8 am to 10.30 am | Session 2: 4 pm to 6 pm |
Activity #4: Stand Up Paddle
Stand up paddle, also known as SUP is an amazing new way to have fun, commonly described as touring Johor from the river.
There is one major company in Johor area specializing in SUP tours which goes by the name Coastal Paddle. The SUP by the company takes place in flat waters and are deemed suitable for all ages, safety is all but guaranteed.
Typically, the tour takes about four hours and is from the Coastal Paddle main offshore facility round the Kim Kim River with a detour to Pulau Nenas, a paradise of pineapples, and back to Coastal Paddle.
For an ordinary person, four hours of stand up paddling is surely going to leave you tired and hungry and you are advised to take a moderately heavy meal before embarking on the tour.
There are various Malaysian restaurants around where you can have great local and seafood to replenish your energy reserves.
Generally, the tour package includes a boat, paddle and a life vest in case of emergency in addition to two professional lifeguards, one acting as a tour guide and leading the way and the other one on standby in the lifeboat.
The stand-up paddle is something you surely shouldn't miss when you come around to Johor. Click here: Stand Up Paddle JB, for extra tips on SUP.
Important Information:
Location: 
https://bit.ly/2k0ujap
Opening Hours:
Daily: 10:00am – 6:00pm
Contact: +65-6456 3314
Activity #5: Fishing
While for many fishing is an economic activity, for many of us, it is something we do for fun and when in Johor Province, fun is everywhere.
Also read: How To Go To Kukup From Singapore (Kukup Travel Guide)
Mersing town, found along the Mersing River several kilometers North East of Johor Bahru town, is one of the most well-known fishing towns in Malaysia.
Mersing was dormant for a while but has now gained new fame as the hottest recreational fishing area in Johor.
The beaches around the area are home to numerous species of fish with fishing tour companies setting up shop to capitalize on that. Mersing is accessible by road straight from Johor Bahru or via connecting road and rail from Kuala Lumpur in Singapore.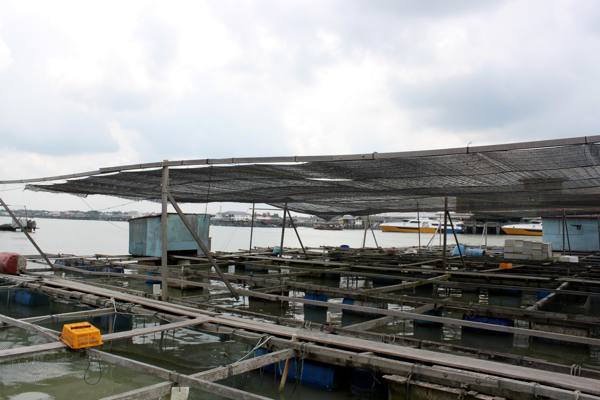 Kukup Kelong, floating fishing village mainly inhabited by the Chinese and has been around for over 100 years. This place is popular for its fresh sea breeze and tasty seafood, last but not least, not forgetting to have the fishing activity to fill your fishing net.
And you don't have to be a fisherman or into fishing at large. You can just go for a boat ride and enjoy the great company, the gentle waves and the sea air.
You can get to Kukup Kelong from Johor Bahru or from Singapore through the Johor Causeway. Check out more fishing villages (kelong), Click here -> 9 Fishing Kelong in Johor (Fishing Experts' Top List)
Activity #6: Golfing Country Clubs
Option 1: Tanjong Puteri Golf Resort
There are numerous golf courses and golf clubs available in and around Johor where you can go and have some golfing fun. Taxi from Singapore to Tanjong Puteri Golf Resort takes about 35 minutes to drive accessible through the Singapore – Johor Causeway.
The resort has won numerous accolades through the years including being ranked the second best gold club in Malaysia.
Membership is open only for golf and recreation with the options being Individual, Family and Corporate Social membership. Some of the benefits include some significant discounts on golf playing, food, and drinks at the club.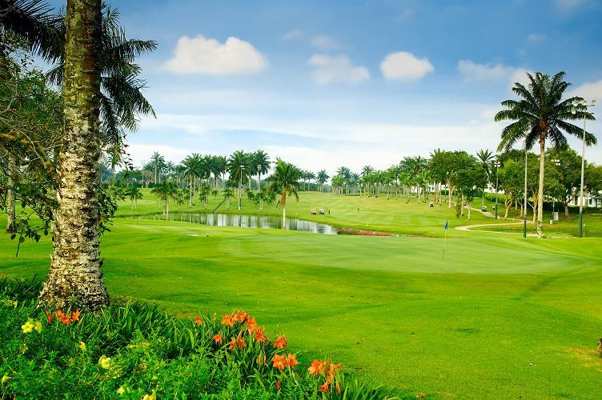 Important Information:
Location: Jalan Tanjong Puteri 1, Tanjong Puteri Resort 81700 Pasir Gudang, Johor Darul Ta'zim, Malaysia.
Contact: +607-2711888
Option 2:  Pulai Spring Golf Course
Pulai Spring Golf Course is one of the most creatively designed and magnificent golf courses in Malaysia and was once ranked among the 50 best golf courses in the world. From Singapore to Pulai Spring Resort by private car is less than an hour's drive. That says a lot about the 18 hole course that is a must visit, whether a golf fan or not.
Important Information:
Location: 20 km Jalan Pontian Lama, 81110, Johor, Malaysia
Contact: +60 7-521 2121
Option 3: Ponderosa Golf Course
Ponderosa Golf Course is another awesome course and is mostly preferred due to its proximity to Johor Bahru city center. From Singapore to Ponderosa Golf Course is only take 15-minutes drive away and 8 km off the Singapore-Johor Causeway.
The club has a beautiful course integrated with small ponds and trees to create a challenge and also supports night golfing as it has floodlights.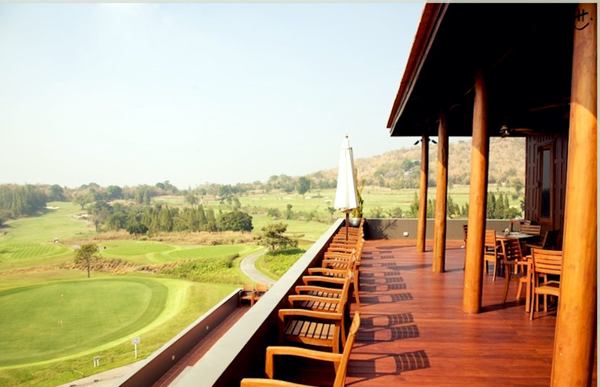 Important Information:
Location: No.3, Jalan Ponderosa 1, Taman Ponderosa, 81100 Johor Bahru, Malaysia
Contact: +607-354 9999
Business Hours: 7:00 am – 10:00 pm (mon-sun)
Activity #7: Water Theme Park
Option 1: Legoland Malaysia Water Park
If you are carrying along with your child, the day trip to JB would not be complete without a visit to one or two water parks in Johor, Legoland Malaysia Water Park is one.
Legoland is a huge water and theme park with the water park divided into Wave Pool, Joker Soaker which is very popular with little kids and Giant Water Playground. If you are one of the hydrophobic few, this is a great place to get rid of it.
Important Information:
Location: 7, Jalan Legoland, Medini, 79100 Nusajaya, Johor, Malaysia
Contact: +60 7-597 8888
Business Hours: 10 am until 6 pm daily
Option 2: Austin Heights Water & Adventure Park
Austin Heights Water & Adventure Park is primarily an adventure rope course with the Water Park being a secondary attraction.
Even with that, a water park is definitely a place you want to visit. Apart from the wave pool and water slides, there is the Lazy River where you basically try to move with or against the flow of the water which is not a walk in the park.
Austin Heights is not just for children, even adults are welcome! The water is more than enough for everyone.
When visiting, remember to carry your own towel and swimming gear since buying that at the water park is very much expensive, and so is renting out a locker.
Here's a quick tip: Bring along a water-resistant backpack to store all your valuables and you can leave with the Park staff for safekeeping.
Important Information:
Location: 71, Jalan Austin Heights 8/1, Taman Mount Austin, 81100 Johor Bahru, Johor, Malaysia
Contact: +60 19-716 3183
Operating hours: 10:00am-7:00pm daily
Activity #8: Jungle Trekking and Hiking
Option 1: Gunung Pulai
Gunung Pulai, about 700 m above sea level, is one of the mountains you can go hiking in.
Also read: Mount Lambak Or Gunung Lambak, One Of The Famous Climbing Locations!
Scenery includes a rainforest and waterfall which could serve as a photo background for that WhatsApp or Facebook profile picture.
The Gunung Pulai holds some cultural and environmental significance in Johor seeing as it is one of the major water catchment areas.
What makes the mountain appealing to hikers of all ages is its lower attitude and variable distribution of vegetation as you move upwards. Gunung Pulai is quite far from Singapore (90 km) but is still accessible.
Option 2: Gunung Panti
Gunung Panti, also known as Mount Panti, is a bit smaller mountain, about 250 m tall which makes it suitable for hill climbing and hiking.
The vegetation and tree cover is not that dense and some sunlight can still be seen through the tree tops.
While it sounds odd, it actually makes for an awesome picture perfect view. Approaching the top of the mountain, it gets pretty stiff and you actually have to use rope to climb the slope but what a good feeling it is getting to the top and looking down where you can clearly see the Kota Tinggi Bypass Express and the surrounding town.
Searching for more hiking activity in Johor, click here: 7 Captivating Hills in Johor For Weekend Hiking
Activity #9: ATV Riding
Option 1: Le Grandeur Palm Resort
For an ATV Riding experience of a lifetime, try out the Le Grandeur Palm Resort, a new massive 300-room resort just three minutes from the Senai airport, which is the fastest way from Singapore.
The resort has a modern ATV Track with the challenge level depending on your level of experience and age.
ATV course is also available here! It takes you through virgin terrain with the shrubs and sand a part and parcel of the ride.
Additional facilities include tennis and squash courts, a huge swimming pool, meeting and conference facilities and a fitness center.
Important Information:
Location: Jalan Persiaran Golf, Off Jalan Jumbo, 81250 Senai, Johor, Malaysia
Contact: +60 7-599 6000
Option 2: Tristan Park
Tristan Park, commonly known for their dirt bikes training, also offer training for aspiring and practicing ATV Riders complete with an off-road trail which is wide enough to accommodate quite a number of riders, thus no worrying about being too slow for the trail. Remember, it's all about having fun, the best way you can.
The guides and fellow riders all care about the safety of each other and that is what makes Tristan Park an exemplary riding school.
The bikes too, are well maintained which is a good thing considering the terrain and mud they go through. And nobody said ATV is for kids alone, there are also some adult size bikes for their parents (and older siblings too).
Important Information:
Location: 71, Jalan Kekabu 7, Taman Desa Cemerlang, 81800 Ulu Tiram, Johor, Malaysia
Contact: +65 6456 3314
Activity #10: Animal Feeding
Having been established sometime around 1928, Johor Zoo is one of the oldest zoos in Malaysia, despite its small size.
The zoo, located just next to the Johor Bahru Palace, is home to hundreds of animal and bird species including some rare ones.
Inside the zoo, you can watch, learn and even take photos with the various animals that are friendlier than you would find in an ordinary Park.
However, the greatest thrill comes from feeding the animals and in particular the camels and the horses.
The management allows that and you will only have to buy some pellets for the animals.
What greater way of topping you vacation album than with a photo of two horses or camels literally eating from the palm of your hands?
Being a public zoo, Johor Zoo has the very low entrance charges – RM1 for children and RM2 for adults.
The excessively affordable prices attract large traffic which causes congestion especially on weekends, public holidays and school breaks.
The best time to visit the zoo for an amazing experience is on a weekday or school days as the number of kids, who normally make the majority of visitors, is at a minimum.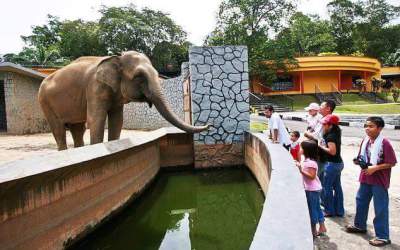 Important Information:
Location: Jalan Gertak Merah, 80000 Johor Bahru, Johor, Malaysia
Contact: +60 7-223 0404
Business Hours: 9am-6pm daily
Activity #11: Dirt Bike Riding
If you are looking for some down and dirty biking fun you might want to try Tristan Park.
Basically, the Park is an off road bike training school and accepts students 8 years and above which means even your kids can come along, sort of.
Tristan Park, being an off road trail park, won't require you to have any motorcycle driving license to ride their bikes or worry about causing any accidents.
Well, you actually have to be careful as the trails can be a bit challenging, especially the hill climbs and downhills.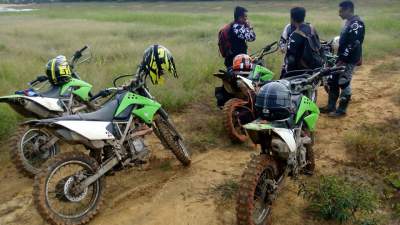 To ensure their clients have fun in a safe environment, Tristan Park provides bike gear like helmets, boots, jerseys and guards for elbows and knees meaning no dirty laundry to deal with after your ride!
Also, the park may provide up to 2 guides to guide you along while also ensuring your safety.
Their classes are pretty much affordable and bike hiring costs depend on the make and model of the bikes which are in great condition, that is, fully functional brakes and clutch which are basically all you need.
And you don't have to worry over the rough terrain you might have heard about, when making a booking, the Park staff will assign you a park depending on your level of experience.
What better way to end a crazy week than with some dirty ridin'!
Important Information:
Location: 71, Jalan Kekabu 7, Taman Desa Cemerlang, 81800 Ulu Tiram, Johor, Malaysia
Contact: +65 6456 3314
Activity #12: Cycling Trips
Another way to enjoy your stay in Johor Bahru is cycling through the town! It's fun to enjoy town scenery on a bike. Downtown Ride hires out bikes for this and also helps in planning the cycling trips.
And just so you know, the ride through Downtown Johor is not just flat surfaces and well maintained roads, the paths are a mix of moderate uphill climbs, downhills and curvy tracks, all designed to give you an experience you can only find in this part of Johor!
Before and after the trip, you can have a meal at one of the numerous hotels available offering everything from the local delicacies to international cuisines like Chinese, Mexican and French.
When going for the trip, or trips, hoping you will come back after a great first experience, leave your toddlers at home since Downtown Ride only hires out to persons aged 12 and above and for good reason.
The bikes are all hired out on demand basis, for convenience and to avoid disappointments, it is important to book in advance.
Important Information:
Location: 57, Jalan Tan Hiok Nee, Johor Bahru, 80000 Johor Bahru, Johor, Malaysia
Contact: +6016 2559094
Operating hour: 7 am to 7 pm (Friday-Sunday)
Activity #13: Paintball
Option 1: AOV Paintball
Johor can be said to be a haven for paintball with several facilities around the area, AOV Paintball being one of them.
AOV has a large field to facilitate all the different game scenarios such as Urban and Jungle Field(s) and is a perfect paintball getaway whether for birthday celebrations, Family get together, corporate team building or just a hookup between friends.
Important Information:
Location: 7, Jalan Harmonium 23/13 Taman Desa Tebrau Johor Bahru 81100 Malaysia
Contact: +60 7-3500437
Business Hour: 9.30am-5.30pm daily
Option 2: Desaru Fruit Farm Paintball
Desaru Fruit Farm also has some amazing paintball packages for groups in addition to other fun activities like the Fruit Farm tour around the massive farm with hundreds of fruit varieties, a Crocodile Farm tour and the ever impressive firefly tours.
While on the tours, take a bite, or two of the tasty seafood in plenty at the fruit farm or get yourself some great local meals.
Important Information:
Location: 92, 82200 Kota Tinggi, Johor, Malaysia
Contact:+60 7-822 3886 or +012-772 1817
Business Hour: 8:30 am – 6:00 pm (Mon-Sun)
Option 3: Dynamic Paintball
Dynamic Paintball let you have paintball fun (and it is always fun!) with a minimum of 10 of your friends or family with over 200 paintballs per game to ensure nobody escapes unscathed, why would anyone want to get out without some paint? Paint and messiness make paintball an awesome game.
Important Information:
Outdoor Location: No.54, Kampung Pok Kecil,Johor Bahru
Indoor Location: L5-03A, Danga City Mall, Jalan Tun Abdul Razak, 80000 Johor Bahru, Malaysia
Contact: +60 12-702 5466 / +60 17-702 3933
Option 4: Pulai Desaru Paintball Park
Going further into Desaru you will come across the Pulai Desaru Paintball Park which caters for both small informal groups and big corporate teams with a minimum of 60 people.
Bookings are to be done 3 days in advance to get fixed on a time frame with the options being the usual Paintball Battle Games and the Target shooting practice. Minimum number of participant must be at least 15 person.
Important Information:
Location: Pulai Desaru Beach Resort & Spa P.O.Box 29, Bandar Penawar, 81930 Kota Tinggi, Johor
Contact: +607-822 2222 extn. 622
Operating Hours: 10.00am – 6.00pm daily
Activity #14: Laser Tag
This is a great new way to exercise your cardio while also having fun. Laser Battle are a gaming company located in the Johor Bahru City Center and have several other branches across Malaysia.
For starters, Laser Tag is a game involving laser balls which are less messy and significantly less painful compared to paint balls and is normally played indoors although there is an outdoor version.
A typical game usually lasts for 10 minutes which are actually a lot considering. It is a highly physical game with A lot of running around that will surely leave you breathless and sweaty especially if you spend all your day hunched up in front of a computer, your only exercise being the flight of stairs to your office.
Laser Battle have created a fun and safe environment integrated with the latest technology giving off the feeling of being on the set of an A-list sci-fi movie.
There are various types of scenarios you can choose to play in such as Standard Solo, which is highly recommended especially if it is your first time, Standard Team and Capture the Flag.
For more information and for bookings you can contact the company through their customer care email [email protected] or through their website.
Important Information:
Location: Jalan Wong Ah Fook, Johor Bahru City Square, Johor Bahru
Contact: +607-207 0179
Business Hours: 10am – 10pm
Activity #15: Firefly Watching
Option 1: Kota Tinggi Firefly River Cruise
The Kota Tinggi Firefly River Cruise is located on the banks of the Johor River and is accessible by road from Kota Tinggi or from Singapore through the Singapore – Johor Bahru Causeway.
The tour is usually between 7pm and 8pm. It's the best time to see the fireflies along Johor River! The cruise starts from offshore jetty where tour tickets are also sold.
Basically, tours can be booked for individuals or for groups of as many as would fit in the boat.
During the entire tour, there will be a guide explaining some essential rules namely no catching the fireflies for extended periods and no using camera flash when taking photos.
This is because such actions may lead to the death of the fireflies and you surely want to come back some other time.
Important Information:
Location: Jalan Tepi Sungai, Kota Tinggi, Johor, Malaysia (near Hotel Seri Kota)
Contact: +60 13 778 5999
Tour Hours: 7pm-8pm
Option 2: Firefly River Cruise
Thinking of other place for your firefly watch? You may check out Firefly Valley Leisure Park.
Not to be confused with the Firefly River Cruise, the Firefly Valley Leisure Park is a few kilometers from the junction of Kota Tinggi Bypass and the highway from the town.
The park is open every day for normal operations while the firefly tours take place a few hours after sunset.
And firefly watching is not the only thing you can do here as the Park offers meal packages with assurance that they are all 100% pork and beef free to keep your healthy diet rolling.
While at the Valley Park, you can also visit Love Island – a small 'island' populated with rabbits, birds and all types of ducks and iguanas – which is literally just a wooden bridge away.
Important Information:
Location: Jalan Kota Tinggi, 81900 Kota Tinggi, Johor, Malaysia
Contact: +6012-7896224
Business Hour: 10 am to 6 pm daily
Activity #16: Archery Combat Game
Archery can be much more fun and thrilled when it's a combat game! Archery World at Taman Ponderosa offers this first ever archery combat game that you wouldn't want to miss.
Similarly as paintball game, players have to combat with each other using the 'weapon' in their hands.
The only difference is they had replaced paint-ball gun with unique bows and foam-tipped arrows. So it is definitely a safe game for all!
Quit going for the ordinary bored archery and try out this archery combat game with your friends and family. Its going to be a fun and yet memorable activity for everyone!
Important Information:
Location:G-44, Jalan Ponderosa 2/1, Taman Ponderosa, 81100 Johor Bahru.
Contact: 011-116 67113
Business Hours: 12:00 pm – 10:00 pm (Tue-Sun | Close on Monday |
How To Go To Johor Outdoor Activities
One of the most repeated sayings in many workplaces and schools is 'All Work and no play makes Jack a dull boy' and it couldn't be nearer to the truth.
Sometimes it is good, actually recommended, to take a weekend out with your friends or family and do something you like or which you didn't know you liked but you do.
All the activities above are not only good for your physical and mental well being, but are also crucial in strengthening your relationships with your family and friends. Not a native of Malaysia? No problem!
Travel with private taxi is the most convenient way to access the various facilities aforementioned and you don't have to remember street address of your destinations.
SGMYTAXI is the best option and the drivers are pretty much familiar with all the routes not to mention deep understanding of the Malaysian culture, creating for nice conversations.