Ever wonder how it is like to ride a horse or even have the feeling of getting up-close to one?
There are so many places in Johor that provides riding experiences, doesn't matter if you're a first-timer or an experienced rider, there are sure to have something for everyone.
Some stables provide full board livery for your horse or ponies, provide a place to train your horse and even a full course package if anyone is interested to learn about equestrian sports.
We've come across 8 horse riding in Johor with skilled instructors that are helpful and readily assistive in all kinds of rides.
Top 8 Horse Riding In Johor
1. Horse Valley Riding Academy
Love horse-riding? Ever want to try riding a horse? Horse riding is one of the special things to do in Johor Bahru. If you are travelling in JB,  then give yourself the opportunity to experience this chance of developing horsemanship and the skills of horse riding!
Horse Valley Riding Academy located in Masai is just 10 minutes away from the Johor/Singapore Causeway, making it a convenient horseback riding spot for Singaporeans and Johoreans.
There are a different type of courses for riders to try, whether it is for beginners which is the 'beginner's course' or for those who want to have a joy ride is the 'joy ride and recreational riding'.
Whereas a more serious rider, for those who are entering a competition and requires a lot of training, or for those who want to learn about horse boarding and schooling. The amount of interesting horse riding courses can be found here and at affordable prices too!
Location: PTD 109057 Kampong Plentong Baru, 81750 Masai, Johor Bahru, Johor, Malaysia
Contact:+6017-773 2133
Opening Hours:
Tuesdays to Sundays: 7:00am – 11:00am/ 4:00pm – 7:00pm
Closed on: Mondays
2. Amigos Horse Riding
Amigos means "Friends" in Spanish where they want to emphasize the friendly interaction with the horses and also aim to allow everyone to experience horse riding.
Don't worry if you're not good at riding horses or have no experience in it, you'll be taught throughout in getting to know and handle the horses with their trainers who are experienced riders.
At the same time, they run pony rides, horse rides, horse rentals, stable rentals, personal horse, guided jungle rides, riding lessons and also customized services to suits your needs and preferences. Do not fear if you're young or old, they have customers from age 5 to 75! Age is not a problem.
Planning for a leisure getaway to enjoy the luxury of having to eat good food, play golf and of course riding horses? Plan no further as Riders Resort let you enjoy all these at its finest.
You'll get the opportunity to enjoy long trails through the palm oil and jungles without any disturbance.
They run many activities that provide great experiences to everyone regardless of age and riding levels, such as;
riding lessons
trail rides
horseback riding
learn to ride programs in 2 days
riding camps
weekly camps
holiday camps
What's more, they provide riding packages with lodgings at amazing value prices! This resort is open 365 days which you'll get to enjoy any time of the year.
Location: Lot 1302, Kebun Sedenak, 81000 Kulai, Johor, Malaysia (Inside the Legends Golf and Country Resort)
Contact: +607-652 5330
Opening Hours: Daily
4. UTM Equine Park
Horse riding has become a popular riding sport and since the establishment of UTM Equine Park in 1995 and is the first equine centre among the institute of higher learning, they have produced many successful equestrian sport riders at national and international level.
They had also organized and been in the venue for competitions in dressage, show jumping, horseback archery, and endurance.
They offer many programs that are fun and suitable for all ages, such as;
Riding Lessons
Joyride Joytrail
Leisure Riding
Horse Camp
Mini Horse
Camp 1 Day
Team Building
Anyone with horse/pony that required a home with a standard of safekeeping, reliable caretaker, sustainable stable and facilities? No worries as UTM Equine Park provide full livery for your horse or pony at a reasonable price and of course, include bedding and feeds too!
Location: 
https://bit.ly/2q6yt3J
Contact:
+607-5536343
Opening Hours
:
Daily: 8:00am – 11:00am & 3:00pm- 6:00pm
Closed on:
Friday
5. Kuda House Equestrian Centre
Enjoy the experience of riding horses, learning the ways of managing stables and many other activities at affordable prices at Kuda House Equestrian Centre.
Since July 2017, they have shifted to a new location of a 20-acre multipurpose field at Leisure Farm that is located in Gelang Patah. It is much nearer to the Tuas Checkpoint, hence more convenient for Singaporeans which is only 45 minutes drive away!
They pride it in providing top quality instructors in a relaxed and fun environment whilst offering extensive programs for children and adults. The courses provided ranges from the fun ride and riding classes to horse schoolings and trail rides.
Location: 1, Jalan Polo, Leisure Farm, 81560 Gelang Patah, Johor, Malaysia.
Contact: +6012-7366895
Opening Hours:
Daily: 8:00am – 11:00am & 2:00pm- 6:00pm
Closed on: Monday
Why not spend your weekend with the majestic beast while clopping along the thetrail path to enjoy a breathtaking view of nature and surrounding? Well, of course, you can get to enjoy this here at Sinar Eco Resort!
They offer an extensive range of activities that adults and kids of all ages are able to experience and enjoy. Outdoor and indoor activities are plenty, so there is always something to do in the farm and you wouldn't feel bored at all.
What's more, they offer resort packages combined of 4 activities or special packages of 2 days 1 night retreat inclusive of meals and all the activities in the resort- all these at affordable prices that you wouldn't want to miss.
Location: Lot 2346, GM2535, Kampung Sungai Molek, Mukim Jeram Batu, 81500 Pekan Nanas, Johor, Malaysia.
Contact: +6013-757 2434
Thinking of bringing your family to learn, touch and get up-close with animals for a weekend getaway? Where to bring them, you ask? Then it is none other than HS Farm Stay where you'll get to spend the outdoors getting fresh air and taking in the spectacular view of nature.
This farm provides a relaxing environment so you can revitalise your energy while getting the opportunity to explore, learn and enjoy all the outdoor activities that are offered here.
Horse riding is one of the activities which is a great way for adults and children to experience horseback riding, getting up-close and learning almost everything about horses. There are different sizes of horses that are suitable for everyone, so it is safe for kids too.
Location: PTD 4116, Parit Pajar, Jalan Kesang, 84000 Muar, Johor, Malaysia.
Contact: +6012-613 7723
Opening Hours:
Daily: 9:00am – 7:30pm
If you've never been to UK Farm, then you should really visit this place! This farm is highly reputable as the largest sheep and goat farm in Malaysia, with over 4000 sheep grazing the field.
Aside from sheep, the farm has other animals that you can touch, feel, and also get to ride on them too. Well, you can't ride on sheep, of course, but you can ride on the horses! Horseback riding is really a great experience for young and old.
They want to provide the opportunity for everyone to try the feel of climbing and riding on the back of a horse. It doesn't matter if you're just a beginner or an experienced rider; they're always ready to assist. Do note the horse cannot handle rider who weighs more than 50kg.
Location: Plot 8, Project Pertanian Moden Kluang, KM13 Jalan Batu Pahat, 86000 Kluang, Johor, Malaysia.
Contact: +607-759 7555
Opening Hours:
Daily: 9:00am – 6:00pm
How To Get To The Horse Riding Places In Johor
Want to get to these places to learn or experience horse riding in Johor from Singapore but doesn't know how?
Worry not!
You can now travel with smoothly with SGMYTAXI – a comfortable and trustworthy private car service that is renowned for its excellent service!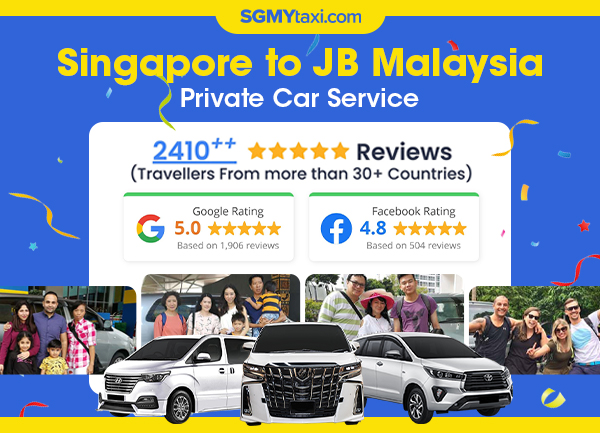 What's more, you wouldn't need to get off from the vehicle when crossing the Singapore-Malaysia border for the custom check. Leave your passport to the driver and he will do the work for you.
Also, you'll be pick-up from any point in Singapore to these places in Johor at your desired time.
Our professional drivers ensure your safety with prompt and quality services to fit your needs.
Contact us or book online today, it's convenient with SGMYTAXI!
You Might Also Like: