Getting bored of city fast paced life?
And tired with your daily working routine?
It's time to let yourself release your stress and tension!
Try on go kart in JB or ATV ride in JB and forget about yourself in the speed and furious.
Just less than an hour away in Singapore and you can choose any of the outdoor activities below based on your preference.

Go Kart JB
1. Plentong Karting
One of the largest karting tracks that runs for more than ten years in Johor Bahru.
This circuit covers over 10 acres of land that allows you to satisfy your adventure and excitement dream!

The track total distance is around 1.5km and it consists of 14 turns and 2 straights that allow you to speed up to 160 km/h.

This karting circuit is located at Plentong which is around 20 km from JB, which takes around 30 minutes from CIQ.
There will be no problem if you are bringing along your children, they will be supervised under the professionals.
For group activities booking, you may email to [email protected]
2. Angsana Go- Kart
Beginner and family friendly for this JB karting circuit!
This karting is located at car park C of Angsana Mall, which 10km from CIQ takes around 15 minutes of distance.
It offers single and double-seater karts, which families can enjoy the suspense and excitement along with their children.
The total size of the circuit will be slightly smaller compared to others due to limited spaces, BUT it operates until late night!
So it brings convenience for night cats that are struggling where to hang out.
Location
:
Angsana Mall, 81200 Johor Bahru, Johor, Malaysia
(Located at the car park C of Angsana Malls Johor Bahru/ Next to LHDN parking area)
Contact:
+6017-377 5868 or +6012-658 1969
Operating Hours:
Tuesday to Friday: 1:00pm to 12:00am
Saturday, Sunday & Public Holiday: 1:00pm – 12:00am
Monday: Closed
3. RUD Karting
One of the few professional karting circuits that you can find in JB! This spot is the TOP pick for Johorean that looking for an exciting experience.
This adventure activity provides a track length of 840m along with 5-8m width which allow players to enjoy the overtaking chances.
There are several types of karts that are provided here: Basic, Twin, Touring, Super and Advance Kart, which are player friendly that are suitable for youngsters and families.
RUD Karting not only is a Karting Circuit, it's also a huge facilities hub that provides: pool parties, gaming station, dining, coffee house, KTV, boxing. Strongly recommend for families to come for various enjoyment!
4. X Park Sunway Iskandar
X-Park is one of the most exciting and adventurous parks in Malaysia and offers various adventure activities in their park such as Mountain Biking, Motocross, Rock Climbing, Archery or Paintball among many other exciting activities.

X-Park does have several branches BUT Iskandar branches are the largest in Malaysia.
It consists of over 32 acres so it's a good choice to spend your day at this park.

It is the only one indoor kart in JB and is one of their MUST PLAY list in the park. Offering different types of kart and at affordable pricing.
ATV Ride JB
Lover of nature but have finished your pocket list to visit?
Getting bored of hiking and jogging on hills or parks?
It's time to try something new and exciting, at just nearby at Johor Bahru
Enjoy special and unusual activities such as ATV JB during your short holidays!
1. The Tristan Park, Semangar
Tristan Park is well known for their dirt biking but they also provide ATV riding at their Semangar Trail.

Riders can definitely enjoy the nature scenery and also ride with at the off-road trail where is wide enough to ride with a group of riders

Your safety and the route is well supervised by the profession, they will guide along the whole trip.
Flexible tour package provides for customer according to their trip requirement:
Types of Tour:
Half Day: 10.00am – 1.00pm or 2.00pm – 5.00pm
Full Day: 10.00pm – 3.00pm
Tristan Park recommends booking the trip online as they need to prepare the ATV and fuel so that on the trip day there would not be any delay!
2. ATV Park Johor
Extreme activities lovers may love this attraction, as this is the biggest and most natural based riding park!

Reduce your tension and enjoy the lovely scenery during this fun ride with your loved one.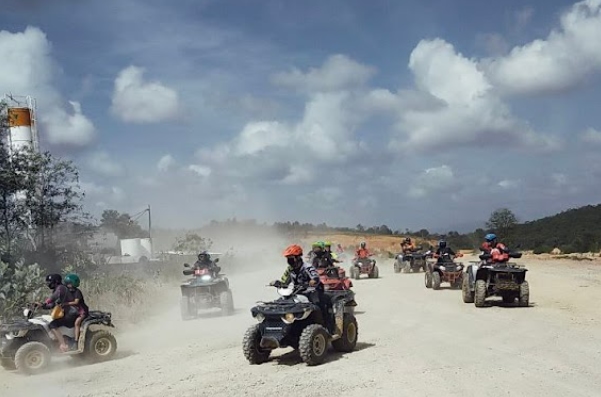 Instead of a rainforest track, you will be giving a try out on a smooth ground surface for the speed desired!
Available for big family holiday trips or company team building!
3. X-Park Sunway Iskandar
A multi-sport and extreme activities arena located a few miles from TUAS, Second Link!
Enjoy the heart dropping speed ride at X-park, multiple types of ATV that you can choose based on your experience.

You can enjoy the excitement of ATV while your children can spend their time with child -friendly sports such as badminton, futsal or dodgeball that are located in the same arena!
Recommend for family trip that bringing senior citizen and children, because of their various types of activities provided
Remark: Only accepts for Advance booking, strictly no walk-in customer
4. UTM Recreational Forest ATV Funride
Worrying about the road of an ATV is too scary and freak out for you as a beginner?
Check out his ATV tour in UTM that is surrounded by rainforest and learn from a senior experienced rider how to ride an ATV in a slow-paced way.
Instead of speedy ride, this tour is a road trip that ride through and slowly explore Universiti Teknologi Malaysia's 53 hectares of rainforest that provides the perfect terrain for different kinds of ATV rides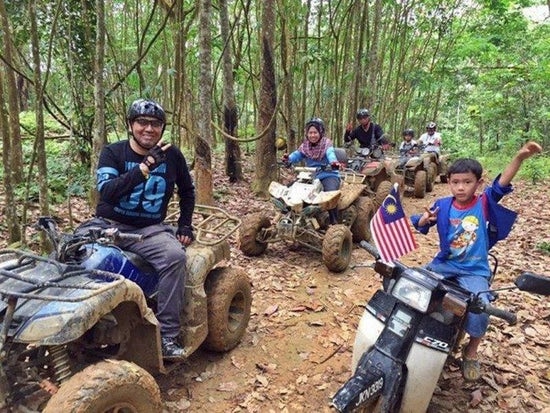 Enjoy this 30-40 minute ride, Take a view at the top of the hills and refresh yourself with this peaceful view.
Remarks: Contact with them to secure your ride slot in advance