Thinking of a place to spend the weekend getaways from Singapore with your family or friends?
You want something that has everything under one roof?
KSL City Mall is that one stop solution to almost everything you need for fun, play, eat, and shop.
It is an entertainment location that you won't be bored of.
The mall is also connected to KSL Hotel Resort, where you can stay a night or two to enjoy its amenities.
And how to get to KSL City Mall or KSL Hotel Resort from Singapore?
Not to mention, the ways of getting here is really simple too.
We list out the means of transport from Singapore to KSL City mall at the most convenient just for you, check it out!
1. How To Go KSL City Mall From Singapore By Private Car
2. How To Go KSL City Mall From Singapore By Bus
3. How To Go KSL City Mall From Singapore By Train
4. How To Go KSL City Mall From Singapore By Self-Driving
KSL Shopping Mall
In need of retail therapy?
This mall got it covered for you. There are boundless fun and amazing things to see, buy and eat that you can spend the whole day in the mall!
scrumptious food is aplenty,
lots of handphone vendors to get your phone accessories,
a rejuvenating massage at their spa,
watch your favourite movie in the cinema,
heaps of clothing store
a big supermarket to get your necessities
What's more, this mall is only a few meters away from the Johor-Singapore immigration center, so it is pretty convenient.
How To Get To KSL City Mall From Singapore
1. How To Go KSL City Mall From Singapore By Private Car
It pays a little for great comfort and SGMYTAXI is an affordable private taxi service that can bring you to KSL City Mall from Singapore with ease and stress-free!
You can choose one way or return trip from Singapore to KSL or KSL to Singapore.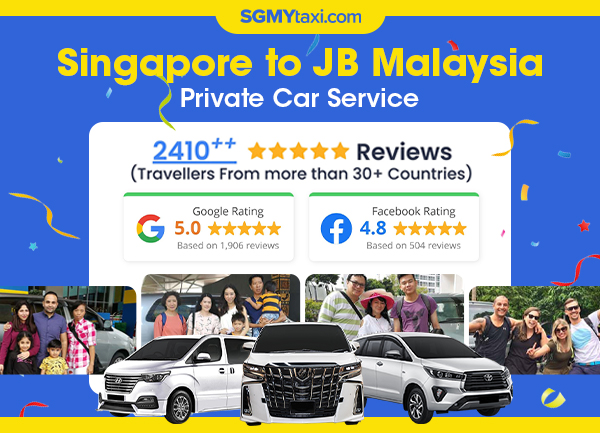 Book online now to get your SGMYTAXI private car service from Singapore to KSL City.
Why Choose SGMYTAXI Private Car Service From Singapore To KSL City:
Drivers will pick you up at your preferred location in Singapore and bring you to KSL without need to wait for other people
You can choose your preferred pickup date and time
Easy to book online or via Whatsapp
Sit back and relax all the way from Singapore to KSL in the comfort of private MPV car
Affordable private transfer & reasonable pricing rates
Don't need to alight/get off from the car to get your passport stamp when going through Singapore and Malaysia borders.
Don't need to bring your luggage/belongings up and down from immigration and checkpoint building and bus (if you take bus).
Direct transfer service between Singapore and KSL
Comfortable & hassle-free journey
Luxury MPV car that can carry up to 10 people per car
Suitable for family with kids and elderly or large group who wish to travel in comfort.
No pre-payment, no extra charges or booking fee
The petrol, passport clearance, toll fare and other necessary immigration is all handled for you
Quick Links:
Vehicles Details:
Toyota Innova
No. of seaters:
6 passengers
Comfort capacity:
5 passengers, 1 big luggage & 3 hand carry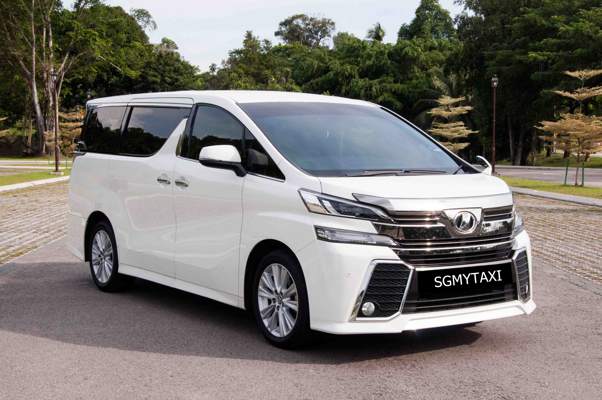 Toyota Alphard/Vellfire
No. of seaters:
6-7 passengers
Comfort capacity:
6 passengers, 2 big luggage & 4 hand carry
Hyundai Starex
No. of seaters:
10 passengers
Comfort capacity:
7 passengers, 2 big luggage & 4 hand carry

SGMYTAXI Happy Customers:
SGMYTAXI has been receiving good feedback from customers' experience.
Prompt communications. Punctual and polite driver, Hadif. Thanks for a smooth trip1
Kerk Kim Por
08:25 28 Sep 23
They answered booking inquiries quickly. Driver was courteous and car was clean
Gmeleen Tomboc
08:38 27 Sep 23
First time using their service the journey was smooth driver very efficient and punctual... i decided to check out earlier than the booked timing and texted to

...

informed that we are ready to leave and driver replied in an instant and arrived 5 mins later.... thumbs up for Mr Faizal keep up the good service ..

read more
Sarimah Mohamed ishak
05:00 27 Sep 23
Our trip to and from Lexis Hibiscus Port Dickson were pleasantly enjoyable. Alex and Tiew are both friendly and they accommodate our request to stop over for

...

lunch before going to our destination. Excellent service.

read more
Nooraine Ya-akub
04:23 27 Sep 23
Awesome service. Driver is on time, best with family trips especially with kids.
Junaroine Inventor
05:04 26 Sep 23
Very good and pleasant 👍👍👍👍I gave 100 ****
arti manikam asrun
03:40 26 Sep 23
2. How To Go KSL City Mall From Singapore By Bus
Another easy and convenient option and definitely more than half of the price of chartering a private taxi will be the public bus.
However, it takes more effort to find the bus and follow their schedule, get some spare change and squeeze with other strangers compare to the private taxi.
Coming from Singapore, there are numerous bus companies that do cross-border transfer, though they only stop at JB Sentral and doesn't go directly to KSL City.
Also read: How To Avoid Jam When Travel Between Singapore & JB
For more details regarding the prices, location information and timing of the bus from Singapore to JB Sentral can be found here.
Once you've arrived at Johor Sentral, head to the bus terminal and walk towards bus lane 2 and 3. From there you will find two bus companies that cater to bring passengers to KSL City.
2.1 S1 by Causeway Link

RM 1.50 one-way fare
Alight within the KSL City compound area
2.2 IM 17 by Maju

RM 1.50 one-way fare
Alight opposite the roadside of KSL City and you have to press the bell to alert the driver
Also read: 15 Cheap & Good Food Near KSL City Mall
NOTE:
Taking public transport (bus) is usually less comfortable than sitting in a private taxi
The issues when taking a bus from Singapore to KSL City is presumably as follow:
Takes a lot of your time
Waiting time differ for different bus and IM 17 waits for the bus to be filled before departing
If you miss the bus, you have to wait for the next one
Private taxi waits for you- the time is in your hand
You will need to get off the bus twice while crossing the Johor-Singapore Immigration Centre
You need to remove the luggage from the bus when crossing the immigration center
There is no luggage space in the bus
Little inconvenient when traveling with elderly and little children
Sometimes there aren't any seats or you get squashed inside the bus
Also read: Taxi From Singapore to KSL Hotel Resort or KSL City Mall
3. How To Go KSL City Mall From Singapore By Train
Alas, there are no direct trains from Singapore to KSL City, but you can still take the shuttle train from Singapore to JB.
The shuttle train schedules can be found here. The trip is only 5 minutes and cost SGD$5 from Singapore to JB Sentral and vice versa of RM5.
From there you're already one step closer to KSL. You can hail a taxi or grab to fetch you there. It is only about 10 minutes from JB Sentral- how convenient and near!
4. How To Go KSL City Mall From Singapore By Self-Driving
Driving can be both relaxing and frustrating at the same time. You get the luxury to go wherever you want, perhaps a stop at a café to eat at the same time you sometimes get stuck in traffic jam!
Reason that you may self-drive:
You get to drive the car at your own speed
You can get to different destination before making your stop at KSL City
Time is at your essence
Getting stuck in traffic can be a huge hassle
If you have a car, let's make an adventure to cross the border and navigate your way to KSL City, it is really easy and just a stone throw away from CIQ Immigration Centre.
You can use waze or google map to lead you to the mall, but remember to drive safely because that area is always congested.
Do note that the parking space is really narrow and the parking rate fee is as below, which is rather costly.
Monday to Thursday
RM 2.00 – First 3 hours
RM 2.00-  Every subsequent hour
Friday – Sunday & Public Holidays
RM 2.00 – Every hour and subsequent hour