Desaru, a famous tourist destination in Kota Tinggi, has the meaning of "Village of Palms".
Surprisingly, many unspoiled and pristine areas can still be found in this developed coastal area.
The beautiful 22km stretch of Desaru beach overlooking the South-China Sea offers unlimited fun and tranquillity.
Famous for the splendid beach, an exceptional coastal resort, premier golf course and other unique attractions- it fills the vacation moments with amusement and excitement.
Many tourists find Desaru a magnet that attracts deep to their heart.
In this post, you will find all the information about Desaru, Johor.
How To Go To Desaru From Singapore
There are 4 ways to reach Desaru from Singapore either by private taxi, ferry, public bus or rent a car and self-driving.
1. Private Car/Taxi Service From Singapore To Desaru
If you're planning to go Desaru from Singapore, the convenient and best way is to hire a private taxi.
SGMYTAXI is a reliable & affordable private taxi service with experienced drivers that specializes in providing private car from Singapore to Desaru and Desaru to Singapore.
Your top choice of the private taxi service provider in Singapore.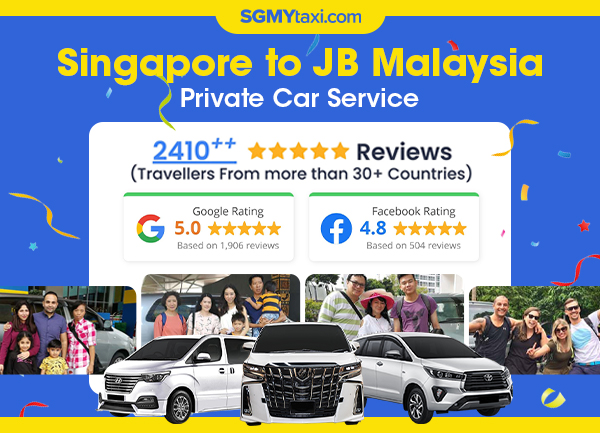 Book right now for a hassle-free Desaru trip and affordable private transfer. The journey may take about 2 hours to reach Desaru from Singapore.
Why Choose SGMYTAXI Private Taxi Service:
Provides door-to-door service, drivers will pick you up at your selected date, time and location in Singapore
No need to get off from vehicle when crossing Singapore and Malaysia border from immigration clearance
Reservation can be made online at their website or via Whatsapp
No need to alight with your luggage for immigration clearance at level 2 of the immigration building.
Hassle-free, convenient and comfortable journey across borders, especially if you travel in a group, with elderly people or young children.
Private transfer from Singapore to Desaru is affordable & reasonable pricing rates
No more bus hopping experience!
Sit back and relax in comfort of private taxi without need to wait for other passengers while drivers bring you to Desaru without having to navigate the infrequent bus timetables.
Accommodate up to 10 people per car
Quick Links:
Vehicles Details:
Toyota Innova
No. of seaters:
6 passengers
Comfort capacity:
5 passengers, 1 big luggage & 3 hand carry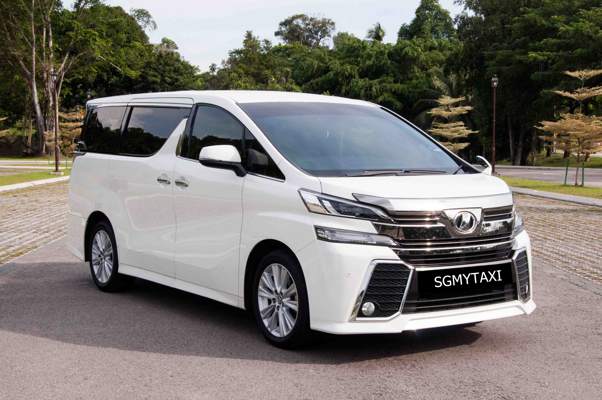 Toyota Alphard/Vellfire
No. of seaters:
6-7 passengers
Comfort capacity:
6 passengers, 2 big luggage & 4 hand carry
Hyundai Starex
No. of seaters:
10 passengers
Comfort capacity:
7 passengers, 2 big luggage & 4 hand carry
SGMYTAXI Happy Customers:
SGMYTAXI serves a wide range of customers and receives positive feedback from their customers.
Prompt communications. Punctual and polite driver, Hadif. Thanks for a smooth trip1
Kerk Kim Por
08:25 28 Sep 23
They answered booking inquiries quickly. Driver was courteous and car was clean
Gmeleen Tomboc
08:38 27 Sep 23
First time using their service the journey was smooth driver very efficient and punctual... i decided to check out earlier than the booked timing and texted to

...

informed that we are ready to leave and driver replied in an instant and arrived 5 mins later.... thumbs up for Mr Faizal keep up the good service ..

read more
Sarimah Mohamed ishak
05:00 27 Sep 23
Our trip to and from Lexis Hibiscus Port Dickson were pleasantly enjoyable. Alex and Tiew are both friendly and they accommodate our request to stop over for

...

lunch before going to our destination. Excellent service.

read more
Nooraine Ya-akub
04:23 27 Sep 23
Awesome service. Driver is on time, best with family trips especially with kids.
Junaroine Inventor
05:04 26 Sep 23
Very good and pleasant 👍👍👍👍I gave 100 ****
arti manikam asrun
03:40 26 Sep 23
2. Ferry From Singapore To Desaru
Another effective way to arrive at Desaru from Singapore is through ferry. You can get to Tanah Merah Ferry Terminal via MRT, bus or car.
Once you've arrived, get your tickets / boarding pass from BatamFast Ferry operator.
Remember to check the ferry schedule departing from Tanah Merah Ferry Terminal so you won't miss it!
2.1 Ferry To Desaru Coast Ferry Terminal From Singapore Schedule
Ferry Route
Departure Date & Time
Tanah Merah Ferry Terminal To

Desaru Coast Ferry Terminal

Every Thu, Fri, Sat, Sun: 8:30am
One way ticket costs S$70 per person /  Two way ticket cost S$108 per person
2.2 Ferry To Tanjung Pengelih Ferry Terminal From Singapore Schedule
Ferry Route
Departure Date & Time
Tanah Merah Ferry Terminal To

Tanjung Pengelih Ferry Terminal

Every Fri, Sat, Sun: 8:50am, 5:40pm
One way ticket costs S$43 per person /  Two way ticket cost S$73 per person
Depart from Singapore Tanah Merah Ferry Terminal and the ferry will send passengers to Desaru Coast Ferry Terminal or Tanjung Pengelih Ferry Terminal.
Booking is simple and feasible for everyone.
Check here: batamfast.com for ferry schedule, ticket price.
Book your tickets in advance, because it tends to be full!
Taking ferry to Desaru from Singapore is alternative way, but taking private car from Singapore to Desaru will be more convenient, flexible and hassle-free.
3. Bus From Singapore To Desaru
There is no direct bus from Singapore to Desaru as KKKL bus has stop their Singapore-Desaru route since Mar 2023.
The only way is board any bus to JB Sentral from Singapore.
As you travel along the immigration, you need to get down from the bus to clear the customs -twice!
There are a few bus companies that provide cross-border transfer, you have to make sure to get on the right bus. Check out the bus companies, ticket prices and schedules of the bus from Singapore to JB Sentral.
Once you have arrived at JB Sentral, catch the Causeway Link bus services that travel directly to Riverside Desaru Coast. The two-way fare costs RM49. They only operate 1 trip per day, so make sure not to miss them!
When you arrive at Riverside Desaru Coast, you can take a free shuttle bus to Hard Rock Hotel Desaru, The Westin Desaru, One & Only Desaru & Anantara Desaru Resort.
For more info, check here: How To Go Desaru From Singapore
Desaru Attractions
There is many things to do and attractions to see nearby Desaru. Below is the list of attractions that you should visit at least once:
1. Desaru Beach
Desaru is located at the tip of the eastern side of Peninsular Malaysia.  It is located about 109km from Singapore Changi Airport via Lebuhraya Senai-Desaru/E22 and 79km from Senai International Airport. It is about 1 hour and 30 minutes drive away from Singapore airport and 1-hour drive from JB Sentral.
Also read: 21 Port Dickson Attractions (Best Port Dickson Activities)
Desaru beach at Lotus Desaru Beach Resort is one of the most beautiful and clean beaches you will see in Johor. Short trips from Singapore to the beach or just a leisure vacation is one of the favourite things to do. So, you can have a trip there anytime you wish to unplug from city life and dive into tranquillity.
This is a remarkable ostrich garden that doubles as an open zoo. Children love this place – and it is safe to pet these magnificent birds and even take a ride on them. For many, this would be the first time they ride an ostrich – and this is a wonderful experience, especially for children.
Desaru Ostrich Farm is a family run business which has taken pride in taking care of more than 300 ostriches. Perfect for a half day tour for families as children can get close and learn more about the ostrich, the largest bird in the world.
A friendly guide will lead you throughout the tour. Tourists get to see the hatching process of ostrich and even step on ostrich eggs to test its hardness.
After the tour, you may dine in the on-site restaurant serving ostrich food. However, some tourists find it cruel so they choose to leave right after the tour.
Address: EMR 15, Teluk Ramunia, Kota Tinggi, Johor, Malaysia.
Contact: +607-826 5846
Entrance Fee: RM20 (Adult), RM15 (Children)
Desaru Fruit Farm offers more than 100 kinds of tropical fruits which are set on over 100 acres of land. It is renowned as "Tropical Fruitland" in Malaysia. Other attractions in the farm include Herbal & Vegetable Garden, fish pond and a mini zoo.
This is a huge plantation where you will find a wide variety of exotic fruits – such as durian, rambutan, passion fruit, star fruit and many more – which you can indulge all through the one-and-half day tour through the farm.
Malaysian Tourism awarded Innovative Tourism Attraction – Agro Tourism Conservation in 2010 and the "Best Agro-Tourism site" in 2006 to Desaru Fruit Farm. The farm subsequently attracts local and international tourists and later boosts the tourism industry in Malaysia.
Opened all year round, educational groups and schools can schedule a tour or trip to the farm. The guests get to savour tropical fruits, learn the ways to select different fruits and observe live working beehive. The owner of the farm is grateful for providing quality fruits and vegetables for community despite offering a fun learning experience.
Variety of packages are available and reservation in advance is recommended.
Desaru Fruit Farm Tour Package
One Day Desaru Tour
Fruit Farm Tour with Fruit Packet
Fireflies Cruise
Paintball War Game
Desaru Fruit Farm Day Trip
7.30am – Gather at a designated place.
8.00am – Proceed to Desaru by bus.
8.30am – Clear customs and have breakfast in Johor.
10.30am – Visit Desaru Fruit Farm
Visit Herbal & Vegetable Garden
Participate in Educational Bee Keeping Management talk
See how the bees work and taste raw honey
12.00pm – Enjoy buffet lunch, durian feast and Fruit Fiesta in the farm
Shop at Mini Mart on the farm for fruits and local products
3.30pm – Visit Crocodile Farm
4.15pm – Lobster seafood dinner at Sungai Rengit
6.00pm – Fireflies tour in Kota Tinggi
9.00pm – Return to Singapore
10.00pm – Arrive at Singapore
Address: Desaru Fruit Farm, 92, 82200 Kota Tinggi, Johor, Malaysia.
Contact: +607-822 5886 / +6012-772 1817
Entrance Fee: RM25 (Adult), RM20 (Children) (For Fruit Farm Tour With Fruit Packet)
Opening Hours: 8:00am to 6:00pm
Kota Tinggi Waterfall, not far off from Desaru- has attracted many Singaporeans and local people love to come here for a relaxing nature outing during weekends or public holiday. You can cool off from the afternoon sun to swim in the pool or meditate amidst the lush greenery and waterfall.
Feast your eyes on the large aquatic reptiles lazing under the sun or snapping their jaws! There are more than 1000 crocodiles available on the farm.
Teluk Sengat Crocodile Farm is about 30-minutes drive from Lotus Beach resort.  You can plan a half day trip to know more about crocodiles and even a chance to see the keeper feeding crocodiles during their feeding time! Besides that, you get the experience to hold a baby crocodile, all under the supervision of a caretaker.
Address: Teluk Sengat, Kota Tinggi, Johor, 81920, Ayer Tawar 2, Johor, Malaysia
Contact: +607-895 5220
Entrance Fee: RM8 (Adult), RM4 (Children)
Opening Hours: 9:00am to 6:00pm
6. Lotus Desaru Water Theme Park
The exciting and wonderful Water Theme Park is located in Lotus Desaru Resort, a resort known as "The resort for all reason" due to its year-round activities. This water theme park is the main attraction of the resort. It enhances your stay by offering fun yet exciting water activities.
Also read: Desaru Waterpark (One Of Biggest Wave Pools In The World)
Lotus Desaru Water Theme Park is a place where children will fall in love with. It features a kids water playground where children can have splash fun among one another. Enjoy a big splash from the top at their Giant Coconut fall. There are also water slides and waterfall for both children and adults to enjoy.
For a more relaxing activity, grab a tube and hop on to the Lazy River. Here you can float around and enjoy the beautiful scenery of Desaru Beach. Other features include Stone Bridge, Poolside Grotto and Relaxation Gazebos.
Address: Lot 1854, Jalan Desaru, Bandar Penawar, 81930 Kota Tinggi, Johor, Malaysia
Contact: +607-884 2800
7. Desaru Firefly Watching (Firefly Valley Leisure Park)
Another nature wonder awaits you at Firefly Valley Leisure Park. It brings you closer to nature through firefly watching experience. Firefly is a so-called lightning bug that flickers and dazzles all the time.
The park is situated on the bank of Kota Tinggi River. You can either choose to watch Firefly on foot or by boat. For your information, it's the only place in Kota Tinggi that provides firefly watching on foot.
For the boat, the boatman will sail down the river and you'll be greeted and surrounded by dazzling fireflies in the dark. However, keep in mind that flash photography is prohibited.
Do not miss out this golden chance to open your eyes to a whole new world of fireflies glittering and blinking all around you. It's truly a wonderful sight to behold.
Address: Jalan Bypass, 81900 Kota Tinggi, Johor, Malaysia
GPS: 
https://bit.ly/2HjX243
Entrance fee:
Walking – RM10 (adult) and RM7 (child) below 8 years old
Boat – RM18 (adult) and RM12 (child) below 8 years old
Contact: +6012-789 6224 +6012-783 3723
8. Desaru Gold and Country Club (Els Club Desaru Coast)
Els Club Desaru Coast is a 27-hole golf course situated along the beautiful stretch of Desaru Coast overlooking the South China Sea. It consists of 3 distinct 9-hole golf courses named the Lake, Ridge and Ocean.
All of them are designed according to different skill levels by Ernie Els, a premier golf course designer.
Launched in 2016, it is promised to be one of the major attractions in Desaru.  It features Els Residences with 10 luxury villas overlooking the wide stretch of the golf course.
Besides well-equipped with modern amenities, the residences come with a private pool for relaxation. Therefore, it cannot be denied that Els Club Desaru Coast is ideal for a perfect getaway from a busy lifestyle.
Despite well-equipped with golf facilities and equipment, golf coaching from qualified LPGA and PGA instructors are also available for lady golfers and juniors.
Contact: +607-878 0000
9. Tanjung Balau Fishermen Museum (Muzium Nelayan)
The north part of Desaru boasts a Tanjung Balau Fishermen Museum which is opened by South-East Johor Development Authority (KEJORA) in 1992.
The museum comprises 4 galleries.
Fishermen's Gallery – showcases lifestyles of fishermen and their fishing tools.
Geology Gallery – showcases more than 100 stones of different sizes and shapes which are found in Tanjung Balau.
Sea Gallery – acknowledges visitors on ancient communication systems and marine navigation.
Desaru Shipwreck Gallery – showcases a junk carrying cargo that sank near Desaru in the 1830s.
Address: Tanjung Balau, 81930 Kota Tinggi, Johor, Malaysia
GPS: 
https://bit.ly/2K4tw46
Contact: +6012-972 6791
Opening Hours:
Monday to Thursday: 9:00am – 5:00pm
Saturday to Sunday & Public Holiday: 9:00am – 6:00pm
Friday: 9:00am – 12:00pm & 2.45pm – 6:00pm
1. You Kee Seafood Restaurant
Sungai Rengit boasts a famous restaurant, You Kee Seafood Restaurant serving fresh and scrumptious seafood.  The chef, Mr Low, has run this restaurant for over 20 years. It's a typical restaurant with a traditional ambience located beside the street side.
Many customers come here just to savour their highlight dishes, butter lobster. The flavours of succulent and juicy lobsters have been perfectly enhanced by the sweetness of butter.
Other delicious dishes include salted egg crab, Indonesia style fried baby squid and sambal fried kang kung.
Address: 55, Jalan Pantai, Sungai Rengit, 81620 Pengerang, Johor, Malaysia
Contact: +607-826 3071 / +607-704 9971 / +6013-766 8989
Operating Hours:
Daily: 11:00am – 10:30pm
2. Jade Garden Seafood Corner
Jade Garden Seafood Corner, the largest and most famous seafood restaurant in Sungai Rengit is always fully occupied with diners.
There are ample parking spaces and hotels within close proximity. Strongly recommended by locals, the restaurant takes pride in serving fresh-caught lobster and other fishes.
Also read: Top 11 Seafood Restaurants in Johor Bahru
The environment here is excellent; it's air-conditioned, clean and comfortable. Despite good customer services, the food served here is reasonably priced. Don't miss out their specialty dishes:
lobster,
salted egg crab,
curry leaf crab,
Pomfret,
boneless chicken salad
Address: Lot 4785, Lorong Siakap 1, Sungai Rengit, 81620 Pengerang, Johor, Malaysia
Contact: +607-826 5460
Operating Hours: 11:00am – 10:00pm
3. Restoran Terapung Bujang Firefly
Built on stilts, Restoran Terapung Bujang Firefly is a typical Malay seafood restaurant offering seafood cooked in unique Malay style. Western cuisines are served as well. The simple interior makes one feels like dining at home.
Order the dishes according to your number pax as the menu is offered in a package. Some of the dishes offered include Tom Yam seafood soup, Sotong goreng tepung and deep fried calamari. After getting your stomach full, go for a firefly boat tour beside the restaurant.
Address: Jalan Johor Silica, Sg Lebam, Bandar Penawar, Kota Tinggi, Johor, Malaysia
GPS: 
https://bit.ly/2F4hxQg
4. Super Lobster Restaurant
Super Lobster Restaurant is popular for establishing a reputation for their quick service, friendly staff and nice sea view.
As its name indicates, the highlight cuisine of Super Lobster Restaurant is their lobster delicacy. The lobsters are cooked in diverse ways just to deliver what their customers like.
For instance, lobster salad, grilled lobster, stewed soup lobster and butter lobster. Besides lobster, the head chef also creates simple yet appealing seafood dishes such as mussel, scallop, cuttlefish, crabs and prawns. Get your seafood cravings satisfied here!
Address: 20, Jalan Siakap, Sungai Rengit, Pengerang, Johor, Malaysia
Contact: +607-826 3699
Desaru Beach Resort
Lotus Desaru Beach Resort is well known internationally for the best resort along the east-coast of Kota Tinggi. It covers a 22km stretch of beach overlooking the South China Sea.
All of the room comes with modern facilities and amenities. Besides, they are dedicated to delivering the best customer services to ensure a memorable stay. With an abundance of activities offered, you'll never get bored in here!
Also read: 8 Best Desaru Resort In Johor
Price Starting From:
RM305 @ SGD$102 (include hotel tax & service fee)
Hotel Highlight:
Air conditioner
Hairdryer
TV
Electronic lockset
Microwave
Fridge
Three swimming pools
Waterpark
For indoor activities; carom, table tennis, pool, board games, mug painting, sand art.
For outdoor activities; beach volleyball, sandy beach football, tug of war, archery, jet-ski.
Good To Know:
Get a room closer to the main building
If you prefer a quieter place to stay, opt for a room further away from the waterpark
Buggy service or shuttle is provided for guests
Breakfast has a good spread of eastern to western dishes
The beach is near to the hotel, only a short walking distance
Block M is quite far away from the restaurant and beach
Lotus Desaru Beach Resort
Address: Lot 1854, Jalan Desaru, Bandar Penawar, 81930 Kota Tinggi, Johor, Malaysia
Contact: +607-884 2800
Email:
[email protected]
2. Sand & Sandals Desaru Beach Resort & Spa
Aimed at providing world-class hospitality, Sand & Sandals Desaru Beach Resort & Spa (previous known as Pulai Desaru Beach Resort & Spa) offers the finest experience you can ever have in Desaru. Located right at the centre of Desaru, it is surrounded by tropical rainforest and beautiful beach.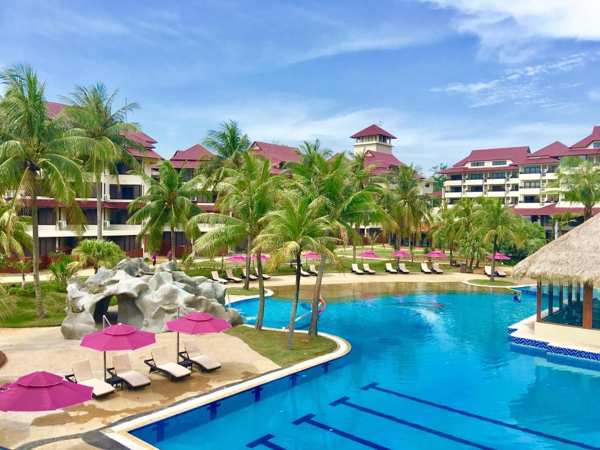 Price Starting From:
RM 375 @ SGD$127 (include hotel tax & service fee)
Hotel Highlight:
The resort features over 200 elegantly decorated guestrooms
Spa services
Dine in either Palm Brasserie Restaurant or Teppan Japanese Restaurant
At Snuk Thai Street BBQ, eat thai food
Wedding package deals
Meetings and events packages
Tropical pool
Complimentary WiFi
Gym
Shuttle services to and fro airport
Shuttle services around hotel
Good To Know:
Game room with kids playroom
There's a live band
Poor internet coverage
Can rent scooter
Visit Game On the counter to book activities
Choose the deluxe sea view room with a beautiful view of the sea
Dry leaves found in the pool
A beautiful pool bar
Try Balinese massage which is really good for relaxation
Get a good view by booking a room that faces the pool
3. Amansari Hotel Desaru
Amansari Hotel Desaru amazes the guests with its elegant and home-like decorations. They find here a home-away-from-home. Comfortable rooms with great amenities are available plus accessible to malls and lots of eateries with just a stone throw away! This is the place for a relaxing getaway.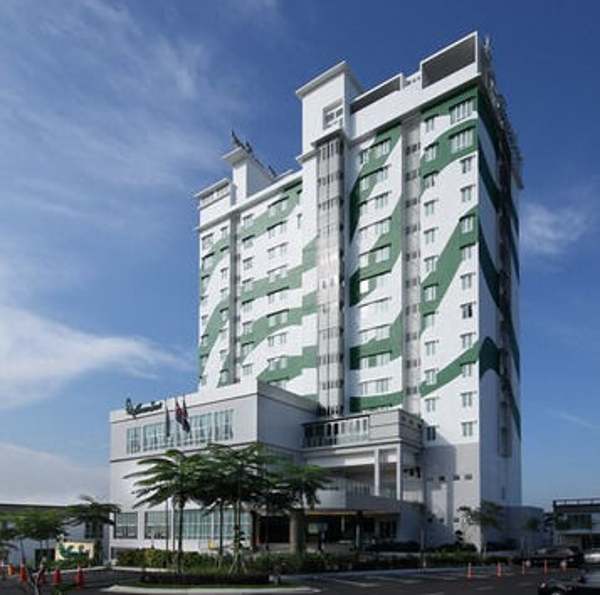 Price Starting From:
RM246 @ SGD$83 (include hotel tax & service fee)
Hotel Highlight:
Complimentary bottled water
Dry cleaning or laundry services
Coffee/ tea-making facilities
Luggage storage
Free parking but limited space
52km from Changi City Point
15km from Desaru Fruit Farm
10 mins drive to Desaru Beach
Good To Know:
Buffet breakfast a bit plain with lack of variety
Plenty of eatery and grocery shops nearby
Don't have swimming pool
Parking spaces are limited
Required to pay room deposit upon check-in
Open bar on the first floor has a live band
The playroom has a billiard table
Great wifi connection
Amansari Hotel Desaru
Address: No.127, Jalan Kempas 1, Taman Desaru Utama, 81930 Bandar Penawar, Desaru, Johor Malaysia
Contact: +607-828 0200
Email:  
[email protected]
4.  Desaru Tunamaya Beach & Spa Resort
Desaru Tunamaya Beach & Spa Resort blends perfectly with the pristine nature of Desaru. It is a resort where you can find comfort in nature.
The resort features 134 rooms and suites. All of these accommodations are set amidst the stunning beaches, clear blue water and decent tropical rainforests.
Price Starting From:
RM461 @ SGD$155 (include hotel tax & service fee)
Hotel Highlight:
Daily newspaper
Cost available
Rooms with balcony
Pool & gym access
Kids playground
High ropes adventure
Water sports activities
Aroi Thai has great local and western dishes
Pwana Restaurant has great local and western dishes
Enjoy a drink at Ombak bar
You can book local tours
Good To Know:
Room on the top floor has a great view of the beach
Limousine and airport transfer service
Rooms on the rainforest villa should be less noisy
Pool float service
Choose the top floor for less noise
Deluxe room can access the pool and beach easily from the ground floor
The rooms in the resort face the sea
Breakfast had limited choice
Desaru Map