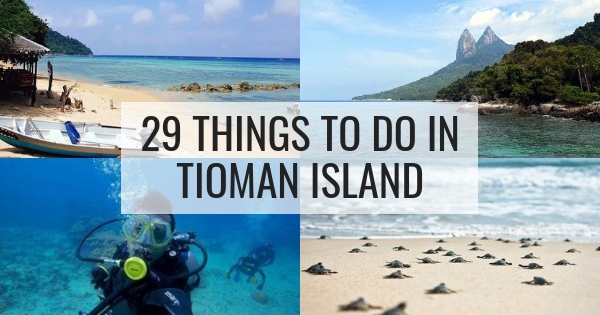 If you are planning for a short weekend getaways from Singapore to Tioman Island, lucky you!
Being the tropical paradise in Malaysia, this beautiful island awaits you with a wide range of water activities and adrenaline adventure into the dense rainforest!
Almost all these activities can connect you with nature while offering you crazy fun.
In fact, there are so many things to do in Tioman Islands.
I bet a few days isn't enough for you to enjoy them all!
Still thinking of what to do in Tioman Island?
Follow the list below to keep your days here occupied with endless scream and laughter.
Let's go!

29 Best Things To Do In Tioman Island
1. Snorkel By The Beach
Do you know that you can snorkel right from the beach in Tioman Island?
Thanks to the well-preserved environment, you can still discover a plethora of sea creatures without the need of venturing too far!
While you here, take advantage to snorkel at the southern end part of Salang Beach – one of the most well-known beach and village here.
This activity is inexpensive as you only need to rent the snorkelling gears from any dive shops around.
2. Take A Snorkelling Trip To Coral Island or Renggis Island
Trying to go for a little bit further to explore the mysterious underwater world? you can take a snorkelling trip to the uninhabited islands like Coral Island or Renggis Island!
As the location is inside the marine park, the coral health is better and you can be friends with even more colourful fishes.
What else? If you are lucky enough, you might encounter the harmless reef sharks!
Also read: Rawa Island Packages (Which One Should You Really Pick?)
There are many Tioman Island packages available. You can either purchase the snorkelling trip packages online or on-site.
3. Experience Scuba Diving
If snorkelling isn't enough to satisfy your curiosity about the underwater world, go scuba diving in Tioman Island to discover the deeper part of the sea and be obsessed with the rich marine life!
Also read: Top 15 Best Dive Sites In Malaysia
This enchanting island is truly one of the best islands in Johor because it offers amazing dive sites such as Labas Island, Chebeh Island and Tiger Reef.
For beginners, the island has many dive centers that offer various diving lessons. You can also get PADI certified here at a cheaper price.
4. Ride On The Banana Boat With Friends
Wanted to have a little more exhilarating group activities with friends or family, make sure you don't miss out the banana boat!
Banana boat looks like a long, yellow vessel floating on the sea. You need to have a least 4 persons on a boat.
Also read: 3D2N Tioman Island Package From Singapore
Put your life jackets on, it requires you to grab firmly on its handle and balance yourself while the waves are coming. You will have fun holding on tight!
5. Kayak Into The Middle Of The Sea
Your trip to Tioman Island isn't a complete one without getting on an adventure with the kayak!
A well-maintained kayak is easy to be rented all around the island. They have 2-seater canoe or 1-seater canoe to choose from.
Also read: Mersing Jetty To Tioman Ferry Schedule
While paddling your way around the crystal-clear sea, you can see the rich marine life just beneath the boat. You also see the beautiful island view of the sea!
Some people take the challenge to kayak to Turtle Beach or Monkey Bay too!
6. Race With Friends In The Forest Via ATV Ride
Another way to discover the inner beauty is by taking on the jungle ATV Ride. It will make your trip more exciting and fun!
This ATV Ride is only available at Paya Beach Resort. The ride takes place at the jungle trail right behind the resort. Guided by professional, they will provide a helmet to ensure your safety.
7. Sunbathing On The Paya Beach
Paya Beach is near to one of the most famous resort in Tioman Island, which named Paya Beach Resort.
Due to its serenity and tranquillity, this beach is ideal for relaxation.
Simply just take pleasure under the hot sun and sea breeze by sunbathing on the Paya Beach. You will see many foreigners doing the same thing too!
During the sunset, it's best to buy a cocktail and watch the sun goes down. You will feel very relaxed and satisfied.
Also read: How To Get To Tioman Island From Singapore
8. Explore The Rainforest Via Jungle Trekking
Let's discover the inner beauty of the island at a slower pace! I would like to say, jungle trekking is the best option for you! There are many jungle trekking packages with different trekking trails available.
Just to name a few, you can trek from Tekek Village to Juara Village, or from Salang Bay to Turtle Bay to Monkey Bay.
All these trails are safe and adventurous! Sometimes, you need to climb up the steep rocks using ropes so make sure you wear sport shoes.
9. Have A Splash At Asah Waterfall
Asah Waterfall is situated near to the Mukut village. If you know the old movie "South Pacific", one of the scenes was filmed here.
There are many ways to go to Asah Waterfall, you can either take a water taxi or boat or hike from Kampung Mukut. Hence, most of them prefer the latter way to discover the unique flora along the journey.
Remember to bring extra clothes like swimming and taking a dip in the Asah Waterfall are very refreshing!
10. Cycling Around The Beautiful Island
Cycling is yet a relaxing and laid-back activity to explore the island at your own pace. Along the way, you can take in the beautiful scenery offered by the island.
Also read: How To Get To Mersing Jetty From Singapore
Here, the bicycle can be rented and there are well-built pavements to make cycling around very easy. You can cycle from a village to another village too.
Don't worry if you don't know how to ride a bicycle, because they offer tandem bikes for the guests too.
11. Play Frisbee Or Beach Volleyball In The Evening
All around the island you will find wide long beaches which are suitable for a game of frisbee and beach volleyball in the evening hour. It's fun and great for bonding time with friends and family!
The frisbee and beach volleyball can be rented but you can bring your own too.
Some of the best beaches to play are:
Monkey Beach
Juara Beach
Berjaya Beach
Salang Beach
Genting Beach.
After you are exhausted from the activities, sit back, relax and wait for the beautiful sunset!
12. Savour The Authentic Food
The island boasts a lot of small eateries that offer food at affordable price. Most of the food you can find on Tioman Islands are the local delights such as noodles, fried rice, and roti.
You might say these cuisines are pretty normal but it's all about the taste! The food here has its own authentic taste that nowhere could be found.
For instance, you can enjoy delicious Chinese cuisines at Golden Dish Café. They grow their own vegetables!
Also read: 13 Best Cafe In Johor Bahru
13. Catch The Golden Sunset
On good days when the sky is clear, the sunset at the beach is very stunning. And it's very romantic to spend this time with loved ones.
In the evening, there's usually low tide. This means that you can reach out further to the sea to get a little bit closer to the sun.
It's best to take pretty pictures at this hour because the sunset background serves as the perfect backdrop for you!
14. Explore The Kampung Air Batang
Neighboring the Salang Village, Kampung Air Batang is one of the biggest and major villages on the island. This village also offers some of the best resorts in Tioman Island!
Besides homestays, this village also offers a wide array of eateries where you will find the food delightful and satisfying.
One of the highlights of this village is ABC Beach – very serene and beautiful. From here, you can also hike to the hidden beaches or bays too.
15. Visit The Genting Village
Located on the west coast of Tioman Island, Genting Village offers visitors a 1.5km stretch sandy beach backed by the lush rainforest.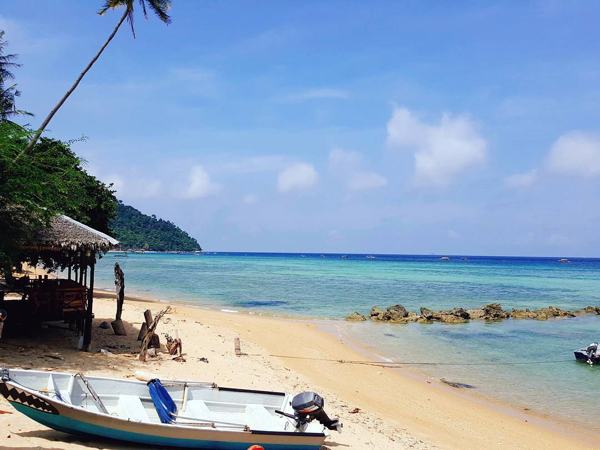 Are you on a budget trip? Do consider staying here because it offers budget chalet-like accommodations and affordable restaurants just lining along the beachfront.
During daytime, you can swim in the crystal-clear sea but be careful as there are many rocks and boulders. In the weekends, the village is relatively hustling and you can have a night party until midnight.
16. Visit The Juara Village
Juara Village is yet another peaceful village great for water activities like snorkelling, swimming or simply just relax at the beach. There's also a sea turtles' hatchery here!
The best part is, you can experience surfing at Juara Beach! In good condition, the waves can get up to 20 meters. The surf board can be rented at the shops too.
Juara Village also offers beachfront villas and traditional chalets as accommodation.
However, from Tanjung Gemok Jetty, there is no direct ferry to Juara Village up until now. You need to hire a private boat to get to this village.
17. Learn About The Marine Life At Marine Park Information Centre
Located at Tekek Village – the eastern part of the island, Marine Park Information Centre tells you everything about the marine life around the island.
This information center opens every day and the entrance is free of charge.
There's even a small jetty which extends to a beach area – where you can feed the fishes and walk to the reefs in the sea.
Inside, you will also find exhibitions of different coral reefs as well as their information.
18. Catch A Fish In The Fishing Trip
Fishing Trip often attracts many fishing enthusiasts regardless of locals or foreigners to take part in!
In Tioman Island, there are different fishing packages to choose from.  The same thing is, all the trips will take you to 25km off the coast where the area isn't recognized as a marine park.
Usually, seafood dinner will be included in the fishing trips. The fishes served upon you depends on the fish caught of the day!
19. Enjoy A Game Of Golf
Enjoy a game of golf at Tioman Island Golf Course that boasts 18 holes in total – challenging enough for even professional golf players!
This golf course is a part of the Berjaya Tioman Resort. For beginners, it is also an exciting experience as you can practice your swing and learn all basic technique here.
Best of all, you can take in the breathtaking view of Renggis Island while playing. This is somehow one of the best activities you can enjoy on the island!
20. Take Pleasure At The Unspoiled Nipah Beach
Nipah Beach is truly a heaven for those seeking for an isolated yet secluded beach. This remote bay is undisturbed, fringed by greenery rainforest and filled with golden sands!
The serenity is its main draw. If you come here at night, you will see the tiny sea creatures glow in the sea! This creates an enchanting light show under the night sky.
You can charter a speedboat to come here for a trip from any places on the island.
21. Discover The Cute Turtles At The Juara Turtle Hatchery
Located at Juara Village, The Juara Turtle Hatchery is a place for you to see a wide range of turtle species and the hatching process of turtle eggs.
Built to preserve the overall turtle population, the main turtle season is from mid of March to the end of October. But there will be activities all year round.
Be the superhero! If you are interested in their volunteer work, feel free to join them anytime, just need to contact them in advance.
22. Go To The Tekek Village
You shouldn't go to Tioman Island without paying a visit to its capital village – Tekek Village that comes with a beautiful beach!
Tekek village has more urban infrastructure compared to other villages, ranging from highway, bank, retail shops, airport, and a well-built jetty.
There are several ways to go to this village, either taking ferry to Tioman by Cataferry or Bluewater Express ferry.  Remember to check the Tioman ferry schedule before you go.
For accommodation, you can consider staying here as it offers clusters of budget resorts.
23. Night Party At Cabana Bar
Who says Tioman Island doesn't offer a vibrant nightlife?
At Cabana Bar, you can enjoy the nightlight to the fullest just like in Thailand or in Bali!
Located in the Tekek Village, you will find different kinds of cocktails, beers and attracting music that makes you want to stay here whole night long.
Here, one of its biggest draws is the "Fireball Show" and "Traditional "PoiPoi". You will see many bonfires on the beach too!
24. Enjoy Island Hopping To The Nearby Islands
Island hopping packages offered here takes you to other beautiful islands inside the Mersing Marine Park!
Also read: 9 Best Things To Do In Mersing
Snorkelling and swimming are often a part of the activities in island hopping.
The best part is, when you reach nearby islands, you can just snorkel right from the beach! It gives you the golden chance to see more marine life other than from Tioman Island.
Also read: 10 Best Haven Islands off Mersing, Johor
Normally, they will use the speedboat as transport. If you wish to have more privacy, you can also charter the boat, which doesn't cost too expensive!
25. Indulge In The Spa
There are several resorts on the island offering guests the most indulging spa packages. For instance,
Japamala Resort by Samadhi
Paya Beach Spa & Dive Resort
and Tunamaya Beach & Spa Resort.
Also read: Top 13 Spa Massage & Spa in JB
After a long tiring day, these spa treatments actually provided you natural healing to rejuvenate your mind, body, and soul.
Each resort offers its own spa treatments and you can choose your own ideal treatments according to your needs!
26. Shop The Duty-Free Products Until You Drop
Similar to Langkawi Island, Tioman Island is also widely known as a duty-free island.
"Vision Duty-Free" is the major shopping place the offers duty-free products. You can find their outlets in Salang or Paya village.
Here, you can shop for chocolates, alcohols and many other goods. All are cheaper than in other places in Malaysia.
A kind reminder is, if you will be going to Singapore after visiting Tioman Island, you still need to pay the duty fee on the items purchased.
27. Swim In The Sea
Almost all the beaches on the island are great for swimming early in the morning. At each village, there's at least one beach for you!
The crystal-clear water under the sun makes it a perfect combination of swimming, you are safe to swim as long as you don't swim over the swimming boundary.
Swim alone is boring? enjoy playing or throwing the ball inside the sea with friends or family!
28. Enjoy The Freshest Seafood At ABCD Restaurant
The locals will probably recommend you to have a meal at the ABCD Restaurant. This is because they offer the most unique yet authentic dishes!
ABCD restaurant offers a wide selection of seafood like fishes, squids, crabs, and prawns which are all cooked to perfection.
Western dishes like grilled chicken and burgers are served here too. Be sure to arrive early as the restaurant is getting crowded after evening hour.
Due to the strategic location right beside the beach, you can enjoy the meal while watching over the sunset.
29. Hike To The Gunung Kajang
Towering 1,038m high, Gunung Kajang is the tallest mountain among all the islands off the east coast of Peninsular Malaysia. It is often viewed as a mysterious mountain.
It is covered with clouds and the route is quite inaccessible most of the time.
Recently, the locals have come out with the trekking packages to bring you to the summit point. You can experience jungle camping and mountain climbing at once.
Since this mountain is quite hard to conquer, it requires you to achieve a certain fitness level in order to reach the summit successfully.