Experience paradise underwater at these top 15 best dives sites In Malaysia.
Malaysia has long been a notable destination for diving, renowned the globe over for clear waters, diverse marine life and competitive dive rates.
Whether you want to try diving yourself or already an experienced diver, we've gathered these destinations below, that'll truly appeal to the underwater adventurer in you.
Here are our top picks according to the overall experience. Discover and target your next diving destination, let's discover one of the best short trips from Singapore!

15 Best Dive Sites In Malaysia
1. Sipadan Island & Mabul Island
The east of Malaysia, not to be confused in reference to diving in the East Coast of Malaysia, sits the lush island of Borneo, home to the top trio.
Our number one pick of best dive sites in Malaysia is hard to dispute as the trio of islands holds immense beauty above and underwater; we're sure these islands will get you snorkelling and diving in no time after your arrival.
Also read: Pulau Aur
Accessibility: Fly into Tawau, Sabah or into Kota Kinabalu, Sabah then a land transfer is required to Semporna before a boat into the islands. Boats between the islands are available via resorts and the local dive operators, or if you're staying in Semporna, day trips are available as well.
Good to know: You can visit these islands all year round, though special permits are required
2. Kapalai Island
Kapalai island isn't far from Sipadan, with a mere 15km between them. This island isn't at all big and has one resort operating on it.
A big bonus to Kapalai is that you get to snorkel and shore dive for free, not inclusive of any equipment, making it great if you've a party mix of divers and non-divers.
Accessibility: Similar route to Sipadan and Mabul above
Good to know: The island is technically a sand bar, and walking along the sand is possible during low tide.
3. Layang Layang Island
Layang Layang proudly takes our third spot as the island is known for spotting of hammerhead and whale sharks, as well as its history; it was a former marine base.
What you won't find here are beaches but the island more than makes up for it with the 12 dive spots around it.
Diving in Layang Layang however does not require permits and currently there is only one dive resort operating on the island.
Also read: Pulau Harimau
Accessibility:  Access point is via a chartered flight on board small cargo plane into the island from Kota Kinabalu. Do check weight limitations if you're bringing along your diving gear and other equipment.
Good to know: Island is open from March to August; remainder months closed during monsoon season
4. Pom Pom Island
A small gem, measuring less than 3 km in circumference, Pom Pom Island holds its own, largely due to its white sandy beaches and being a hatching ground for Hawksbills and Green turtles, and even one resort on the island doubles up as a turtle sanctuary and conservation centre.
If you're visiting during turtle hatching season, ask locals how you can lend a hand.
Accessibility:  Fly into Tawau and a land transfer to Semporna before taking a boat out to Pom Pom
Good to know: Pom Pom North Point is also known as 'Mini Sipadan'
5. Mataking Island
Also in Sabah, Mataking is known for having the one and only underwater post office in Malaysia.
It is a base for turtle hatching with an active team running an eco-conservation program.Diving here is possible under the Sipadan diving permit.
Also read: Pulau Tinggi
Accessibility:  Find your way by land transfer from Semporna and hop on a 40 minute boat ride inland
Good to know: Mataking has a peacock sanctuary, open for visitors
6. Tenggol Island
Tenggol Island which is situated in the state of Terengganu, the east coast of Peninsula Malaysia. One of best diving in Malaysia here is you can see the whale shark if you're very lucky.
This island is popular among more experienced divers as the waters surrounding it are wreck dive spots, and has only one resort on it. Consider the option to book via individual dive operators for best all-inclusive packages.
Diving sites are Tokong Timur, Mini Highway, Tanjung Api & many more.
Accessibility:  Drive up or fly into Terengannu and head on to Dungun pier, then a ferry or boat across
Good to know: If hanging out at the beach, bring coconut oil to deter sand flies
7. Perhentian Island
Still in Terengganu, the two Perhentian islands are Perhentian Besar and Perhentian Kecil.
Accommodation choices are aplenty on both islands, from budget right up to luxury stays with the bulk of budget accommodation located on Perhentian Kecil, which is livelier come nightfall, and is the choice island for backpackers.
These islands are closed during the monsoon on the East Coast from November through to February.
Accessibility:  Option to fly into Terrenganu, drive up, or take overnight busses to Kuala Besut jetty for the morning ferries
Good to know: Travellers from Singapore can opt to hop on the Transnasional business class overnight bus
8. Redang Island
This island is also under Terrenganu state administration, and almost all accommodation here are resorts. While snorkelling and scuba diving is a must, other than water based activities why not enjoy Redang's beaches which are perfect to simply relax the day away.
Accessibility:  Fly, drive or bus it into into Kuala Terengganu then travel to Shahbandar jetty or Merang jetty
Good to know: Marine fees apply for entry into island
9. Tioman Island
Tioman Island in the state of Pahang is a duty free island, and an abundance of resorts around the island, with a jungle and forestation in the middle or the island.
Also read: Tioman Dive Center & Package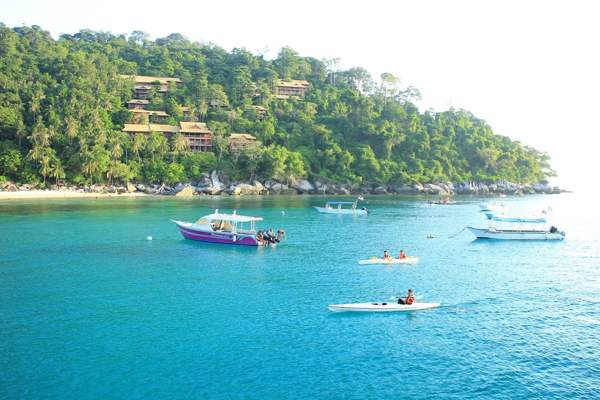 A small Malay village with shops and eateries is in Kampung Tekek; and to get here is only by water taxis.
Accessibility:  Direct flight from Subang airport via SAS airline, drive up, hire taxis and overnight busses
Good to know: One ATM machine in Tekek, but does not accept all cards- do bring sufficient cash
10. Lankayan Island
Back to Sabah Borneo, Lankayan is quite the secret among divers, and less visited due to its location in the Sulu sea.
But if you make this trip, you won't regret it anytime soon especially if you're lucky to spot some whale sharks!
Accessibility:  Head to Sandakan Sabah then hop on a speedboat
Good to know: March- May for whale sharks sightings
11. Dayang Island
Situated in Johor, this island is practically unknown even to most Malaysians. The island is picking up in popularity in recent years so if you ask us, the best time to go is now!
Dayang Island attracts divers and sport fishermen namely for the Black Marlin which are native around its waters.
Accessibility:  From Johor, travel to Mersing jetty and then a boat in
Good to know: Open season is from April to September
12. Pemanggil Island
Pemanggil Island is a haven for divers and fishermen, as most fishing competitions are held here and also a spot to catch Black Marlins and mackerels.
Being small, electricity on Pemanggil Island is controlled, and switched on from 1930- 0730 daily.
Accessibility: Get in to Johor then to Mersing jetty and a boat transfer
Good to know: Best to visit from March to June
13. Labuan Island
Labuan in Miri Borneo is an island with its own appeal, firstly it's duty free throughout and offering two notable wrecks from World War II and other wrecks spots as well.
Divers with sufficient logged wreck diving experience or are certified would be able to visit some wreck spots here.
Accessibility:  Fly in directly from Kuala Lumpur or Kota Kinabalu
Good to know: Great deals on duty free pearls
14. Langkawi Island
Malaysia's largest duty free island is way up north in the state of Kedah neighbouring Thailand. There's a lot to do in Langkawi it's best to spend a few days, up to a week here.
Diving in Langkawi, Malaysia takes place mostly at the Marine Park and three other islands nearby.
Accessibility:  Plenty of direct flights into Langkawi
Good to know: Year round diving
15. Kapas Island
Belonging to the state of Terengganu, this less visited island is a magnet for wreck dive enthusiasts, as its home to a Japanese World War II ship wreck, and offers a chance to glimpse reef sharks and turtles who favour the waters around here.
Accessibility:  Fly, drive or bus it into Terengganu and on to Marang jetty followed by boat transfer
Good to know: Open year round but gets a lot of rain during monsoon season