Pulau Aur is a small and pristine island situated 65 km off Mersing jetty.
Home to numerous unique sea creatures and coral reefs, Pulau Aur is perfect for scuba-diving and snorkelling.
It is set on a scenic landscape fringed with lush tropical rainforests.
No roads, few shops and traditional village retain the simplicity of the island.
The most significant luxury on Pulau Aur would be the beautiful nature offered by the island itself.
Why Stay In Pulau Aur?
Pulau Aur was appointed as Marine Park in 1994. Later in 2003, the island was nominated as National Park due to the rich presence of mangrove swamps and rainforests.
Also read: 10 Gorgeuos Islands off Mersing, Johor
The island is famous for its top-rated scuba-diving sites surround the island. Many divers are familiar with Pulau Aur since the island was nominated as Marine Park.
The crystal-clear water allows divers to discover the underwater world teeming with unlimited marine life clearly.
There are over 20 diving spot around Pulau Aur. The most famous spots include Rayners Rock, Turtle Bay and Pinnacles with depth ranging from 7m to 67m and visibility ranging from 15m to 25m.
Napoleon Wrasse, Angel Fish, Barracuda, Bat Fish and Moray Eel are few examples of fishes that can be discovered here.
Also read: Pulau Dayang, Johor
With a farther distance than other diving locations off east coast of Johor, it offers a deeper sea for scuba-diving. It is believed that Pulau Aur is likely to develop to international diving sites in Malaysia.
How To Get To Pulau Aur
All the scheduled ferries heading to Pulau Aur leave from Mersing Jetty. So, one has to arrive at Mersing jetty before departing for Pulau Aur.
There are two ways to go to Mersing jetty.
From Singapore, go to Golden Mile Complex to board One Travel coach leaving at 6.30am. The journey takes 3 hours and you need to bring you luggage down to clear the customs twice. Much hassle but this is the cheapest ride to jetty. One way ticket costs SGD35.
2. Private Car from Singapore to Mersing Jetty
To have an enjoyable trip, hire a private car at SGMYTAXI.com. The transfer services are best suited for group travellers. Their well-maintained fleets are equipped with exceptional air-conditioning system and luxury seats. The driver will ensure you arrive at your destination safe and sound.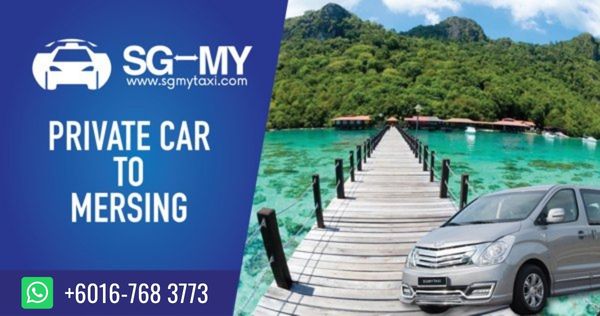 After you arrive at the jetty, board the ferry available with a valid ticket that costs RM60 per way. The journey to Pulau Aur takes around 3 hours.
What To Do In Pulau Aur
Most tourists travel to Pulau Aur for one reason – scuba-diving and snorkelling. These are the most significant activities on Pulau Aur and subsequently, it becomes the must-do activities on Pulau Aur.
Plan a visit to the main village in Pulau Aur, Kampung Telik Berhala by boat. The village comes with a school, grocery store, police station and jetty. The main occupation in the village is fisherman. You'll be exposed to the lifestyles of locals.
Also read: 16 Fun & Memorable Outdoor Activities In Johor
There are other small villages at the back of the island which can be can be accessed through a long trek. The well-maintained trek ensures a safe journey and the journey takes approximately one hour.
Go for island hopping. A package tour is often offered by the resort. Or else, arrange a boat ride to nearby islands with boatman at the jetty. Nearby islands include Pulau Dayang, Pulau Pemanggil and Pulau Lang.
The island is also perfect for angling activities. The local fishermen would be delighted to share their experiences in fishing with fishing enthusiasts.
Where To Stay In Pulau Aur
Pulau Aur boasts 2 simple yet comfortable resorts that serve toothsome local and western dishes. These resorts have all you need in daily lives and they attend all the needs of guests to ensure enjoyment. The resorts on the island are:
1. Sebukang Bay Resort
Situated in Kampung Teluk Sebungkang, Sebukang Bay Resort offers a perfect escapade for visitors. As there is no WiFi connection on the island, the guests can totally indulge in the wonders of nature.
Standard rooms, quad rooms and family rooms are the accommodations here. All the rooms come with an attached bathroom and fans.
Also read: 15 Best Beach Resorts in Johor  You'll Absolutely Love
During the durian season, hiking to Durian Ochard is offered by the resort. The guests can set a campfire and enjoy BBQ at night. The most fascinating activity would be snorkelling and all the snorkelling gears are provided.
Address: Teluk Sebukang, Pulau Aur, 86800 Mersing, Johor Darul Takzim, Malaysia
GPS Coordinates: 2°45'37.83″N, 104°50'33.95″E
Contact:
+6019 – 739 1284 / +6017 – 674 6586 (Rumiza)
+6019 – 730 0815 (Rumizi)
+6019 – 739 6698 (Ruhil)
Email:
[email protected]
.
2. Bluewater Holidays Resort
Bluewater Holidays Resort is near to local village and the island's jetty. The resort offers a 3D2N package that includes snorkelling, island hopping, jungle trekking, fishing, 3 meals per day and boat transfer.
The resort features 20 chalet rooms with private bathrooms. Their staffs are friendly to all their guests. White sandy beach and stunning water are just a few steps from the resort.
When Is The Best Time To Visit Pulau Aur
April to June would be the best months to visit Pulau Aur. In between these months, scuba-diving and snorkelling are favourable as the sea is calm and safe.
Avoid visiting Pulau Aur during monsoon season (November to March) as strong winds are blown from South China Sea. The villagers can only repair and maintain their fishing equipment and fishing nets within this period of time.
Travel Tips
All the equipment can be rent at the dive centre.
Money changers are available on the island.
Meals are included in travel package.
Boat departure depends on arrival time of coach. Most of them leave in the midnight.
You Also May Like: