Planning for a weekend getaways from Singapore to an island for some vitamin (c) sea?
Here we've lined up 10 best islands off the coast of Mersing which is a few miles drive from Singapore, plus a short ferry ride to the islands.
Mersing, a small town on the east coast of Johor which is located 136 km north of the state capital, Johor Bahru has exceptionally picturesque and pristine islands you can visit.
And other than islands, there are many best things to do in Mersing too!
Also, the islands (locally called Pulau) have become a very popular destination.
They feature interesting tourist attractions, along with great places for diving, snorkelling and beach vacation.
What are you waiting for? So, pack your swimsuit, sun hat, slippers and not forgetting sunblock lotion, and LET'S GO!
The 10 Must-Visit Islands Off Mersing, Johor
1. Pulau Tioman
Have you ever seen the movie "South Pacific" (1958)? And maybe you remember those picturesque, colourful, bright beaches they called "Bali Hai"?
If so, you can get a pretty good idea of Pulau Tioman's perfect beaches. As this was only on your screen, you are now probably dreaming of experiencing these virgin beaches yourself.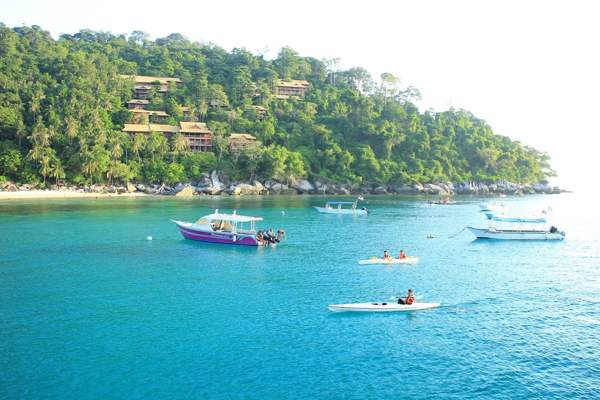 Well, it is time to get ready for the most unforgettable journey of your life!
Located approximately 56 km off Mersing, Pulau Tioman is the biggest island of the archipelago and is surrounded by numerous coral reefs, making it a popular scuba diving spot.
You will definitely love the beautiful nature and peaceful atmosphere of this authentic, wonderful place.
Also read: How To Get To Tanjung Gemok Jetty From Singapore
What's Good About Pulau Tioman
Just a few meters off the beach, you can easily spot colourful fishes, small sharks and turtles
The island is also renowned for sunbathing, snorkelling, Tioman diving and walking
Largest and most visited island
Comprise of many different villages that comes with its own facilities, convenience and attractions
Beautiful beaches all around the island
Best PADI dive centres for divers at different levels; beginners, intermediate and professional
Large collections of resorts, chalets, restaurant and bars
Here is the list of attractions going around Tioman that you might want to check out:
Attractions On Pulau Tioman
Air Batang, or ABC as the locals call it, is a village spreading for a couple of kilometres along the coast. The beach is especially popular among backpackers. One night in a regular hotel cost around MYR70
Juara is a picturesque local village and has a quiet beach on the eastern coast of the island. If you like walking, the jungle path links to the village Tekek, across the island. The trip takes around 2.5 hours and is quite steep! During the monsoon season, Juara is also a good place to come surfing
Genting Village offers golden sand, dark grey granite boulders and hills covered with lush rainforest. Accommodation is mostly available in affordable chalets. Genting is a very popular spot for Singaporeans and Malaysian tourists.
Paya Village, named after the abundance of mangrove swamp is a hotspot for tourist for snorkelling activities. Nature lovers can hike the jungle trail leading to Rock Falls for a swim at the small pool
Salang Village is a diver's den as it is the nearest to all the fantastic dive and wreck sites. The village is popular among backpackers with its balanced of nature and tourist facilities and convenience

Turtle Hatchery

in Juara Village is a great way to learn about conservation of turtles and their ecosystem

Hiking

 is a great way to get closer to nature as you follow the trail to Asah Waterfall
Also read: 29 Checklist – All You Must Do In Tioman Island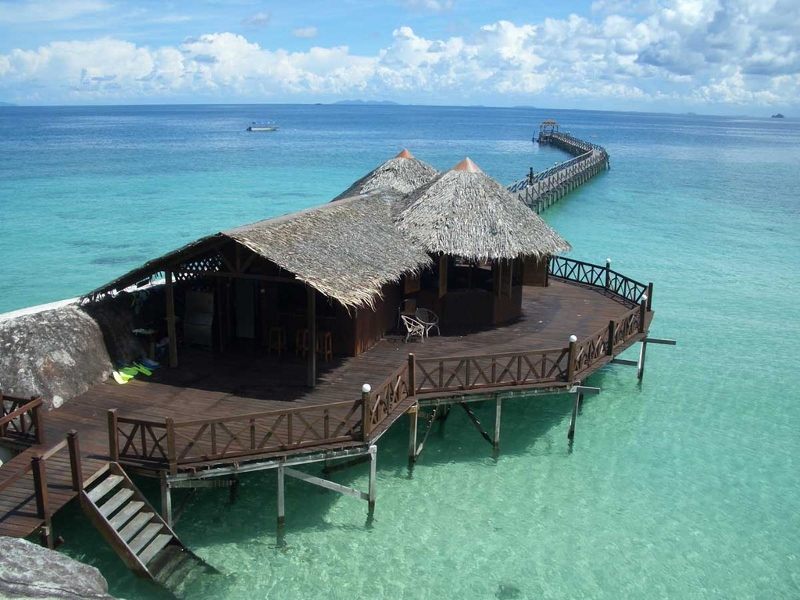 How To Get To Pulau Tioman 
From Mersing or Tanjung Gemok jetty, you can take a ride from the ferry available to Tioman Island for 1.5 to 2 hours.
Check out if you are flying from another location to Senai Airport and from Senai Airport to Tanjung Gemok Jetty or Mersing Jetty to Tioman Island.
If you're looking for the updated Tioman ferry schedule either from Mersing Jetty or Tanjung Gemok Jetty, click here: Tioman Ferry Schedule
2. Pulau Aur
Lying about 80 kilometres east of Mersing, Pulau Aur (also called Aur Island) is part of the Johor Marine Park.
Though it has not been more than a stopover point for local fishermen for many years, the island is now a popular tourist attraction, notably thanks to its offshore pools, coral lagoons and pristine beaches.
A lot of Singaporeans love to come here, even though accommodation is quite basic.
What's Good About Pulau Aur
Divers paradise and snorkelling haven
Twenty diving spots
Clearer and better visibility of underwater creatures
Authentic island experience as the island maintain its nature
Nominated as National Park due to the abundance of mangrove swamps and rainforests
Attractions On Pulau Aur
Diving

to all these fantastic dive sites is a paradise for divers to spot marine animals such as barracuda and manta ray. Rayners Rock and Pinnacles are one of the best diving spots with visibility ranging from 15m to 25m

Snorkelling

 is another fun water-based activities. The water is clearer compared to the main island in Tioman and there are more variety of colourful corals and fishes

Trekking

 to Teluk Berhala and Teluk Pahanan is a good way to explore the 'kampung' feel of the locals. If trekking is not your cup of tea, you can also take a boat to Teluk Berhala

Pulau Dayang

is another smaller island notably for snorkelling and scuba diving that you'll do a disservice to miss this island
How To Get To Pulau Aur
From Mersing Jetty, you can board the ferry to Pulau Aur which takes 4 to 6 hours ride. Do take note that the ferries are not as frequent as going to Pulau Tioman.
As it takes such long hours to reach Pulau Aur, our advice would be for you to stay for more than just a weekend. There are many Singaporean diving tours offer packages that include a passage to the island too.
3. Pulau Besar
Pulau Besar can be reached after a 30-minute boat journey from Mersing. If you have ever watched the reality TV show Expedition Robinson, you may already know what kind of paradise is waiting for you!
Pristine beaches and nice resorts, along with splendid coral reefs and sea creatures for your snorkelling hours are found on this beautiful island. The latter is the most popular activity on this island, along with some diving trips to the surrounding islands.
What's Good About Pulau Besar
Many water sports are available on the island; snorkelling, canoeing and swimming
Acclaimed as a beautiful island from overseas programmes
Perfect getaway from tourist crowd as it is not highly recognised by tourist
Blue azure waters and crystal powdery white sands
The government has enclosed some part of the island to conserve and protect 60 species of marine life
Attractions On Pulau Besar
Trekking:

Though the middle of the island is mountainous and steep (the highest point rises at 2000 feet), there are some nice trekking paths to be taken through the jungle
Guided Tour: They will take you from the resorts area to a small stretch of white sand on the other side of the island. Guides can be booked from the hotels if you'd like to go off the beaten path

Learn the locals life:

Spend some time with the locals in the kelongs and discover their fishing methods and way of life

Land-based activities:

Enjoy activities at the shore such as beach volleyball and beach futsal or even take an Instagram-worthy shot of the scenery

Island hopping: 

Take a trip to nearby Pulau Harimau, where you will find a delightful cavern filled with  natural pools

Museum Pulau Besar:

There are many interesting legends, myths and sights on the islands where you can learn about them from this museum at only MYR5 per entry
How To Get To Pulau Besar
Like any other islands, there are ways to get to Pulau Besar too and Mersing Jetty is the entranceway to the island.
There are ferries from Mersing Jetty scheduled to go Pulau Besar. Board the ferry and in 30 minutes you'll arrive in the mesmerizing island!
To ensure you have good passage to the island, Aseania Beach Resort offers good package deals that include ferry service and also assist in carrying your luggage to the doorstep! How convenient!
4. Pulau Pemanggil
Pulau Pemanggil lies 45 kilometres away from Mersing jetty, requiring  4 to 5 hours boat journey to reach its shore.
Along with clear water and gold sand beaches, Pulau Pemanggil will offer you the traditional folklore of its kampung, unforgettable fishing sessions and tasty durians and mangoes straight from the tree.
What's Good About Pulau Pemanggil
Famous among fishermen as the best spot for deep-sea fishing
Deep-sea fishing is opened to all tourist
Dorado and Mackerel can be found during the hot season (summer)
A mysterious large-scale boulder in the middle of the island
Amazing coral reefs that are excellent for snorkelling
Attractions On Pulau Pemanggil
Fishing trips:

Specializes in big catches such as black marlins, dorado, shark, stingray and tuna that uses interesting methods; baitless fishing

Water-based activities:

Rent some canoes or jet skis from the resort to explore the shore at your own pace

Hiking:

 The adventurous type can hike to the hilltop of Batu Buau to get a birds-eye view of the island

Boat tour:

Island hopping can be added to your itinerary if you want to explore beyond to the neighbouring islands; Pulau Dayang, Pulau Aur or Pulau Lang

Local village:

Remember to plan a visit to the main village, Kampung Buau in the island to learn and understand the local culture

Diving:

Diving and snorkelling is a must on this beautiful island! So, rent the equipment from the resort and immerse in the fascination of marine life
Also read: 15 Best Beach Resorts in Johor You'll Absolutely Love
How To Get To Pulau Pemanggil 
To get to Pulau Pemanggil, one has to take a boat from Mersing Jetty that requires 4 to 5 journey. The schedule is dependent on tidal conditions and sometimes the resort will arrange a boat transfer for you either a fast or slow boat services.
5. Pulau Rawa
A small, beautiful island, surrounded by clear deep blue water, Pulau Rawa is located 16 km off the coast. The island will mainly attract you to its amazing white beaches, as the interior is the only thick jungle- hard to penetrate.
Considering the small size of the island, there is no local transportation on Rawa Island. It would barely take 15 minutes to walk up and down the island's western coast.
As there is no TV and no phone line, prepare yourself for an amazingly relaxing time, away from all your troubles. In a nutshell, welcome to paradise.
What's Good About Pulau Rawa
Little development which makes the island still in its youthful nature
Beautiful rocky cliffs and caves at the eastern side of the island
Peaceful and quiet, away from tourist congestion
Have its own water slide for non-stop fun
Interesting corals and variety of fishes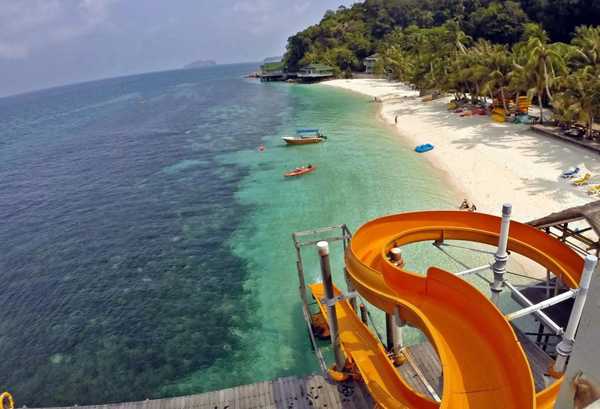 Attractions On Pulau Rawa
Explore the sea:

Rent a canoe and a paddle to the eastern side of the island to explore some caves and cliffs
Dip into the sea: The soft white sands and azure water is an open invitation to snorkelling, scuba diving, spearfishing and swimming activities, but just be careful of jellyfish floating around!

Boat tours:

Book and arranged a boat to bring you for a fishing trip

Relax and chill:

Soak up the sun and sip some coconut water while you feel the breeze from the sea

Hiking:

For those who prefer the solid ground, a short walk up the doable 270-steps to the top of the cliffs to get a panoramic view of other islands and the coast of Johor. Also, the best spot to observe the sunset and sunrise

Waterslide:

Bonus feature of this island! The island has its own water slide and the best thing about it? It is free and unlimited play!
Also read: How To Get To Rawa Island From Singapore
How To Get To Pulau Rawa
From Mersing Jetty, Rawa is only a 30 min speedboat ride away or 1 hour with a normal ferry.
It is ideal to check the ferry timings in advance and plan the trip accordingly since the ferry times vary in accordance with the weather conditions.
But some of the Rawa Island packages are including boat transfer from Mersing to Rawa Island.
6. Pulau Tinggi
Nicknamed the "General's Hat Island" by Chinese seamen hundreds of years ago, Pulau Tinggi is 32 km south-east off the coast of Mersing. It is a peaceful island with white sandy beaches and stunning oceans!
The Marine Park Centre provides useful information regarding the island and should be visited to discover the role played by the island in turtle hatchery and giant clam breeding.
This will give you an abundance of experiences and memories that you will keep forever!
What's Good About Pulau Tinggi
Used to be a stopover for fishermen and spice traders back in the days
Sandy white pearl beaches and rich in vegetation
Conservation of the island by the government as a Marine Park Centre
Abundant of marine life and beautiful corals
Attractions On Pulau Tinggi
Watersports

:  Enjoy the outdoor activities with snorkelling, scuba diving, canoeing and fishing

Jungle trekking:

Aside from water sports, you can still hike the hilly jungle to enjoy a beautiful waterfall in the middle of the forest with a small lagoon that only takes 35 to 40 minutes walk. It is best to walk in groups as the path is not clearly marked

Turtle Hatchery:

You can visit the turtle hatchery where small turtles are frequently sighted on the island

Do nothing:

Sometimes the best thing to do is to laze under the sun, read a book and relax
How To Get To Pulau Tinggi
If you feel that getting public transport is tiring and inconvenient, then why not hire a reliable private car from SGMYTAXI that can pick you up from your desired location in Singapore to Tanjung Leman Jetty?
Also read: How To Get To Tanjung Leman Jetty From Senai Airport (The Most Easiest Way!)
Another option is to take a bus to Tanjung Leman Jetty via Larkin Sentral Johor Bahru. The bus will alight at Kota Tinggi Bus Terminal and you can either hail a cab or ride a local bus to Tanjung Leman Jetty.
Pulau Tinggi can be reached from Tanjung Leman Jetty with a 45 minutes speedboat ride and usually the resort will arrange the transport service for your convenience.
7. Pulau Sibu
Known as the Sibu Islands, Pulau Sibu consists of several islands; which is Pulau Sibu Hujung, Pulau Sibu Besar, Pulau Sibu Kukus and Pulau Sibu Tengah. Some of these islands were also the décor of some seasons of the TV show Expedition Robinson.
Sibu Besar, covered by thick vegetation, is the main island. The eastern side of the island has four main beaches, which will offer you white sand, clear water and no crowds.
What's Good About Pulau Sibu
The island is not more than 1 kilometre wide and is mostly flat, it is easy to cross from one side to another to enjoy all the different beaches and points of view
There are no roads, so you will not get disturbed by the traffic
On the southern coast, the island is protected from winds, making the sea so calm it looks like a lake and is a haven to swim in
You can also see some mangrove trees growing on the shore
Nominated as Marine Park in 1993
Offer unlimited secluded areas for couples to have their own privacy
Attractions On Pulau Sibu
Watersport activities:

 Snorkeling and diving are the main recreations on this island. Shallow water diving is an exquisite sport since the region is spread with beautiful corals. Sailing and windsurfing can also be easily practised

Diving:

 Dive centres can be found in the Sea Gypsy Village resort, where PADI courses can be booked

V

isit the local village:

 An interesting fact of the island is that the village of Kampung Duku in Pulau Sibu Besar is entirely solar powered. Lovers of renewable energies, you will be blessed!
The activities vary widely from the best snorkelling and diving options to an amazingly relaxing weekend on the beach with loved ones catching up on all the lost time.
How To Get To Pulau Sibu 
Pulau Sibu is a popular short getaway from Singapore, as it is only a mere 3-hour drive from Singapore.
So far, there is no public transport that brings you to Tanjung Leman Jetty directly as the bus will only send you to Kota Tinggi, where later you'll need to get a cab to the jetty.
So, to make your trip enjoyable and comfortable,  SGMYTAXI can do all that for you and more! Reliable and a direct transfer from Singapore to Tanjung Leman Jetty without the hassle of changing transportation.
Tanjong Leman Jetty serves as an entryway with only 20 to 45 minutes ride. Alternatively, you can book a boat transfer service with the resort to avoid frustration.
8. Pulau Harimau
Pulau Harimau, located in Mersing, Johor which when translated means the Tiger Island, is a deserted location that is not inhabited. The island shows no signs of life but is indeed a perfect location for most scuba divers and those who wish to do snorkelling.
What's Good About Pulau Harimau
This island is a divers paradise
Offers breathtaking seascape features which are so unique and attractive to any visitor
It has a cavern that can be easily reached when one snorkel from the drop off point at the beach
The cavern has no roof and forms a wonderful little private pool
The location is very peaceful and serene and offers maximum relaxation
The water is clear that fish and reefs can be easily seen on water's surface
Attractions On Pulau Harimau
Water activities:

Swim and float around in the natural private pools

Lighthouse:

Get the opportunity to view the island in the eye of a lighthouse keeper. Opened to tourist, so take in the picturesque view of the entire island's landscape

Diving:

 The colourful reefs will give you an entirely different view that is totally worth to dive and get close to them

P

hotography:

Keep a memento of your trip as you take an Instagram-worthy shot of the island with clear blue sky and dazzling ocean
This deserted but exciting island off the coast of Mersing is definitely worth a trip to visit!
How To Get To Pulau Harimau
There is only a few scheduled ferry boat transfer from Mersing Jetty to Pulau Harimau but take note as it depends on tidal condition.
There are resorts providing island hopping to Pulau Harimau. Alang's Rawa Resort and Rawa Island Resort located on the nearby island, Rawa Island can bring you to Pulau Harimau as well.
9. Pulau Dayang
Pulau Dayang (also called Dayang Island) is located in the western parts of Johor Bahru and is part of an island that also consists of others which include Pulau Pemanggil, Pulau Lang and Pulau Aur.
This island which has a series of locations offers you the perfect destination for a relaxing vacation with various water sports activities. It is also one of the best diving destination in Malaysia to see the marine life.
What's Good About Pulau Dayang
Well known for scuba diving and snorkelling activities. Scuba divers are treated to an array of marine life which are found under the sea
Marine life that can be found on this island includes a wide number of rays, whales and sharks
Lesser known island that is not crowded with tourists
Near to Besar Island which is just a 45-minute boat ride away
Attractions On Pulau Dayang
Diving:

 Diving courses are provided here for both beginners and advanced divers.  These diving sessions usually run from February through to November

Fishing sport:

Rent a boat or follow the local fisherman to go fishing for Black Marlin, the fastest fish in the world

Snorkelling:

Not able to dive? The beautiful off-shore teeming with colourful reefs and underwater life will also be a heven for snorkels
How To Get To Pulau Dayang
Mersing Jetty offers ferry service to Pulau Dayang with the 5-hours journey that normally departs on Friday night. Alternatively, you can book a diving trip where the dive centres can arrange boat transfer for you.
10. Pulau Tengah
Pulau Tengah is owned privately and lies about 9 miles off the coast of Mersing on the South China Sea.
This gives a historical perspective to the island apart from the fact that it has also been used in producing a TV show known as Expedition Robinson in 1997.
What's Good About Pulau Tengah
Tengah Island is among the few islands in Malaysia that have been gazetted as a Marine Park
It features the vibrant marine life and the availability of rare special types of fish and corals
Only resort in the island, Batu-Batu blend into the island and provide excellent facilities and services
Well known among international tourist
3 different types of turtles living and breeding in the southern shore of Pulau Tengah
Attractions On Pulau Tengah
Watching turtles:

You can watch turtles laying eggs between the month of June and August

Scuba dive: 

 Many dive programmes cater for youth at the different age to enjoy the view of the marine life from March to November

Snorkelling:

Get close to the reefs and sea creatures as you swim and discover the life under water

Island hopping:

Explore the island nearby by island hopping and getting the resort to arrange boats to bring you there

Jungle trekking:

 Some fun can be enjoyed on the island itself by hiking a 3km trek around the island or another at 1.5km inside the island
How To Get To Pulau Tengah
Within 30 minutes and you'll be arriving at the breathtaking island of Pulau Tengah from Mersing Jetty. Alternatively, the resort can also arrange a speedboat transfer daily so you wouldn't need to trouble yourself.
Best Time To Visit Islands In Johor
April and September
The best weather
The ideal months to visit these islands
Has more boat services
December and January
The monsoon season
The best to stay away from the islands
In practical terms, very few boats would be ready to take you
Make sure your trip is well organized prior to your travelling dates, to avoid ending up on an island without a place to stay.
Every island has its very own speciality, but lucidness and tranquillity are found predominant.
4 Travel Tips To Johor Island
1.) Avoid High Tides!
The major cause for concern when you wish to make the trip over should be the tides, especially during the full moon and the new moon.
This is actually the main reason behind the specific timings of the boat transfers. As a consequence, it is best to enquire in advance and arrange your transfer prior to a scheduled holiday to Mersing and her gorgeous islands.
2.) If you are travel to Pulau Aur, Pulau Besar, Pulau Pemanggil, Pulau Rawa, Pulau Harimau, Pulau Tengah and Pulau Dayang. Please go to Mersing Jetty (locals called it Jeti Penumpang).
3.) If you are to travel to Tioman Island, please go to Mersing Jetty or Tanjung Gemok Jetty. Tioman ferry schedule check here: Updated Tioman Ferry Schedule.
4.) If you are travelling to Pulau Sibu and Pulau Tinggi, please go to Tanjung Leman Jetty.
Transport from Singapore to Johor Islands 
1. Singapore to Mersing Jetty by Private Car 
You can get to all these islands (except Pulau Tinggi and Pulau Sibu) via a boat or ferry transfer at Mersing Jetty.  However, before getting to the islands, you'll arrive at Mersing Jetty, and that is accessible by land.
SGMYTAXI is an excellent private transfer service widely known in Singapore that caters to bring passengers from Singapore to Mersing Jetty and all other destinations in Johor, including cross-border transfers. Not only that, SGMYTAXI provides comfortable journey, flexible schedules, and luxury vehicles with your desired pick-up locations.
The booking systems are user-friendly with no booking charges and pre-payments. In addition to their affordable prices, the service provides trusty and well-trained drivers, thus ensuring you arrive at your destination safe and sound.
Aside from Mersing Jetty, SGMYTAXI also provides private car service from Singapore to Tanjung Gemok Jetty and vice versa.
Info: If you're looking for direct transport from Singapore to Mersing Jetty and vice versa, you can contact us or book online to get MPV Private Car Service.
2. Singapore to Mersing Jetty by Bus
The islands off Mersing are pretty well connected to Singapore and the road to Mersing Jetty is convenient to reach by taking a bus.
The journey takes between 3.5 to 4 hours to reach Mersing Jetty from Singapore, but be ready to expect longer travelling times especially on weekends and holidays. The clearing in immigration centre at both Singapore and Malaysia will most probably be crowded.
2 companies make the trip (Transnasional, Starmart Express), offering transport services from Singapore to Mersing Jetty with several departures available throughout the day. The ticket fare will cost you around SGD$30 to SGD$40. The bus will alight at the Mersing Bus Terminal, a 6-minute walk away from the jetty.
Other Travel Tips You May Also Like: