Pulau Sibu (also known as Sibu Island) is an archipelago with collections of pristine islands offering dazzling blue water and golden beaches.
With peacefulness and tranquillity as main attractions, the island itself offers endless freedom and solitude that makes you linger long after you leave.
Despite taking pleasure in exciting water sports, angling activities and jungle trekking, guests get to experience rural livings and learn their culture in close hand.
Pulau Sibu awaits you to its nature beauty and it guarantees a carefree yet appealing travel experience.
Why Stay In Pulau Sibu?
Most of people living in city couldn't remember how nature looks like. So, our government are struggling hard to build a green city but what could be better if you truly live in a nature paradise? Pulau Sibu can be your first taste of living in a pristine nature.
Also read: 10 Best Haven Islands off Mersing, Johor
In 1993, Pulau Sibu is nominated as Marine Park as there are numerous colourful and attractive coral reefs offshore. Snorkelling is available to have close moments with sea creatures and the coral reefs. Besides, plenty of water sports activities are available to make your stay fun and interesting.
The island offers no roads and transports. Walk or get a boat if you wish to travel around. Restaurants and shops are nowhere to be found. The island has retained its originality to fullest.
Corporate events can be held on the island along the shore. Private beaches are available for team bonding activities with colleagues. Resorts can arrange these activities for guests.
Pulau Sibu is perfect for wedding and honeymoon too! They have been received many couples coming here for an anniversary trip. Lots of seafront chalets are romantically designed for couples. Better than that, the island offers unlimited secluded areas to give total privacy to the couples.
Also read: 17 Top-Rated Short Trips From Singapore (Best & Cheap Travel Destinations!)
How To Get To Pulau Sibu
Mersing is not the only gateway to Pulau Sibu. Pulau Sibu can be reached from Tanjung Leman located 72km south of Mersing. However, there is no public ferry service available. The resort you'll be staying will arrange a boat transfer for you. The journey takes 30 minutes and the return tickets cost RM70.
So far, there is no public transport service offered to Tanjung Leman. Public transport will only send you to Kota Tinggi, the nearest town to Tanjung Leman. After that, you need to continue your journey by taxi.
Check out this link if you are taking a flight to Senai Airport and wonder how to get to Tanjung Leman Jetty from Senai Airport.
Now, SGMYTAXI is keen to make your journey smooth and hassle-free. Direct transfer services from any pick-up point are offered by this leading private car company in Singapore.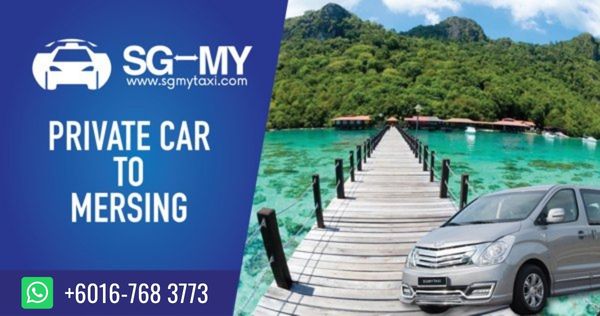 Their experienced and friendly driver will directly send you to Tanjung Leman safely. You can relax in their comfortable fleets throughout the journey. Booking is available on their website. Click here: Reservation
What To Do In Pulau Sibu
For energetic guests, plenty of great activities are offered in Pulau Sibu such as:
Water sports activities: Snorkelling, scuba-diving, swimming, canoeing, sailing, windsurfing and fishing
Jungle trekking (Insect repellents are needed)
Island hopping
Beach Volleyball
Also read: 16 Fun & Memorable Outdoor Activities In Johor
For more relaxing activities, the resort offers:
Spa
Cards and board games
Small library (Rimba resort)
Rubber rings (Float on water aimlessly)
Plan a visit to nearby kelong. At the kelong, you can:
Gain insight into rural daily life
See how the villagers rear and catch prawns and anchovies
Leisurely stroll along the beach is a must on the island. The white fine sands on beach can comforts your feet while you walk. In the evening, watch the stunning sunset over the horizon. Enjoy sunbathing on the beach but you should apply suntan lotion to protect your skin.
Where To Stay In Pulau Sibu
Pulau Sibu offers many exceptional resorts which are maintained to highest standard to welcome guests every year.
Attentive and well-trained staffs are offered to make your stay unforgettable.
Meals are often included in the accommodations fee.
The resort does not open all year round due to monsoon season so kindly check for availability before booking. Resorts on the island include:
1. Rimba Resort
Appointed as "Travellers' Choice 2012" and "Certificate of Excellence" by TripAdvisor
Offers 21 well-equipped elegant seafront chalets
Offers over 24 dive sites, training courses for beginner are available
Spa at Bamboo Bliss offers perfect rejuvenation of body and mind
Restaurant and Bar are offered
Opens from annual Chinese New Year to 1st of December
2. Sari Pacifica Beach Resort & Spa
Seafront Villa and Garden Villa with luxury and modern amenities
Meals are included in packages
Offers Kayu Manis Restaurant and bar
Sari Dewi Spa offers various treatments and massages
Gymnasium
Ferry & Boat services
Swimming pool
Golfing
Offers scuba-diving and snorkelling activities
3. Sea Gypsy Village Resort & Dive Base
Surrounded by tropical vegetation
Offers elegant and secluded private beach
Offers a bar that opens all day long
Clean and comfortable on-stilts chalet with en-suite bathroom
Kids centre is available to let the parents have special moments together
Well-equipped dive base
4. Coconut Village Homestay Resort
Offers beachfront chalets and large bungalow house
Accommodations cater for 82 people
Speed boat is offered for water sport activities and boat transfer
Scuba-diving and fishing
Astro Telecast services
Karaoke room, mah-jong, cards and movie
BBQ sites are available
5. Twin Beach Resort
40 well-maintained "Kampung style" chalet that comes with private facilities
Water sports: Scuba-diving, snorkelling, wind surfing, canoeing
Beach activities: Beach volleyball, Frisbee and cycling
Island hopping
Deep sea fishing
Fun playground with wide open spaces offered to children
BBQ dinner on beach
Contact: +603 – 6201 2270 (KL) / +6016 – 782 0128 / +6019 – 700 3769 / +6019 – 324 6466
Fax No: +603 – 6201 2271
Website: www.twinbeach.com
When Is The Best Time To Visit Pulau Sibu
Sibu Island has seasonal charm as it is influenced by monsoon season which is from October to March. Thus, avoid visiting Pulau Sibu during monsoon season as the island is susceptible to dangerous high tide. Besides, most of the resorts closed their doors within this period of times.
June to August would be the best times for visit. The weather is excellent and the coast is clear. There are less rainfalls thus water activities are available at most of the times. Overall, the environment is perfect for a summer vacation and you get to enjoy amazing moments on islands to fullest.
Visit Pulau Sibu in July and you get to see group of sea turtles crawling to shore to lay their eggs. However, any actions that disturb the sea turtles or stealing their eggs are strictly prohibited.
Bookings can be made early even during monsoon season.