Have you heard of Tanjung Leman Jetty in Johor before?
Do you want to know how to get to Tanjung Leman Jetty from Singapore?
It is one of the well-known jetty that serve as a gateway to some of the beautiful islands in Johor!
This place has gained much attentions from locals and tourist; either couples, family or group of friends for an island getaway.
Also, there's lots of attractions nearby plus with the amazing view of sunset.
With the establishment of 2 accommodations providing comprehensive facilities, this is the right place to escape from the hustle and bustle of city life.
Who knows, you'll want to try it out too!
Tanjung Leman Jetty
Tanjung Leman jetty, located 72 kilometres to the south of Mersing is well known for its access to some of the gorgeous resorts on the islands in Johor.
These are the islands that can be accessed from Tanjung Leman Jetty:
Pulau Sibu Kukus
Pulau Sibu Tengah
Pulau Sibu Hujung
Also read: How To Get To Tanjung Leman Jetty From Senai Airport
While waiting for the boat, why not just take a quick visit to the convenience store or grab a bite at their local food stalls.
You can even sit at the waiting lounge to people-watch just to kill time while you wait for your transfer to the islands.
How To Get To Tanjung Leman Jetty From Singapore
1. Private Car From Singapore To Tanjung Leman Jetty
Want an easy way to travel from Singapore to Tanjung Leman Jetty without the issue of getting leg cramps when stuck in traffic or lugging your bags from one location to the next? Hire a private car!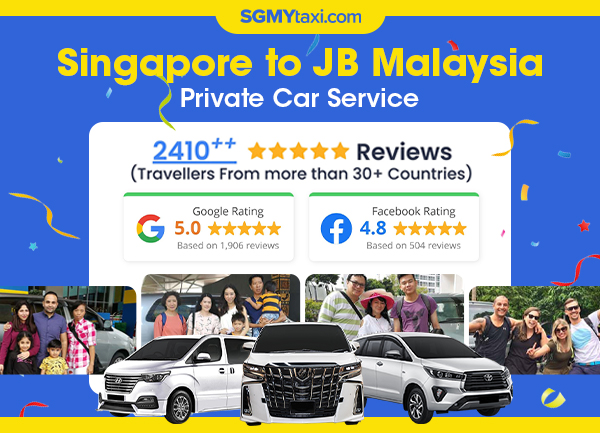 These are the advantages to hire SGMYTAXI to Tanjung Leman from Singapore:
The taxis provided offers comfortable 7-seaters MPV fleets that are spacious and clean.
Don't need to get out of the car during immigration clearance in Singapore and Malaysia.
Direct pick-up at your doorstep in Singapore and drop-off at Tanjung Leman Jetty or any other destination in Johor.
The booking system is user-friendly and with no pre-payments and other hidden charges.
Responsible and well-versed drivers will ensure you arrived at your destination safe and sound.
So, kick back, unwind and have a pleasant journey
To hire a private car from Singapore to Tanjung Leman Jetty and vice versa, you can contact us or book online to get MPV Private Car Service.
Also read: How To Get To Mersing From Singapore
2. Self-Drive From Singapore To Tanjung Leman Jetty
From Singapore:
The journey takes about 3 hours depending on traffic condition
Cross the Singapore-Johor causeway.
If you do NOT have the Malaysian Immigration Card or a Malaysia Auto Pass, stay in the car lane and at the left side of the traffic.
As you cross the custom, look at the overhead sign Eastern Dispersal Link (EDL) and follow the signs Route 3 that leads to Kota Tinggi and Mersing.
Follow the signs and exit the road 1404B to continue Route 3 to Kota Tinggi and Mersing.
On the same route, head north on the Tebrau Highway.
You will pass by the town of Kota Tinggi and when you come across a traffic light that turns left to Kota Tinggi and turn right to Desaru, just keep going straight.
After 46 km drive from the end of Kota Tinggi bypass/ junction, you'll see the sign of Tanjung Leman, Pulau Sibu.
Then turn right to the checkpoint onto Tenggaroh Plantation.
Drive another 28 km from this point and soon you'll see the signs to Pulau Sibu, Tanjung Leman Jetty (one left turn and one right turn).
Continue until you see the entrance of Tanjung Leman Jetty parking space.
Tanjung Leman Jetty Ferry Schedule
Aside from Mersing, Tanjung Leman is another gateway to some of the beautiful islands off the coast of Johor and it is easily accessible too.
Also read: Tioman Ferry Schedule
The journey takes 20 to 45 minutes and that depends on the island destination. Make sure to book in advance, especially with the resorts you're staying in to avoid frustration.
Boat departure time:
9:00am
2:00pm
6:00pm
9:00pm
Accommodation Nearby Tanjung Leman Jetty
In case you need a place to stay over the night for a little tour around Tanjung Leman, here are the two ideal places worth for a good night sleep.
Tanjung Leman Hotel
Felda Residence Tanjung Leman
Price Starting From:
RM236 @ SGD$79 (include hotel tax & service fee)
Also read: 15 Best Beach Resorts In Johor
Hotels Highlight
Each room has its own private balcony
Swimming pool
Karaoke
Fitness centre
Team-building facilities
Poolside bar
Beachfront
Airport shuttle service
Fishing village
Snorkelling
Island tour
Jogging trail
Water sports
Banquet room
Good To Know
Ground floor rooms has better access and view of the sea
There are children pool for their safety
No WIFI inside the room but only available in the lobby
Open carpark with no shelter and trees
BBQ area to have some family/friends bonding time
Prepare some snacks because there is no other food outlet at night
You can find KFC outlet at the end of Tanjung Leman Jetty
Only can receive 3G phone signal
5 mins walk to the beach
18 mins walk to the jetty
Felda Residence Tanjung Leman
Address: Lot PTD 144, Tanjung Leman MukimTenggaroh, 86810 Mersing Johor, Malaysia.
Contact: +606-791 1155
Email:
[email protected]
Tanjung Leman Beach Resort
Tunjuk Laut Beach Resort
Also read: Lotus Desaru Beach Resort (Top Rated Johor Beach Resort)
Price Starting From:
RM105@ SGD$35 (include hotel tax & service fee)
Hotels Highlight
Fishing
Rooms equipped with ASTRO cable tv
Accommodation types; chalet, dorms, campsite
Obstacles equipment
Arena football and volleyball
Lecture hall
Good To Know
No swimming pool
Go mountain climbing and experience nature
Chalet rooms are facing sea view except Family Room that faces the hill
Campsite is more suitable for laid-back holidaymakers
12 Travel Tips Before Getting To Tanjung Leman Jetty
Parking fees at Tanjung Leman Jetty is MYR8 per day
Public toilet cost MYR0.30 and no toilet paper
Singapore registered cars need at least ¾ of petrol in the tank before leaving Singapore
Resorts provide boat services which are arranged according to guest time and need when making reservation, and taking note of tidal conditions and boat availability
If is not included in the package, then it is charge at MYR40-50 per person each way
You'll need to purchase jetty ticket at MYR4 in addition to the boat transfer fee
You'll need to pay National Park fee at MYR20 (adult) and MYR10 (child)
Pay the Marine Park fee at MYR30 (adult) and MYR15 (child)
The accommodation rating is only up to 2 stars, hence don't expect a 5 star service
There are no ATM and banks at the jetty
Food stalls, KFC and other convenience store are available at the jetty