With 65km off the east coast of Johor, Pulau Dayang is the furthest island from the mainland of east Peninsular Malaysia.
Its unique diving spot and fishing location have made the island famous among active divers and sport-fishermen.
But in general, the island is lesser-known even though it offers stunning beaches and fantastic underwater world.
With increasing accommodation and promotion packages offered, Dayang Island has the potential to become an international tourist destination in Malaysia.
Why Stay In Pulau Dayang?
In fact, Pulau Dayang and 4 other small islands make up an Aur Group, the region of Johor's Marine Park due to incredible marine life all around the islands. Pulau Dayang is the second biggest islands in the group.
Also read: 10 Best Johor Islands off Mersing
Home to Black Marlin, the fastest fish in the world, Pulau Dayang has attracted sport fishermen from all over the places for a game fish. Ideal fishing spots are available all around the island.
Mainly discovered by foreign tourists especially divers, Pulau Dayang serves an ideal training location even for new scuba divers. The crystal-clear water allows divers to discover the colorful underwater world clearly.
Also read: Besar Island, Johor
The beautiful coral reefs offshore enable non-divers to go for snorkeling. With the white sandy beaches and astonishing sea view, Pulau Dayang is the tropical paradise in Malaysia.
How To Get To Pulau Dayang
The jetty that offers ferry service to Pulau Dayang is Mersing jetty. Departure time for the ferry is normally on Friday night and it takes around 5 hours to arrive at the island.
Alternatively, book a diving trip with the dive shops in Malaysia or Singapore. The operator will arrange boat transfer for you.
For budget transportation to jetty, direct coach services are now available. The journey from Singapore to Mersing jetty takes around 3 hours.
Also read: Ultimate Guide To Mersing From Singapore
To arrive at Mersing Jetty, either you're from Malaysia or Singapore, it's recommended to hire a private car as it makes your journey simple and less troublesome.
If you are planning to spend some times in Mersing, check out the best things to do in Mersing.
SGMYTAXI can be your option as their services are rated one of the best in Singapore. Their driver will send you directly to jetty from any pick-up point. Reserve the private car service from Singapore to Mersing Jetty.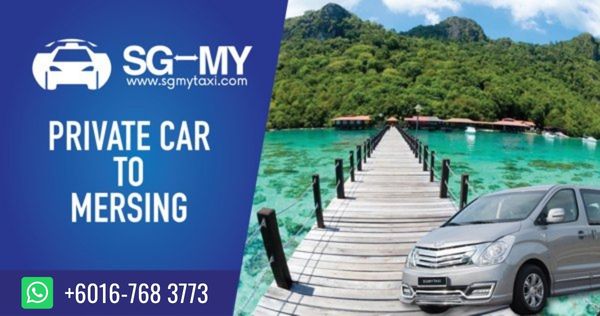 What To Do In Pulau Dayang
1. Scuba-Diving at Pulau Dayang
Scuba-diving experiences are the activities that shouldn't be missed out in Pulau Dayang. Dayang Tip, Captains Point, Telok Jawa, Rayners Rock, and Dayang Jetty are the diving spots surround the island. After diving, fill up your own dive logs to have memories to look back in the future.
2. Visit Local Fisherman Village of Pulau Dayang
Hop on to nearby islands by chartering a small boat at the jetty. The nearest island, Aur Island is just 5 minutes boat ride from Pulau Dayang. Otherwise, visit Kampung Pasir Putih, a local fisherman village which means Village of White Sand.
Also read: 16 Fun & Memorable Outdoor Activities In Johor
3. Snorkelling At Pulau Dayang
For non-divers, go for snorkeling at shallower regions. Or you can play beach volleyball and go for sunbathing at the beach.
4. Catch Sunrise & Sunset At Pulau Dayang
Bring a binocular and be a star gazer at night! Pulau Dayang offers stunning views of stars when the weather is good. You'll be amazed by the star formations high up the sky.
Wake up early to catch the sunrise at the jetty. In the evening, sunset can be enjoyed at the jetty as well.
Where to Stay in Pulau Dayang
1. Dayang Blue Resort
The only resort in Pulau Dayang is situated at the southernmost part of the island facing Pulau Aur. As Pulau Dayang is famous among divers, being the only resort on the island made it popular among the divers too. The resort is surrounded by blue water thus it is named Dayang Blue Resort.
Also read: 15 Best Beach Resorts in Johor You'll Absolutely Love
Dayang Blue Resort features comfortable chalets overlooking the elegant beach and it can accommodate up to 300 visitors. The resort provides over 20 outdoor bathrooms as there is no private bathroom in the rooms. Extra bed can be arranged upon request.
The on-site restaurant is located close to their reception counter. It serves simple local food such as char kue tiaw and nasi goreng. The restaurant can cater the needs of vegetarians. BBQ can be enjoyed at night.
When Is The Best Time To Visit Pulau Dayang
During monsoon season, the whole island is susceptible to monsoon winds from South China Sea. Due to the rough sea and strong wind, the island is closed to the public from November to March. There is no ferry available as well.
Kindly visit Pulau Dayang during diving season that falls between April to September. Within these months, the visibility of water  for many Malaysia dive sites are great including Dayang Island and the divers are able to see the coral reefs clearly. Plus, the water temperature is at normal range. However, beware of the jellyfish season. It is painful to get stung by them.
Pulau Dayang Travel Tips
The boat journey is long. It takes longer time when the sea is rough.
Mersing jetty offers more boat transfer to Pulau Dayang as compared to Tanjung Leman Jetty.
The life jacket is a must while going for snorkeling.
Weekend diving trips cost around SGD $380 to SGD $480.