Mersing is one of the districts in Johor Bahru and is well known amongst the local and foreign tourists.
It is known as an interchange point to the beautiful islands such as Tioman Island, Rawa Island and many more via the ferry services at Mersing Jetty.
But why just treat it as an interchange point?
Why not explore Mersing attraction while you are there?
Mersing town is a small but quaint town with a couple of hidden gems that is worth exploring.
Let's have a look at the 9 best things to do in Mersing.
9 Best Things To Do In Mersing
1. Adventurous Snorkeling & Island Hopping All In A Day
Island hopping and snorkelling is no doubt the No.1 spot of the best things to do in Mersing.
Are you aiming for the best experience of island hopping and snorkelling in just ONE day?
It is absolutely possible to venture out and cover a total of 5 islands in a day! How amazing is that?
Example of a day trip covers over the following beaches
Sibu Kukus Island (Hiking)
Tekek Island
LIMA Island (Snorkelling Nemo)
Mentinggi Island
Shaz Resort Tinggi Island
The package normally includes
Boat transfer
Meals (lunch and tea break)
Snorkeling equipment (i.e snorkel, mask & life jacket)
Fish food (i.e bread)
Tour guide assistance
Additional Information
Location: From Mersing Jetty
Duration: 8-10 hours (depending on the company as well as the package chosen)
Package fee: RM 160 – RM 180
If you would like to explore more island hopping options, you may click here: 10 Best Islands In Johor
2. A Refreshing Walk Along Air Papan Mersing Beach
Wondering what to do in Mersing while you wait for your ferry ride?
Air Papan Mersing Beach is just 15mins drive away from Mersing town and it is easy to get a car transport there.
It is a popular spot due to its beautiful white long beach. The water is fairly clean for a nice swim to cool yourself down from the hot weather.
It has ample parking space and you can also find quite a number of food stalls along the beach.
3. Seafood Indulgence At Mersing
What else to do in Mersing? Makan-lah (let's eat)!
There are a couple of restaurants that offer you reasonably priced delicious seafood. If you see the locals dining there, then you can never go wrong.
The offshore islands do not serve much fresh seafood. Hence, do take this opportunity to taste the local delights in Mersing.
Also read: Top 11 Seafood Restaurants in Johor Bahru
Let's take a look at some of the best local food in Mersing.
3.1 Loke Tien Yuen Restaurant
This is one of the oldest Chinese Restaurant in Mersing that serves classic Cantonese dishes.
You can be sure to enjoy the fresh seafood without burning your pockets.
Tips:
Non air-conditioned restaurant
Very important to make early reservations (the restaurant gets fully booked fast)
MUST try dishes are sweet & sour pork, squid with black bean sauce, steamed grouper fish and lotus seed braised duck (this dish must be booked in advance)
Location:55, Jalan Abu Bakar, Mersing Kechil, 86800 Mersing, Johor, Malaysia
Contact:+607-799 1639
Opening Hours:Daily 12:30pm – 3:00am
3.2 Mersing Seafood Restaurant
Another Cantonese styled restaurant in Mersing is Mersing Seafood Restaurant, selling the freshest seafood you have ever tasted.
Also read: Singapore To Tioman 3D2N Itinerary
Tips:
Air-conditioned
It is one of the busiest restaurant in Mersing. So be sure to make early reservations or be prepared to wait for your table during peak lunch and dinner hours
MUST try dishes are their signature salted egg squid (MUST MUST MUST TRY), steamed grouper fish, curry prawns, mixed vegetables with scallops, seaweed soup
Location:No. 56, Jalan Ismail, Mersing Kechil, 86800 Mersing, Johor, Malaysia
Contact:+607-799 2550
Opening Hours:Daily 10:30am – 2:30pm, 5:30pm – 10:00pm
3.3 Brother Joe Ikan Bakar and Seafood
Brother Joe Ikan Bakar and Seafood is a halal restaurant serving Malaysian and Western cuisine.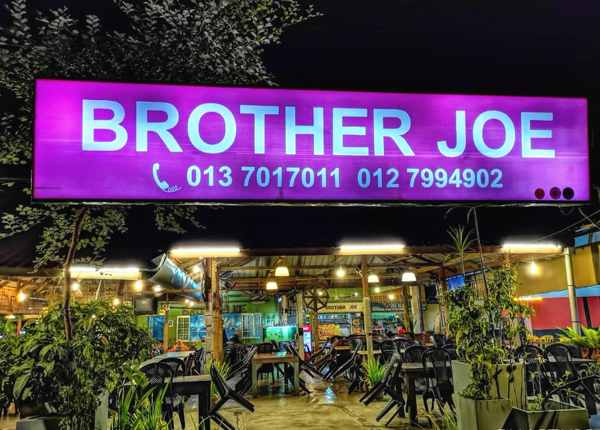 Tips:
Do inform the restaurant on your tolerance towards spicy food
MUST try food is their grilled fish (ikan bakar). Their grilled stingray is delicious
Other food served are 3 taste sea bass (siakap 3 rasa), tom yum soup and deep fried batter prawn
Reviews for this restaurant are just average but if you are into grilled fish, this is a place you can consider going.
3.4 Sri Mersing Café
Do drop by to this traditional Chinese coffee shop for breakfast or for tea break.
Also read: Top 13 Best Cafe In Johor Bahru (Most Instagramable Cafe In JB)
They are well known for their coffee and their freshly baked bread, pastries and cake. Don't forget to order their homemade kaya toasted bread with soft boiled eggs.
Tips:
Must try food are their coffee, nasi lemak, kaya toast, curry puff, banana cake and egg tart
Location: 63, Jalan Sulaiman, Mersing Kechil, 86800 Mersing, Johor, Malaysia
Opening Hours: Daily 8:30am – 6:00pm
3.5 T&K Seafood Restaurant
This seafood restaurant is just a 3mins drive or less than 10mins walk away from Mersing town.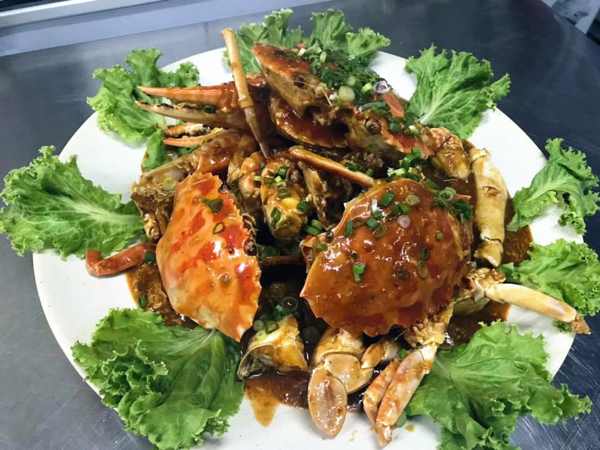 Tips:
Must try food are their signature steamed sea bass dish and black pepper crab
3.6 Nasi Dagang Mak Yah
Nasi Dagang ("Trader's Rice") is a dish well known in states of Terengganu and Kelantan in Malaysia.
It consists of steamed coconut milk rice, curry fish with some pickled vegetables.
Mak Yah sells this delicious rice at a small stall located next to the wet market.
Tips:
Be prepared to queue for this!
Only take-away
4. Hands On Fishing Experience at Ah Fatt Kelong Fishing
Are you a fishing enthusiast? Or are you one of those "TV" fishing enthusiast but dream of being able to fish at a proper fishing kelong?
Also read: 9 Fishing Kelong in Johor (Fishing Experts' Top List)
If you are, then you would love Ah Fatt Kelong. It is located offshore and takes only about 10 – 15mins ferry ride from Penyabong Jetty.
This place is highly recommended as the top "what-to-do in Mersing" list. You should at least stay a night here in order to fully experience the nature of this place.
Their 2 Days 1 Night Package (RM 180) includes:-
Accommodation (no frills bunk beds with mattress, one pillow and one blanket)
Food (5 meals/day)
Free flow coffee and tea
TV – Astro (Malaysian Satellite Service Provider)
Mahjong
Wifi
Fan
Also read: Tioman Island Packages
Other facilities:
Fishing Rod (rental fee)
Live shrimps as bait (with fee)
Snooker (with fee)
Boat to go further from the kelong (rental fee)
Tips:
Non air-cond. It can be hot during the day, hence to bring your sunblock and cap along. However, it gets cold towards the night. Bring along a jacket as the blanket may not be sufficient for you.
MUST make reservations and be sure to inform them that you will want to buy live shrimps as bait (if not, you will need to bring yours along).
Meals provided are breakfast, lunch, tea break, dinner and supper. You will be able to enjoy some nice fresh seafood such as red snapper and crab.
Since you are there, do go for their night fishing session to catch squids and cuttlefish (do enquire about the bait when you make your reservation)
5. Shopping For Mersing Local Native Products
Feeling like you want to take a break from all the adventure activities you did?
Head on down to the local shops of Mersing to grab some souvenirs and local delicacies.
Here are some of the popular shops among regulars that you might want to consider going to:-
5.1 Perusahaan Keropok HJ Puteh
Products available:
Dried Keropok Lekor
Dried Prawn Crackers
Dried Mackerel Fish Crackers
Dried Fish Crackers
5.2 Kuantan Seafood Mangrove Port Co. Ltd
Products Available:
Dried Squid
Dried Anchovies
Dried Salted Fish
Dried Fish Innards
Packed Pastries
Location: 26, Jalan Jemulang, 86800 Mersing, Johor, Malaysia
Contact: +607-799 2484
Opening Hours: Daily 8:30am – 7:30pm
5.3 Perusahaan Keropok HJ Ramli (Keropok Ikan)
Products Available:
Freshly Made Keropok Lekor Slices (MUST try)
Freshly Made Keropok Lekor Roll (MUST try)
Dried Prawn Crackers
Dried Mackerel Fish Crackers
Dried Fish Crackers
5.4 Meng Huat Penghasilan Laut (Dried Seafood, Seafood Snacks)
Products Available:
Dried Squid
Dried Salted Fish
Dried Shrimp
Dried Keropok
Location: 11A, Jalan Sulaiman, Bandar Mersing, 86800 Mersing, Johor, Malaysia
6. Relax at Mersing Harbour Centre
Mersing Harbour Centre is like a one-stop centre to obtain all the tourism information that you need and it is opposite of the pier.
You may purchase your Cataferry or Bluewater Express ferry tickets as well as make your payment for the Marine Park Conservation fee.
The centre is spacious and equipped with air-conditioning, WiFi, wooden benches, clean toilets, few food stalls and merchandise shops.
This is a very good place for a nice rest while waiting for the arrival of your ferry ride to Tioman Island or speedboat to Rawa Island.
Also read: Tioman Ferry Schedule
7. Beautiful Structured Hock Soon Temple (Fushun Temple)
Hock Soon Temple which is known for its magnificent architecture carving design is more than a century old.
It was built as a Taoist temple dedicated to Tua Pek Kong which is believed to be the God of Prosperity by the Taoists.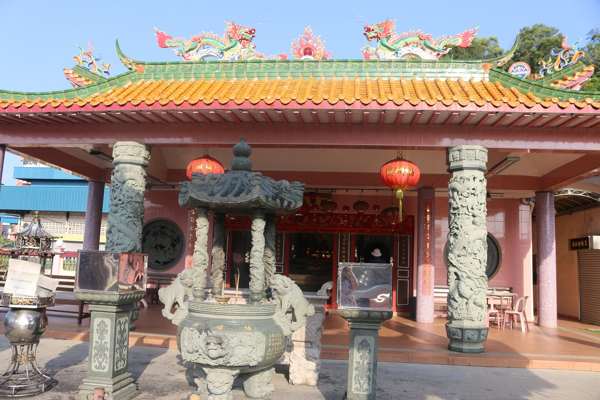 If you are one of those who appreciate historical places, this is a must-visit temple while you are in Mersing
8. Walk Along The Nature Of Tanjung Resang Beach
Fancy a sunset view on a serene long white beach with dense trees as the backdrop?
Tanjung Resang Beach is the place to be when you want to enjoy the beauty of being at the seaside while in Mersing.
9. Hike Up To The Peak Of Gunung Arong
If you have always wanted to go for your first hiking experience or if you want your kids to get the exposure towards outdoor nature through hiking, this is the perfect place.
Gunung Arong is a small hill at Tanjung Resang (240m) and it takes less than an hour to hike up to the peak.
You may access it via Kampung Tanjung Resang or Teluk Gorek Beach (or you may want to choose to ascend and descend at each of these entrances.
Also read: Tioman Island Diving Guide
It is relatively an easy hiking trail with well-marked signs along the journey.
Tips:
Aim for the peak as the view is a sight that you wouldn't want to miss.
If you are more of an adventurous person, you may want to explore Pulau Mawar. However, it can only be accessed by foot and it is not suitable for kids.
There is a place called the "Lovers Bridge" around 15mins hike down the peak. It offers you a panoramic view of South China Sea and the surrounding islands.
No toilet facilities.
How To Get To Mersing From Singapore
How good a holiday turns out to start with the ease of getting there.
Planning for ways of transporting yourself from your home to your holiday destination can be quite a hassle even if it is just for a short getaway from Singapore.
The best hassle free way to get to Mersing from Singapore is to hire a private car.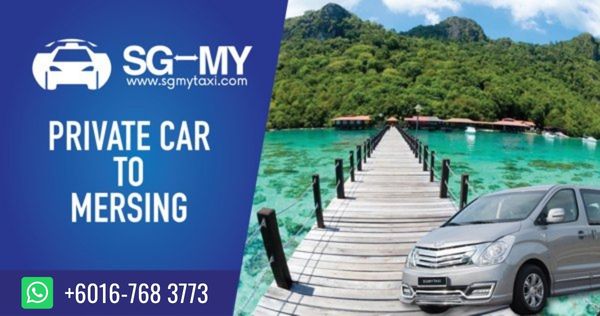 There are a few criteria to look out for when hiring a private car to Mersing from Singapore:-
A reputable private car service provider
Size (Sedan or hatchback for solo or small group travellers & MPVs for a larger group)
Condition of the car (choose a company that provides well maintained cars which includes regular cleaning and servicing)
Door to Door Pick Up Services
Comfortableness
If you do not have a clue on the process of booking, you may refer to SGMYTAXI which is a reputable company and fits all the criteria above.
There might be an assumption on your side that Mersing is just an interchange point for you to get to all those islands surrounding it.
I am sure you would have a different perspective at the end of this article.
Do give it a go if you suddenly have the urge to go to a place which would give you a totally different feel from the busy buzzing life in Singapore.