"Food, glorious food!" as Oliver chimed with his friends, and you will too when you see the amount of delicious seafood in town!
Johor Bahru is surrounded by a vast fishing ground with an abundant supply of fresh seafood, all readily available to the best seafood restaurants in town!
In fact, the quality of seafood in Johor Bahru has become a part of tour itineraries for many visitors coming into the region.
Do you imagine yourself indulging in fresh oysters, sweet chili crabs, butter prawns, succulent lobsters, baked fish and grilled squids- all mouth-watering temptations?
Here, we take you on a journey of the best seafood restaurants in Johor Bahru. Drool no further and check out this top 12 list!
Best Seafood Restaurants in Johor Bahru
1. Todak Seafood Restaurant in Johor Bahru (旗鱼海番村)
Sitting right on one of the beaches of the Straits of Johor is the iconic Todak Seafood Restaurant. Established in 1999, it has built for itself a good reputation as one of the best seafood restaurants in the Johor region. The setting on the beach also enhances the dining experience.
This restaurant offers fish dishes from freshly caught pomfrets, snappers, groupers, threadfins and many others. You can also select sumptuous dishes from a variety of crabs, prawns, lobsters and oysters preparations.
The seafood can be prepared in many different ways including Thai style, black pepper, 'sambal', Hong Kong steam and other ways as well. The crab platters at Todak Seafood restaurant are their signature dish though and they are recommended for everybody who loves fresh, well prepared and spicy crabs.
Also read: Where To Eat In Johor Bahru: 65 Good Food To Eat In JB
The restaurant is constructed simply with great views of the Straits and the muted red lighting at night makes for a romantic dining experience. The prices are reasonable for food that is this good and that is another reason why it is so popular.
Address: 1, Kampung Orang Asli, Telok Jawa, Masai, Johor Bahru, Johor, Malaysia.
Phone: +607 – 386 3696
Opening Hours: 11:30am to 11:30pm
2. Grand Bayview Seafood Restaurant (新湖滨花园海鲜楼)
If you are looking for a fine seafood restaurant in the Danga Bay area of Johor Bahru, you will do yourself a big favor by sampling the authentic seafood at Grand Bayview Seafood Restaurant. It is hard to miss; the majestic lobster statue gives it away from far off.
The menu is wide and varied and guests of all races and religions will find a good meal to enjoy from the available selection. Among their most loved dishes are the Oat-meal prawns that people come from far to enjoy. There are also the salted egg crabs that will leave you asking for more.
With 160 tables and a sitting capacity of 1,600 diners, the restaurant is often used for events like corporate events, weddings, banquets and so on. The location is breathtaking; the sea views of the Straits of Johor and Singapore in the distance plus the sailboats and yachts lazing on the water make for a great dining experience.
Address: 3, Lot PTD 21349, Batu, 1/2, Jalan Bertingkat Skudai, Danga Bay, 80200 Johor Bahru, Johor, Malaysia.
Phone: +607 – 226 1688
Opening Hours: 11:30am to 12:00am
3. Restaurant SPOA , Telok Kabong, Kg Pasir Puteh, Johor (合德宝阿斯里海鲜)
One of the best criteria for selecting a good seafood restaurant is the freshness of the food offered.
At the Restaurant SPOA, the semblance of a seafood market is hard to miss, what with all prawns, lobsters, crabs and oysters displayed in aquariums all over the place. In fact, they are only fished out when you make your order which guarantees freshness.
Also read: 7 Best Bak Kut Teh In JB
The selection of dishes is really wide. With clams the size of an adult's palm, one of their dishes will leave you spellbound. You can also sample the drunken prawn soup, chilli crab, shellfish, lobster and fish dishes depending on your liking.
Set right on the water, the views are great. It is built simply with a rustic ambience. The food though is what brings the diners here. It is authentic, fresh and made to the style you prefer.
A good way to experience the food is when in a group and everyone orders his or her favorite. This way, you get to see what others are having and you might just change your order the next time you visit Restaurant SPOA.
Address: Kg Pasir Puteh, Teluk Kabong, Johor, Malaysia. (near to Tanjung Puteri Resort & Golf Course)
Phone: +6013 – 709 9399 / +607 – 216 2798
Opening Hours: 11:00am to 11:30pm
4. Restaurant Tian Lai Johor Bahru (天来海鲜园)
Restaurant Tian Lai is one of the best seafood restaurants at Gelang Patah. It is also the most widely known seafood joints in this area. It is near the Second Link Road that is between Singapore and Johor.
Tian Lai is one of the restaurant near Legoland Malaysia, it takes only 15 minutes away and a fantastic place to relax and regroup either for lunch or dinner.
Also read: 18 Things To Buy In JB
The menu offers a well-rounded selection of seafood dishes made in different styles and to your liking. If it is your first time at the restaurant, you can try their signature food items which are the Black Pepper Crabs and Fried calamari with sambal. Later you can be more adventurous and order the other fare on offer.
All the dishes are superb and well prepared. Other mouthwatering fare includes: steamed Ikan Patin, chili crabs, juicy crab flesh and sambal kang kong among others. There is also a non-seafood menu which includes portions of chicken and tofu.
Nearness to the Second Link Road and great theme parks like Legoland and Hello Kitty plus reasonable prices make this restaurant the best in Gelang Patah.
Address: 158, Jalan Leong Bee, Gelang Patah, Johor Bahru, Johor, Malaysia.
Opening Hours: 12:00pm to 11:00pm
Phone: +6011-1769 2015
Closed on: alternate Mondays
5. Chua Kee Restaurant, Gelang Patah (蔡记海鲜)
Gelang Patah, Johor does not have so many seafood restaurants, at least not those with fine dining and elaborate menus.
Chua Kee restaurant though is a place where visitors to this area or on transit to Jurong, Bukit Indah and the nearby theme parks, or even those coming from or going to Singapore via the Second Link Road can stop for a seafood lunch or dinner to remember.
The menu features common seafood fare and also other conventional dishes like chicken and pork. The seafood though is what the majority of guests here come for.
Some of their most popular dishes include: lala (clams), cereal prawns, stir fried squid with sambal, deep fried calamari with salted eggs and Hot plate bean curd with seafood in tom yam sauce.
With ample parking and an airy ambience and efficient service, your lunch or dinner will be a pleasure.
Address: No.1, Jalan Kacang Panjang, 81550 Gelang Patah, Johor Bahru, Malaysia.
Phone: +607 – 510 3198
Opening Hours: 11:30am to 11:00pm
Closed on: alternate Wednesday
6. Yi Jia Seafood Restaurant, Bukit Indah (億家海鲜)
What started out as a simple and low-priced seafood restaurant in Setia Indah has transformed itself into one of the leading seafood fine dining experiences in the Bukit Indah area of Johor Bahru.
It is conveniently located near the Second Link Singapore-Malaysia route and a short drive from the Legoland Malaysia Theme park. It is air-conditioned in both its first floor and basement dining areas which are also suitable for event hosting.
Also read: Top 13 Food & Restaurants Near Legoland Malaysia
The food on offer is something any seafood enthusiast in the Johor Bahru area will tell you to try. The salted egg crabs, and Otak-otak Crab (an authentic traditional Malaysian delicacy that still excites palates to this day), White Pepper Crab, and Honey Sauce Crab are the dishes that Yi Jia Seafood Restaurant is famous for. Other seafood dishes like prawns, lobsters and fish are available as well and just as tasty.
The food, the friendly ambience, the efficient and courteous service make for a great eating out experience. It is no wonder that they have expanded this experience to another outlet in Johor Bahru; they must be doing something right!
Address: No. 17, 19, 21 & 23, Jalan Setia 9/17, Taman Setia Indah, 81100 Johor Bahru, Johor.
Phone: 07-359 7782 / 012-707 5806
Opening Hours: 4:00pm to 1:00am
7. Anjung Senibong Malay Seafood
The Senibong Seafood Village is a stretch of 7 seafood restaurants all of which face the ocean. Its location is Permas Jaya, at Kampung Senibong.
Despite the competition around, Anjung Senibong Malay Seafood is the favored joint here as the food is freshly harvested and cooked and it is also one of the premier dining places for true Malay seafood.
The menu comprises of different seafood varieties with emphasis laid out on authentic Malay flavors. One interesting thing about this restaurant is that you handpick the seafood you want made and the price of the dish you prefer depends on the weight of your selection. You will select from live fish, stingrays, squid, crabs and prawns.
You will do yourself a favor by selecting any of the seafood on offer especially the chilli crab, seafood tom yam soup, ikan tiga rasa (buttered fish with a flavored sauce), butter prawns, and sotong goreng tepung (a calamari dish with a mouthwatering batter).
The alfresco section on stilts is a great place to dine on, especially with the sea views and breeze.
Address: No 4, Jalan Persiaran Senibong, Bandar Baru Permas Jaya, 81750 Masai, Johor.
Phone: +6013 – 784 9476
Opening Hours:
Monday To Thursday: 4:30pm – 2:00am
Friday To Sunday: 4:30pm – 2:30am
8. San Low Seafood, Taman Pelangi (三楼海鲜园)
This is one of the leading seafood joints in Taman Pelangi, Johor Bahru. It is a 3-storey restaurant ran with a Chinese theme. It is a reasonably priced for the food which they serve which would cost almost double across the Straits in Singapore.
Aslo read: Top 21 Good Food In JB City Square
Being only a 5 minutes' drive from the causeway, it is frequented by multitudes of Singaporeans looking for great and affordable seafood or in transit into Johor Bahru city center or to one of the many theme parks all over the Johor area.
The menu comprises seafood fare and non-seafood selections. The shellfish, made with a distinct Chinese flavor, is a favorite here and you will find many patrons enjoying the various versions available. You will also find crabs, prawns and lobsters as well. You will have to decide if you want your food made in the Chinese way or your preferred method.
San Low Seafood restaurant is also famous for its Fried Bee Hoon, a simple dish of Singaporean noodles which requires exemplary skill to get it right.
Address: Jalan Biru or Jalan Merah, Taman Pelangi, 80400 Johor Bahru, Johor, Malaysia.
Phone: +607 – 332 3869 / +607 – 334 3623
Opening Hours: 4:30pm to 1:00am
9. Kim Cheong Restaurant (金昌海鲜饭店)
Kim Cheong Restaurant is located in Taman Johor Jaya in Johor Bahru, Malaysia and is well renowned for its Chinese cuisine. The restaurant caters for reservations and walk ins, and is especially popular for groups of people and kids.
Among its various services include outdoor seating, waiter services and takeaways. It specializes in lunches, dinners and drinks. Food here is reasonably priced and comprises both seafood and non seafood varieties.
Among the most notable seafood served at the restaurant include Chinese flavored shellfish that is prepared in many variations. Also featured in the menu are a selection of prawns, lobsters and crabs.
The restaurant is also famous for other types of delicacies with its signature dish being the fish head soup. It also serves curry fish head or salted chicken eggs with custard pork ribs, fried pumpkin or chicken floss. The restaurant has ample parking space which is found on the street and also at their parking lot.
Address: No.40, Jalan Ros Merah 2/11, Taman Johor Jaya, 81100 Johor Bahru, Johor, Malaysia.
Phone: +6019 – 714 7996
Opening Hours: Daily 11:00am to 10:00pm (Break on 3:00pm to 5:00pm)
Closed on: Alternate Monday
10. Ong Shun Seafood Restaurant (旺顺露天海鲜楼)
This restaurant is located in Jalan abdul Samad, Johor, Malaysia and is well known for its specialty in fresh, tasty seafood. They prepare good food which is affordable to most of its customers.
It is an open air restaurant whose atmosphere is simply relaxing and is a favorite spot for many locals. It is not your everyday tourist restaurant but it sometimes receives visitors, most of whom are travelers.
Ong Shun serves typical Chinese flavors that are blended with the Malaysian flavors and taste. Among its most favorite dishes include the Chinese style Sze Char dishes which also features the usual Singaporean favorites of cereal prawns, chili crab, hotplate tofu and lemon chicken.
Their unique food preparation has endeared this restaurant to many Malaysians who always find something to suit their taste buds. They are preferred by most because of using fresh ingredients that makes the food taste delicious and this makes it irresistible to many of its customers who keep coming back.
Address: 2467, Jalan Abdul Samad, Kampung Bahru, 80100 Johor Bahru, Johor, Malaysia.
Phone:+607 – 223 8953
Opening Hours: Daily 4:00pm to 1:00am
Closed on: Monday
Jade Garden Seafood Corner is a restaurant located in Johor state, Malaysia in a town called Sungai Rengit offering cuisine of Chinese, seafood and Asian.
Anyone who is visiting, or planning on visiting Desaru, but don't know what to do in Desaru, you can search for a delicious seafood restaurant after your trip itinerary.
It is the most successful restaurant in Sungai Rengit and it is mainly popular for its lobsters. This restaurant has a spacious floor that is good for relaxing. The price offered in this restaurant is very competitive and it has attracted even more customers.
Apart from Lobsters they also offer other food which includes crabs (salted egg crab and curly leaf crab), pomfret, boneless chicken salad, bailing mushrooms with vegetable and coconuts, peking duck among many others.
The main mode of transport to this restaurant is by car, which is about 90 minutes drive from Johor Bahru Checkpoint.
Address: Lot 4785, Lorong Siakap 1, Sungai Rengit, 81620 Pengerang, Johor, Malaysia.
Phone: +607 – 826 5460
Opening Hours: 11:00am to 10:00pm
Travelling from Singapore to Johor Bahru for Great Seafoods
For diners and travellers coming from Singapore across the Straits of Johor, it can be a problem because of the traffic and border processes.
To make matters easy, you would have to take a private taxi to Johor Bahru from Singapore. SGMYTAXI is the leading provider of state-of-the-art 7-seater air-conditioned taxis.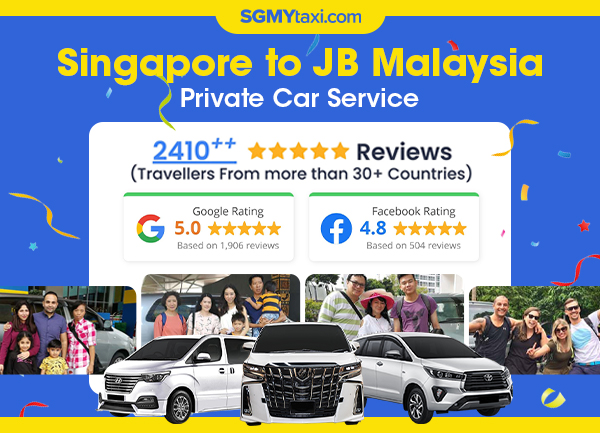 They will ensure a smooth ride to the seafood outlets in Johor Bahru by easing the immigration and customs processes where you will be processed right in the taxi (no queues and delays). You will also be picked and dropped at your places of choice. You will not go wrong with SGMYTAXI.