Johor Bahru is second largest cities in Malaysia, making it a very popular travel and vacation destination.
The best Johor Bahru food can be categorized into 12 different groups as below. Click the tab below and check it out now!
Best Vegetarian Restaurants in Johor Bahru (JB)
It can sometimes be difficult to find food that is both tasty and vegetarian food in JB while on vacation, but these restaurants pass the test and serve food that is both delicious and vegetarian-friendly!
1. Image Cooker
One of the first things you will notice when walking into Image Cooker is how modern and chic the restaurant's décor and design are.
Due to the owner's love of photography, the restaurant kind of resembles a photography studio and has a very modern look and feel that is both simple and retro.
They serve a mix of Western and Asian foods, including burgers, spaghetti, fried rice and various types of pasta.
2. Vege Coffee
A small, coffee shop type restaurant, this is a great place for a vegetarian breakfast or lunch. They also serve a mixture of Western and Asian dishes, including a typical American breakfast.
Also read: 10 Best Food & Cafe Near Johor Bahru Checkpoint
Their coffee and desserts are to die for and this café is a great place to grab lunch or coffee with a friend.
A lot of their dishes do contain eggs, so if you do not eat eggs you should let your waiter know ahead of time.
3. Dessert Library
This shop is so adorable and cozy and has bookshelves lining the walls. It is a great place to feed not only your stomach but also your soul, as they use only the freshest and most natural ingredients in every dish.
Also read: 11 Must-Try Cafes In Mount Austin (Editor Choice!)
They focus mainly on dessert, so this is the perfect place to satisfy your sweet tooth. Every dish is unique and absolutely phenomenal.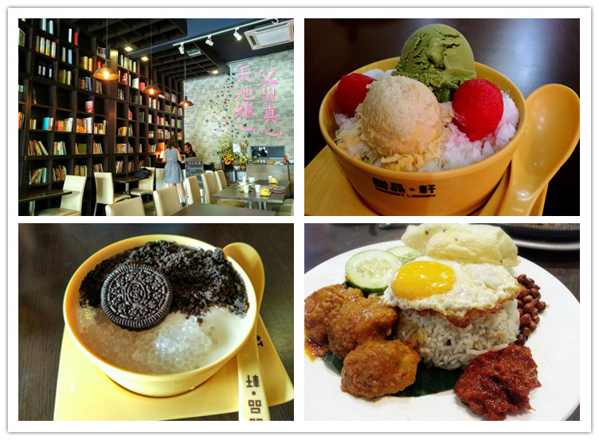 4. I Vege
I Vege is unique because they turn local dishes into vegetarian-friendly options, and they rock at it.
Every dish tastes at least as good as the original recipes, and some of them are even better!
They also have some Western options on their menu that are equally delicious and satisfying.
There are a variety of vegan options available as well and their Soy Burger is very highly recommended.
5. Xiang Man Ju
If you are feeling especially hungry you should definitely check this restaurant out.
They serve all their dishes buffet-style, meaning that you can eat all you want!
Also read: What To Buy In JB
If you aren't into the buffet scene you can also purchase menu items on their own.
They have tons of options that are made with meat substitutes but taste just as good as the "real" thing, and their Vegetarian BBQ Stingray is especially delicious.
6. Fulin Xuan
Fulin Xuan serves vegan food with the option to add eggs to your dishes if you would like.
The chef here is very experienced and produces delicious dishes every time.
All the recipes are unique and their food is homemade. The Oyster Mushroom Omelet is superb and if you are looking for something sweet to end your meal you have to try their eggless Mud Pie.
7. Loving Hut
The Loving Hut is a cute place with lots of vegetarian options in Johor Bahru.
They are part of a larger restaurant chain and they believe in wholesome, environmentally friendly, natural and organic foods.
They also advocate a plant-based lifestyle and their restaurants serve delicious vegetarian and vegan dishes.
You can buy food, coffee, non-alcoholic drinks and more at the Loving Hut.
You May Also Like:
Best Korean Restaurants in Johor Bahru (JB)
Korean food combines sweet and spicy flavors to create delicious and unique dishes. Everyone seems to love Korean food, and we found the best Korean restaurants in Johor Bahru.
1. Kim Chi & BBQ Korean Restaurant
Kim Chi and BBQ are by far the most popular Korean dishes in the world, and this restaurant is a master in both.
The restaurant is multi-level and has a very friendly wait staff. They have a wide variety of Korean BBQ meats that are all marinated down to the very center of the meat, creating a unique and delicious flavor.
Also read: Singapore Public & School Holidays
If you visit this restaurant you should try the very highly recommended Pork Spare Ribs. They have a distinctly unique flavor and are amazing.
2. Bornga (Restoran Original Korean Taste)
You can smell this restaurant from the street and it is sure to lure you in.
They use only the freshest ingredients and bring a charcoal stove to your table, cooking the food right in front of you.
Also read: Top 21 Good Food Near City Square JB (Choices From International To Local)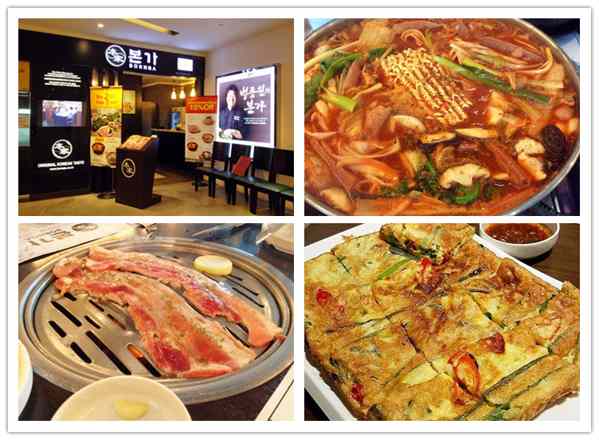 It is entertaining to watch and the aromatic smells of the meats and vegetables fill your nose as the food cooks.
Their signature dish is Woo Samgyup and it is made with beef brisket and their own special sauce. Their Pajeon is also delicious.
3. Shik Gaek Korean Family Restaurant
Shik Gaek is a great restaurant for a group dinner, and they serve a variety of different "sets" of food, allowing you try a little bit of everything and mix different flavors together.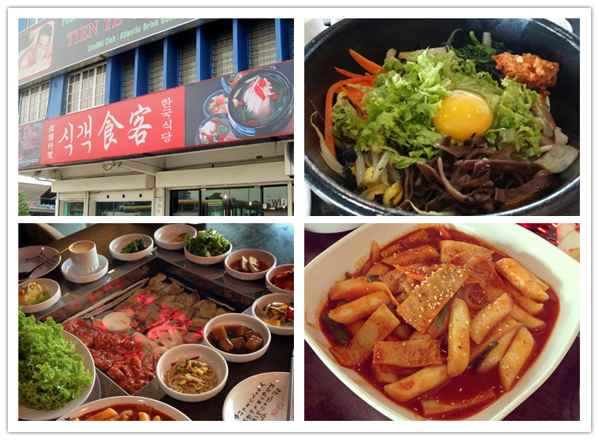 The restaurant itself is very spacious and has a simple, sleek design.
Like other Korean restaurants, they grill your food in front of you on your table.
Their BBQ special and Kim Chi Soup are fantastically delicious.
4. Nam Moon Korean BBQ
Nam Moon serves more than just BBQ and Kim Chi, they also serve Korean pancakes and Korean sushi.
Their side dish portions are extremely generous, and the more people you are with the more side dishes they give you, making it another great place for groups or families.
Their two most popular dishes are their Korean seafood pancakes and their hot Kim Chi Soup.
This restaurant does tend to get crowded on the weekends, so plan in advance if you plan to eat here at that time.
5. Running Man Korea Restaurant
Running Man Korean Restaurant is a delightful eatery located in Sutera Mall, Johor Bahru prepares and serves traditional Korean in the traditional way.
Each meal is cooked from scratch on an order-by-order basis. Nothing is pre-prepared, so you are assured of fresh, locally grown vegetables and exotic spices. It is a favorite for Korean Barbecue and other tasty Korean dishes that make the regulars come back for more.
Beef, chicken, pork and seafood choices can be made with mild seasoning, or spicy, or Korean spicy; your choice for any dish. Vegetable dishes include bean paste soup, glass noodle, rice cakes, Bi Bim Bop, and steamed dumpling to name a few.
Here are some of the best choices on the menu.
Bul Go Gi
Je Yuk Bok Keum
Kimchi Soup
Dol Sot Bi Bim Bop
The Dol Sot Bi Bim Bop has options of beef, chicken, pork and tofu.
Spicy Claypot Beef Stew with Glass Noodle
Lemon Tang Su Yuk
Korean Barbecue Options
Beverages include Rice Wine, So Mak Tower Beer, and Baeksuju which is wine flavored with Ginseng. Pancakes are made with Kimchi, seafood or rice.
The barbecue options are tasty and can be catered to the guests' choice. The ability to try various options for the meal also adds to the fun of discovery for each person's individual taste.
The atmosphere is nice and clean, so it is perfect place for a night out.
6. Palsaik Korean BBQ Sutera
Looking for delicious Korean BBQ? If the answer is YES, here's what you need to know about Palsaik Korean BBQ Sutera.
If you want to savor 8 different flavours of pork belly, then consider Palsaik Korean BBQ Sutera as your next meal to fully enjoy.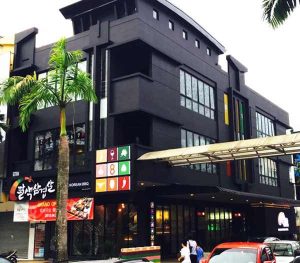 Some of the marinations include a range of spicy to non-spicy, sweet and tangy sauces made of succulent herbs, garlic, herbs, curry, ginseng, soybean and more. Palsaik Korean BBQ Sutera is a restaurant to enjoy for many reasons.
Besides their enticing ambiance, Palsaik Korean BBQ Sutera provides a clean, spacious interior for hosting small and also larger groups of people. It is the place for people to savour Korean BBQ at its tastiest.
When visiting this restaurant, each table must order a set, which consists of pleasant, yet distinct aromas of meat from the menu.
For couples, the 3 colours set is a fantastic choice — choose between grilled deodok and kimchee. The 8 colours set and the premium set serves up to four people. Enjoy both the kimchee and grilled deodok with the premium set.
7. Uncle Jang Korean Restaurant
Uncle Jang's is a widely popular restaurant chain in Malaysia and their Johor Bahru location is fantastic.
Their food is distinctly and authentically Korean and like other restaurants they cook the food right in front of you.
Their most famous dish is their Dakgalbi, which is made with ramen, meat, rice, sauces and cabbage.
The best version of this is the Extra Ramen with Spicy Sauce. It is spicy and satisfying.
You May Also Like:
Best Chinese Restaurants in Johor Bahru (JB)
Chinese food in Johor Bahru combines traditional, family recipes with new ideas and twists. Every dish is full of flavor and has completely different and unique flavors.
1. Swee Ang Restaurant
Swee Ang has created a delicious crab ball that takes away the difficulty of getting the crab meat out of the shells.
The crab ball is made from compressed pieces of crab flesh and is served in a flavorful soup.
This crab ball can also be added to other dishes to create a unique and yummy flavor.
Swee Ang Restaurant also serves other dishes, such as pork tenderloins and a large variety of different fishes.
2. Hua Mui
This restaurant is a bit older and has a humble feel to it and dining here will make you feel as if you stepped back a few decades.
They serve a variety of authentic Chinese dishes that are all wonderful.
Their most popular dish is the Hainanese Chicken Chop. Their Hainanese Coffee is equally delicious and will warm your belly and they serve a wide variety of other kopitiam dishes.
3. Ban Heong Seng
Although this restaurant is small they take their cooking seriously and deliver up a wide variety of seriously delicious dishes.
Their most famous dish, the Beggar Chicken or Duck, takes a whopping 8 hours to make. Due to this, you have to order at least a day in advance if you want to enjoy this delectable dish.
If you don't have time to order ahead, you can try their amazing Melon Soup or other yummy dishes that are available to walk-in customers.
4. Woon Kiang Restaurant
Woon Kiang restaurant is a local favorite with fantastic service and delicious food.
Their Kuey Teow is a neighborhood favorite that is served with flat, rice noodles, a light sauce and pork offal.
This is their most famous dish and is a must try if you are in the mood for offal.
However, their braised duck is also amazing and worth a try if you do not like, or do not want, the pork offal.
5. IT Roo Café
This café received an award in 2003 and has lived up to those standards ever since.
They have a large number of amazing dishes and you will see a plate of their Hainanese Chicken Chop at almost every table.
Their other dishes, like the fried rice, are simple yet amazing as well. Any dish at this restaurant is a great choice.
6. Ming Ji Restaurant
The recipes served at this restaurant have been handed down from generation to generation and are absolutely celestial.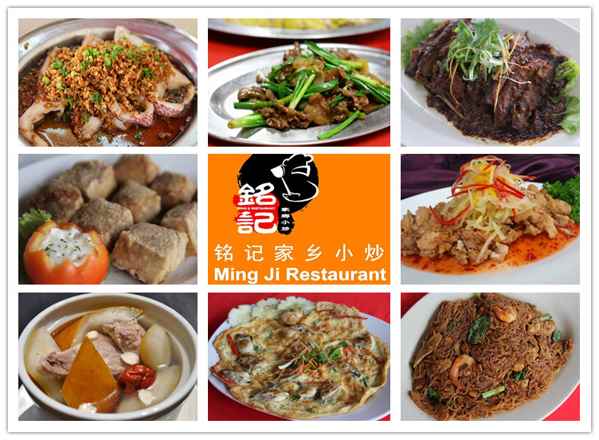 The chefs use only the best, most select ingredients and secret family techniques that make the food to die for.
Every dish is fantastic, though the Fried Bee Hoon, Fried Chicken and Signature Tofu are their most popular dishes.
Each dish is cooked to perfection and is sure to satisfy your appetite.
You May Also Like:
Best Malay Restaurants in Johor Bahru (JB)
While in Malaysia it only makes sense to try some authentic Malay food, and Johor Bahru is a great place to do just that. These Malay restaurants serve up some of the best Malay food in Johor Bahru.
1. Kerisek & Koffie
Despite being fairly new to the area, this restaurant has been getting rave reviews. The restaurant has a soothing ambience and you will feel perfectly relaxed and at home while dining here.
They serve traditional Malay food, such as their spicy beef rendang and yellow rice or their nasi lemak. The menu is endless and you will never run out of delicious, filling options.
If you want to satisfy your sweet tooth you should try their divine Coffee Walnut Cake. However, you do need to call ahead for all cake orders, so plan accordingly.
Also read: Best JB Banana Cake Since 1919 (Hiap Joo Bakery!)
2. Warung Saga
If you are looking for a history lesson while you eat, this is the place for you. The walls are hung with huge portraits of Malaysian dignitaries, artists and celebrities.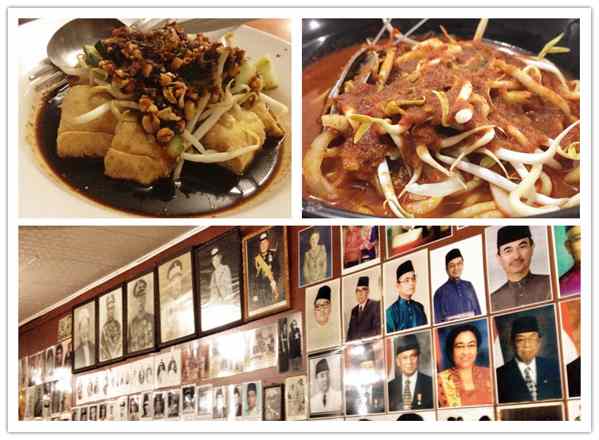 There are so many amazing dishes served here that is hard to just pick one to recommend.
Their Lontong Kering is fantastic so is their Teh Tarik. No matter what you choose to eat, you will be sure to leave feeling full and happy.
3. Pondok Santapan
This restaurant is soothing, humble and spacious. You can purchase a large variety of traditional Malay food here, and it is a great place to go for a morning meal.
Their Mee Rebus is made with yellow noodles, gravy, eggs, shrimp and tofu and is absolutely amazing. Other popular dishes include their large variety of Kuihs and their Teh Tarik.
4. Warong Pokok Ceri
This restaurant is unique since they display all their dishes on trays before you and you pick and choose what you would like. The décor is gorgeous, filled with colorful umbrellas and beautiful greenery.
They serve an awesome Nasi Kerabu, which is a Kelantanese. Another highly popular dish is their curry spiced and charcoal grilled kembong fish, which smells and tastes amazing and is very moist.
Their chendol helps to cool down your palate after all the spices and is a great way to end the meal.
5. Warung Sebulong Corner
If you are an early riser, this is the place for you. If you are not an early riser, you might want to consider getting to this restaurant early before their famous, signature stir-fried lungs run out.
The lung is incredibly tender, richly spiced and served with either rice or nasi lemak. Their Teh Tarik is also a fantastic addition to your meal.
6. Sedap Corner Restaurant (Jalan Abdul Samad)
This restaurant has been serving the community for almost 30 years and serves Western, Thai and traditional Malay foods. They also do catering, if you are planning on having a party or get together.
Their Nasi Ambeng is served with a heaping mound of rice, chicken or beef rendang, fried calamari, salted fish, sambal prawns, serunding kelapa, mee siam and sambal belacan, and is perfect for someone with a large appetite.
Either as an addition or an ending to your meal, their fruity smoothies are delectable and unique.
7. SS Banana Café
This café spoils you with all their fantastic choices. The present their dishes in a beautiful and artistic way and is sure to entice your sentences.
The Laksa Johor and Nasi Lemak are customer favorites and are sure to satisfy.
If you are in the mood for something a bit spicier, you should try their sizzling squid sambal. They serve an assortment of local drinks that authentically delicious and definitely worth a try.
You May Also Like:
Best Western Restaurants in Johor Bahru (JB)
Sometimes you are just in the mood for some Western Food. Luckily, Johor Bahru is richly diverse and has lots of Western restaurants. We have picked out some of the best and reviewed them here for you.
1. Restaurant Lemon Tree
Despite being small, this restaurant serves up some hugely delicious dishes and offers catering as well.
Their Chicken Chop is fantastic and the combination of simplicity and deliciousness will pleasantly surprise you.
Their steaks are flown in from New Zealand and they are fantastic. They also serve a Chocolate Lava Cake, a classic Western dessert, that is a perfect ending to a fantastic meal.
2. Vilaggio Restaurant
Vilaggio uses fresh, good ingredients in all their carefully prepared dishes. Their portions are generous and the food is satisfying.
Their Cod Fish is fresh off the boat and their Lamb Shank will delight your taste buds. For a delicious after meal treat try their flavorful and sweet Tiramisu.
This restaurant is great for any lover of Western food! Make sure to check their Facebook page before heading out to see if there are any promotions or deals available!
3. Flame's Kitchen
All their meat is roasted slowly and carefully over a charcoal pit, giving it a fantastic, smoky flavor.
One of their most popular dishes is the Pastrami Chicken, which is served with an exterior that is slightly charred.
If you are not in the mood for chicken, however, they also serve a fantastic Sirloin Steak that is marinated and seasoned with salt and pepper.
This is a wonderful place for private events, group dinners or work functions. Keep in mind that due to the grilling process, there may be a bit of a wait for your food, however, the food is definitely worth the wait.
4. Grill Bar Steakhouse
With a totally Western name like Grill Bar Steakhouse, you know this restaurant will serve you up some of the tastiest Western food in this city.
This is an American themed restaurant that serves up some authentically American dishes with a bit of a twist.
They even have an Onion Blossom as an appetizer, something that is carried in almost every steakhouse in America.
The Black Angus Ribeye, Mushroom and Cheddar Beef burrito and the Country Pesto Chicken are all succulent and fantastic.
5. AnMour Cafe Concept
The Anmour Cafe Concept near Sutera Mall, has made some changes in the cost of the menu items. The cost is well worth the expense though.
Some of the best choices on the menu are Chicken Cordon Blue, Bacon Aglio Olio Pasta and the Signature Rosemary Chicken Chop. Here are some of the other tasty choices that are available from the new menu.
Sheppards Pie
Pan Fried Salmon
Seafood Marinara Pasta
For western flavor in steaks, pizza, pasta and burgers, AnMour Cafe does an excellent job. The chef there is truly one of the best in the business and can cater to individual requests as needed.
The Sheppards Pie was the biggest surprise. It is absolute perfection in both the moistness of the crust and the juices of the broth inside of the pie. This restaurant is sure to satisfy all your western cravings.
You May Also Like:
Best Thai Restaurants in Johor Bahru (JB)
Thai food combines all the best flavors to create dishes that are spicy, sweet, sour, salty and bitter. Since Thailand is fairly close to Johor Bahru, there are a large number of authentic Thai Restaurants and we have picked out the very best for you to enjoy.
1. Soul Thai Restaurant
This restaurant has a pretty fancy décor and is a great place for a nice diner out. The chefs use only the freshest, most authentic Thai ingredients in every dish.
Their food is extremely aromatic and will make your mouth water as soon as you walk in. They serve crab seasonally in multiple ways, all traditionally Thai.
Their three best dishes are the Clay Pot Crab, Pineapple Fried Rice and the Steamed Squid, which is served with a uniquely tangy sauce.
2. Carabao Authentic Thai Restaurant
Combining Thai and local décor, this restaurant has a very nice ambiance that makes a visit totally worth it. However, that is definitely not all this restaurant offers.
They serve up some pretty spicy Thai food that is perfect for lovers of spice. They also offer some more mild dishes for those who are more sensitive to spice.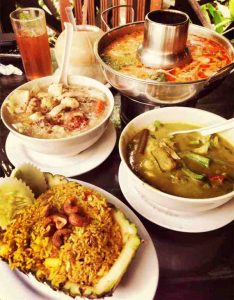 Their best dishes are their super spicy Tom Yam soup and their Tom Yam seafood. Be sure to check this restaurant out if you want some spicier fare.
3. Tera Thai
This restaurant has a pretty authentic feel to it, since it is made from an old bungalow compound that has been refurbished, and the restaurant provides an upscale dining experience.
Everything is prepared finely and they serve traditional, authentic Thai dishes. Their serving sizes are smaller than most Thai places, allowing you to enjoy many different dishes in one meal.
Their Gai Bai Kapau, which is a chicken that is stir-fried with basil, is fantastic and the Pineapple Fried Rice topped with prawns is simply succulent. To end the meal, try their amazing and sweet Sangkaya Fok Thawng.
4. Pachem Thai Food
Pachem Thai Food has operating more than 10 years and now their business has moved from stall to new location. The cuisine is skillfully prepared and you are sure to have a memorable dining experience when visiting here.
Any traditional Thai dish that you can think of is served here, and their Pachem's Tom Yam soup is exceptionally good.
Thai steamed squid, fried eggs with Cha Um (Thai vegetable), Thai style sticky mango rice are also on the must-try dish list.
5. Siam House Restaurant
Siam House has an event space, called the Rama Lounge, that you can reserve by calling ahead if you are planning an event or bringing a large group.
The restaurant is very welcoming and warm, and you will feel comfortable dining here.
They have a few signature dishes that just cannot be found elsewhere, such as the Smoked Duck and Crabs with Yellow Curry, that you must try.
The restaurant combines both authentic and contemporary Thai flavors to create memorable dishes that you will be thinking about for days.
6. Bangkok Village Thai Restaurant
Voted one of the best place to get steamed fish in Joho Bahru, this restaurant serves up some authentically Thai, and truly delicious, meals.
The atmosphere is unlike any other restaurant, with beautiful, hanging vines, gorgeous ponds full of fish and water falls.
Their Thai Lemon Steamed Bass is fantastic and the fish falls right off the bone. They also serve a variety of juices for drinks and they go great with every dish.
You get to choose how spicy your food is, so make sure and let your waiter know how much spice you like!
You May Also Like:
Best Japanese Restaurants in Johor Bahru (JB)
Japan may be quite a bit away from Johor Bahru, but their cuisine is still highly sought after. Japanese food tastes fresh, healthy and crisp with delicate flavors that are just fantastic.
1. Kinsahi Japanese Restaurant @KSL
Kinsahi is a pretty big chain restaurant in Johor Bahru that is fairly well known, with lots of different locations throughout the city.
The flavor and quality of the food is consistent at every location, something that is not true for all chain restaurants.
This is a great place for a more casual dinner or lunch. They serve a wide variety of Japanese foods, and their Sashimi, Gyoza and Fried Tofu are all particularly delicious.
2. Warakuya
Due to this restaurant's popularity among the locals, you should make reservations ahead of time.
They use fresh ingredients which add to the fresh, crisp flavor of the food. They serve traditional Japanese dishes, like sashimi and ramen, but they also have some unique and different dishes that are very memorable.
One of these unique and popular dishes is their Gyoza Pizza, which is a pizza made with gyoza dough rather than pizza dough. Their Japanese Fried Chicken is also good.
3. Restaurant Yaoki
There is both a smoking and non-smoking section in this restaurant and there is often a long wait, so make sure and get there early!
They give traditional Japanese dishes a modern twist, making them both special and delicious. Their grilled beef tongue is fantastic and their sashimi comes in large portions.
One of their most popular dishes is their Yakitori Uzura Maki, which is basically bacon wrapped eggs.
4. Furusato Japanese Restaurant
Operating for over a decade now, this restaurant is fairly popular. It is fully Japanese, complete with Japanese décor. You will almost feel as if you are actually in Japan!
They use the highest class of ingredients to create truly Japanese dishes, such as Wagyu beef and Otoro. They also have a wide variety of sushi and sashimi available.
For those who want something that isn't seafood, they also serve a delicious deep fried Shitake mushroom and yummy curried rice.
5. Kirishima Shuzou
This restaurant is housed inside a nice hotel, making it a grand and exquisite dining experience.
Their dishes are delicately flavored and their recipes and techniques have been handed down through the years.
You can reserve a very private room for you and your guests, but you will have to reserve weeks in advance since there is only one private room in the restaurant.
They serve a wide variety of Japanese foods and have a huge selection of different types of Saki, so if you are looking for a place to grab drinks and dinner after a long day of exploring, this is the place for you.
You May Also Like:
Best Seafood Restaurants in Johor Bahru (JB)
If you get in the mood for some fantastic seafood while on your trip to Johor Bahru, these restaurants will surely satisfy you!
1. Yi Jia Restaurant
One thing that is special about this restaurant is that all their seafood lives in tanks inside the restaurant, and you get to pick your own crabs and prawns right out of the tank!
One of their best dishes is the Golden Sand Salted Egg Crab, though if you aren't in the mood for crab they have other delicious options as well.
They serve fresh, right out of the tank, mussels, clams and fried squids. Everything about this restaurant is perfect for a seafood lover.
2. Restoran Todak
This restaurant is located right by the waterways and has outside seating. From your seats you can see the seafood as it is caught from fishing boats and brought right into the restaurant.
They have such a wide variety of seafood and it is all delicious. Their most popular dishes are the Drunken Prawns, Butter Crab, Japanese Snails and Tiger Prawns. Whatever you get here, it is sure to be fresh and tasty.
3. Restoran Asli Makanan Laut Mutiara Biru
With a beautiful view of the serene sea and high quality, fresh ingredients, this restaurant is very popular with locals and tourists alike.
Also read more: 11 Top Seafood Restaurants in Johor Bahru
The atmosphere is upper class and romantic, making it a great place for a date or just a night out.
Their seafood goes directly from the tank to the frying pan and ends up on your plate only minutes after being cooked.
Their Steamed Prawns have firm and juicy flesh and are highly recommended. The Butter Crabs are also delicious and worth a try.
4. San Low Seafood Restaurant
Due to its popularity, this restaurant gets pretty crowded on the weekends so you might want to get there early or make reservations ahead of time.
They are most famous for their San Lou Fried Bihun, they also have a large variety of other seafood dishes that attract even Singaporeans to this restaurant.
Their Chili Crab is super sweet and very freshly prepared, and their Fried Buns are hot, crispy and make the perfect side for any dish.
You May Also Like:
Best Buffet Restaurants in Johor Bahru (JB)
When you are extra hungry and are looking to get more bang for your buck, buffet-style restaurants are where it's at. We have found the best buffet-style restaurants in Johor Bahru for you to pick from.
1. Café BLD @ Renaissance Johor Bahru
This buffet is located within the Renaissance hotel in Johor Bahru and serves up delicious food with 5-star service.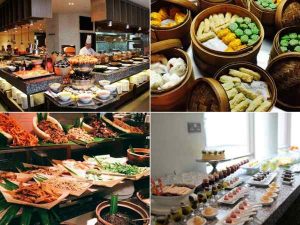 There a variety of different food types served here, including Japanese, Western, Indian, Chinese and Malay. Their seafood is especially good and is definitely something you should try.
There is no way you will get bored at this buffet, and with some many different cuisines it is a great place to try a little bit of everything.
2. Makan Kitchen @ DoubleTree
This buffet is located within the famously nice DoubleTree hotel and is sophistically decorated with a great ambience.
Also read: 10 Best Buffets In Johor Bahru
Makan Kitchen has an interactive style, meaning that while they are a buffet, you choose your food and it made fresh right then and there.
They mostly serve local Malay food, Chinese and Indian. They also have a large variety of seafood on ice that is made to order and simply delicious.
3. Harbour Café @ Hotel Jen
Another hotel restaurant that is both relaxing and fantastic. The wait staff is very friendly and welcoming, making you feel right at home.
There is a wide variety of foods served here, including a sushi bar, fresh seafood, tandoori chicken and many other options, and all their food is made fresh.
Their best items are the Sashimi, Dim Sum and desserts. They even have a chocolate fountain.
4. The Grand Gem
If you are really in the mood for some Indian food, this is the buffet for you!
There are so many different kinds of Indian food, all made with fresh ingredients by skilled chefs, and you are able to taste all the different flavors that make up Indian food.
Their Tandoori Chicken and Cheese Naan have a different taste that you cannot find anywhere else.
This is a wonderful buffet for anyone looking to enjoy some fine Indian Cuisine.
5. Infusion Café @ KSL Resort
Infusion Café is exactly what it sounds like: an infusion of different cuisines all in one location.
They serve Western, Japanese and local foods, all which are amazing. The food is being constantly prepared to ensure that every dish you choose is hot and fresh.
There are also two chocolate fountains and a variety of fresh fruits and desserts. The best dishes here are the Lamb Shank and the Fresh Seafood.
You May Also Like:
Best Fine Dining Restaurants in Johor Bahru (JB)
Whether you are looking to celebrate a special occasion, looking for somewhere to take a special friend for a romantic evening or just wanting to treat yourself to a more upscale dining experience, these fine dining restaurants will satisfy you.
1. Brazzo Lan Kwai Fong
If you are looking to eat like royalty, the chefs at the Brazzo will blow you away. The restaurant is opened on December 2016 and has a classic and luxurious feel to it.
Their most popular dishes are the King Cod seasoned with a Saffron Sauce, the Smoked Duck, Sirloin Steak, Char Grilled Grain Fed Filet Mignon and Char Grilled Grain Fed Ribeye .
They also have a wide selection of cigars and wine, to make you feel like true royalty indeed.
2. Spice Grill
Located right on the Puteri Harbor, this restaurant has a perfect and romantic atmosphere and a beautiful view.
They excel in serving up delicious Indian food, as well as some fusion dishes. Not only does the food taste good, but it looks good too!
The best dishes are the Special Black Chicken and Wagyu Ribeye, both of which will tantalize your taste buds and cause you to want to come back for more.
3. Chez Papa
Surprisingly, this restaurant serves up a different and unique cuisine: French Food. The owner is also a chef and was born and raised in France, ensuring that his dishes are authentic.
You are not allowed to wear singlets, shorts or flip-flops in this establishment, so be sure to dress nice before visiting!
The Soupe de Tomatoes, Poulet Cordon Blue and the Lamb Rack are all traditionally delicious.
4. Tosca Italian Trattoria
This restaurant is located inside a DoubleTree by Hilton hotel, ensuring that the atmosphere is both sophisticated and peaceful.
The view and the food are both luxurious and perfect for a night out, and you can reserve a room for an event or a private evening.
They serve wood-fired pizzas, fresh breads and other delicious Italian foods.
Their best dishes are the Baccalo Atlantico and the Gamberoni ala Grigilia.
5. Gallery Wine & Dine
The newly opened restaurant on September 2016, Gallery Wine & Dine in Johor Bahru just opposite of Paragon Residence. It is a high end, nicely decorated and luxury bar. The restaurant has its cigar room and wine cellar.
The chef is proud of the restaurant because it is the best place for wine and dine and his experience shows through in his high quality, good food to meet customer expectation.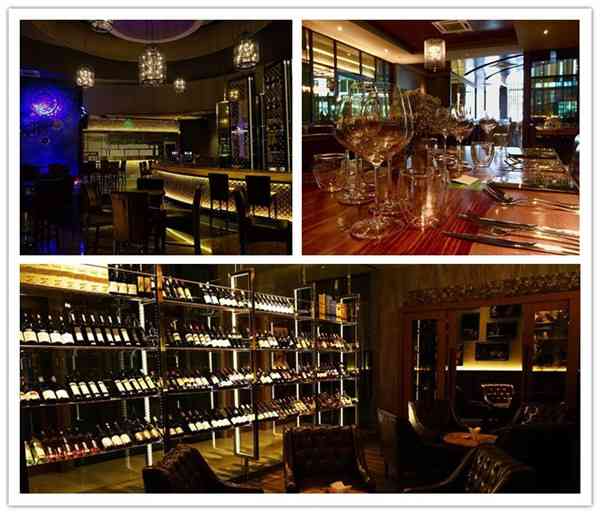 The chef prepares an absolutely divine Australian Wagyu Beef that everyone who dines here should try. Besides that, the only place in town that serve giant portobello mushroom.
You May Also Like:
Best Indian Restaurants in Johor Bahru (JB)
Indian food provides warmth and comfort to your belly and your soul. We have found some of the best Indian Restaurants for you in Johor Bahru.
1. Village Briyani Café
This restaurant is air conditioned to give you some relief from the outside heat, yet still provides a comfy and cozy atmosphere.
Their briyani rice is fantastically infused with spices and goes best with their tender mutton curry, which falls right off the bone.
Their Kulfi, which is basically a traditional Indian ice cream, is a perfectly delicious way to cool down after the spicy dishes served for dinner.
2. 7 Spice Indian Cuisine
This restaurant is extremely popular and you it is highly recommended that you make reservations ahead of time.
They serve both Southern and Northern Indian cuisines, so you can get a little bit of every Indian flavor here.
Their main specialty is their briyani dishes, and the best ones are the chicken and the lamb.
As a great addition to your meal, you should definitely try the 7 Spice Special Lassi.
3. Restaurant Muthu
If you are looking for traditional Indian curry served on banana leafs, you have to check this humble restaurant out.
You can get a banana leaf topped with rice, vegetables, papadams and your choice of different curries.
Their Boneless Fried Fish is also noteworthy, as the fish is plump and tender and richly marinated.
After your spicy meal, you should consider trying their Teh Tarik, which is a special, lathered tea that they excel at making.
4. Golden Spice Café
This restaurant has a very charming feeling and is incredibly gorgeous and calming inside, with beautiful, ambient lighting.
They serve a myriad of different set meals, as well as ala cart items. Their chapatti bread is very good, and is a great choice if you are looking to cut back on carbs or sugars.
The flatbread that comes with their set lunches is light and feathery and goes great with everything. As a sweet after meal treat, try their Lassi.
You May Also Like:
Best Italian Restaurants in Johor Bahru (JB)
Even in Malaysia, Italian food is incredibly popular and serves as a great comfort food. If you want to try some Italian food while in Johor Bahru, check these restaurants out.
1. Gianni's Trattoria
A very traditional Italian restaurant, they use only the most premium ingredients and hire chefs with the best skills in the business.
The best way to start a meal here is with their mushroom soup, which is full of truffle oil and mushroom. Yum!
They serve all things Italian, from authentic wood-fired pizzas, various pastas and a myriad of creamy risottos. To top it all off they serve an amazing Tiramisu and a have an extensive wine list.
2. Rosmarino Italian Restaurant
Rosamarino is perfect for those looking for a place to relax and enjoy traditional Italian food. The lights are dimmed and the décor is simplistic and minimal, creating a very romantic and relaxing atmosphere.
As an appetizer you should try their homemade bread with olive oil, it is simple and tasty.
Their pizzas are made in the traditional Italian style, with very thin crusts, and their Seafood Spaghetti is perfect for seafood lovers.
Their bruschetta is also very good. Whatever you get here will be sure to satisfy your Italian cravings.
3. La Pasta
Looking for a restaurant in Johor Bahru that mixes both Western and Italian food? La Pasta does just that!
Their name lets you know that their specialty is pasta, though their pizzas are pretty good too.
There is a bar with a long list of curated wines, and they serve every kind of pasta you can think of. Topping the list of delicious pastas are their Chicken Bolognese and Caborona.
They also serve Onion Rings as a side dish that are authentically Western and very good.
4. Basilico Restaurant Mount Austin
Basilico Restaurant is a Italian restaurant located in Mount Austin, Johor Bahru. The cuisine is traditional in made-from-scratch marinara, a-la-dente pastas, flavorful meats and seafood within a beautiful opulent interior.
Also read: 15 Best Food In Mount Austin
Their lunch buffet holds main entrees and side selections that please anyone's taste. Antipasti dishes are made with fresh meats, savory olive oils, grated Asiago and Parmesan cheeses, and baked bread. Pizza, roast leg of lamb, seafood and a soup du jour are of the highest quality.
Dinners include a variety of meats, poultry and seafood. The romantic feel in a comfortable ambiance can be indoor or alfresco, overlooking the hotel pool.
Desserts include gelato and tiramisu made on property. Pastry chef creations of three ice creams made daily, including Pistacchio, a perfect close of your meal.
Sunday Brunch features an elaborate buffet of breakfast and luncheon fare, with delicacies of Pate Foi Gras, Risotto Ai Porcini, Sardinian-style marinated lamb chops with Castello Artichokes to name only a few of your choices.
You May Also Like:
How to Get to These Restaurants In Johor Bahru
1. Private Car
The best, simplest and most affordable option by far is hiring a private car company like SGMYTAXI to drive you around. This service is very affordable and the drivers have a lot of experience.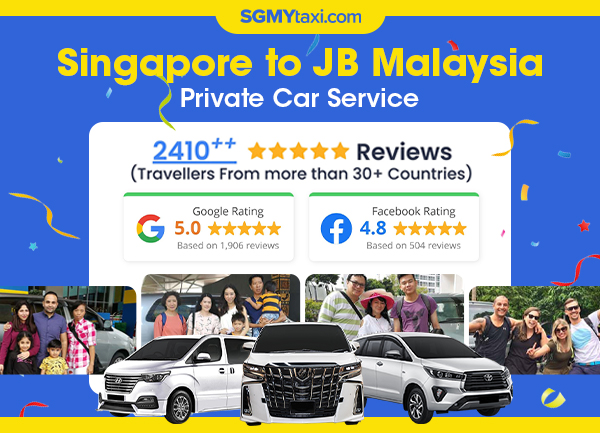 They know where all the local restaurants and locations are, making it simple for you to find even those restaurants which may be "hidden". You can go as many places as you would like and you will not have to worry about traffic laws, gas, waiting or getting directions.
2. Driving
If you happen to bring your own car with you on your vacation you can easily use that to get around the city.
To view the traffic at Woodlands Causeway Checkpoint and Tuas 2nd Link Checkpoint before depart to Johor Bahru, click here: Woodlands & Tuas Checkpoint Live Traffic Camera.
On the other hand, you can also rent a car in the city, though it can be a bit expensive. You will need to keep in mind that you'll have to pay for fuel, learn the local traffic laws, pay for parking and make sure that your car is always locked whenever you leave it parked.
3. Local Taxi
If you are worried about driving your own car, or don't have one, you can always hail a taxi ride around the city.
There are various taxi companies that you can use to get you around Johor Bahru, though every company has different rates.
Another downfall to getting a taxi is that you have to find a new one every time you want to travel to a new place, and it can get quite expensive.