Naturally, if you're looking for short trips from Singapore, places to visit in Malaysia will inevitably be part of that equation!
You don't need to go far to get a different perspective from the humdrum of city life in Singapore!
We've got a line-up of memorable locations that will not require a long fight (thank goodness for that!), including some stunning islands that are sure to leave you breathless in awe!
17 Recommended Short Trips From Singapore
1. Spend The Day (Or Two) At Legoland Malaysia
Bring back your childhood while you spend time with your whole family!
Everything is Lego here and don't worry, you'll definitely get a chance to build something!
They even have a Ninjago-themed hotel!
Recommended Itinerary From Singapore To Legoland:
Day 1:
Get to Legoland, take the rest of the day to explore the main park. There are so many rides to try and attractions to see!
Day 2:
Browse the ocean aquariums at Sea Life and end the day with at the water park to cool off in the heat!
How To Go To Legoland Malaysia From Singapore:
Option 1: Private Car Service
On a normal weekday, it can take a minimum of 30 minutes to drive to Legoland straight from Singapore.
Do not forget the time to clear immigration at the border. Or potential delays from subsequent traffic at the border!
Contact SGMYTAXI for a private car service, maybe squeeze in a little shopping time!
Option 2: Bus (1 hour)
Departure Location: Singapore Flyer
Arrival Location: Legoland
Note: The bus service only operates twice a day. Since it does not stop directly in front of Legoland, you will have to walk for ~10 minutes.
2. Drive-Up To Genting Highlands For The Weekend
Despite being up on a mountain range (The Titiwangsa Mountains to be exact) and among an ancient rainforest, Genting Highlands is a popular getaway destination for short trips from Singapore with surprisingly many modern attractions!
In fact, there is more than one theme park here!
Recommended Itinerary From Singapore To Genting Highlands:
Note: The highlight of this itinerary is SkyAvenue Genting.
Day 1:
Travel to Genting Highlands from Singapore.
Check into the hotel of your choice.
Have lunch at The Laughing Fish by Harry Ramsden.
Go to SkyTropolis Funland – 4 levels of indoor entertainment (e.g. rides and virtual reality games!) including a zip line across the park (Eagle Landing Zipline).
Dinner with a view (High Line Roof Top Market)
Day 2:
After breakfast, you can check out SkyAvenue:
Ripley's Believe It or Not! Odditorium (Museum with a very strange collection of objects)
Jurassic Research Centre
Zombie Outbreaks(Haunted house attraction)
Alive Museum (3D optical illusion gallery)
Healing Touch (Massages)
Have lunch (Medan Selera Foodcourt) and then see a movie at Bona Cinemas (IMAX or Gold Class with D-BOX Halls).
Catch a free light show at the atrium around 4.45pm (SkySymphony).
Ride the Awana SkyWay cable car at SkyAvenue Station and visit either:
Chin Swee Temple or
Genting Highlands Premium Outlets
Dinner at Motorino Pizzeria or London's Burger & Lobster.
Party at Empire by Zouk (Ground level, SkyAvenue).
Day 3:
Check out and head back to Singapore.
How To Go To Genting Highlands From Singapore:
Option 1: Private Car Service
This will be a 5-6 hour drive along a windy and steep road.
If that is something you're not keen on, you can book SGMYTAXI private car service instead!
Option 2: Bus (6.5hours)
Departure Location: Golden Mile Tower
Arrival Location: Genting Highlands
3. Wander Through Jonker Street Melaka
If you're looking for places to go for short trips from Singapore, Jonker Street surely tops the list of visitors wanting to pay a visit to the historic city of Malacca!
Walking distance to many other wonderful attractions in Malacca like the Maritime Museum, there are heaps of excellent dining options, interesting shops and quaint cafes all along the street.
Recommended Itinerary From Singapore To Jonker Street Melaka:
Day 1:
Try to reach Melaka early so you'll have more time to explore!
A'Famosa (also known as Porta de Santiago)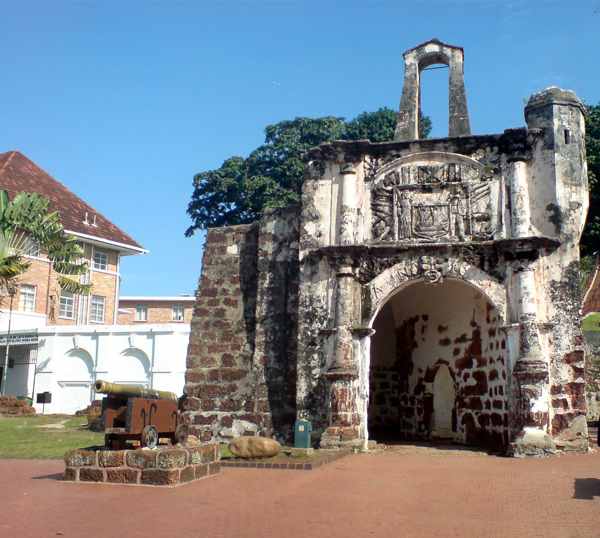 Paul's Church (hilltop church ruins with a view of the city)
Chicken rice balls for lunch (Chung Wah)
Red Square (Dutch Square)
Baba and Nyonya Museum 
Melaka River Cruise
Jonker Street Night Market (Fridays- Sundays from 6pm to 12am) – Try satay celup (hot pot with satay peanut sauce)
Day 2:
Start this day early too:
Sunrise at the seaside Floating Mosqueof Melaka
Cheng Ho Museum
Kampung Kling Mosque
Leisurely stroll down Jonker Street Melaka – Buy some treats like durian-flavoured dodols, pineapple tarts and gula melaka as souvenirs to take back home!
Nyonya dinner (Kocik Restaurant or Peranakan Place)
Day 3:
You can always stop by Kuala Lumpur for some shopping (See point 11 for more details) before returning back to Singapore!
How To Get To Jonker Street Melaka From Singapore:
Option 1: Private Car Service
It takes 2 hours and 40 minutes to reach Malacca from Singapore. Book a private car service with SGMYTAXI on WhatsApp if you want to save your energy for enjoying your trip!
Option 2: Bus (4 hours)
Departure Location: Queen Street Bus Terminal
Arrival Location: Melaka Sentral
4. Have Fun At Desaru Coast Adventure Waterpark
With such a short drive between Singapore and Desaru, it's worth making a trip to Desaru for the weekend!
There is much more than just food here!
Besides the Desaru waterpark, you can have a tour of Desaru Fruit Farm, visit Malaysia's largest ostrich farm or see huge crocodiles at Teluk Sengat Crocodile Farm!
Recommended Itinerary From Singapore To Desaru Coast Adventure Water Park:
Day 1:
From Singapore, you can visit these places first before heading to Desaru Coast.
Teluk Sengat Crocodile Farm
Desaru Fruit Farm (And lunch)
Desaru Ostrich Farm
Dinner
Kota Tinggi Firefly Park
Day 2:
Spend the day at Adventure Water Park Desaru Coast before going back to Singapore.
How To Go To Desaru Coast Adventure Waterpark From Singapore:
Option 1: Private Car Service
Wonder how to get to Desaru from Singapore?
SGMYTAXI private car service can take you straight from your home in Singapore to Desaru Coast Adventure Waterpark in roughly an hour.
A quick, comfortable and convenient experience, to be sure!
Option 2: Bus (2 hours)
Departure Location: Singapore Flyer
Arrival Location: Adventure Park Desaru Coast
5. Climb Up Mount Lambak At Kluang
You can do this one in 1 day short trip from Singapore.
Mount Lambak locally known as Gunung Lambak has a height of 510m.
That means roughly 4 hours of hiking from the base right up to the summit and back.
Great for beginners! The mountain is in Kluang, Johor.
Recommended Itinerary From Singapore To Mount Lambak:
Day 1:
Reach Kluang in the morning
Have light breakfast
Get to the base of Mount Lambak
Start the 2-hour climb (Pack lunch to bring with you)
Lunch at the peak
Climb back down (another 2 hours)
Relax before journey back to Singapore
Note: Moderate fitness is required for this hike.
How To Go To Mount Lambak From Singapore:
Option 1: Private car service
You will need 2.5 hours on the road to get to Mount Lambak from Singapore.
It's worth opting for a private car service in this case (if you don't want to drive) because the bus takes incredibly long with multiple transits! And you'll be tired after the hike!
Option 2: Bus (4 hours)
Departure Location: Aft Windsor Pk Rd or Opp Flame Tree Pk
Arrival Location: Bus Terminal Kluang
6. Stay At An Eco Resort – Tadom Hill Resorts, Banting
Tadom Hill Resort is an eco resort consisting entirely bamboo structures, that lies in a manmade crater left behind as this once was a quarry site.
They have basic huts and more comfortable ones depending on your preference (and budget).
Note: You can also opt to just make a day visit rather than stay overnight.
Things to do At Tadom Hill Resort:
Dive off their bamboo platform into the lake
Swing into the lake
Go bamboo rafting
Play giant Jenga, badminton, ping pong, volleyball or basketball
Try their flying fox line
Have a barbeque
7. Go To One Of Many Theme Park Malaysia
Malaysia has ever-growing selection of theme parks!
Why not bring your family over to any of these theme parks in Malaysia for a fun day out?
Theme Parks in Malaysia:
Melaka Wonderland
Berjaya Times Square Theme Park
A'Famosa Melaka
Lost World of Tambun
Teluk Bahang Escape Theme Park
Kidzania
I-City Theme Park
Skytrex Adventure
District 21 Indoor Adventure Theme Park
8. Join A Durian Farm Tour Malaysia
Want to make an appointment with the king of fruits?
Durian farms are something of a tourist attraction as people are curious as to how these impressive fruit are grown.
And at a durian farm, you can usually sample what's available!
Make a visit to one if you have a weekend to spare as best durian tends to be in the central part of Malaysia (notably, Pahang):
Penang Durian Farm (Bao Sheng Durian Farm, Green Acres)
Bentong Durian Farm
Raub Durian Farm (Raub Durian Orchard, Tras Durian Farmstay)
Pahang Durian Farm
Malacca Durian Farm (Sim Koa Yen)
Kuala Lumpur Durian Farm (Karak Organic Durian Farm)
Johor Durian Farm (忠誠榴槤園 Zhong Cheng Durian Farm)
Note: The peak of durian season is in July & August for most of Malaysia.
9. Experience Fishing Village Life At Kukup Island
Let Kukup open your eyes up to a totally different lifestyle – one with a slower pace with more connections to nature!
It's surely a great place for short trip from Singapore for a group of people.
In between Singapore and Kukup, you can stop by a pineapple farm or two to see how the spiky acidic fruit grows!
Recommended Itinerary From Singapore To Kukup:
Day 1:
Upon reaching Kukup, you can start to explore the fishing village:
Try local snacks like fried shrimp cake
Take a walk through the mangroves (Kukup National Park)
Retire to your resort in Kukup for a seafood barbeque and karaoke session!
Day 2:
Begin the day with fish porridge for breakfast
Short visit to a local fish farm
Grab some local goods like belacan or keropok
Seafood lunch
How To Go To Kukup From Singapore:
Option 1: Private Car Service
40 minutes is the estimated duration time to Kukup from Singapore.
Public transport is inconvenient to reach a place as rural as Kukup. So you may want to hire a private car service as they are well-acquainted with the roads!
Read previous customer reviews regarding SGMYTAXI's private car service.
Option 2: Bus (~3 hours excluding immigration clearance)
Departure Location: Kranji MRT Station
Transit Location: Larkin Terminal followed by Tuas Checkpoint
Arrival Location: Pontian
Note: After your reach Pontian town, take a taxi for 30 minutes to Kukup fishing village.
10. Go On A Johor Bahru Heritage Trail Walking Tour
What better way to see the historical places in Johor Bahru than to take on the Johor Bahru Heritage Trail!
The trail begins at the High Court Building and ends at Jalan Dhoby.
In between these endpoints are museums, streets with historical significance and religious buildings!
To cover everything, it's best to have a car at your disposal!
Johor Bahru Heritage Trail Route:
High Court Building > Sultan Ibrahim Building > Johor Bahru Chinese Heritage Museum (Tiong Hua Museum) > Jalan Tan Hiok Nee > Sentral Police Station > Kampung Ah Fook > Old Johor Bahru Railway Station > Chinese Temple > Gurdwara Sahib (Sikh temple) > Arulmigu Rajamariamman Devasthanam Temple > Broadway Cinema > Jalan Dhoby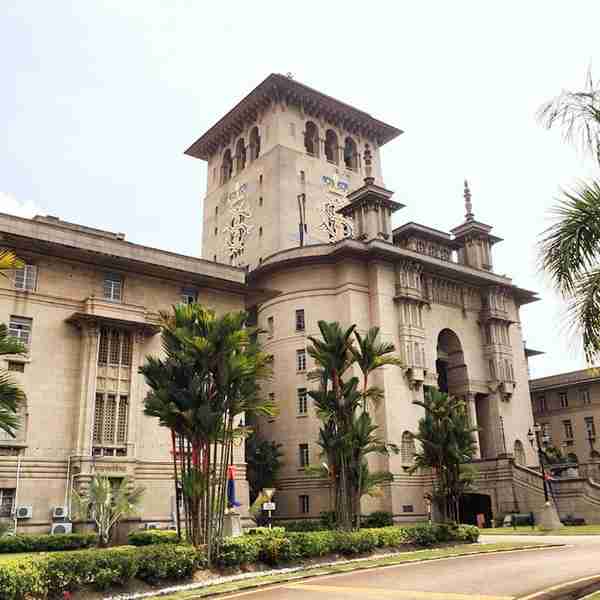 Other attractions that are not walking distance:
Grand Palace and Royal Abu Bakar Museum
Sultan Abu Bakar Mosque
Johor Zoo
Danga Bay Marina Club
Royal Mausoleum
Dataran Bandaraya
How To Go To Johor Bahru From Singapore:
Option 1: Private Car Service
Think you won't need a private car service for the 1-hour drive?
You may want to rethink that if you have more than 2 people in your group as having direct transport to Johor Bahru can save you time and avoid unnecessary qualms!
Make an online booking for SGMYTAXI private car service.
Option 2: Bus (~2 hours or just under an hour from Kranji or Woodlands)
Departure Locations:
Singapore Jurong East Interchange
Kranji
Woodlands
Queen Street
Newton Circus
Boon Lay
Changi Airport
Marina Square
Resort World Sentosa
Buona Vista
Arrival Location: Johor Bahru
11. Shopping In Kuala Lumpur With Lower Exchange Rate
Kuala Lumpur is a convenient place for short trips from Singapore.
It has its own legion of shopping malls that will tempt you with glossy displays and brands from all over the world!
Here are our top picks for shopping malls in Kuala Lumpur:
Pavillion Kuala Lumpur Shopping Mall – Cream of the crop!
Suria KLCC – Branded goods and of course, the Petronas Twin Towers!
Low Yat Plaza Shopping Mall – Best if you're on the hunt for electronics
Sungei Wang Plaza – Fast fashion retail outlets
One Utama Shopping Mall – Large mall in Petaling Jaya
Mid Valley Megamall – If you've been to the one in Johor Bahru, this one in Kuala Lumpur is the elder sister.
The Garden – Connected to Mid Valley Megamall so you get two malls in one!
Starhill Gallery Kuala Lumpur – Luxury brands.
Berjaya Times Square – Conveniently attached to a hotel.
Sunway Pyramid – Close to Sunway Lagoon Theme Park and has an ice-skating rink!
How To Go To Kuala Lumpur From Singapore:
Option 1: Private Car Service
Prepare for a 4-hour drive to reach Kuala Lumpur from Singapore.
If you don't want to drive, look into booking a private car service from SGMYTAXI!
Option 2: Bus (~5 hours, 15 minutes)
Departure Location: Golden Mile Complex
Arrival Location: Jalan Imbi
12. Eat & Sight-see At George Town, Penang
Penang is certainly the best short trips from Singapore to take.
2 days is considerably short to see all that Penang has to offer!
Still, it's only a short flight from Singapore so you can come again anytime!
So don't rush and take your time to roam around Penang's vibrant George Town.
Recommended Itinerary From Singapore To Penang:
Day 1:
Take a flight from Singapore to Penang.
Restoran Hameediyah Tandoori House (Nasi kandar)
Penang street murals on Armenian Street
See the historical clan jetties at Chew Jetty or stroll down Little India
Batu Ferringhi Beach
New Hawker Lane Centre or a Nyonya cuisine restaurant (Dinner)
Grab a drink at a hidden bar (Out of Nowhere)
Day 2:
Early rise to hike up Penang Hill (or to take the cable car, your choice!)
Tek Sen restaurant (double-roasted pork)
Prangin Mall for some shopping
Skywalk tower (TOP @ Komtar)
Fly back to Singapore
How To Go To Penang From Singapore:
Option 1: Flight (1.5 hours)
Departure Location: Singapore Changi Airport
Arrival Location: Georgetown, Penang
13. Snorkel At Pulau Tioman
If you're looking for options on short trips from Singapore to Malaysia, Pulau Tioman is one of the best islands from Mersing, Johor!
Among all the other islands in this region:
Tioman Island is comparatively well-equipped with resorts, restaurants, roads and a marine park center to accommodate visitors who throng the island particularly in the summer months!
Note: There are around 8 villages on the island.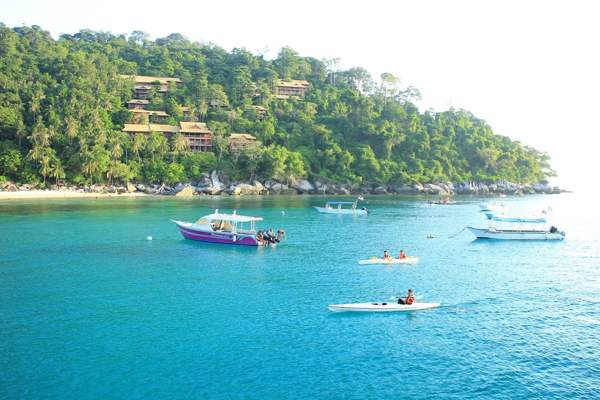 Recommended Itinerary From Singapore To Tioman Island (3D2N):
How To Go To Tioman Island From Singapore:
To get to Tioman Island, you will have to take a ferry from Mersing Jetty or Tanjung Gemok Jetty.
The ferry trip takes anywhere between 1.5 to 2 hours.
Note: Getting to the jetties is a different story. On public holidays and long weekends, traffic is unavoidable which can extend the 3-hour journey to 6 hours (or more!) from Singapore
14. Explore Pulau Besar
Less than an hour away from Mersing Jetty, one of the ferry terminals in Johor.
Also read: 9 Best Things To Do In Mersing: While You Are Waiting For Your Ferry!
Gorgeous Pulau Besar has yet to have become as well-known as Tioman Island still!
Which means you can pretty much have the island to yourself and a few other visitors!
Snorkeling is the main activity here!
Recommended Itinerary From Singapore To Pulau Besar:
Day 1:
After around 4 hours' worth of traveling, you owe it to yourself to just soak in your surroundings and lounge on the pristine stretch of beach in front of you!
Maybe go for a swim or rent a canoe!
Note: There are dead corals in the water. Protect your feet with swimming shoes.
Day 2:
Take an early morning stroll from one side of the island to the other. Go snorkeling afterwards! That's what you came for, isn't it? Resorts typically offer snorkeling trips too.
Note: No fantastic reef immediately close to Pulau Besar but snorkeling is still enjoyable.
Day 3:
Check out and leave for Singapore.
How To Go To Pulau Besar From Singapore:
You will find ferries for Pulau Besar at Mersing Jetty. The ferry takes around 30 minutes to reach the island!
If you happen to choose Aseania Beach Resort, they offer package deals that include this ferry service!
15. Go Deep-sea Fishing Pulau Pemanggil
There are 2 things to highlight about Pulau Pemanggil:
First of all, there is the deep-sea fishing for marlin and mackerel!
And secondly, there is a mountain on the island where you can have panoramic views of the island and the ocean!
Recommended Itinerary From Singapore To Pulau Pemanggil:
Day 1:
Upon arrival, take in the views and head down to the rocky beach to see if you can spot the neighboring islands like Pulau Aur! Sit down to dinner at your resort.
Day 2:
Wake up early for a spectacular sunrise.
Prepare for a full day snorkeling trip!
Visit Kampung Buau
Hike up Batu Buau.
Note: If you want to hike up Batu Buau, your resort may be able to arrange a hiking trip for you!
Day 3:
Time to leave Pulau Pemanggil for Singapore!
How To Go To Pulau Pemanggil From Singapore:
Getting to Pulau Pemanggil requires a 1.5-hour speedboat ride from Mersing Jetty. Check with your resort if they can arrange one for you!
Note: Be wary of the dates that you choose. A full moon or new moon can mean unfavourable tidal conditions (i.e. too low or too high) which greatly affects the boat schedules!
16. Have A Quiet Getaway On Pulau Tinggi
Another snorkeling and diving paradise but the one thing that sets Pulau Tinggi apart from the other islands is Mount Semundu!
This extinct volcano proves to be a challenging hike of 3 hours with rewarding views of Pulau Tinggi!
Recommended Itinerary From Singapore To Pulau Tinggi:
Day 1:
Check out the beach once you have put down your bag! At low tide, the strikingly clear water is a marvellous sight to behold!
Rent a kayak and get out onto that super transparent water!
Tip: This beach has sandflies. Do slap on a layer of repellent!
Day 2:
Go on an early morning hike to any of the 10 waterfalls on the island or Mount Semundu!
Join a snorkeling trip to Pulau Mentinggi.
Day 3:
Alas, time to pack up and say goodbye to Pulau Tinggi!
How To Go To Pulau Tinggi From Singapore:
Tanjung Leman Jetty is the departure point for Pulau Tinggi. From here, you will need a 45-minute speedboat trip which your resort should arrange for you.
There's no direct bus to Tanjung Leman Jetty so it's easier to drive here or better still, take a private car service so you don't have to worry about leaving your car at the jetty overnight!
17. Live Island Life On Pulau Sibu
Pulau Sibu consists of 4 little islands (Pulau Sibu Tengah, Pulau Sibu Besar, Pulau Sibu Kukus and Pulau Sibu Hujung) which makes island hopping around this marine park a breeze!
With little marks of civilization (i.e. no roads and limited facilities), you can truly feel like you're lost in paradise on this island!
Recommended Itinerary From Singapore To Pulau Sibu:
Day 1:
Reach Pulau Sibu. Take a stroll around the island through the resorts. Or rent a canoe!
Day 2:
Island hop
Go snorkeling
Check out and have lunch
Start your journey back to Singapore
How To Go To Pulau Sibu From Singapore:
Pulau Sibu is actually pretty close to Singapore. Do include in this your choice for short trips from Singapore.
The total journey time door-to-door is around 3 to 4 hours including the 20 to 45-minute boat transfers between Tanjung Leman Jetty and Pulau Sibu!
Again, you should book this boat service through your resort!
Travel Tips For Short Trips From Singapore To Malaysia
Avoid going on a public holiday (either Malaysia or Singapore) if you can help it!
If driving, make sure you have ¾ tank full of petrol as required by the Singapore law
Remember to bring your Passport!
Prepare for 40 minutes to 2 hours journey from Singapore to Johor Bahru if you are taking bus.
Download the GPS mobile application such as Google Map/Waze before you are coming to Malaysia.