Malaysia is a colourful country where many enthusiastic travellers wish to have millennia to explore it all.
From rainforest escape, island getaway, culture exploration, fun-filled day at theme park to simply just wandering around the heritage street, Malaysia can make it all happen.
Top 35 Places To Visit In Malaysia
1. Taman Negara
Wander through Taman Negara to escape into the lush rainforest and discover the wildlife you never seen before! Being one of the top nature places to visit in Malaysia, this 130 million years old tropical rainforest is situated at the heart of Peninsular Malaysia.
Covering 4,343 square kilometers which is about 7 times bigger than Singapore, there are lots of adventure and nature activities offered inside. Hence, your trip to Taman Negara is never dull but filled with great fun.
Taman Negara Highlights:
Canopy walkway – Enjoy the magnificent view of greenery 40m above ground level while walking through the 1.2km canopy walkway – the longest canopy walkway in the world.
Night jungle trekking – The best way to check out the nocturnal creatures living inside the tropical rainforest. You might spot tapir, reindeer and wild boar.
Rapid shooting – Follow the boatman and ride through 6 rapids in a wooden boat. Be prepared to get wet!
Kampung Orang Asli Visitation – Explore and respect the remote living of local people in the jungle away from modernization. Here, you can try bamboo hunting using the blowpipe.
2. Genting Highlands
Located on the summit of Ulu Kali Mountain, Genting Highlands aka Resorts World Genting presents you another stunning version of Las Vegas!
A secret for you is, this is the only legal gambling spot in Malaysia. And beside the casino, it encompasses premium shopping malls, theme parks and hotels.
The perfect location on the top means you get to enjoy the cool weather while exploring outdoors without the worry of getting tan. It's a great place to beat the heat too.
Also read: Singapore To Malaysia: 5 Easy Transport
Genting Highlands Highlights:
Genting SkyWorlds Theme Park is opened at year 2022. It's definitely the favourite place of thrill seekers.
Awana Skyway – A 10-minute cable car ride which connected to SkyAvenue Shopping Mall.
Chin Swee Caves Temple – It houses a 9-storey Pagoda where visitors are welcomed to climb up to the peak. The amazing views of the mountain truly leave you in awe.
Genting Casino – Test your luck at the most popular venues in Genting Highlands where more than 400 table games and 3,000 slots machines are available. The entry is restricted for adults above 21 years old.
3. Tioman Island
Approximately 56km off the east coast of Pahang lies the hidden gems of Malaysia – Tioman Island.
Fringed by swaying palm trees and surrounded by beautiful coral reefs, this island has a serene and tranquil atmosphere which is perfect for a short getaway from Singapore. It's one of the best places to visit in Malaysia.
Also read: 10 Best Island Near Mersing, Johor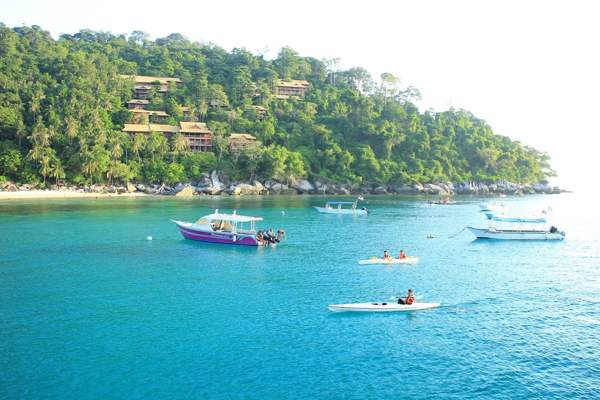 Tioman Island Highlights:
Duty-free island – Items sold here are cheaper compared to those in the mainland, especially alcohol which costs only a few ringgit here.
Diving – If you are new to diving, there are many dive schools complemented with experienced and qualified trainers to teach and train you in the friendliest way.
Snorkelling – Home to endless lovely coral reef, you can enjoy snorkelling at the sea right in front of your resort.
Jungle trekking – For nature lovers, trek from Tekek to Monkey Bay orJuara to discover spectrum of flora and fauna.
Waterfall exploration – Enjoy a dip or swim at Mukut Waterfall or Asah Waterfall. Both waterfall has a very astonishing view.
Deep-sea fishing – As fishing is prohibited at marine park, all fishing trips are arranged at least 25km away from the coast.
4. Cameron Highlands
Beat the hot weather and escape into Malaysia's most popular highlands destination – Cameron Highlands. Filled with endless things to do, this verdant destination is truly one of the must go for all mountain person. Below are the highlight attractions in Cameron Highlands.
Cameron Highlands Highlights:
BOH Tea Plantation – It is a must of places to visit in Malaysia to learn about the process of tea making. Visitors can take a sip of tea while enjoying the tea plantation view.
Lavender Garden – Admire the sea of purple lavender while taking a leisure walk with loved ones is truly the best moments you experience in your lifetime.
Big Red Strawberry Farm – Enjoy handpicking the freshest strawberries at the farm. You can have their freshly made strawberry ice-cream too.
Honey Bee Farm – Visit the gallery of bee nests and purchase their quality homemade honey productions.
Thompson Falls – A serene waterfall far away from city buzz. Best to take a dip and meditate.
5. Gunung Mulu National Park, Miri
Whether you want to physically challenge yourself trekking into the pristine rainforest or explore the mysterious cave system on the Earth, Gunung Mulu National Park has it all. It is a famous Malaysia tourist places to visit.
Also read: Gunung Lambak: One Of The Nearest & Famous Mountain From Singapore!
The special thing about this national park is, it can only be accessed by plane. Other mode of transport is way too troublesome and dangerous for us.
Gunung Mulu National Park Highlights:
The Pinnacles – Resembling upturned knives jamming right into the Earth, the view of this magnificent limestone formations is overwhelming. Truly the most spectacular view on the Earth!
Deer Cave –This is the second biggest cave passage in the world that homes to myriad of wrinkled-lipped bats.
Mulu Canopy Skywalk – Go for it if you are not suffering from vertigo. This 480m long canopy walkway is supported by thick trunks and there are viewing platforms around the trunks.
Clearwater cave – Beat 200 steps staircase up to the longest cave in Asia. You can see the unusual underground river too.
6. Niah National Park, Miri
Do you want to know how the settlement of human looks like 40,000 years ago?
Featuring one of the largest and oldest caverns on the Earth, Niah National Park is one of the most popular places to visit in Malaysia offers you a fun jungle walk and wonderful cave experiences like no other.
Also read: 7 Popular National Parks In Malaysia
With merely 2-hour drive from Miri town, you will arrive at this pristine national park. A 20-minute easy trek will bring you to the cave entrance. From there, you will encounter different caves and discover ancient ways of living.
Niah National Park Highlights:
Great Cave – This is where the inhabitant of human 40,000 years ago was found, making it one of the most important archaeological sites in the world.
Painted Cave –The cave houses ancient wall paintings but the area was fenced as the drawings are really fragile and deteriorating now.
Niah Archaeology Museum –A great place to learn about the cave ecosystem, geology and the prehistoric archaeology.
Gan Kira – This is the burial site during Neolithic period. Lots of ornaments and potteries were discovered.
7. Semenggoh Nature Reserve
Meet and interact with the lovely orang utans at Semenggoh Nature Reserve! Established in 1975, this is the biggest orang utans Rehabilitation Centre in Sarawak and it is located merely 20km south from Kuching.
Nowadays, there are not much places in the world where we can look at our jungle cousins up close like this. Here, the orang utans are either born in the protected area or were rescued from captivity. Training was given to them until they are fully ready to be released into the jungle.
Semenggoh Nature Reserve Highlights:
Orang Utan feeding session – The feeding session happens at 9:00am and 3:00pm daily. Plan your day well so that you won't miss this golden opportunity to closely look at grown-up orang utans begging for food!
Spectrum of flora and fauna – Giant squirrel and different kinds of bird species can be spotted around.
8. Sarawak Cultural Village, Kuching
With an attracting slogan "See Sarawak in Half a Day", Sarawak Cultural Village stands as an award-winning museum that introduces the lifestyles and cultures of different ethnic groups in Sarawak in the most interesting way. These ethnic groups include Iban, Bidayuh, Melanau and Penan.
Currently, there are over 150 locals living here, presenting tourists the ways of processing sago, handicrafts making and many more. You can also take part in their workshops to learn and experience their customs in their original home.
Sarawak Cultural Village Highlights:
Traditional dance performances – Expect to be surprised by this 45-minute show which presents you numerous tribes' dances depicted by the professional local dancers.
Longhouses visitation – Take a stroll to the villages of different ethnic groups and find the differences between them. Sometimes, you might be invited to join their nightly ceremonies and have a sip of their rice wine and tuak.
Rainforest World Music Festival – This is an annual music festival which successfully attracts performers and visitors from all over the world.
9. Sipadan Island
Internationally known as one of the world's best scuba diving sites, Sipadan Island homes to over 3,000 species of sea creatures and hundreds of beautiful coral reefs.
Being the only marine island in Malaysia, it is also one of the few places to visit in Malaysia that offer you the charming views of different species of sea turtles on the beach. Besides, this oceanic island boasts an awe-inspiring view that could easily take your breath away.
Sipadan Island Highlights:
Scuba Diving – No trip to Sipadan Island is completed without taking part in scuba diving. It is impossible to list out all the fishes you might discover in the water. Feedback from the divers is sometimes they encounter sharks at close hand! However, night diving is prohibited here.
Snorkelling – If scuba diving is too hard for you, you can also discover the fantastic underwater world through snorkelling which offers you equal fun as the scuba diving! Sea turtles are sometimes spotted while you are snorkelling too.
Bird-watching – Declared as the sanctuary of birds, you can find wood Pigeons, Sunbirds, starlings, Kingfishers and Sea Eagles here.
10. Desa Dairy Farm, Kundasang
Known as a small New Zealand in Sabah, Desa Dairy Farm is a cattle farm that produces around 900,000 liters milk every year.
Covering 199 hectares, this is a famous tourist destination which located approximately 100km away from Kota Kinabalu. Together with the scenic mountain views, travellers always feel so satisfying to get to enjoy the fresh and delicious dairy products in the cool weather.
Desa Dairy Farm Highlights:
Photo taking with Mount Kinabalu as a backdrop – The magnificent mountain views is excellent to take an Instagram photo. This place always serves as wedding photography destination too.
Food kiosk – You can try the freshest milk, ice-cream, yogurt and pudding from the farm here.
Calf & goat feeding – Enjoy feeding calf and got with bottled milk and grass.
Cow milking process – Visitors are only allowed to see the cow milking process from far. The process is very efficient and systematic too.
11. Tunku Abdul Rahman Park, Kota Kinabalu
Tunku Abdul Rahman Park is a marine park made up of 5 islands, namely Gaya Island, Mamutik Island, Sapi Island, Sulug Island and Manukan Island.
All these islands are just a short boat ride from one another. During weekend, lots of tourists are here for day trip, either walking through the jungles or enjoy the perfect serenity at their untouched beaches. Basic accommodations are offered at Mamutik, Gaya and Manukan.
Tunku Abdul Rahman Park Highlights:
Diving – The marine park offers 25 decent dive sites in total. Dive center can be accessed all around the island. Some offer the dive trips to nearby islands like Tiga Island and Mantamani Island too.
Snorkelling – Sapi Island and Manukan Island offer several beautiful public beaches where snorkelling can be enjoyed.
Jungle trekking – At Gaya Island, there are 20km trails where you might encounter proboscis monkeys, monitor lizards and bearded pigs along the way.
Sailing, kayaking and BBQ dinner can be enjoyed here too.
12. Mount Kinabalu
The first UNESCO World Heritage Site in Malaysia – Mount Kinabalu has delighted endless nature lovers as they are able to witness spectrum of flora and fauna at different altitudes. Hence, it also serves as one of the world's most important biological sites until the present day.
Also read: 7 Captivating Hills in Johor For Weekend Hiking
Towering at 4,095m above the sea level, climbers always find it challenging yet rewarding conquering the height. At the peak, it reveals a vast view of Borneo mountains. If you reach here before dawn, you will be blessed with the most beautiful sunrise ever.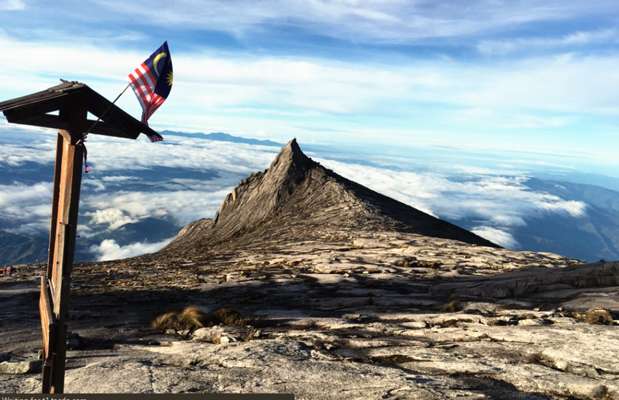 Mount Kinabalu Highlights:
Summit trail – This is a shorter route that has many trail shelters along the way. The journey to the top takes around 6 to 8 hours.
Mesilau trail – Suitable for adventurous climbers, this trail is relatively slippered than any other trails, especially during wet season.
Poring Hot Spring – You might spot Rafflesia – the biggest flower on the Earth while making your way to the hot spring.
13. Endau Rompin National Park
Just like the Taman Negara, Endau Rompin National Park which consists one of the world's oldest rainforest has so much to offer. If you wonder, it has its name from the 2 rivers flowing through the park, which are Endau River and Rompin River.
This national park is not that easily accessible and the trekking is quite challenging too. However, the difficulty still seduced endless adventure seekers from all over the world every year.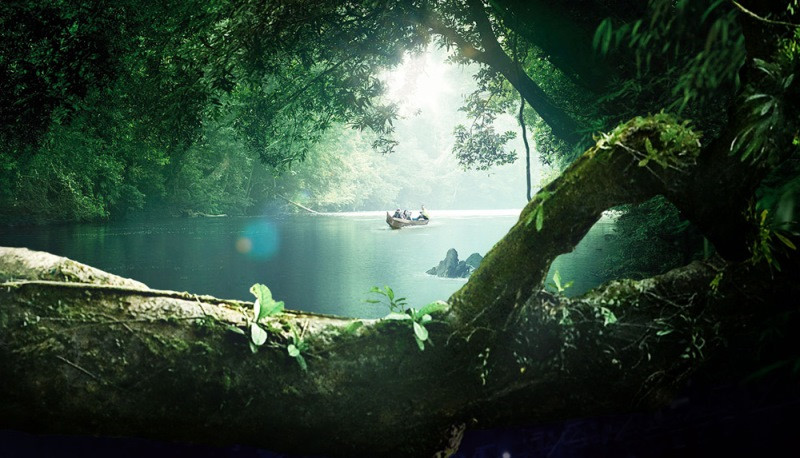 Endau Rompin National Park Highlights:
Explore deep into the jungle – Guided by Orang Asli (native people) who live in the Kampung Peta, they will show you the edible plants and safe water sources along the way.
Buaya Sangkut Waterfall – The trek to this pristine waterfall isn't that easy. It requires rope to assist you in climbing the steep slopes.
Blue water lake – Due to the sunlight reflection, the lake looks dazzling blue during the day.
Rubber tube rafting, night safari and night trekking are the activities you shouldn't miss out too.
14. Legoland Malaysia
Kids rejoice! Specially designed for children aged 2-12, Legoland Malaysia is a Lego theme park perfect for a family holiday. With more than 70 exciting rides, shows, and interactive activities, it brings adventure, fun and education altogether, making your childhood dream comes true!
Legoland Malaysia Highlights:
Divided into theme park and water park, all attractions inside Legoland Malaysia are made from Lego bricks.
The theme park consists of 8 themes, namely The Beginning, Lego Kingdom, Lego Technic, Land of Adventure, Miniland, Lego City, Imagination and the newly added indoor themed – Lego Ninjago.
For the water park, there are surfing opportunities, a lazy river, exciting water slides and many interactive play structures for little ones.
There is also a Legoland Hotel beside which features comfortable lego-themed rooms to bring every childhood imagination comes to life.
15. Rawa Island
You probably didn't know Maldives do exist in Malaysia. Off the east coast of Johor lies a hidden gem – Rawa Island which is completely surrounded by majestic coral kingdom.
Snow white sands, dazzling blue sea and rich marine life, the island is just like a paradise you wish you could stay here forever.
Rawa Island Highlights:
Snorkelling – At just 20-30m from the shore, you can enjoy snorkelling all the way from northern to southern part of the beach.
Hiking – Explore the inner part of the island through hiking to the hilltop. At the summit, you will be rewarded with breathtaking views of the island and the surrounding ocean.
Island hopping – Take part in the island hopping to nearby islands like Mensirip Island and Harimau Island. You can also have a picnic there.
Kayaking – See the island from a different angle – from the middle of the ocean. It could be the most memorable experience in your lifetime.
Water slides – Splash into the sea after several twists and turns gliding down the orange slides. Best for thrill seekers.
16. UK Farm
In need a short getaway to nature? At UK Farm in Kluang, Johor, you will be able to experience an agro-vacation that brings you closer to farm animals and its natural surroundings.
Choose one of the UK Farm tour packages offered and start packing your luggage. Let's go!
UK Farm Highlights:
Goat Milking Process Centre – See how the experts milk the goat. After that, you can have a taste of the freshest goat milk. Milks and other products are sold here too.
Jakun Village – Enjoy blowpipe performance, discover the self-made hunting traps and admire the interesting tree house from Orang Asli!
Animals feeding – Grab the golden chance to feed animals like ostriches and chicken.
Fruit farm – Pluck yourself some juicy fruits to stay hydrated in the hot afternoon.
Stunning night life – You can enjoy singing karaoke in room or releasing the stunning sky lanterns into the sky at night!
17. Petronas Twin Towers
You can't just visit Kuala Lumpur without going to this iconic landmark – Petronas Twin Towers. Inspired by Malaysia's former Prime Minister – Tun Mahathir Mohamad, this 88-storey twin skyscraper was once the tallest building in the world – from 1998 to 2004. It's one of the best places to visit in Malaysia.
With the built of a sky bridge on the 41st floors, it gives you the chance to touch the skylines of Kuala Lumpur. Sounds amazing? Let's not miss the chance to see the panoramic views of city landscape from atop while you are here.
Petronas Twin Towers Highlights:
Suria KLCC – A 6-storey shopping mall that houses top-notch brands of the world, an art gallery, a science discovery centre and a concert hall.
Aquaria KLCC – With more than 150 species of sea creatures, this aquarium takes you to different underwater landscapes. There's even a 90m tunnel completely surrounded by sharks and huge stingrays.
KLCC Park – Visit the park at night to enjoy the amazing dancing music fountain in the middle.
18. Menara KL Tower
Featuring a fantastic observation deck, Menara KL Tower offers every visitor a golden chance to see the sparkling city landscape view which is so glorious regardless day and night.
Together with Petronas Twin Towers, these 2 skyscrapers stand as the most recognizable landmark in Kuala Lumpur and both are the best places to visit in Kuala Lumpur.
Menara KL Tower Highlights:
KL Tower Observation Deck& Sky Deck – Both decks offer breathtaking views from top. For braver persons, head to the unsheltered Sky Deck for a more overwhelming view.
360 Revolving Restaurant – Here, you can enjoy fine dining amidst the clouds – at a height of 282m above the ground.
Blue Coral Aquarium – This is a tropical rainforest aquarium offering spectrum of coral fishes and sharks. Different species of coral reefs can be spotted too.
KL Forest Eco-Park – As the tower is nestled in Bukit Nanas Forest Reserve, visitors are welcomed to visit this eco-park amongst the hustling city. There's also a 200m canopy walk offering a vista of greenery.
19. Merdeka Square
A place where Malaysia's independence was declared; a place where Malayan flag first raised; a place where annual National Day celebrations and the New Year countdown was held. Yes, Merdeka Square which literally means Independence Square is truly the most memorable landmark in Malaysia!
Merdeka Square Highlights:
National Day Parade is held here every year.
There is an enormous flag pole with fluttering Malaysian flag – one of the tallest flag poles in the world.
The Sultan Abdul Samad Building – Built by British, the majestic building now houses office of the Ministry of Malaysia.
Well-maintained gardens, fountains and terraces, the square is best for an Instagram picture.
It is easily accessible to other attractions like Kuala Lumpur City Gallery and St Mary's Anglican Cathedral.
20. Sunway Lagoon
Your best day ever begins here! For every adventurer as well as water activity enthusiasts, Sunway Lagoon is a fun-filled park featuring over 90 thrilling rides and attractions in 6 different zones.
The 6 zones are Nickelodeon Lost Lagoon, Water Park, Amusement Park, Wildlife Park, Extreme Park and Scream Park. As the park is extremely big, grab a map and fully utilise it to perfectly plan your day!
Also read: 7 Awesome Water Parks In Johor
Sunway Lagoon Highlights:
Bungee Jump, G-Force X and Go Kart are some of the extreme sports available. Best for adrenaline junkies.
At the wildlife theatre inside the Wildlife Park, catch the wildlife multi-animal show that starts at 3pm.
The amusement park houses the first 360-degree rotating pirate ship in Malaysia. It takes you swivelling at 24m above the ground.
At the surf beach, different waves patterns are generated at up to 8 feet. The experience will definitely delight every aspiring surfer.
After the day, enjoy your dinner at Sunway Pyramid Shopping Mall just located beside Sunway Lagoon.
21. Batu Caves
Dedicated to the Lord Murugan, Batu Caves is also one of the best places to visit in Malaysia that consists of 3 limestone caves featuring Hindu shrines and Hindu temples.
Every year, Batu Caves seduces lots of tourists and worshippers from all over the world, especially when Hindu festival Thaipusam is around the corner.
As this is a religious site, avoid wearing short skirts or hot pants while paying a visit.
Batu Caves Highlights:
There is a tall golden statue of Lord Muruga at the cave's entrance.
Cathedral Cave – The biggest cave here that requires every visitor to climb 272 steps staircases to the top.
Museum Cave & Art Gallery Cave – Located at the foot of the hill, these 2 caves are fully filled with paintings and Hindu statues. Audio tour is available too.
Ramayana Cave – A place to learn about the story of Lord Rama.
22. Broga Hill
Nestled in Selangor, Broga Hill is a popular hiking trail among the locals. It gets its name from the Broga River that flows through the vicinity. Every weekend, the place is crowded since early in the morning in order to catch the sunrise. This place is best for a morning person, casual hikers and trail runners.
Broga Hill Highlights:
There are 3 hilltops in total – Among the 3 hilltops, many said the second hilltop offers the best view.
Striking view at the peak (400m) – You will see the view of the village and its surrounding greenery until the far horizon. Best if you reach early to catch the golden sunrise!
The journey is approximately 1-hour. Don't worry about the difficulty. From easy to moderate level, you can choose the trails according to your fitness level. Along the way, you can take as many pictures as you want.
Coconut stall – Enjoy a refreshing coconut drink at the foot of the hill after descending from the peak.
23. Georgetown Heritage Walk
Take a heritage walk along the Georgetown and let the street tells you the story from ancient until the present day. Lined with old classic shophouses, this is where the charm of Penang lies at – delicious local delicacies, mixing architecture of eastern and western buildings and wonderful mural arts!
Georgetown Heritage Walk Highlights:
You don't need a car to get around the streets. All attractions are within walking distance from each other. However, you can take a trishaw ride to add some colours to your tour.
Mural arts – There are surprisingly huge amounts of mural arts in every corner of the streets. Sometimes you may need to queue up to take pictures with these mural arts!
Chew Jetty –Surrounded by wooden houses which are built over the water, there are lots of souvenirs shops and desserts stall lining the way to the jetty. The jetty which locates at the end is famous for photo taking too.
St George's Church – Remember to pay a visit to the oldest Anglican church in Southeast part of Asia.
Goddess of Mercy Temple – Penang's oldest Chinese temple which overlooks the sea.
24. Penang Hill
Penang Hill is probably the last remaining yet interesting part in Penang where you can have some quiet moments with nature.
It comprises 6 peaks reachable by different hiking trails and there are numerous sights along the way. If you don't prefer hiking, a Penang Hill Funicular Train is set up to bring you up. At the summit, you will be rewarded with a panoramic vista of the mainland and beautiful islands.
Penang Hill Highlights:
Penang Hill Funicular Train – Malaysia's one of a kind train that brings visitors up the hill.
The highest point of Penang Hill is at the Western Hill, 800m above the sea level. It is accessible via the train.
Old buildings from British colonial are found on the hill. The famous one would be Bel Retiro – a British government bungalow.
Mother nature – Immerse in the green nature while taking leisure trek along the trails. Slipper Orchid and Monkey Cup and be spotted along the way.
25. Kek Lok Si Temple
Standing magnificently on the hilltop and facing the sea, Kek Lok Si Temple is Malaysia's biggest Buddhist temple built in 1891. Divided into 3 zones, the temple boasts hundreds of meaningful sculptures, carvings, murals, as well as the striking pagoda and archway.
It treasures not only the precious Buddha teaching and Chinese culture but also the heritage of Mahayana Buddhism that blends with them in harmony. Every day, the temple is visited by worshippers and tourists from all over the world.
Kek Lok Si Temple Highlights:
Grand enormous statue of Kuan Yin – Goddess of Mercy is located at hilltop.
Impressive Rama VI pagoda – A 7-storey high tower located at the center of the temple.
Fish ponds, turtle ponds, beautiful gardens and 12 lovely animal statues representing each Chinese zodiac sign can be found here.
26. Lost World Tambun
Located at Ipoh, the Lost World Tambun is more than just a fun-filled theme park. Instead, it is an ultimate day and night destination that offers something to every one of us – from amusement park rides to amazing eco-adventure. Educational elements are added to the park too.
Also read: 5 Theme Parks In Johor For Families & Kids
Lost World Tambun Highlights:
Water Park – Wave pool, adventure river and water slides offered are friendly to all ages.
Amusement Park – For braver ones, this area offers you an array of speedy rides that will have you soaring or flying in the sky.
Tin Valley – A place to educate today's generation about the knowledge of tin mining.
Tiger Valley – Catch the tiger feeding show and be amazed by their strength and power.
Adventure Park – Work as a team to overcome all challenges in the team building activities.
Petting Zoo – Be friends with animals from more than 55 species.
Luminous Forest – Immerse yourself in the world of dazzling flowers and magical creatures.
27. Kek Lok Tong Cave Temple
Literally means the Cave of Ultimate Blis, Kek Lok Tong is a unique cavern temple situated at the outskirts of the Ipoh city. It's great to pay a visit in the morning because the natural lightning and the cool breeze is extremely refreshing. For Buddhism, you can pray here too.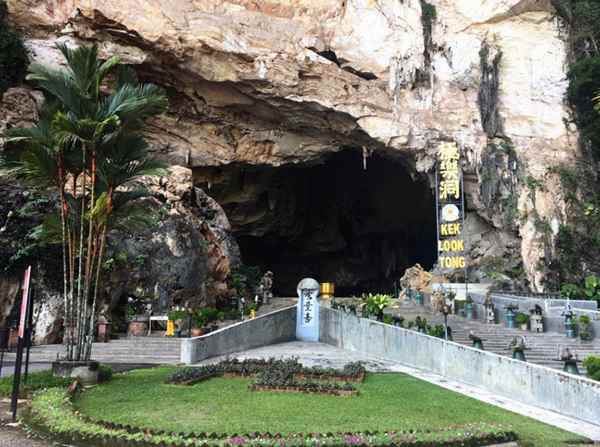 Kek Lok Tong Cave Temple Highlights:
A lotus candle can be purchased and you can write your names down. The money goes for a prayer offering.
The temple is located inside the magnificent limestone cave. There are plenty of wonderful Buddhist sculptures around.
At the garden, visitors can jog along the trails that surround the lakes. There are reflexology footpaths too.
There is also an elegant pond filled with fishes, turtles and waterlilies.
28. Perhentian Islands
Located 21km off the coast of Terengganu, Perhentian Islands consist of 2 islands which are famed for their pristine nature and rich marine life. The bigger island is mainly for luxury getaway; while the smaller island offers budget accommodations, which are suitable for backpackers.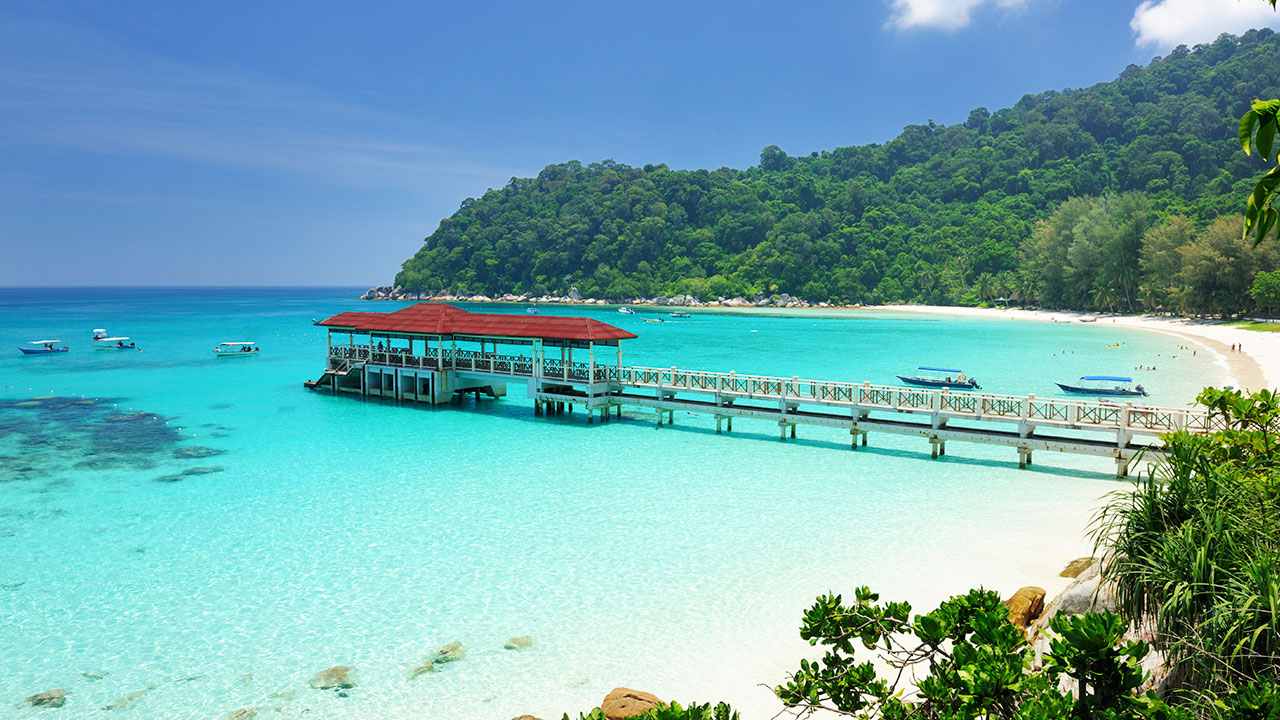 Perhentian Island Highlights:
Scuba diving – Despite discovering fishes and coral reefs, you may encounter harmless sharks and sea turtles while diving here.
Snorkelling – The popular snorkelling spots include Shark Point, Teluk Pauh and Tanjung Basi. You can even snorkel right in front of your accommodation too.
Kayaking – You can also paddle around the island on your own. Sometimes you may discover the secluded beaches that give you more privacy.
29. Redang Island
Another elegant island located 45km off the coast of Terengganu is Redang Island. It is famous places to visit in Malaysia for its dazzling blue water; snow white beach and it boasts many tropical fishes inhabiting the coral reefs too. This makes the island a delightful destination for snorkelling and scuba diving.
Due to the rich marine life, the island is declared as a part of the Redang Marine Park, whereby visitors have to pay an entrance fee upon arrival. Another thing to take note is: jet skiing, water skiing and fishing are banned to protect the quality and serenity of the marine park.
Redang Island Highlights:
Snorkelling – This is the must-do activity on the island and there are endless snorkelling tours to nearby islands. There is a shipwreck near the jetty, which is a perfect spot for exploration via snorkelling.
Turtle watching – The island houses a turtle conservation center and a green turtle nursery – SEATRU. You can volunteer, help them to collect turtle eggs and incubate them.
30. Langkawi Cable Car
Langkawi Cable Car (aka Sky Cab) is one of the relaxing and engaging places to visit in Malaysia you can indulge in Langkawi Island.
Depart from the Base Station, the cable car ride will bring you up to the Mount Machincang. At the top station, lots of activities are available and it's hard to enjoy them all in just a day.
The 15-minute cable car takes you up to a height of 708m in a very steep gradient. Along the way, you will see spectacular views of islands, waterfalls, mountains and occasional sight of birds and wildlife.
Langkawi Cable Car Highlights:
At the top station, you can access the SkyGlide – a unique elevator with glass panels on every side to provide a clear view of Machincang mountain. Or, you can walk on the Langkawi Sky Bridge for an unfolding mountain viewing experience.
31. Langkawi Sky Bridge
Completed in 2004, Langkawi Sky Bridge is a free span pedestrian bridge located on the summit of Mount Manchincang. The curving design is practised to maximise the mountain viewing experience.
Swinging out to offer a special spatial experience to all visitor, a walk on the sky bridge is truly the most amazing place to visit in Langkawi Island you can experience. You really feel yourself standing at the same height with the mountains around you!
Langkawi Sky Bridge Highlights:
Built by stainless steel, this sky bridge is 125m long and 1.8m wide and can accommodate 200 people at once.
The sky bridge is accessible through the cable car ride to the top station followed by an inclinator lift ride called SkyGlide. Or, you can choose a nature walk from the top station to the sky bridge.
32. Kilim Karst Geoforest Park Langkawi
Spanning over 100 square kilometers, Kilim Karst Geoforest Park is a nature reserve park consists of mangrove swamps, vertical karstic hills and beautiful beaches. Several limestone formations that aged over 500 million years old are discovered here.
The park can be explored by taking a boat cruise along the Kilim river. However, if you want to explore the park at your own, there are kayaks and private boats available and can be rented at almost all of the tour operators on the island.
Kilim Karst Geoforest Park Highlights:
When the boat takes you to dense mangroves swamps, you will see many amazing animals like monitor lizards, mud carbs, otter and sometimes crocodiles.
Eagle feeding – This is truly an unforgettable sight where you will see eagles catching for chicken thrown from the boat.
Bat Cave – A place where you will see colonies of bats flying all over your head or hanging on the wall.
Tanjung Rhu – The boat tour will bring you to this white sandy beach fringed by casuarina tree. You can swim or take a stroll here.
33. A Famosa Fort
Built in 1511, A Famosa Fort aka Porta De Santiago stands proudly as one of the oldest surviving European remains in eastern country, making it the major tourist destination in Malaysia.
Located in Malacca, this historical sightseeing spot is built by Portuguese to defend themselves against invasion after they defeated the local Sultanate. During the time, the fort housed the entire government administration, hospital, churches as well as key towers.
Later in 1806, the fort was destroyed by British, left only the front gate which we see today.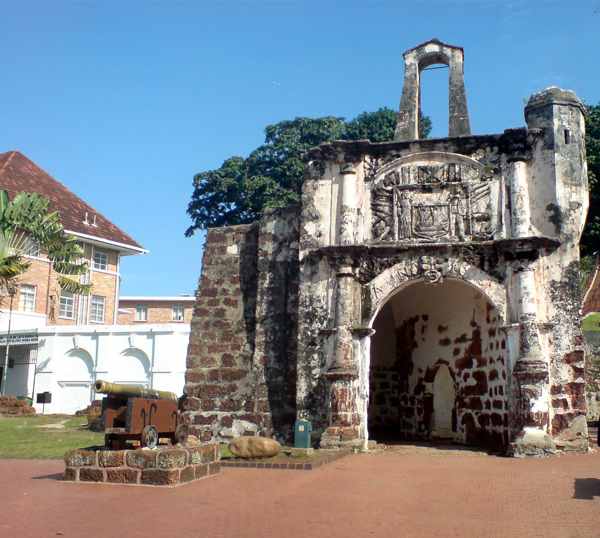 A Famosa Fort Highlights:
Typical tourist photo in Malacca was taken here.
You can learn about the history of the Portuguese.
This fort is the entryway to the St Paul's Church at the top of the hill.
34. Jonker Street
If you want to enjoy the best food in Malacca, then you shouldn't miss out the Jonker Street which is the center street of the Chinatown in Malacca! There are many antique shops lining the street, be it clothing, crafts or local food, you can find them here.
The best part about Jonker Street is, it turns into a vibrant night market every Friday and Saturday, selling everything ranging from tasty street food to unique gifts. A lot of hotels and homestays can be found here too.
Jonker Street Highlights:
Jonker Walk Night Market – Everything about the night market is colourful. Food, bars, live performances and clothes are all available.
There are museums along the street showcasing the culture and history of Malacca. For instance, Baba Nyonya Heritage Museum and Cheng Ho's Cultural Museum.
For Buddhist, do pay a visit to the Cheng Hoon Teng Temple which believed to be one of the oldest Buddhist temples in Malaysia.
35. Port Dickson
Port Dickson is a coastal town nestled in Negeri Sembilan which widely known as a beach resort destination. Fringed with long stretches of beaches and beautiful sea, it boasts exciting attractions like extreme park, army museum and ostrich farm too, suitable for a wholesome day.
As Port Dickson is well-connected to Singapore and Kuala Lumpur through the highway, it serves as an easily accessible family vacation destination. Besides, there are many budget and luxury resorts and hotels available for a pleasant stay.
Port Dickson Highlights:
Best beaches to visit include Pantai Cahaya Negeri, Pantai Tanjung Biru and Pantai Saujana.
To learn about the military history and weaponry of Malaysia, go to the Port Dickson Army Museum and take as many pictures as you can.
You can pet and ride an ostrich at the PD Ostrich Farm.
For spectacular view of the Straits of Malacca and secluded beaches from above, go to the Cape Rachado – the lighthouse at the southern part of Port Dickson.