Want to go for a theme park trip during the weekend or long school holiday in Malaysia with your family or friends?
But you find that flight tickets are too expensive?
5 Best Johor Theme Parks To Discover
1. Fanpekka Theme Park (Brand New Johor Theme Park)
Fanpekka Theme Park has recently opened its doors to the public in the AEON Tebrau City shopping mall, Johor Bahru, Malaysia.
The first Finnish conceptual theme park in Asia, Fanpekka is designed on the idea that children learn by playing.
Learning problem-solving and global communication skills are pillars of the Finnish educational curriculum, and they are pristinely integrated into the design of Fanpekka. The park is the first of its kind in Southeast Asia.
Fanpekka was designed for families, with children aged 2 to 12 specifically targeted. The play area's convenient location within the shopping centre allows children a light-hearted respite while on an outing with the family.
The 27,500 square foot playground is divided into four main sections, each focusing on providing relaxation while nurturing the mind, body, and soul.
Tonttu, named after a Finnish fairy tale, transports children to a world of magic and mystique.
Allowing children to go on adventures to 'worlds' like this one enables them cultivate a sense of self while sharing in the experience with their families.
Creating a safe environment for children to explore their imaginations while making sense of the world around them is key to the highly successful Finnish system that is implemented here.
Why is the play-based Finnish education system so successful? Experts take note of the fact that Finns place an emphasis on early childhood education and development.
In their system, even the youngest children are regarded as unique and respected as individuals with different needs, desires, and, most importantly, ways of learning.
Embracing individuality gives children the experiences and tools that they need to develop innovation and social skills.
They do this through praising creativity and allowing children to figure things out in their own way and on their own time. Incorporating these ideals into Fanpekka will now give these opportunities to children visiting or living in Malaysia.
The goal of Fanpekka is to provide a fun, yet educational, environment for all children and families, especially those who might not have access to outings like this otherwise.
Aeon Fantasy's Director, Wataru Koiwa, hopes to reach out to about 6,000 families per month with the use of these new facilities. The theme park is also expected to rise above the competition due to being indoors and, as such, not at the mercy of the weather.
Fanpekka Theme Park can divide into 6 categories as listed below:
1. Lasten Ocean
Ocean appears all of a sudden when Tonttu casts magic spells. There might be a legendary monster living in it!
2. Assembly Leikkimokki
Let's assembly a house by pieces with parent. What kind of house would you build?
3. Workshop
Welcome to Workshop. Let's experience the handmade crafts created by Tonttu!
4. Lasten Castle
An old castle that Tonttu has revived. There are many Tonttu in the castle and like to play around the classic building with the children.
5. Role Play Leikkimokki
Tonttu really likes the shops and people that gather in this town. Let's have fun by role-playing as shopkeepers or customers! It's possible that Tonttu will arrives at the town!
6. Toy Corner
Tonttu made a toy town for his little friends. Let's surprise Tonttu by exploring some creatuve plays.
Enjoying a trip to Fanpekka is not an experience limited to nearby locals, either. Singaporeans can easily make a day trip to the province, meaning the playground can be utilized as a subtle educational tool by anyone in the area.
The addition of Fanpekka Cafe by SDS is the icing on the cake, giving families the opportunity to snack and drink in between play sessions. In the coming months, the park will surely turn into a tourist hotspot for visitors and their children, as well, truly emulating the Finnish way and providing a positive safe haven for all.
Address: Lot S102, Fanpekka, 2nd Floor Aeon Mall Tebrau City, Johor Bahru, Malaysia.
Fanpekka Ticket Fee: RM55/Child & RM11/Adult (Unlimited Entry For A Day)
Age Limit: Children Below 12 years old
Opening Hours: 10:00am – 10:00pm (Last Entry at 9:00pm)
Facebook
2. Legoland Malaysia Theme Park
It is one of the most popular theme park in JB. Spread over 70 acres, this is a theme park that everyone can enjoy and have ultimate fun with family and friends.
It is a family theme park where you can have maximum fun no matter what age you are. The park which opened in September 2012 is the first in Asia and 6th in the world.
Legoland Malaysia Theme Park is located about 33km from Senai International Airport and about 30-minute drive by car. If you coming from Singapore Changi Airport, the route distance is about 66km and the journey may take approximately 1-hour drive. Besides that, it is also near to JB Sentral or CIQ complex Johor.
The theme park is divided into 2 categories which are Legoland Theme Park and Legoland Water Park. Both of the parks are suitable for all ages. Each one of the theme parks will require a full day if you want to get the best value for your money.
There are more than 70 hands-on rides and slides in the theme park, each one designed to delight you and bring out the child in you.
There are 8-themed attraction and extra big adventure for little kids as listed below: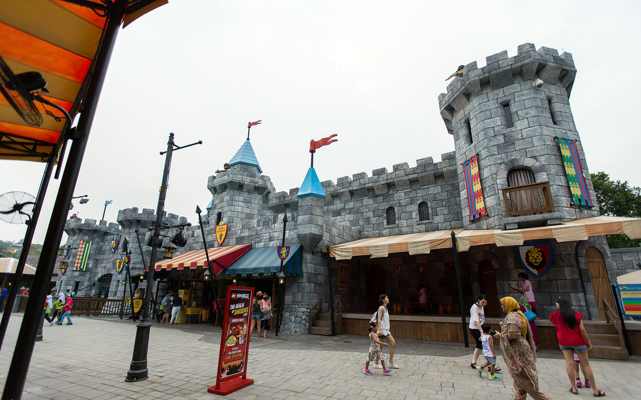 Besides the rides that will delight you, you can also trying out the food, visiting the memento shops from where you could buy souvenirs and gifts and generally enjoying the wonderful and unique park.
At every step of the way there is continuous interaction with the rides to make the visit a total adventure. The LEGO models are spectacular and real 1:20 scale replication of the real buildings in Asia. Everything is so magical and beautiful here that you would not want the day to finish.
Address: 7, Jalan Legoland, Bandar Medini Iskandar Malaysia, 79250 Iskandar Puteri (Nusajaya), Johor, Malaysia.
Contact: +607 – 597 8888
Legoland Malaysia Opening Hours:
Daily: 9:00am – 7:00pm
Facebook
3. Sanrio Hello Kitty Town (PERMANENTLY CLOSED)
Sanrio Hello Kitty Town is more to see and enjoy in Iskandar Puteri (Nusajaya) than the astounding miniature LEGO buildings.
You will need to dedicate the better part of the day to enjoy this amazing multi-storied theme park.
Also read: Top 11 Things To Do Near Legoland Malaysia (Where You Can Enjoy After Legoland Trip!)
You are greet by Hello Kitty at the entrance of Sanrio Hello Kitty Town. It is first Hello Kitty themed outside of Japan.
There are many attractions you can visit such as Purrfect Stage, Dream Photo Garden, Kitty's House and Wishful Studio.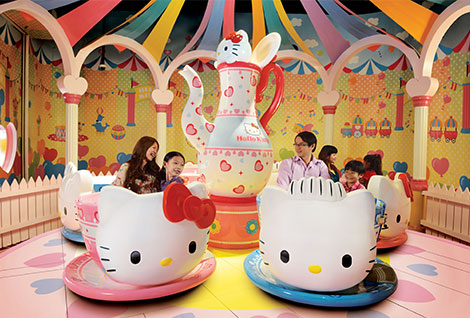 You can also dress up like Hello Kitty, make cookies and jewelry in Hello Kitty style.
4. Angry Birds Activity Park
It is the first Angry Birds Theme Park in Malaysia and hosted in KOMTAR JBCC.
It is just a few minutes walking distances from Johor Bahru Checkpoint and connected to Johor Bahru City Square Mall by a bridge.
The Angry Birds Theme Park provides a variety of attractions and fun games and suitable for youth, kids, toddles and parent alike.
The fun games can be divided into 5 zones which are listed below:
Fun games in Danger Zone include Lazer Bird Shoot and Space Drop Air Bag.
Fun games in Utopia include Air Parkour Track, Piggy Shooting Gallery, Bird Wire Slack Line, Anti Gravity Trampoline and  Giant Leap Foam Pit.
Fun games in Classic include Bird Nest Climbing Track and Angry Birds GO! Kart Track.
Fun games in South Beach include Captain Black Birds Ship, Balance Bike Lagoon, CineMine, Angry Birds Video Game and Red Bird Sona.
At Angry Birds Shop, you can buy angry birds stationery, merchandise, toys, apparel and snacks.
Address: Level 3, KOMTAR JBCC, Johor Bahru City Centre, 80000 Johor Bahru, Johor, Malaysia.
Contact: +607 – 221 0260 / +607 – 300 5090
Angry Birds Activity Park Opening Hours:
Daily: 10:00am – 10:00pm
Angry Birds Activity Park Ticket Price:
For International Travelers
Single Entry: RM75/pax
Annual Pass: RM230/pax
Family Pass of 4 Persons: RM280/pax
Family Annual Pass: RM850/pax
For Malaysian
Single Entry: RM60pax
Annual Pass: RM180/pax
Family Pass of 4 Persons: RM218/pax
Family Annual Pass: RM700/pax
Facebook
5. MCM Studios Indoor Theme Park
MCM Studios is the newest addition of theme parks in Johor and is arguably the largest park in South East Asia and also the fifth largest in the world! The 500,000 square feet theme park is housed inside Capital 21 Shopping Mall and it takes up the entire 3rd and 4th floor of the mall.
It features more than 20 different themed attractions that are divided into 3 main sections- Music Planet, Movie Planet and Cartoon Planet.
Music Planet will expect daily circus performances by Great British Circus in a tent that are built within the theme park, which includes musicals and theatricals performances. You'll get to witness the show- live!
Movie Planet offers exciting and hair-rising rides that will bring your favourite movie scenes to life.
Cartoon Planet will use Augmented Reality (AR) and Virtual Reality (VR) technology to show classic cartoon characters of various animated characters.
What's more, the mall has 3 floors of retail spaces featuring 5 thematic zones- America, Europe, Australia, Asia and Middle East.
To top it off, there are two hotels- Hilton Garden Inn and Planet Hotels for visitors to stay over the weekend to fully enjoy the theme park!
This is definitely the one-stop tourist attraction in JB that you wouldn't want to miss. So, lock in your calendar as it slated to open this coming August 2018!
Address: Capital 21 Shopping Mall, Jalan Tampoi, 81200 Johor Bahru, Malaysia
Contact: +607-244 8322
Facebook
How To Get To Johor Theme Parks From Singapore
If you are coming from Changi Airport, then you probably will think how do get to these theme parks in Johor in a convenient and comfortable way?
Well, you don't need to worry as SGMYTAXI provides comfortable private car service from Changi Airport or any location in Singapore to Johor theme parks at an affordable price.
You can make a reservation with us right now and enjoy the best rates along with the most comfortable rides and professionally trained drivers.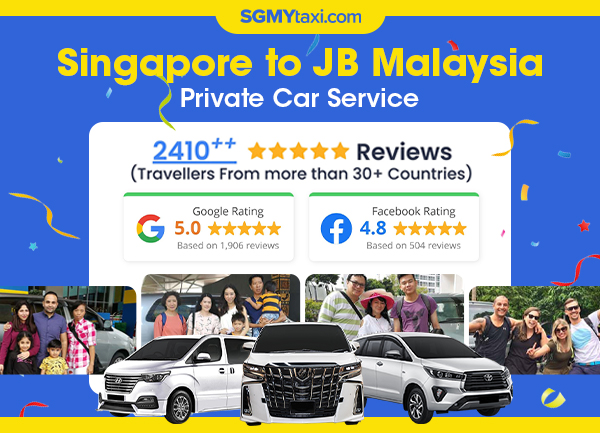 We are willing to help you and make your trip perfect, conveniently and without any hassle, book a taxi in advance at SGMYTAXI right now!