Singapore to Johor Bahru Town
Departure
Any point in Singapore
Arrival
Johor Bahru Town area
Rate
SG$80 (direct from Singapore)
Toll Fee
SG$10
Fleet
Toyota Innova
Toyota Alphard (extra cost applies)
Book now to reserve your fleet.
Johor Bahru
Johor Bahru is the main city in the southern state of Johor in Peninsular Malaysia.
The city, just across from Singapore over the Johor Straits is a major destination for thousands of visitors from Singapore.
They come here when they want to spend time away from their city state.
There are plenty of attractions for them.
From resorts, theme parks, shopping malls and fine dining; they are all there and in abundance.
Major Attractions in Johor Bahru
1. Johor City Square
This is one of the most prestigious malls in all of Johor Bahru and in Malaysia in a whole. Its location right in the center of the city and only a very short distance from the immigration and customs control checkpoints is one of the reasons why it is so popular to visitors from Singapore.
It is one of the landmarks in Johor Bahru city. At the Johor City Square you will have a choice of over 200 retailers to shop from for clothes, bags, electronics, shoes, trinkets and anything that strikes your eye.
There are also restaurants with fine dishes and cafes to replenish your energies after a good shopping session.
Also read: 12 Best Shopping Malls In Johor Bahru
2. Legoland Malaysia
Legoland Malaysia is one of the 7 Legoland theme parks in the world. It is one giant Lego themed complex that encompasses Legoland Park, Water Park, and Legoland Hotel.
It is a very family friendly holiday destination where there are over 70 rides and slides, plenty of shows and attractions. Visiting Legoland is an activity filled tour for adults, teens and kids.
The water park can visited individually or as part of the whole Legoland tour. Here water lovers will have 20 rides of gushing water and multiple water games for all the family.
Legoland Hotel has 249 guest rooms and so all your accommodation needs are well covered. The hotel has many restaurants and bars to enjoy as well as a gym and beauty spas.
Further Reading:
3. Nusajaya (Also Known As Iskandar Puteri)
This is a planned, modern, and newly developed city in Johor Bahru. It is a premium urban seaside development which includes leisure, business and residential sections with all amenities that a modern city requires.
On the development is the Puteri Harbour, one of the finest marinas in the world and the finest in Asia. It covers 2.7 square kilometers on the straits of Johor.
It is an award winning marina which attracts boat lovers and sailors from all over the world. In this development there is also the EduCity, an educational zone sitting on 2.4 square kilometers, the Nusajaya Residences with its 11 residential zones.
4. KSL City Mall
In the heart of Johor Bahru, you will find the KSL City Mall. This development is a big destination for visitors coming from Singapore. Here, shopping is out of this world with fine shops.
There are over 500 of them selling everything from electronics, clothes, shoes, bags, and everyday conveniences. KSL City Mall has entertainment like no other and you can start by selecting which of the 8 MBO cinema halls you will watch a blockbuster from.
KSL Hotel has 868 hotel rooms cater for your accommodation and there are 602 condominiums for those who need a longer luxurious stay. Add more than 3,000 parking spaces and you have a complete mall in the heart of the city.
5. Danga Bay
This is Johor Bahru's largest recreation area. Danga Bay is freely accessible from all transport terminals and it is only 7 kilometers from the city center of Johor Bharu.
Also read: How To Go To Danga Bay From Singapore
It is one of the waterfront developments the city is proud of. The restaurants are classy with gourmet fare. There are cafes for people who prefer more conventional food.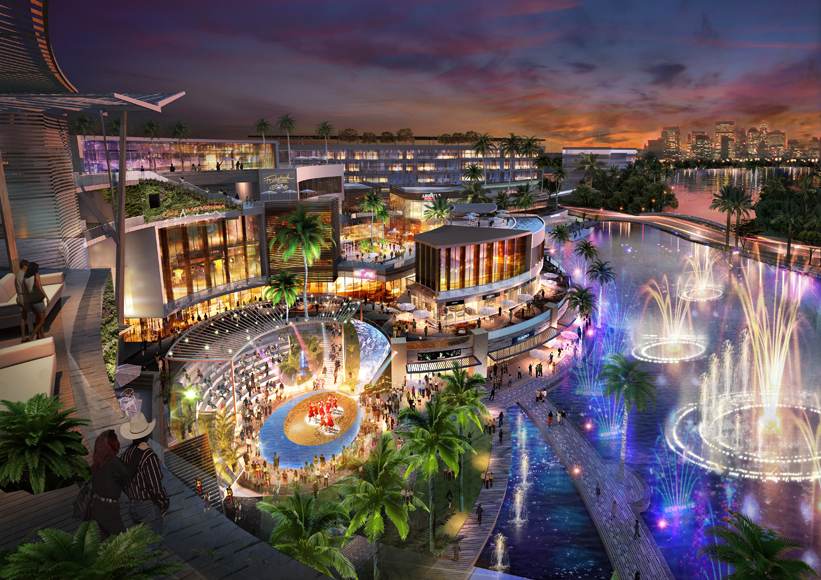 The bars are lively and the night views across the straits are something you will remember for many years. There are plenty of activities to keep the children active and interested at all times.
It is also a well-loved spot for couples intending to enjoy some time together from the city crowds. There are high-end retail outlets for the avid shopper as well.
The area around the recreation park is developing into a modern park with commercial hubs, a marina, convention center, high-end residential properties and hotels.
This is one of the oldest official Zoos in the whole of Asia. The zoo is located in Johor Bahru and it has been in existence since 1928. With more than 100 animal species in the zoo, some of them endangered, it is worth a visit.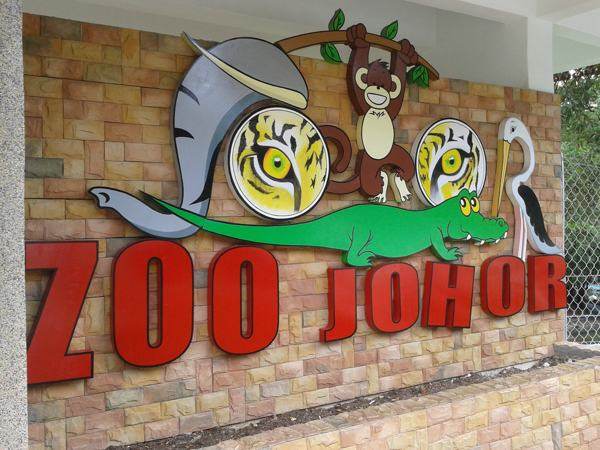 You will find lions, elephants, gorillas, horses, flamingos and many more. There are show animals whose antics amuse the children so much.
Just a stone throw's away from the zoo, you find more attractions which include the beautiful Masjid Abu Bakar mosque, the Johor Bahru Palace Grounds and the Royal Museum. There are good eating places around to cap a good day out at the zoo and nearby attractions.
This shopping complex is a collection of luxury brand factory outlets. It has over 130 retail stores filled with luxury items from all the top brands in the world.
Make the short trip out of town and buy some of the most exclusive branded items at great prices. The price and variety are worth the short ride from Johor Bahru city center.
Some of the brands with outlets here include: Salvatore Ferragamo, Ralph Lauren, Burberry, Polo, Coach, Ermenegildo Zegna, Michael Kors, Swatch, Guy Laroche, Canali and many others.
Transport From Singapore to Johor Bahru
Just a short distance away from Singapore, Johor Bahru is visited by multitudes of visitors from Singapore every day and more so on weekends and holidays.
The best way to travel from Singapore to Johor Bahru and back is by private taxi. SGMYTAXI operate a great service with pick-ups and drop-off between Singapore and Johor Bahru. This means that you will be picked up right at your doorstep in Singapore and brought back when your trip to Johor Bahru comes to the end.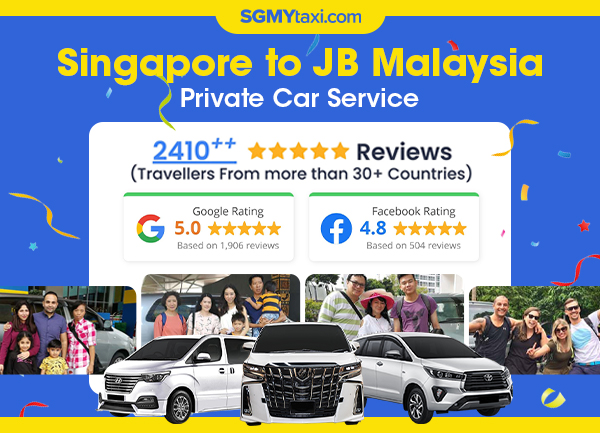 SGMYTAXI have new, fully air-conditioned, well maintained, carefully driven and spacious 7-seater taxis. The drivers are experienced and professional and they are well versed with the best routes to take you to all the best places in Johor Bahru. Whatsapp them for a great transportation deal from Singapore.
Special Travelling Request: We accept any kind of pick-up services within Malaysia and Singapore, especially for those who plan to have daily trip around Singapore or Malaysia area.  We are willing to serve you better as our valuable customer. Fill out our Special Travelling Request Form to get your latest quotation or contact us directly.
We guess you would want to know….