Are you planning your next short weekend getaways from Singapore?
Looking at going for trip up to Johor soon?
Thinking of a different kind of vacation to take the family?  
What could be better than a different type of holiday to get the whole family involved with activities surrounded by nature?
Well, we've got a great eco destination in Johor to share with you.
Read on to discover all about Tanjung Piai, that's close to Singapore and also mainland Asia's southernmost tip, and why by the end of this, you'll want to make a visit to experience it for yourself.
Tanjung Piai
Tanjung Piai is the answer, at the cape of Pontian, Johor and is a must place to visit due to its many unique features, and offers visitors a great alternative to city destination holidays.
The park is in fact Peninsula Malaysia's and mainland Asia's southernmost tip. Getting here to enjoy nature and all its beauty is made even special by the fact that you're at the southern tip of the continent.
Also read: 1 Day Tour In Pontian: 8 Things To Do
Tanjung Piai National Park is characterized by deep twisting mangroves of 526 hectares and inter-tidal mudflat lands, another area of 400 hectares, which provide much of the support to the eco system in the park, surrounding forestry as well as protection to some of the animals and insect in this habitat.
1. How To Go To Tanjung Piai National Park From Singapore
You can reach Tanjung Piai National Park from Senai International Airport in just 72 minutes by car, and it takes just 75 minutes to from Singapore Tuas Checkpoint. Besides that, it's about 13 minute drive from Kukup.  Perhaps you can take a visit here while you're having a holiday in Kukup. Transport to Tanjung Piai as describe in below:
1.1 Private Car To Tanjung Piai National Park From Singapore
Imagine not having to drive, navigate, plan and organize all your luggage with your family in tow lining up at immigration checkpoints. Reduce pre-holiday stress with a door to door private car service, SGMYTAXI.
Always prioritizing passengers safety, well-being, and comfort let SGMYTAXI absorb the pre-holiday stresses and you can kick back and enjoy the trip with your family.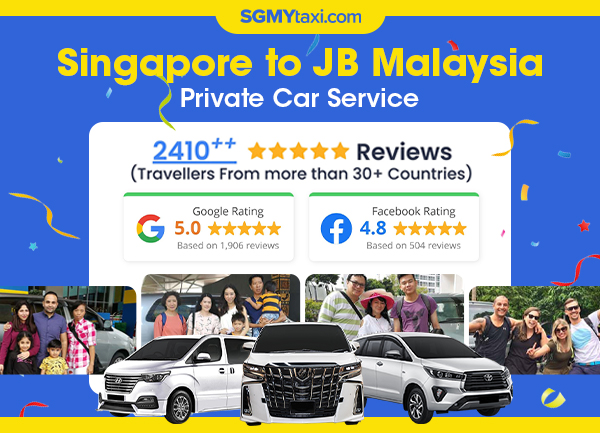 Bookings at passengers convenience
Easy online booking
Safe and comfortable ride
Spacious fleet of cars for the family and luggage
Experienced, friendly drivers familiar with Malaysia roads
Pick off and drop off location determined by passenger
Passengers do not need to alight at immigration checkpoints
Affordable price
So, if you've got Tanjung Piai National Park on your mind, wait no more and start booking with SGMYTAXI today, for an unforgettable eco-holiday for the whole family.
1.2 Bus To Tanjung Piai National Park From Singapore
Currently, there are no direct coaches or public bus to Tanjung Piai National Park from Singapore or other bus terminals in Malaysia too. Thus, the most convenient and time efficient way to travel here is by private car.
2. Tanjung Piai National Park Attractions
There is plenty to see and do at the park, and we're sure you'll find more than one activity for every member of the family to enjoy.
Also read: The 27 Best Johor Attractions (Perfect Travel Spots In Johor 2019)
2.1 Tanjung Piai National Park Visitor's Complex
Coming in from an elevated walkway you can't miss this section from the main entrance. Here, visitors purchase entrance tickets to the park with these located here too:
Multipurpose hall
Souvenir shop
Prayer room
Park's office
2.2 Tanjung Piai National Park Landmark Monument
The landmark of Tanjung Piai Pontian Johor is a monument made from eco-friendly concrete that reaches a height of 20 meters and only 10 centimeters wide.
The monument is grey in color and reflects the muddy flatlands and twist mangroves that stem from the forest floor.
On the face monument, visitors can clearly see two ferns of an indigenous fern which Tanjung Piai gets its name, the Paku Piai Raya fern, which is native to Tanjung Piai's forests.
Also read: How To Go To Kukup From Singapore
2.3 Boardwalk
Elevated wood boardwalk connects the different parts of the park and takes visitors directly to the center of the mangrove forest without having to step in the grey sticky mud.
The boardwalk totals 1200 meters provides visitors with a nature experience plus light exercise.
2.4 Observation Tower
The panoramic views and spectacular sights of the forest is breath taking from the two observation towers and numerous viewing platforms.
Here visitors are surrounded by nature and can view levels of the forest from the mangrove mud floors till the canopy, home to many species of birds.
2.5 Campsite
Visitors to Tanjung Piai National Park can opt to stay in camps at the campsite of the park for a truly unique experience.
The campsite has a total of 30 elevated tents and is divided into sections for male and female and can accommodate at any one time up to 120 guests.
2.6 Jetty & The Southern Most Tip
Coming off your boardwalk, you'll walk directly to the jetty area and the southernmost point that's marked by a plaque and also a globe monument to mark the significance of Tanjung Piai.
Also off the boardwalk is the jetty area, another popular spot among visitors to witness boats and tankers pulling out towards the sea.
Also read: Jetty & Ferry Terminal In Johor Useful Guide
3. Things To Do In Tanjung Piai National Park
With so much to discover, visitors will be spoilt for choice as to what activity to partake in, but whether your choice is more leisurely one or a full on activity, you'll certainly find a match for your pace below:
Nature Education includes: Guided tour, Mangrove Clean-up, Mangrove Tree Planting,
Mangrove Education
Family Day Team Building
Motivational Camp
Bird Watching
Nature Photography and Filming
Sunset Viewing and Observation of passing ships on the Straits of Malacca
Firefly Trail
Nightwalk
Obstacle Course and Southern Race
Fishing
4. Facilities At Tanjung Piai National Park
For the comfort of visitors to the park these are facilities provided within the park:
Washroom
Prayer Room
AV Room
Souvenir Shop
Information gallery
Fishing platform
Campsite
5. Tanjung Piai National Park Visitor Tips
For visitors a quick list on useful information and tips before you head out to Tanjung Piai National Park:
Wear comfortable neutral colored clothes along with sturdy, comfortable walking closed toe shoes.
Protect yourself with insect repellents, sunglasses and a hat.
Bring extra clothes, water. Stationary (book, pen) and personal equipment (binoculars, camera).
Monkeys do approach visitors. Do not feed them or wear shiny items such as jewelry as this attracts them.
Also read: Sri Tanjung Leisure Farm
Tanjung Piai National Park
GPS Coordinates: 1.2681° N, 103.5087° E
Contact: +607-696 9712
Email:
[email protected]
Opening Hours:
Tuesday to Sunday: 9:00a.m – 5:00p.m
Closed on: Monday
6. Tanjung Piai National Park Entrance Fees
6.1 Entrance Fee For Malaysian
Adult: RM5
Student (below 18 years old): RM3
Senior Citizen (50 years old and above): RM3
Child (6 years old and below): Free entry
6.2 Entrance Fee For International Traveler:
Adult: RM20
Student (below 18 years old): RM10
Senior Citizen (50 years old and above): RM10
Child (6 years old and below): Free entry
7. Tanjung Piai Resort Pontian Johor
A 20 minute walk away from the park there's also Tanjung Piai Resort so that guests don't need to travel far and be close to the park. It makes sense for visitors to choose to stay closest to the park as possible to maximize their visit.
A range of outdoor activities are arranged by the resort to challenge the adventurer in you, view the complete list of activities below:
Kayak
Jetty Jump
Paintball
ATV
Camp Fire
Cycling
River Obstacle
Archery
Fishing
Camping Site
Coconut Climbing
Target Range [Paintball]
Telematch
Tanjung Piai Resort Pontian Johor
Location: J48, Tanjung Piai, 82030 Kukup, Johor, Malaysia.
Contact: +607-696 0011
Facebook