Feel your everyday life tiring and heavy?
Then you need to go for a short getaway immediately!
"But where can I go?", you may ask.
Located in Pekan Nanas, Sinar Eco Resort is one of the popular eco farm in Johor Bahru with endless greenish landscape and many exciting outdoor activities.
The atmosphere is way too perfect for you to embrace the tranquillity of countryside.
It gonna bring you closer to nature, yet closer to your heart.
Let's scroll down. A rustic-chic getaway awaits you at Sinar Eco Resort!
Sinar Eco Resort
Set against 8 acres of oil palms estate, Sinar Eco Resort welcomes everyone to explore the wonder of farm living and its surrounding nature. It is beautifully surrounded by swaying palm trees along the way to the resort.
Also read: One Day Trip In Pontian
All accommodation and facilities are newly designed in a modern way. It also has a picturesque view of nature. Especially when you look down from the Sky Bar, the view is even more overwhelming.
The eco-farm is opened in May 2016 and is divided into 2 main areas, one houses the farm animals and outdoor activities and one houses the cafes and accommodation. It's amazing to see the nature blends so perfectly with the comfort from city.
Also read: 7 Things To Do In Kahang Organic Rice Eco Farm
Take advantages of the farm environment, Sinar Eco Resort designs wide range of relaxing yet exciting outdoor activities that aim at strengthening the bonding between families as well as corporate groups.
Step out of your comfort zone and let the journey begins!
How To Go To Sinar Eco Resort From Singapore
Private Car To Sinar Eco Resort From Singapore
The Sinar Eco Resort is only 1 hour's drive from Singapore if there is no traffic jam. If you are looking for a hassle-free transport ride, we recommend you private car services from SGMYTAXI, the leading private car company in Singapore.
Why choose private car?
Brings you directly to Sinar Eco Resort.
The driver will pick you up at doorstep.
Does not need to alight from vehicles to clear customs. Just give the passports to driver and he'll pass it to immigration office. Once cleared, he may drive through the customs.
Saves a lot of time if compared to public transport.
Ideal mode of transport for family with elderly and children.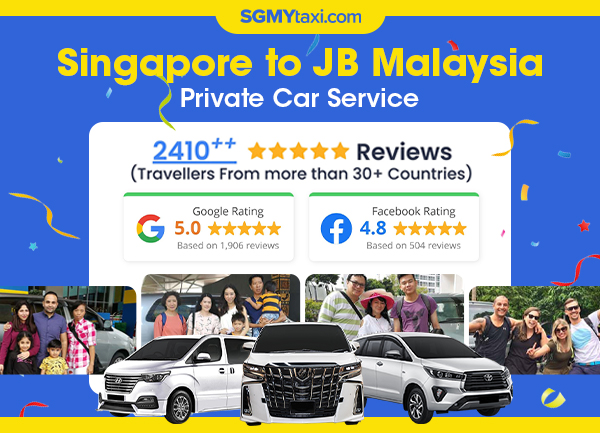 "There're many private car services out there. Why choose SGMYTAXI?", you may ask. Now we tell you why.
Reasonable prices. They take our affordability into consideration.
Regularly maintain their fleets to ensure your safety.
Offer luxury 7-seater fleets to ensure customers travel in comfort.
Professional drivers who familiar with the route in Johor. They can cope with ride range of weather conditions and road surfaces.
Drivers are trained to be calm, possess excellent driving skills and have good attitude.
They always put their customers first.
There are many more reasons that make SGMYTAXI stands out from other private car companies. Now, if you wish to ride with them, just fill in the booking form online. Whatsapp or private message them through Facebook messenger if you have any enquiry.
12 Things To Do In Sinar Eco Resort Johor
1. Getting Up Close With Animals
This is extremely popular among the city citizen. This is because they rarely have a chance to be friends with these adorable animals such as goats, cows, birds, rabbits, ducks, chickens and cats. Besides petting them, you can feed milk to cows and goats too.
2. ATV Rides
Embark on an exnihilating experience like no other. Sinar Eco offers you an amazing ATV ride to test your bravery and coordination skills. Have fun to see mud flying over if the ground is wet.
Also read: 16 Fun Indoor & Outdoor Activities In Johor
3. Kayaking
Escape the hassle of everyday life by venturing into the realm adventure of kayaking. It improves our flexibility, strength and at the same time, we get to enjoy the tranquillity and peacefulness of Sungai Burung.
4. Cycling
Feel the breeze while cycling all the way around the farm. Besides walking, this is probably the best way to explore the farm in detail. Bicycles can be rented at the resort.
5. Eco Rafting
Sinar Eco Resort operates eco rafting adventures on Sungai Burung where you can enjoy a true wilderness experience. From scenic floats to family fun, the water activity leads you to a wonderful journey while drifting through the river.
Also read: Transport From Singapore to UK Farm Kluang
6. Archery
Arrows and bows await you for an incredible archery challenge. Besides releasing the stresses that lie within your body, it helps to improve concentration and coordination. Eventually, you concentrate better in daily life too.
7. Horse Riding
Ride on a horse and relax all the way through the bridle path. This is truly one of the best ways to take in the breathtaking view of nature. You seldom have this chance. Make sure you don't miss it!
Also read: 8 Best Horse Riding In Johor
8. River Cruising (Day / Night)
Available for both day and night, river cruising is another exciting activity that bring you closer to nature. During the day, you feel the serenity from the green environment while during the night, thousands of stars accompany you as you drifted along. Sometimes, sparkling fireflies could be spotted along the river!
9. Hop On The Tour Cart / Tractor / Horse Cart
The tour cart is specially designed to bring the visitors for a tour around the farm. Just enjoy the cool breeze along the way and take as many pictures as you can.
For those who want to feel the extraordinary, hop on any of the tractor and enjoy the tour. In-house guests don't need to pay for it.
However, if you have a romantic dream, you definitely want to ride on the horse cart decorated with pretty flowers. Lots of couples love to have their wedding photo-shoot here!
Also read: 6 Best Wedding Banquet In Johor Bahru
10. Swimming Pool
Your stay is not completed without having fun in the pool. Although it is a shielded swimming pool, the shelter does not block the sight of the nature around. After a lazy swim, a delicious meal at the café nearby could fully recover your energy.
11. Karaoke Room
They even design a karaoke room to enhance the bonding with our loved ones. With endless song lists, comfortable sofas and complementary Hi-Fi system, you will have an unforgettable singing experience here.
12. Pool Game
Places that offer pool game is normally quite dangerous for girls to go for. But here in Sina Eco Resort, you can enjoy a private pool game without worrying about the safety. Let's play it with friends!
Sinar Eco Resort Accommodation
Bored of hotels? Try something new and stay on a container rooms. I'm sure you never experience before with this creative stay on a farm. The Sinar Eco Resort offers you the modern accommodation equipped with modern amenities to ensure a pleasant and memorable stay.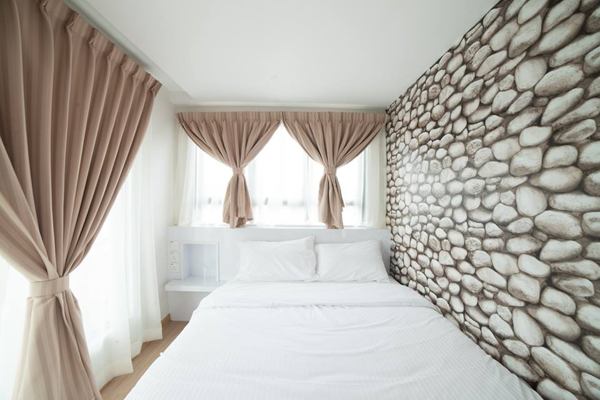 1. Deluxe Gold Luxury Container
Built by large shipping containers, the resort features 8 container capsules equipped with air-conditioner, queen size bed, refrigerator, private bathroom and TV. It is exactly the same as a standard hotel room.
The rooms are mostly preferable by couples or small family as it fits maximum 3 persons. Also, never forget to draw the curtains wide to be rewarded with exhilarating view of eco-farm.
2. Sinar Eco Apartment
Feel yourself a pirate staying on the shop. The Sinar Eco Apartment is the newly established DIY apartment featuring the sea-themed room. From furniture to decoration, it's all hand-made by the staff.
Sharing a simple living room, the apartment has 3 room with different sea-themed designs. It requires at least 4 people for a stay and hence, it is ideal for large group of friends and family.
Sinar Eco Resort Entrance Fee
Instead of staying overnight, Sinar Eco Resort welcomes visitors who wish to go for day trip too. Below are the details and take note that the entrance fee does not include the fees for activities.
Entrance fee for 1-Day Pass:
Adult: RM30
Children (3 to 12 years old) & Elderly (60 years old and above): RM20
Some activities are free of charge while some are charged for respective additional fees. Prices are stated below:
Activities
Price
Opening Hours
Touch of Nature
1. River Cruise (Day/Night)
RM100 per trip (30 mins)
9:00am – 10:00pm
2. Carriage Ride
RM80 per trip (max. 4 pax)
9:00am – 6:00pm
3. Milk Feeding
Calf: RM15 per bottle
Kid/Lamb: RM10 per bottle
9:00am – 6:00pm (daily)
4. Cow Milking
RM15 per pax (free 1 glass of cow's milk)
5:00pm (daily)
Relax And Chill
5. Pool Table
RM9 (30 minutes)
9:00am – 10:00pm
6. Karaoke
RM40 per hour
9:00am – 10:00pm
Adventure Time
7. ATV Rides
RM25 (3 rounds)
9:00am – 5:00pm
8. Off-Road Buggy
RM40 (3 rounds)
10:00am – 6:00pm
9. Horse Ride
RM30 per pax (2 rounds around the paddock)
10:00am – 12:00pm & 1:00pm – 5:00pm
10. Archery
RM15 (12 arrows)
9:00am – 5:00pm
11. Kayaking
RM25 per kayak (30 minutes per ride)
10:00am – 5:00pm
12. Eco Rafting
 RM10 per pax (min. 4 pax)
 10:00am – 5:00pm
Resort Activities
13. Swimming Pool
Free of charge
9:00am – 10:00pm
14. Tractor Ride
Free of charge
9:00am – 5:00pm (daily)
15. Farm Animal Encounter
 Free of charge
 9:00am – 6:00pm (daily)
*Prices above are subject to change without prior notice.
Note:
Free for children age below 3 years old.
For kayaking and eco rafting, the availability depends on the river's water level.
Animals foods can be bought at the reception counter.
Buggy Race is only available for ages 5 and above.
Archery and ATV rides are only available for ages 15 and above.
For ATV rides, ages between 5-14 who wish to ride must accompanied by parents or guardians.
Travel Tips To Sinar Eco Resort JB
The café beside the reception area serves great home cooked meals.
There's hidden menu at the café – penang prawn mee and Fried yam cake. Request for it!
At most 2 extra mattresses can be requested to add in to the room.
If you self-drive to the farm, you can always drive out the nearby town to savour the hawker food.
All outdoor activities close at 6:00pm.
Bring insect repellent as many activities are carried out at outdoor.
Bring cap and apply sun block to avoid sunburn.
Sinar Eco Resort Map
View Sinar Eco Resort, Johor in a larger map
Address:
Lot 2346, GM2535 Kampung Sungai Molek, Mukim Jeram Batu, 81500 Pekan Nanas, Pontian, Johor, Malaysia.
Contact:
+6019-717 2423 / +6013-757 2434
Day Trip Operating Hours:
9:00am-6:00pm
Facebook