Teluk Sengat Crocodile Farm is located in the town of Seluk Sengat, Kota Tinggi in the Johor region.
It is considered to be the largest crocodile farm in the peninsular of Malaysia.
This is a popular tourist attraction site in Johor of learning facts about crocodiles.
And also provides a wonderful opportunity for some nice photo sessions.
In this article, you'll get to know:
Teluk Sengat Crocodile Farm (Crocodile Farm Desaru)
The Teluk Sengat Crocodile Farm is located in the small town of Teluk Sengat in Johor Bahru, Malaysia, approximately 30 minutes from Desaru.
Established in 1950 and open to the public in 1997, this 10-acre crocodile farm is the largest of its kind in Peninsular Malaysia. Run by the granddaughter of its founder, the farm is well maintained and clean, with covered walkways.
Founded for the conservation and breeding of crocodiles, the farm does not kill any the crocodiles for their meat or skins, and their habitat is kept as natural as possible.
It houses about 1000 saltwater crocodiles of all sizes and ages, some over 100 and even up to 155 years old, though it is hard to estimate a crocodile's age accurately.
The farm provides the following:
8 breeding ponds, each housing 50 to 100 crocodiles.
81 cement ponds.
Dams.
Vegetation.
A lake in the center.
Sandy banks for breeding.
Females lay their eggs from January to March. When mothers hear them hatching, they dig them out and the babies are born. Then the babies are transferred to incubators.
Upon entering the farm, you will be provided with fun facts about crocodiles and safety guidelines by the friendly staff.
Then, you will be invited to touch and hold baby crocodiles and to take photos with them. You can also watch the staff feed the crocodiles fresh chicken at feeding time.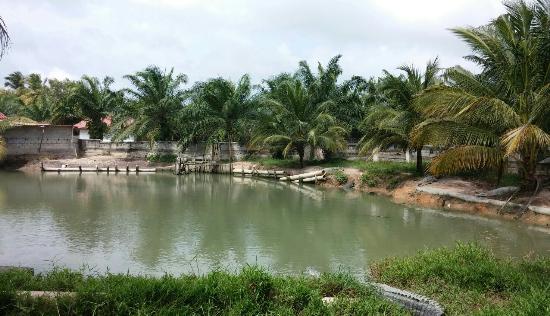 The crocodiles are arranged according to age, so as you make your way through the farm you will see them from the youngest to oldest. Since they continue to grow in size as they mature, the crocodiles also get larger the further you go.
Males can grow to 20 feet long and weigh 1000 kg, while females grow to 9 feet and weigh up to 500 kg. The oldest male crocodiles are truly enormous.
Crocodiles with disabilities are cared for at the farm in their own separate cement pond. Some were born without tails, with cleft palate, or suffered injuries later in life.
Whatever their disability, they will have a safe place to live out their lives on the farm.
A visit to the crocodile farm at Teluk Sengat is entertaining and educational. It is a great opportunity for individuals or families to learn more about these amazing creatures and to interact with them in a very hands-on way.
Note: Visitors are not allowed to step into the lake because of the danger involved, but they can have a perfect view from the walkway that surrounds the lake.
Teluk Sengat Crocodile Entrance Fee
Categories

Teluk Sengat Crocodile Farm Ticket Price

Malaysian
Foreigner
Adult
(13 years old & above)
RM 10
RM 15
Senior Citizen
(60 years old & above)
RM 7
RM 12
Child
(3-12 years old)
RM 6
RM 8
*Ticket price effective on 1 January 2023
Teluk Sengat Crocodile Opening Hours
Opening Hours:
Daily: 9:00am – 6:00pm
Teluk Sengat Crocodile Farm Map
Address:
Lot 1289 & 1290,  Jalan Sembilan,  Kampung Belading, Teluk Sengat,  81940 Kota Tinggi, Johor, Malaysia.
Facebook
How To Go To Teluk Sengat Crocodile Farm
It is advisable to plan well for your transportation from Singapore to Teluk Sengat Crocodile Farm (near Desaru) before departing.
If you want to have 1 day trip in Desaru, there is only have 2 transport options to reach Desaru: private car service or self-driving.
The transport expense is varied depending on the type of transport you used. It is therefore prudent to deal with a reliable, punctual and professional transport service to ensure your trip is comfortable and enjoyable.
1. Private Car From Singapore To Teluk Sengat Crocodile Farm
SGMYTAXI provides private car service from Singapore to Desaru Crocodile Farm at affordable price. Besides that, SGMYTAXI also offers Johor Full Day Service Package. Their drivers will bring you around the top destinations in Johor.
All the cars are well maintained, fully air-conditioned and are spacious enough to carry up to 10 passengers per car including your belongings.
Their drivers will pick you up from any location in Singapore or from the airport and drop you off at your preferred destination. The same timely service applies if they pick you up from your residence and drop you off at the airport.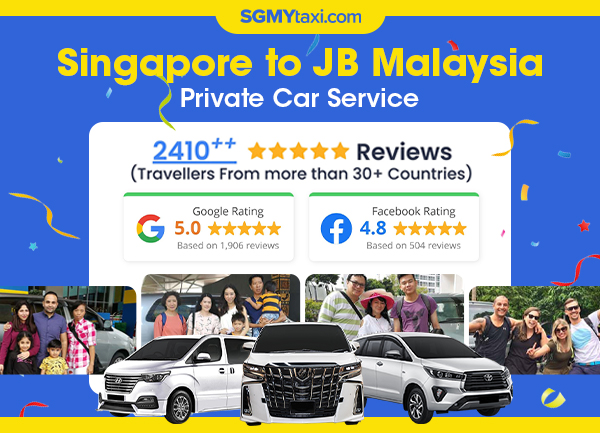 Also read: Private Car To Desaru From Singapore
If you are travelling to Johor Bahru, SGMYTAXI will take you there from the airport or for a stopover in downtown Singapore if you would want it that way. They will also offer the same service from Johor Bahru to Changi Airport.
Unlike buses and trains that only stop at scheduled places, you can stop anywhere you want for lunch, refreshments, photoshoots or just to enjoy the scenery.
Moreover, if you are travelling from Singapore to Desaru, you will not need to leave your car for immigration and customs processing. All these will be done with you seated right in the car.
2. Self-Driving From Singapore To Teluk Sengat Crocodile Farm

You can reach Teluk Sengat Crocodile Farm from Singapore Woodlands Checkpoint via Route 3/AH18 and Jalan Kota Tinggi – Pengerang/Route 92
Estimated drive time: 2 hours
Distance: 75.5km
Note: Before departing from Singapore, remember to check the traffic at Singapore-Malaysia border via Woodlands & Tuas Live Camera to avoid long queue at the border and waste your time.
5 Attractions Near Teluk Sengat Crocodile Farm
Apart from the nice experiences from the Crocodile Farm, there are quite a number of attractions which make such a tour a lifetime experience. Among the most remarkable attractions include the following.
1. Desaru Beach
Desaru beach is located in Desaru which is about 100km from Johor Bahru. The beach is well known for their cleanliness as well as their golf courses and other exciting attractions.
Highlights
Any visitor will be impressed with the amazing beauty and splendor offered by Casuarina trees which are a common feature here. These trees have made the place to be coined as the Land of Casuarinas.
The beaches also offer a rare opportunity for one to have breathtaking views of the South China Sea which is an unforgettable experience.
This is also a good opportunity to unwind and relax as you enjoy the various activities on offer like swimming, hiking, boating, among others.
Many hotels, chalets and resorts (Lotus Desaru Resort) are lined up along the beaches and this provides excellent accommodations and meals to visitors.
2. Desaru Fruit Farm
This is a very unique fruit farm that received the Malaysia Agriculture, Horticulture and Agro-Tourism (MAHA) special awards in 2006 as the best agro-tourism site in Malaysia.
Desaru Fruit Farm is a well-maintained farm that produces fruits of the highest standards. Among the fruits found here include the jackfruit, water guava, honey orange, durian and the sour soup.
Also read: Desaru Ostrich Farm
Highlights
Desaru Fruit Farm has over 100 varieties of tropical fruits which are exotic to Malaysia and gives any visitor the chance to sample and learn about these fruits which are of Malaysian origin.
The farm has also about 10 species of plants which provides an opportunity to know about plant species that are unique here.
It also features a petting zoo and the Koi fish pond which are attractive features to many visitors.
3. Kota Tinggi Waterfall
Malaysia has many waterfalls but not as splendid and as beautiful as the Kota Tinggi Waterfall. It is a must-see place due to the fact that its waters run all the year round and it's surrounded by facilities which you can't find anywhere else in Johor.
The 30m cascading waterfall is found at the foot of the local mountain which is also known as Gunung Muntahak. Many Singaporeans and Malaysian alike gather at this place to experience this unique waterfall whose equal cannot be found elsewhere. It is usually busy on weekends and holidays.
Highlights
It has 2 waterfalls: the first one is a fascinating cascade falls with dammed pools at the bottom where one can have a leisurely swim. The other one is a free fall that thunders down the valley that is accessed through a beautiful walkway.
There is a scenic view all the way from Kota Tinggi to the falls; you will enjoy the ride which acts as a curtain raiser for the beauty of the falls.
There are lots of dammed pools where you can swim and cool down on hot days. The falls area has an abundance of nice spots where you can have a picnic.
Kota Tinggi Waterfalls Resort is a nearby lodge which you can use as a weekend getaway from Singapore all the daily activities of urban life.
Its rural countryside setting makes it attractive to nature lovers.
The abundance of birdlife makes Kota Tinggi Waterfalls a birdwatchers' paradise. Kota Tinggi is just 60km away from Johor Bahru and this makes it accessible to many visitors.
4. Sungai Lebam Wetlands
Sungai Lebam Wetlands is well renowned for its fireflies and lightning bugs. These insects provide a magical experience to any watcher and are a very attractive feature here.
The fireflies are hugely attracted to the Berembag tree and can be seen in their hundreds as they emit their on and off lights that actually originates from the abdomen area.
Highlights
The fireflies are a rare kind of insects which make many visitors to stream here in large numbers to experience these magical moments. Note: Photography is not advisable since it makes the insects disappear.
You can experience the nightlife in Sungai Lebam after watching the fireflies because it gives you the opportunity of being in the area at this particular time. Note: It is advisable not to touch the insects because it endangers their lives and reduces their population
5. Kota Tinggi Museum
Museums are known to attract quite a number of visitors in many parts of the world because they provide the history of the area in question and the Kota Tinggi Museum is no exception.
It was opened to the public in the year 2002 and provides useful history of the Johor state as a former Sultanate. This site was specifically chosen because it has historical significance as the seat of the former Sultanate.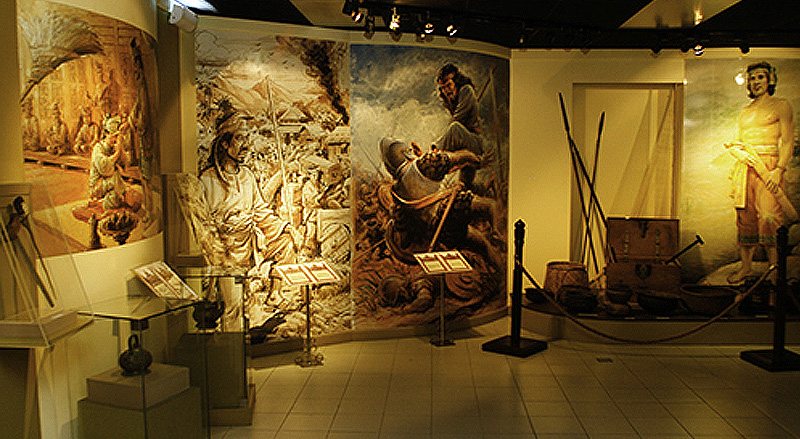 Highlights
Kota Tinggi Museum offers any visitor the chance to have the proper historical perspective of the Johor state and its people.
It is an educational monument which provides visitors especially those on educational tours to adequately study the history of Johor.
It presents visitors the chance to learn more about the people of Johor.