The most famous beach along the east coastline of Malaysia, Desaru, boasts a warm and lively resort, Lotus Desaru Beach Resort & Spa.
With year-round water activities and its gorgeous landscape, the resort is renowned as "The Resort for all seasons".
The resort is perfectly surrounded by decent tropical rainforest, sparkling blue ocean, white sandy beach and swaying palm trees.
By providing peace and tranquil environment, it is an ideal place for a romantic getaway, family vacation or even a tropical adventure.
Come and enjoy this nature's gift.
It will leave you an unforgettable and memorable experience that you have never imagined before.
In this article, we will talk about:

1. How To Go To Lotus Desaru Beach Resort From Singapore
Before even looking at the features and attractions of the resort, it is important to know the resort location and the easiest and comfortable way to get there. The Lotus Desaru Beach Resort is located on the Kota Tinggi coastline in Johor Province close to the Malaysian-Singapore border.
There are several ways to access the resort from Singapore. From Johor Bahru, it will only take you little more than an hour's drive to get to the resort. From Singapore, the best way is through Kota Tinggi.
1.1 Singapore To Lotus Desaru Beach Resort By Private Car
The best and most comfortable way to get to the resort is by private car service, SGMYTAXI to be specific. SGMYTAXI provides hassle-free private transport from any location in Singapore to Desaru Lotus Beach Resort.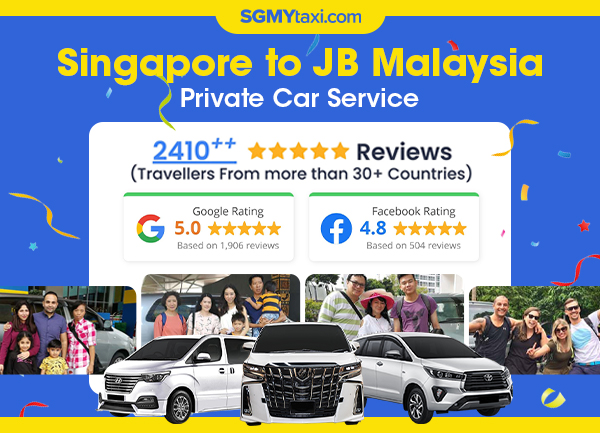 The charge is affordable and the experienced drivers are very familiar with all the routes.
All you need to do is booking through WhatsApp and enjoy private taxi to Desaru from Singapore. Flexible, Convenient and Comfortable!
Their customer service is exceptional- truly a holiday before the holiday!
Here are the many reasons why SGMYTAXI is your choice of travel:
Pick up from any location in Singapore- you decide your pick-up point.
You choose the time and date.
Ample space for your bags and legroom.
Get to stay in the car throughout the journey.
Don't need to lug your bags through the Singapore-Johor causeway.
The MPV can accommodate up to 10 passengers, suitable for a large number of traveler.
Families with elderly and children are recommended to travel with SGMYTAXI for convenience.
No hidden charges or booking fee.
Wait no further, contact us or WhatsApp NOW to get your pleasant ride!
1.2 Singapore To Lotus Desaru Beach Resort By Ferry
Ferry to Lotus Desaru, how? There are 2 routes below you can refer to reach Lotus Desaru by ferry:
Route 1:
The resort can be accessed by boarding a ferry from Tanah Merah Ferry Terminal in Singapore to Desaru Coast Ferry Terminal in Johor. The ferry journey may take about 90 minutes.
Then, you need to take charter van or car for another 12 minutes from Desaru Ferry Terminal to reach Lotus Desaru Resort. The resort is about 9km from the terminal. You could also contact the hotel to arrange transport for you.
Ferry Route
Departure Time
Tanah Merah Ferry Terminal To

Desaru Coast Ferry Terminal

8:30am

*every Thursday, Friday, Saturday, Sunday
Route 2:
Ride on ferry from Tanah Merah Ferry Terminal to Tanjung Pengelih Ferry Terminal. And then you need to take charter van or car for another 45 minutes to Lotus Desaru.
Ferry Route
Departure Time
Tanah Merah Ferry Terminal To

Tanjung Pengelih Ferry Terminal

8:50am, 5:40pm

*every Friday, Saturday, Sunday
1.3 Singapore To Lotus Desaru Beach Resort By Bus 
While there is public transport to the Lotus Desaru Beach Resort, it can't be relied on as the public buses are normally far, stuffy and uncomfortable when one finally manages to come through.
There are a few buses you can hop onto from Johor Bahru to Lotus Desaru Beach Resort. Do note, the journey is long and tedious and you need to transit buses.
Step 1: Take any Causeway Link bus from Singapore to JB Sentral.
Step 2: After that, take another Causeway Link bus from JB Sentral Bus Terminal to Riverside Desaru Coast. More info, refer here: https://www.causewaylink.com.my/holiday/attractions/product-detail/?id=2167-Desaru-Coast-Holidays-Packag
Causeway Link Bus
Ticket Price
JB Sentral Bus Terminal to Riverside Desaru Coast: RM49 or SGD$15/person (the price fare may vary from time to time)
Departure Time
JB Sentral Bus Terminal (9:00am)
Step 3: Ask Lotus Desaru concierge team to arrange the transport to pick up you from Riverside Desaru Coast to Lotus Desaru
2. Lotus Desaru Beach Resort Review
The Lotus Desaru Resort goes by the tagline "a Resort for all reasons" and that is not very far from the truth.
As a matter of fact, the description is an understatement, visiting the resort in person is surreal and unbelievable.
Getting to the hotel, one is met by pristine water with magnificent sandy beaches on a 22 km lined with tall palm trees to complete the picture-perfect paradise that Lotus Desaru Beach Resort and Spa is.
Also read: 8 Best Resorts In Desaru
Walking through the sandy beach with the rhythm of the sea behind you is an experience that you will not likely forget in a hurry.
The beauty of the resort will make even the most photophobic people pose for a photo, or two, or three for memory sake. And that is only on the outside, inside, the resort offers much more.
2.1 Lotus Desaru Beach Resort Facilities
Getting to the resort or anywhere close to it, you will be amazed at how big it is. That thing is huge! And I'm not even joking.
It is not every day you come across a hotel with more than 600 rooms and a bunch of other facilities all on the same ground.
The multi-storey resort has more than 700 rooms divided into ONE bedroom suite, TWO bedroom suite and THREE bedroom suite all with a range of in-room features like:
lounges for those moments you want to just lay back and watch the ocean waves,
a kitchenette to make sure you don't miss any of your local cuisines installed with a microwave and refrigerator,
a separate dining area for the obvious,
private bathrooms
walk-in closets.
each room has a safe deposit box for all your valuables, access to elevators and free WiFi.
During your (presumably long) stay at the resort, you will have access to round the clock room service and daily laundry service at an affordable cost.
For your entertainment needs, there is a fully stocked bar at the resort which plays really good music and the bartenders are just something else.
The restaurant is another place you might want to visit or take your family to.
It serves exotic cuisines and delicacies from all over the world, from French to Mexican to Oriental meals capped with efficient and friendly staff who are committed to ensuring you get the most out of your stay there and possibly even come back.
2.2 Lotus Desaru Beach Resort Recreation Facilities
The resort market themselves as the holiday destination of choice and have some wonderful recreation facilities including several swimming pools indoor and outdoor with a children's pool also included to make sure the little ones are not left out of all the fun.
For those times you want to lay back and let the sun rays wash over you or to get a tan, there is a garden complete with lounges for that, not forgetting an exclusive private beach within the resort for those who value their privacy.
2.2.1 Fitness Center
The resort also has a fully-equipped fitness center with trained instructors to help you keep in shape.
As keeping fit and staying healthy is for everyone and not just adults, there is a children's fitness center with kid-friendly equipment and personnel to ensure the juniors exercise in a safe environment.
2.2.2 Sea Sport
For sports, there are various sea sports you can partake in while at the resort such as
rafting,
boating,
canoeing,
kayaking,
paddle boating and
jet skiing.
Simply put, you get to have an adrenaline-charged evening or morning competing with other residents or even your friends or family but most importantly against the ocean waves and sea elements in a safe and controlled environment.
Also read: Teluk Sengat Crocodile Farm
2.2.3 Massage
Massage parlors are also included in the resort because we all need that soft gentle touch after a long fun-filled day which usually takes a toll on our stiff and normally under-exercised muscles.
You can get almost all types of massages you ask for, from hot stones massage to acupressure to head and foot massages, name it.
2.2.4 Lotus Desaru Water Park
There is also a large water park at the resort with features like fountains, water slides and splash pads for those who would like some fun in the water.
The water park also contains several swimming pools for all recreational swimming needs.
It is the place you definitely don't want to miss, and rightly so. Whether you are a swimming enthusiast or somewhat hydrophobic, you will not regret your visit to the park.
Also read: 7 Awesome Water Park In Johor
2.2.5 Spa
For body treatments, the resort has a large spa as is on the name. Spa staffs are trained to do all types of body treatments and pampering including facials, manicures, pedicures, and aromatherapy.
Also read: 13 Best Massage In Johor Bahru
Modern and advanced beauty care treatments like body waxing and electrolysis are also included in addition to professional makeup application and hair styling to keep you in top shape both physically and psychologically.
The spa also has a large public sauna with hot and steam baths as we all know a spa day is nothing without a hot steamy bath.
2.3 Lotus Desaru Beach Resort Accommodation
As earlier said, the expansive resort consists of about 650 elegant and fully furnished suites with 1 bedroomed, 2 bed-roomed, 3 bed-roomed and 4 bed-roomed suites available at affordable prices, all spacious and fully furnished.
For the large family, there are some penthouses which can host up to 6 occupants, more than the average family.
There are also different meeting rooms for all your business and/or informal meetings. These range from boardrooms to conference halls to ballrooms like the Lotus Ballroom which can also double up as a workshop or seminar hall.
All the residential suites come with buffet breakfast and exemplary room service, the breakfast depending on the room size and the number of occupants.
Basically,
1 bed-roomed suite is suitable for a small family of up to two adults and a buffet breakfast is provided for the same with two Lotus Desaru Beach Resort wristbands to preserve the memories of the fun times.
2 bed-roomed suite is ideal for a group or family with up to 4 adults with buffet breakfast provided for the same. 4 wristbands are given out by the hotel to make sure you don't forget your experience there in a hurry.
3 bed-roomed suite is only allowed 6 adults on the standard charge, any additional will incur extra costs. Buffet breakfast and four branded wristbands complete the amazing package.
4 bed-roomed suite is hands down the largest and most spacious suites and the resort allows up to 8 adults to share the suites and the same number of beds. Branded promotional wristbands are provided for each of those to preserve the memories of their stay.
Pent Houses are simply the epitome of spacious accommodation as offered by the resort and are ideal for the large family that does not shy away from splashing large amounts on holiday accommodation. A full course buffet breakfast, strong WI-FI signal at a small fee, and wristbands are provided for up to 6 occupants of the penthouses.
NOTE:
Anyone above 12 years – no free accommodation is provided for them.
For children below 12, free accommodation is available on condition that they are sleeping on already existing beds, request for extra beds need extra charges.
Meetings or conference facilities are available for hire by all groups corporate or family on a first-come-first-served basis.
If you plan to hire one of these is it for a seminar, workshop, company retreats or family gatherings, you are advised to make early bookings as they attract high demand.
2.4 Lotus Desaru Restaurant
There is a Lotus Desaru Seafood Restaurant in the resort and is open to the public, until some hours past midnight every day.
Also read: Top 11 Desaru Food & Seafood Restaurant
For your meals, you can decide to call room service who will deliver your preferred meals straight to your room, which has a dining area and kitchenette exactly for that purpose.
Better still, if you are the social type, you might want to visit or take your family to the resort's restaurant which serves all the major world delicacies prepared by professional chefs and decent service.
Due to the large size of the restaurant and the number of people it serves, be prepared to wait for quite some time for your food to arrive.
The best way to avoid the long wait is by placing an order in advance, the restaurant has some discounts to this effect so you might want to try it out.
Fast foods and coffee aficionados are not left behind, Teratai Coffee House where you can also find some snacks while also getting to meet and know the crowd there, who knows you might find your lifetime friend(s) here!
Teratai Coffee House stocks most of the different types of coffee including espressos, lattes, cappuccinos, and mochas. If you are the type that can't go a day without a cup or two of coffee, this I for you.
2.5 Drinks & Entertainment
For nightlife and alcohol lovers, there are two fully stocked bars at the resort each with its own theme and color. The bars serve all kinds of drinks like Russian vodka, whiskey, beer, malt and the finest and high-quality wine with prices depending on the quality and type of drink.
Mostly though, the drinks at the bar are on the higher end of the price level and you may be forced to cough up more than you normally would at your local.
The service and atmosphere make up for the prices though, and by the end of the night, you won't be thinking of how much you spent on drinks but on how much fun you had.
On the entertainment part, each of the bars is fitted with a modern high-end sound system which is sure to keep the atmosphere calm and classy through the night.
No loud and irritating music here, just the right sound and intensity to keep you entertained without any damage to your eardrums.
2.6 Booking & Inquiries
If Lotus Desaru resort is in your holiday plans, you can get room prices and other details at lotusdesaru.com.
For faster and more personalized replies, make a phone call to their front desk at +607-884 2800 which is ideal for people in and around Malaysia and Singapore, it might be expensive to call from outside this regions as international call rates are usually high.
Instead, you can email the resort with your inquiry question through their official email at [email protected].