Worrying about where to go for a short weekend getaway from Singapore?
Within so many Johor attractions, we sincerely want to tell you that a day trip Zenxin Organic Farm at Kluang could be your solution!
Combining recreational and educational purposes in one, the farm itself offers so much to learn even to an adult!
We do hope you realize that this knowledge is only one decision away.
Hence, think twice if you're planning a day trip to places other than Zenxin Organic Farm.
Let's move on if you are kinda interested!
1. Zenxin Organic Farm
Opened in 2006, Zenxin Organic Farm serves as the very first organic farm in Malaysia that welcomes the public. In Malaysia, it is also the largest organic farm (100-acre) featuring a restaurant, recreation activities, flower nursery, organic shop, and other facilities.
Also read: Kahang Organic Rice Eco Farm
Up until now, Zenxin leads Malaysia in producing, distributing and retailing the organic food. They strictly disallow the use of pesticides and chemical fertilizers and hence, they're able to produce quality organic food that achieves prominent level of satisfaction of consumers.
The farm even offers a wide array of organic products at affordable prices. These products contain no preservatives, no artificial additives and are even certified by the Australian & International organic certifier, NASSA.
Currently, it has transformed into a recreation park, an ideal place for family and schools to plan a day trip for children. It is also one of the eco farm in Johor. The farm even provides relaxing recreational activities which children can learn the farming process, in the most memorable and educational way.
2. How To Go To Zenxin Organic Farm Kluang From Singapore
2.1 Private Car To Zenxin Organic Farm From Singapore
Recommended by most of the Singaporeans, SGMYTAXI private car company that offers travelling route between Singapore and Johor can bring you directly from any location in Singapore to the Zenxin Organic Farm in Kluang.
Why You Should Choose SGMYTAXI?:
Any designated pick-up point and drop-off point.
Professional drivers with good driving skills and good attitude.
Luxury fleets offered.
Hassle-free as clearing customs does not need to disembark from vehicles.
Prices range per trip is affordable.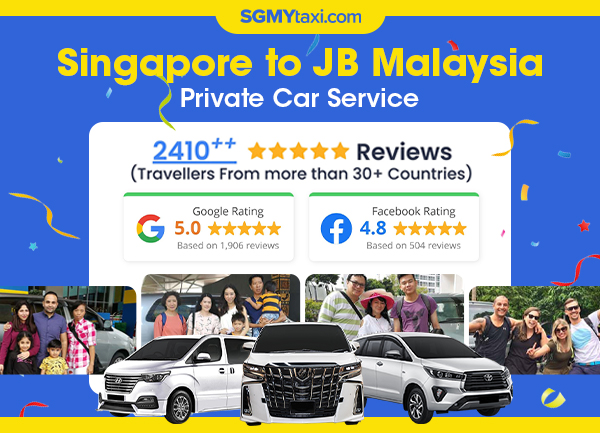 Comfort, convenience and flexible, these are the 3 things that SGMYTAXI emphasizes on to ensure a pleasant ride. They even offer reasonable price range as they'd taken the affordability of Singaporeans into consideration.
Imagine travelling with Hyundai Starex, Toyota Innova or Toyota Alphard. These are the fleets offered by SGMYTAXI. Isn't it luxury and spacious?
The booking process is very simple. Just reserve a booking online and leave all your transportation worry to SGMYTAXI. They will settle everything for you perfectly.
If you have any inquiry regarding the services, kindly WhatsApp them or message through Facebook Messenger. They are dedicated to serve you the best they can.
Also read: Transport From Singapore To Desaru Fruit Farm
3. 11 Things To Do In Zenxin Organic Farm Johor Bahru
1. Farm Tour
Zenxin Organic Farm can be divided into 4 sections mainly Vegetables Farm, Herbs Garden, Happy Farm and Fruits Farm. The best way to have a fun and educational experience in Zenxin Organic Farm is by joining their farm tour.
Also read: Singapore To UK Farm Kluang (Transport Guide & Package)
Their trained park guides will bring you to explore the Herbs Garden, meet their organic Vegetables & Fruits Farm, try out their hand on green-themed workshops, interact with their pets at Happy Farm, let you harvest your favourite herbs and fruits and visit their park farmers to know more about farming stories.
2. Pet Feeding
Pet feeding is truly an amazing experience where you can get in touch with lovely animals! There are many rabbits, ducks and fishes in the farm and everyone is welcomed to feed and be friend with these animals.
3. Fish Catching & Feeding
Bonding time with fish has come! Fish-catching equipment is provided to catch as many fish as you can. Then, just release it again into the pond.
Besides the traditional way of feeding fish, try the milk bottle fish feeding. You will be fascinated to see the fish crowd struggling to suckle the milk bottle beneath the water.
Also read: Sinar Eco Resort Johor
4. Knock For Fun
Ladies would love to join the activity! They can create their own flower prints on a white cloth and bring the imprinted cloth back home.
5. Archery
Challenge your archery skills with friends. This is suitable for all ages but it isn't that easy. It requires high level of concentration and perseverance in order to hit the centre point.
6. Flower Nursery
Let's buy something at flower nursery to beautify our home. This is truly a heaven for those who love gardening as cactus, flowers, organic fertilizers, and gardening tools can be bought at affordable price.
7. Cycling & Bicycle Renting at Zenxin Organic Park
The farm has a seemingly endless cycling track where visitors can cycle around and take in the beautiful nature. Also, they provide well-maintained bicycles for rental.
Also read: 16 Fun Activities To Try In Johor
Opening Hours For Bicycle Rental:
Daily: 8:30am – 6:30pm
Price: RM15 for 2 hours ride. RM5 meal voucher is included.
8. Farm Mart
Enjoy a one-stop organic shopping experience at the Farm Mart where a wide array of fresh fruits and vegetables are sold at affordable prices. All the healthy food products and dry food here are organically-grown without adding any preservatives.
Besides, the mart has been putting the customer first to serve their customers the best they can.
9. The Chef Garden Restaurant
The restaurant prides themselves in offering organic dishes that are healthy yet flavourful. All dishes are prepared by a chef who experts in organic dishes.
Also read: Where To Eat In Kluang: 13 Popular Local Foods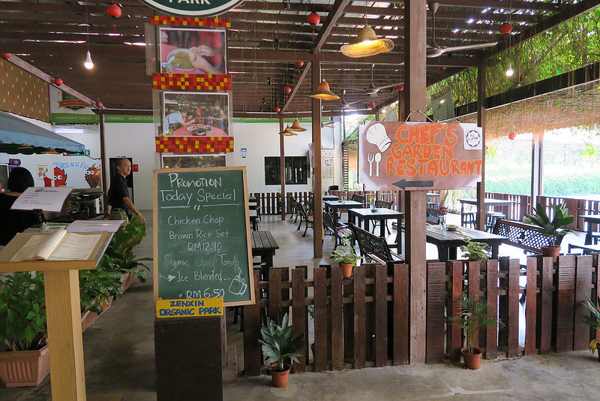 Besides, never ever forget to try the Zenxin Organic Steamboat! Featuring 10 different types of fresh organic vegetables, beehoon and many other scrumptious ingredients, the steamboat even comes with a uniquely-boiled soya bean soup or chicken soup.
After all, you've got all-natural taste in your mouth!
10. Mushroom House
You can visit the Mushroom House at Zenxin Organic Farm where the spores are mixed with rice bran and sawdust for mushrooms to sprout. In order to repel the insects naturally, the farmers plant the lemongrass around the mushroom house.
Besides that, they also purposely left the spider webs in the mushroom house to trap the insect.  For your information, the humidity of the mushroom house is kept at 75% to ensure maximum sporing.
11. EM Mudball Making
Unleash your creativity by making any models that you like using the EM Mudball! "EM" stands for effective microorganism and hence, the models can be used to purify water and remove the deposits of slime and sludge.
4. Zenxin Organic Farm Entrance Fee
Launched in 7th November 2015, the tour presents you a better content filled with an educational and fun experience. They even introduce a whole new organic farming workshop to teach the techniques in growing vegetables.
Ticket Price:
Adults: RM15
Children (4 to 11 years old): RM12
Children (0 to 4 years old): Free of charge
Ticket include of:
Organic Guided Farm Walk
Organic Welcome Drink
Organic Farm Special Workshop
Restaurant Cash Voucher
Farm Activity: Playing with fish

Organic Guided Farm Walk Schedule
There are 3 different guided tours offered at different time. Each tour takes around 30 minutes. Agricultural and organic knowledge is introduced.
Below are the schedules.
Weekdays:
| | |
| --- | --- |
| 9:30am | Organic Vegetables Farm Tour |
| 11:30am | Organic Herbs Garden & Happy Farm Tour |
| 2:30pm | Organic Fruits Farm Tour |
| 4:30pm | Organic Vegetables Farm Tour |

Weekends & Public Holidays:
| | |
| --- | --- |
| 9:30am | Organic Vegetables Farm Tour |
| 11:00am | Organic Fruits Farm Tour |
| 12:30pm | Organic Herbs Garden & Happy Farm Tour |
| 2:00pm | Organic Fruits Farm Tour |
| 3:30pm | Organic Herbs Garden & Happy Farm Tour |
| 5:00pm | Organic Vegetables Farm Tour |
5. Zenxin Organic Farm Tour Package
In all the tour packages, there will be trained guides bringing you around and exploring the magical organic world. However, you can choose to explore yourself by bicycle or by foot!
1. Group Guided Tour
The group guided tour is special for kindergartens, schools, organisations and companies. Advanced booking is required to make arrangements of detailed activities.
Activities offered:
Guided tour
Green-themed workshop
Organic meal is provided
Farm Family Tour Package is one of the group guided tour. It can be divided into 2 packages as below:
Package 1: Budak Kampung (RM30/pax)
Package include of:
Farm Guided Tour – discover organic farming of vegetables, fruits and herbs.
Organic Kitchen DIY Workshop – able to taste the food during the workshop.
Pets Feeding – get into the animal house and close to the little animals!
Milk Bottle Fish Feeding – playing with fish will never have so much fun!
Harvesting Activity – may bring the harvested produces of the day home.
Notes:
The estimated duration of time: Approximately 2.5- 3 hours.
Minimum 5 persons and need to book at least 3 days in advance.
The program above are subjected to change based on the weather and availability on the day.
Package 2: Rasa Sayang (RM30/pax)
Package include of:
Farm Guided Tour – discover organic farming of vegetables, fruits and herbs.
Refreshment Drink
DIY Your own souvenir: Knock For Fun – may bring the souvenir you made home
Herbal Growing Workshop – able to bring back the herbs in the pot
Organic Kitchen DIY Workshop – able to taste the food during the workshop.
Notes:
The estimated duration of time: Approximately 2.5- 3 hours.
Minimum 5 persons and need to book at least 3 days in advance.
The program above is subjected to change based on the weather and availability on the day.
We will prepare the herbs' growing medium without soil for visitors who will go through an outbound custom check.

Contact the marketing department to make a booking.
Tel: +60 19-773 8985 / +60 7-759 5196
Email:  [email protected]
2. Zenxin Organic Park + Kluang Bat Town Day Tour
Package includes of:
Round trip transport from any pick-up point
Lunch
Entrance fees
Tickets for activities
Dinner: Steamboat
In-house guide provided
Schedule:
10:00 am – Arrive at Zenxin Organic Farm and move on to the guided tour.
11:00 am – Activities session:
Pet feeding
Harvesting
EM Mudball Making
Cycling
Archery
Fish Catching
Planting program
DIY curry puff
"Knock for fun"
Growing program
12:30 pm – Lunch at the Chef Garden Restaurant.
2:00 pm – Go to Kluang Bat Town (Places of interest / enjoy local food)
Coffee Factory
Gunung Lambak (Or Mount Lambak)
Tong Huat Confectionary
Kluang Railway Station
4:00 pm – Shopping at Kluang Mall
5:30 pm – Steamboat dinner
7:00 pm – Go back home

Note:
Tour will be cancelled if the number of visitors fails to meet the requirement.
Minimum 8 person for a van, Minimum 30 person for a coach.
The schedules could be changed without notice.
Book the trip at least 2 weeks before the visit.
Date of departure follows the availability of the company.
An additional fee is imposed on Malaysia School Holiday & Malaysia Public Holiday.
6. Zenxin Organic Farm Products  
6.1 Zenxin's Fresh Produced Fruits & Vegetables
Without using chemical fertilizer and pesticides, Zenxin prides themselves in producing the natural, healthy and wholesome organic fruits and vegetables to customers.
Fruits and vegetables that can be bought:
Passion fruit
Dragon fruit
Papaya
Banana
Kang kong
Choy sum
Siew pak choy
Long bean
Kailan
Cucumber
French bean
Pumpkin
Bitter gourd
Eggplant
Lady finger
6.2 Simply Natural Food
To create a healthier and greener world, Zenxin produces organic food products that contain no preservatives and artificial additives. These organic food products include:
Organic noodles
Oats products
Sprouted rice products
Healthy snacks
Organic honey
Organic spices
Energy bar
Organic wine
6.3 Zenxin Organic Tea
Perfect for relaxation, Zenxin develops distinct flavours of tea under a natural condition and environment. Still, they do not use any artificial fertilisers to grow the tea leaves.
Organic teas offered:
Mulberry Leaf Tea
Green Tea
Misai Kucing Tea (Cat Whisker's Tea)
6.4 Zenxin Organic Fertilizers
Zenxin produces home-made organic compost and fertilizers for sale too! The raw materials used are agriculture waste and chicken manure. It can be found inside the organic park and Zenxin Organic Shop.
7. Travel Tips on Zenxin Organic Farm
Mulberry farm has a beautiful field. Remember to take pictures of it.
The typical banana takes around 90 days to mature. However, the farm grows a 40-day banana that only takes 40 days to mature. Find it out!
The farm grows the smallest cucumber in Malaysia – the creeping cucumber. Try it as it has a really juicy taste.
Try to make yourself a loofah body sponge. The famous body scrub is even sold in The Body Shop.
Hard to find a scarecrow in Singapore? Then remember to take pictures with it at the farm.
From the herb garden, you can harvest some herbs and bring it back home.
At the Horti Plant Centre, you can buy seeds, plants and terrariums to grow them at home.
At the restaurant, never forget to taste their unique dragon fruit juice and mulberry juice.
If you still have plenty of time, visit the Kluang Bat Town nearby. Have a short tour and explore more places around Malaysia.
8. Zenxin Organic Farm Map

View Zenxin Organic Farm, Johor in a larger map
Address: Plot 47A & 47B, Batu 9, Jalan Batu Pahat, 86000 Kluang, Johor.
Contact: +607-759 5196 / +6019-773 8985
Fax: +607-759 5193
Email:
[email protected]
Facebook