Many travelers think that places to visit in Malaysia ONLY has beautiful islands, white sandy beaches, Malaysia national parks, and historical sites.
BUT, do you know that Malaysia is also home to some of the world's most amazing theme parks, the first indoor theme park as well as the largest indoor park in the world.
All of these Malaysia water parks and theme parks could make you so much fun and exciting rides to give you enjoy to the fullest.
It's truly your perfect destination vacation with your family, friends, and lover.
Make your short trips from Singapore to Malaysia has an unforgettable journey!
So, have you been to any of Malaysia's theme parks before?
If you answered "YES", how many theme parks have you explored?
And what are the theme parks have you visited before?
Well, today I'm going to share with you the top 17 awesome theme parks in Malaysia.
17 Must-Visit Theme Parks In Malaysia
1. Legoland Malaysia, Johor Bahru
Having opened in Iskandar Puteri (Nusajaya), Johor September 15, 2012, Legoland Malaysia is the first international theme park in the country. It features more than 80 interactive rides, shows, and interesting activities for people of all ages.
Also read: 31 Things To Do In Johor Bahru (JB)
It is built inside the Nusa Cemerlang Industrial Park which is within the Iskandar Malaysia Economic Zone. It hosts hundreds of thousands of tourists every year. It is divided into 4 main parts: Legoland Theme Park, Legoland Water Park, Legoland Sea Life Malaysia and the Legoland Hotel.
You will find Legoland Malaysia in Johor Bahru city. It is situated just off the Coastal highway that parallels the Straits of Johor. It is also accessible from the 32nd Link road from Singapore at the Nusajaya Turn-off.
If you unsure where to stay during Legoland trip, click here for more info: 15 Best Hotels Near Legoland Malaysia
Legoland Malaysia Attractions:
With themed areas with names like the Beginning, LEGO City, Miniland, Imagination, LEGO Technic, LEGO Kingdoms and Land of adventure, there is everything for everyone. Children especially will have the time of their lives in the park.
Legoland Water Park has a water-themed entertainment program where visitors can enjoy over 20 slides.
The Legoland Hotel boasts of 249 themed guestrooms. It also has a world-class swimming pool as well as restaurants and bars. A buffet dinner is planned for guests every day.
There is great shopping at Legoland Malaysia's shopping areas
There are offices as well as serviced apartments right within Legoland.
There are local delicacies as well as international dishes at the Market Restaurant. Only Halal food is served here for those who prefer such dishes.
2. Sunway Lagoon, Kuala Lumpur
Situated in Subang Jaya in the Selangor area in Malaysia, Sunway Lagoon has been awarded numerous accolades as one of the best theme parks in all of Asia.
It has been in operation since 1993 and it has had major improvements and growth since then. You and your family and friends will enjoy the water park and the unforgettable amusement park just next.
What do you expect from one of the world's best theme parks? Nonstop fun for the whole family. The Sunway lagoon never disappoints. Set in an awesome 88 acres of land, the park boasts over 80 attractions to choose from. You will find something you all love there.
Sunway Lagoon Attractions:
The Water Park at Sunway Lagoon is one place to experience before you die. There is a man-made surf beach that reaches up to 8 feet. It is the world's largest. There are also great water rides for all the family to enjoy.
The amusement park features many rides and games for all the family. There is the Extreme Park which features Malaysia's first Bungee jump as well as other games of skill and rides to confront all your phobias. The Scream Park features live actors as well as visual and audio effects to package their fear and scare experience for the not-so-faint-hearted.
The Wildlife Park is a zoo which is both educative as well as interactive. You will find friendly wildlife there and the children will love interacting with them.
Sunway Lagoon is also famous for hosting global events like the MTV World Stage.
Sunway Lagoon Ticket Price:
For International Traveler:
Adult (13 years old and above): RM215
Child (12 years old and below): RM180
Senior Citizen (60 years old and above): RM180
For Malaysian: 
Adult (13 years old and above): RM155
Child (12 years old and below): RM130
Senior Citizen (60 years old and above): RM130
Closed on: Every Tuesday, except on Malaysian School & Public Holidays
Facebook
3. Lost World Tambun, Perak
Ran by the Sunway Group, the Lost World of Tambun is a great getaway from busy city schedules and the demands of school and college. Set in the valleys of Ipoh, a region with a rich tin mining history during the English Colonial Period, the limestone cliffs surrounding the resort will take your breath away.
The Lost World of Tambun is approximately 200 kilometers from Kuala Lumpur heading North. The town of Ipoh is in the Perak Region in the northern part of Peninsular Malaysia.
Also read: 5 Best Theme Parks In Johor
Lost World Tambun Attractions:
Lost World Water Park is a must-visit water park in Malaysia when you are at Ipoh. There are great pools to while your time in; massive slides and you can also enjoy a leisurely trip on floats in one of Asia's longest river of adventure.
Lost World Amusement Park features rides and games of all sorts for people of all ages. The carnival atmosphere will leave you asking for more.
The Zoo is another place to visit. From large animals like tigers to smaller ones that your kids can pet, the zoo will educate and entertain all who visit it.
The Lost World Hotel is another attraction to The lost world of Tambun. With luxury rooms and great service, you will be pampered after all the activities in the resort.
Dotted all over the resort are hot springs that are said to be medicinal in nature. Take the time to relax in the relaxing hot water in between the numerous activities at the theme park.
Lost World Tambun Ticket Price:
Walk-in Rates:
For International Traveler:
Adult (13 years old and above): RM127
Child (12 years old and below): RM120
Senior Citizen (60 years old and above): RM120
For Malaysian:
Adult (13 years old and above): RM95
Child (12 years old and below): RM88
Senior Citizen (60 years old and above): RM88
Purchase Online:
For International Traveler:
Adult (13 years old and above): RM114.30
Child (12 years old and below): RM108
Senior Citizen (60 years old and above): RM108
For Malaysian:
Adult (13 years old and above): RM90
Child (12 years old and below): RM85
Senior Citizen (60 years old and above): RM85
4. Berjaya Times Square Theme Park, Kuala Lumpur
Another theme park in Malaysia's beautiful capital is the theme park famously known as Berjaya Times Square. It boasts the biggest indoor theme park in Malaysia with approximately 130,000 square feet dedicated to fun and amusement.
Also read: How To Go Malaysia From Singapore
It is located in the 5th and 7th floors of the Berjaya Times Square complex. It offers a wide range of rides and games for a fulfilling fun time for the entire family as well as groups and couples.
It is a haven for thrill seekers who go for the exciting rides that pump out their adrenaline in gallons. Situated in the city, accessibility is easy and the opening hours are long.
Berjaya Times Square Theme Park Attractions:
There are plenty of safe rides and games to choose from even for the youngest kids.
Located in the vast mall, there are plenty of places to dine and take refreshments.
Your shopping needs are fully satiated here as retail space is generous and all major brands are well represented here.
Here you will find well stocked souvenir shops as well as vast gift shops for you to take mementoes.
The Fantasy Garden is a must-visit for the family. Here you will enjoy the rides and other amusements as you savour the quality time this theme park provides.
Accommodation is readily available in the good hotels and apartments surrounding the mall.
Berjaya Times Square Theme Park Ticket Price:
For International Traveler:
Adult (13 years old and above): RM75
Child (3-12 years old): RM70
Senior Citizen (55 years old and above): RM32
For Malaysian:
Adult (13 years old and above): RM60
Child (3-12 years old): RM50
Senior Citizen (55 years old and above): RM22
5. Melaka Wonderland
Melaka is a fairly new tourist zone as compared to other more established areas in Malaysia. One of the main attractions here is the Melaka Wonderland. It is Malaysia's newest water theme park.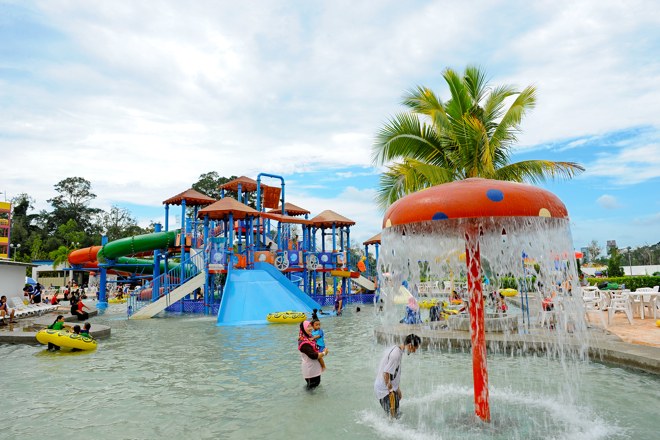 It attracts lots of tourists from Malaysia as well as from abroad. The park is designed to accommodate everyone; kids, teenagers, families and adults as well. They take the safety of visitors very seriously and try hard to make your visit as memorable as possible.
Surrounded by a recreational forest measuring 360 hectares, the theme park features a total of 16 attractions with names like the Tornado Chaser for the thrill seekers, the Adventure Island, 1 Big wave pool and many more.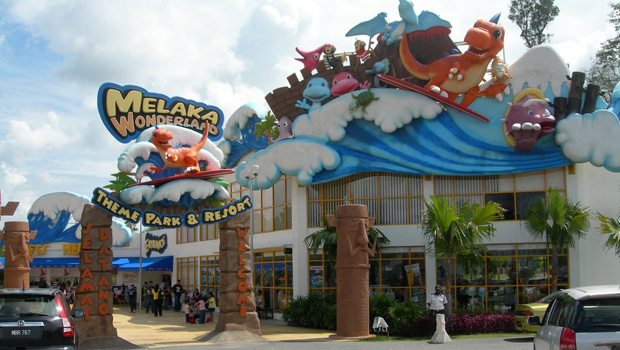 Melaka Wonderland Attractions:
If you love water theme parks, this is one place you need to visit when you are in the region. The slides are fantastic and the water is clean.
The kiddie pools and slides are just as exciting as they are safe. Your kids and teens will remember this theme park for a long time.
The views of the natural forest are breathtaking and calming to the soul.
There are many refreshment points in the park as well as dining areas.
Melaka Wonderland Ticket Price:
For International Traveler:
Adult (13 years old and above): RM50
Child (12 years old and below): RM43.50
Senior Citizen (60 years old and above): RM27
For Malaysian:
Weekday:
Adult (13 years old and above): RM39
Child (12 years old and below): RM32
Senior Citizen (60 years old and above): RM24.50
Weekend:
Adult (13 years old and above): RM43.50
Child (12 years old and below): RM37
Senior Citizen (60 years old and above): RM24.50
6. A' Famosa Melaka
A' Famosa Resort, not far from the Malaysian town of Melaka is one of the country's leading leisure, holiday and golfing destinations. Melaka itself is rich in History and it is the 16th century Portuguese fortifications that gave A'Famosa Resort its name.
Since it was founded in the early nineties, it has developed to be an attraction to millions of tourists from Malaysia, Singapore, and greater Asia and from all over the world as well.
Just off the North-South Highway, A'Famosa Resort is just short of an hour by road from Kuala Lumpur International Airport and an hour and a half from Kuala Lumpur city center.
A'Famosa Melaka Attractions:
The Championship golf course is the main attraction here. Designed by Ross C. Watson, a famed Australian Golf Course Architect, the Golf Course has all the hallmarks of a world-class championship course.
The first theme park on the grounds was the Water world. With its magnificent pools, innovative slides and children's facilities, the Water World has welcomed millions of fun lovers ever since its inception.
The Animal World Safari was completed in 2001. It has plenty of roaming animals as well as others that perform tricks for the visitors.
The Cowboy Town will take you back to the Wild West Era with Indians, outlaws and nightly shows of life back then.
If you want a break from it all, you can visit the historic town of Melaka to feel the history of this part of Malaysia.
A'Famosa Melaka Ticket Price:
Water World:
Adult: Price from RM45
Child / Senior Citizen / OKU: Price from RM38
Safari Wonderland:
Adults: Price from RM50
Child / Senior Citizen / OKU: Price from RM40
You may find more information on the package prices here.
7. Desaru Coast Water Park
THRILLING is the perfect word to describe "Adventure Waterpark Desaru Coast" which has one of the largest wave pools in the world at their Tidal Wave Beach!
It's one of the must-visit water park in Malaysia.
Desaru Coast Water Park Highlights:
For adventure seekers, be ready to be blown away by the Kraken's Revenge 360-degree twisted roller coaster ride plunging down from as high as 30 meters!
For adults and families with older children, be ready to scream for joy through their four famous giant water slides (Super Twister, Riptide, Tempest, and Wild Whirl).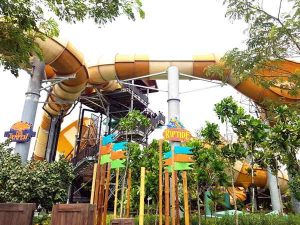 This Desaru Waterpark is particularly famous among family with young children because of their HUGE children water play area (Kids Ahoy).
Tips & Reminders:
Do bring along your towels
Lockers available for rent
Nearest hotel: Hard Rock Hotel Desaru Coast & The Westin Desaru Resort
Desaru Coast Waterpark Ticket Price:
Malaysian
Adult (12 – 59 years old): RM95
Child (3 – 11 years old): RM95
Senior Citizen (60 & above): RM95
Non-Malaysian
Adult (12 – 59 years old): RM150
Child (3 – 11 years old): RM150
Senior Citizen (60 & above): RM150
Daily: 10:00am – 6:00pm
8. Bukit Gambang Water Park, Pahang
The Bukit Gambang Water Park is located in the resort city of the same name. Set in a massive 727 acres of land, the resort is a major attraction of tourists from Malaysia and the world.
There are 3 world-class hotels right in the resort for your accommodation purposes. The resort city is amidst many natural and cultural attractions as well.
The East Coast Expressway will take you to the resort which you will find just 35 km from the beach city of Kuantan. It is 218 km from Kuala Lumpur by road. It is 40 minutes by air from Kuala Lumpur International Airport and 65 minutes from Singapore's Changi Airport.
Bukit Gambang Theme Park Attractions:
Enjoy the Water Park at the resort to the fullest. The slides will keep everyone occupied while the kids will love frolicking in the pools. Take a floater down the resort's river as well. You can even rent a wooden cabana to relax in at the water park.
The Safari Park is not a place you want to miss. It is the largest zoo in Malaysia with free roaming animals which include Malaysia's rare white lions.
World class accommodation is offered at the resort.
Bukit Gambang Theme Park Ticket Price:
Water Park
Adult (13 years old & above): RM28
Child (3-12 years old): RM 18
Child below 90cm: free
Thursday & Friday: 11:00am – 6:00pm
Saturday, Sunday, School & Public Holidays: 10:00am – 6:00pm
Closed on: Monday, Tuesday & Wednesday, except Malaysia School & Public Holidays
9. Bangi Wonderland Theme Park
Splish and splash! It is all about water play FUN when it comes to this affordable Malaysia water park in Bangi, Selangor.
Bangi Wonderland Theme Park Highlights:
Children can go crazy at this pirate-themed multi-level water playground at Kids Adventure where they can enjoy various super fun slides!
For more adrenaline pump, be sure to try out these amazing water slides:
Body Slide and Insane Racer (min. height 110cm)
The Fall (min. height 130cm)
Boomeriang and Wonder Loop (min. height 150cm)
Green Pearl (min. height 160cm)
After all the exciting slide adventures, you can relax at their Wave Pool or ride in a tube along Meander River.
Tips & Reminders:
Bring along towels
Lockers and tubes available for rent
Bangi Wonderland Theme Park Ticket Price:
Malaysian
Adult (130cm above): RM55
Child (90cm to 130cm): RM45
Senior Citizen (60 years old above): RM28
OKU Adult (130cm above): RM28
OKU Child (90 cm to 130cm): RM22
Child (below 90cm): Free
Non-Malaysian
Adult (130cm above): RM66
Child (90cm to 130cm): RM56
Senior Citizen (60 years old above): RM33
OKU Adult (130cm above): RM33
OKU Child (90 cm to 130cm): RM28
Child (below 90cm): Free
10. I-City Theme Park, Selangor
Famous for its digital lights, I-City Theme Park is packed with various attractions that are fun, thrilling and non-stop fun! After sundown, the park is mostly frequented by visitors who come to view its colourful display of LED lights which tend to be the highlight of the park.
It is only about an hour's drive from the city of Kuala Lumpur and you wouldn't be able to miss the theme park because the grand Ferris wheel is clearly visible when you drive on the Federal Highway.
I-City Theme Park Attractions:
5D cinema is where you enjoy a cinematic experience by not only watching the movie but also to feel you're inside the movie. Get your heart thumping as you ride on a wild adventure with every screams and vibration.
Go wow when you walk through WOW street with an array of shops offering selections of food and beverages.
Feel the goosebumps as you walk inside a 15,000 sq feet haunted house full of scary surprises, creepy entertainment and get spook at every corner combined with sound and visual effects.
Get up close and party with some of the famous icons made out of wax and admire their uncanny resemblance at the Red Carpet.
Playing with snow is almost impossible but not in I-City Snowalk, at -5 degrees filled with thick snow and 100 tonnes of ice sculptures. This is an arctic experience you wouldn't want to miss.
For the young and old, Itsy Bitsy Fun World is an attraction for some family bonding time.
Have a splashing good time at the WaterWorld by getting on the popular rides like Tornado Ride, Spiral and Rainbow Slides, River Adventure, Giant Jacuzzi and many more.
I-City Theme Park Ticket Price:
Category
Malaysian (MyKad Holder)
International
Adult
Child
Adult
Child
WaterWorld
RM 38
RM 33
RM 48
RM 43
Snowalk
RM 63
RM 53
RM 73
RM 63
All Day Happyness Pass
RM 148
RM 128
RM 173
RM 153
11. District 21 Indoor Adventure Theme Park, Putrajaya
Get your adrenaline pumping and your muscles flexing for this indoor apocalypse themed adventure park fitted in a 70,000 sq feet of air-conditioned atrium located inside 101 Mall, Putrajaya.
Jump, slide, climb, ride and even fly with District 21 in their all-day fun activities for the entire family. This venue is also an ideal spot for birthday celebration, school visitations, and corporate events that require full participation and engagement of everyone.
District 21 Indoor Adventure Theme Park Attractions:
You've seen it on TV but now is your chance to test your stamina, strength and agility in the first ever Indoor Ninja Warrior Course! Complete the obstacles to claim victory.
Challenge your strength and problem-solving skills in the Power Station as you climb the wall as high as possible.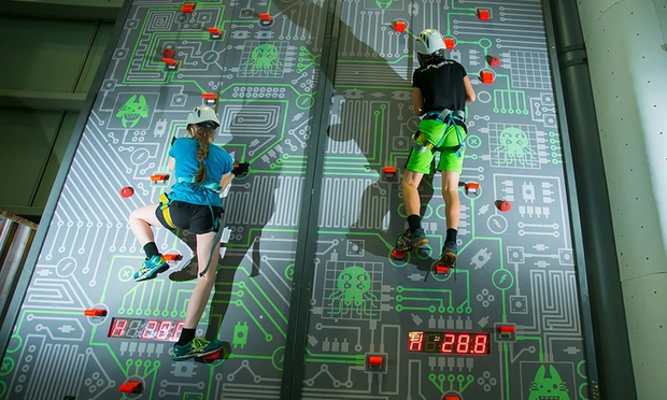 Go Pedal is where you pedal to the metal as you race across the 57m track on the human-powered cart.
Mixing roller coaster and zip lining experience together to get First World's Indoor Roller Glider by gliding along the pipes in curves.
Bounce around, flip and do a somersault (if you can) on the Launch Pad that comes with a large trampoline field.
Celebrate your birthday with amazing deals from District 21 birthday package or ice skating birthday package.
District 21 Indoor Adventure Theme Park Ticket Price:
Monday to Friday: RM64
Saturday, Sunday, School Holidays & Public Holidays: RM80
Non-Active Pass: RM10
12. Escape Penang
Want to get away from the bustling mundane city and into the realm of adventure? Let's ESCAPE (pun intended) to the great outdoors filled with sunshine, mud and get closer to nature at Escape Penang.
Toss your electronic device and dive into various exciting and challenging activities that promote wellness, engagement of human touch while exploring the environment.
The purpose of this theme park is to reminisce the good old days' experience in the sun. Plus point is that their safety procedures are second to none, thus your safety is prioritized.
Teluk Bahang Escape Theme Park Attractions:
Be bold and take a leap off the ledge, learn to balance yourself, zip flying down the rope, swing around like a monkey or soar into the sky on all the gratifying rides and activities.
Splash, discover, slide and swim in the water park. Float around in the lazy pool or jump onto a dare-devil slide to create your own stunts.
Scurry around the burrow in a hide-and-seek adventure with your family at A-Maze and Foxy Burrow.
There are also smaller activities for little kids to enjoy by going through mini obstacles and challenges or experience mining by searching for hidden treasures.
Feel the adrenaline rush by racing downhill with your friends or family on a tubby tub.
Teluk Bahang Escape Theme Park Ticket Price:
1-Day
Adult (13 – 60 years old): RM167
Junior (4-12 years): RM111
Child (0-3 years): Free
Senior Citizen 60 years old above): Free if accompanied by paying guest
Combo ticket: you can book your combo ticket here
13. Skytrex Adventure, Selangor
Don't just stuck at home, go outside of your house, breathe some fresh air, get your muscle working and get closer to nature! These are the purpose of Skytrex Adventure of providing educational fun in an eco-friendly environment that guarantees hours of fun.
There are 3 circuits that you can choose from: River Thrill, Rapid Extreme & Skycamp 2D1N Overnight Camping that comes with various challenges along the way that you should complete it. However, there are exit points for those unable to complete the challenge or require immediate evacuation.
Skytrex Adventure Attractions:
River Thrill is for little ones and elderly who want to sample the excitement of zip lining, simple canopy walk and less frightening than the other two circuits. Also, there are courses for children that are nearer to the ground.
Step up your game with Big Thrill to face off 23 challenges that may bring out your fear, to name a few such as Wobble Trouble, Happy Hopper and Wild Revenge.
Up for the big boys? Then go head strong to try Rapid Extreme Challenges listed out for you to complete them at a minimum of 2 hours. Go for the Big Thrill first if is your first time.
Ideal venue for birthday party and corporate events for telematch and team-building.
Enjoy other facilities like skydeck, skypad, BBQ pit or Agrolodge for the whole day at a minimal fee.
Skytrex Adventure Ticket Price:
River Thrill: RM55
Rapid Extreme: RM65
14. Kidzania, Kuala Lumpur 
School holiday is here and you have no idea where to bring your children? Kidzania is the ideal place for the young minds to explore, engage, interact, experience real-life occupations and get to learn hands-on activities in a friendly environment.
At the end of the day, your child will develop incredible skills, learn to be independent, understand the value of teamwork and most of all inspire a child's mind to think, create and expand their knowledge.
Kidzania Attractions:
Offers 100 activities for young children to learn real-life skills and perform real-life jobs in a simulated environment.
Get to choose the role or occupation that you like and perform them as real as possible.
The kids don't get all the fun as adults can join and interact with their children through the various activities and thus encouraging them.
Kidzania comes to you by attending your school! The great opportunity for all students around Malaysia to enjoy and learn the out-of-classroom activity.
Why not blow your candles in one of the coolest places that come with 3 different birthday packages.
Bring out your inner child to enjoy the little things or utilize the space for corporate events.
Kidzania Ticket Price:
| | |
| --- | --- |
| Age | Ticket Price |
| Baby: 0 – 1 yrs | Free |
| Toddler: 2 – 3 yrs | RM 36 – 48 |
| Child: 4 – 17 yrs | RM 70 – 100 |
| Adult: 18 – 60 yrs | RM 43 – 61 |
| Senior: 61 – 100+ yrs | Free |
15. Austin Heights Adventure Park, Johor 
Austin Height Adventure Park (also called Mount Austin Water Park) offers great selection of adventurous attractions that will keep you and your family endless hours of fun. Although the water park is the main highlight of the overall park but the dry park is equally exciting!
Located in Mount Austin with its visible slides, you'll get to enjoy some family quality time. The never-ending fun awaits you!
Austin Heights Adventure Park Attractions:
Enjoy sliding down the slope in excitement by zip lining with a cable mounted on a slope and a pulley suspended on it.
Crawl through the tunnel that is high above the ground. This gives a thrilling experience for users by bringing out the fear of height but don't be afraid as there is a lifeline attached to you.
 Test your balancing skills by stepping on each rope carefully and balance yourself well. These are the few attractions in rope balancing; Rope Trapeze and series of U-shaped hanging ropes.
Cross the nets hanging in the air at the Pirate Crossing by climbing over step-by-step with your hands and feet.
Jump around and practice your slam dunk and dodgeball moves in Jump Street- a large trampoline park where everyone can jump as high as they want.
Have you ever watch Tokyo Drift and want to learn the moves?  A fast go-kart called M7 Drift is at 'Drift in Austin' that allows you to drift as much as you want.
Ice-skating is almost impossible in a tropical country so why not try wax skating that is similar to ice-skating. Enjoy the thrills of gliding and skating around the rink while learning the twist and turns of a figure skater.
Austin Heights Adventure Park Ticket Price:
Water Park/ Theme Park:
Adult:RM88
Child: RM78
16. Splash Out Langkawi
Splash Out is first Malaysia water park located at Kuah town, Langkawi. It features 12 water attractions for never ending fun for families with their kids. There is no shortage of wonderful experiences for kids, teens and their parents as well.
Your family will be thoroughly amused by all that goes on there. You will have the opportunity to give your family all the fun they would ever want in a day as well as relax and unwind in the set areas for refreshments.

Splash Out Langkawi Attractions:
Wild Water
Sprinkle Island
River of Life
Ragin' Racers
Poseidon's Revenge
Splash-Tacular
Perfect Storm
Shipwreck Falls
Big Splash Kingdom
Rainbow Rider
Splash-Python
Splash-Twister
Splash Out Langkawi Ticket Price:
Adult (13 to 60 years old)r: RM50/pax
Child (90cm to 12 years old): RM35/pax
Senior Citizen (Above 60 years old): RM35/pax
17. Genting Skyworlds Theme Park 
The former Genting Highlands Theme Park is getting a new makeover and finally reopen on year 2022.
Genting Skyworlds Theme Park can be seen by visitors who has visited Genting Highlands. Visitors can also catch a full glimpse from the top view while riding the Awana Skyway Gondola Cable Car.
Fancy going to a world-class theme park 2,000 metres up in the mountains together with top-notch accommodations and fun-filled attractions. This is definitely a theme park not to be missed!
Genting Skyworlds Theme Park Ticket Price:
Adult (Above 110cm): RM151/pax
Child (90cm to 110cm): RM128/pax
Senior Citizen (Above 60 years old): RM128/pax
How To Get To Theme Parks In Malaysia From Singapore
So, how do you get to the theme park in Malaysia from Singapore with affordable prices, comfortable and nothing to fuss-over?
Why not choose SGMYTAXI?
SGMYTAXI can help you plan your road trip to any of these theme parks in Malaysia from Singapore. Visiting these Malaysian theme parks by road is the preferred mode by most tourists who believe in enjoying the journey as well as the destination.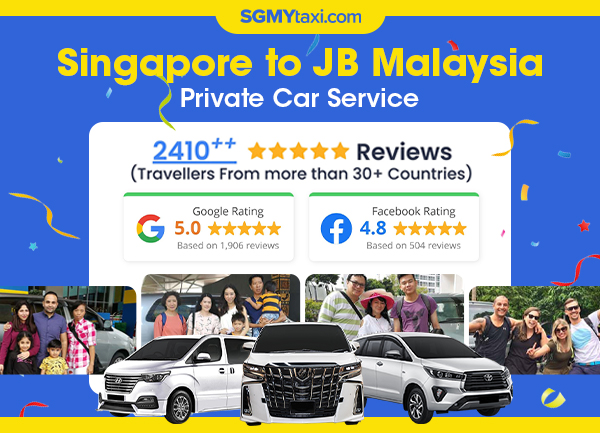 If you want an unforgettable experience, their 7-10 seater private taxis are spacious and will comfortably accommodate a family or a group of friends together with all your luggage. You will not go wrong with this choice of transport.
It is highly recommended to ride with them because they offer private car to Malaysia from Singapore at your own preferred time! Plus, they have reliable drivers who are trained in terms of driving skills and ensure you arrive safe and sound.
What are you waiting for?!  Contact them today!