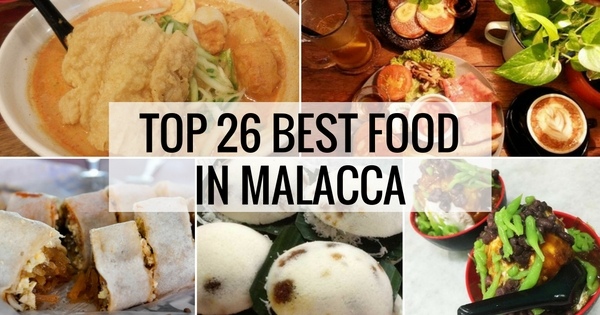 Top 26 Best Food in Malacca
"Malacca is a food heaven!" is what you'll most likely hear when you enquire about the small and historical city.
On top of being an ideal destination filled with wonders of ancient buildings and colonial structures, Malacca is also a land of gastronomical delight.
Tantalize your taste buds with all these mouthwatering selections of food; spicy, sweet, tangy and sour local specialties all over the streets of Malacca.
Most of the food found in Malacca can be categorized into four different groups as below: click and check it out!!
So let's hunt down these 26 yummy food hideouts that will sure-fire way to satisfy your appetite!
Nyonya Cuisine
1. Donald and Lily's
This Nyonya cuisine restaurant was established in 1980 and it was published in New York Times magazine! It's a huge compliment for a restaurant selling local delicacies and the reason behind is simply because of the delicious traditional Nyonya cuisine!
That is why there are always a crowd of people and endless queues – It is in fact one of the most popular restaurants in Malacca.
Here are some of the most popular dishes:
Laksa (Curry with coconut milk, spices and rich fragrance);
Taukwa Rojak (rojak with pineapples, cucumber, tofu, fish-ball mix and their sweet & spicy sauce);
Curry Chicken Rice.
Price range and dining options
Quite affordable prices vary between RM4 to RM25. You can eat breakfast, brunch or lunch there.
2. Nyonya Makko Restaurant
This restaurant with local cuisine is quite famous among big companies and families with children. Everybody can often find something unique for themselves in this crowded and popular place. It is one of the restaurant that provides the best nyonya food in Malacca.
Also read: 15 Things To Do in Port Dickson (Ultimate Guide)
Some food you'll want to try:
Tenggiri fish in assam pedas;
Sotong chili garam;
Beef rendang;
Chendol kacang dessert;
Ayam Pongteh (highly recommended!)
Price range and dining options
The restaurant serves both lunch and dinner. If you plan a big event be sure to make a reservation. It's really cheap to eat there, you can eat a lot, spending only RM5 to RM10.
3. Nancy's Kitchen
This place has been the best place to eat in Jonker Walk and it's easy to understand why. Along with nice, friendly atmosphere you'll have the best local food and good service.
Also read: How To Get To Melaka From Singapore
People recommend to try there:
Sek bak (braised pork);
Sambal sotong petai (sambal squid with bitter beans);
Poppiah;
Nyonya Laksa;
Chendol;
Kedongdong drink.
Don't forget to eat these delicious dishes along with white rice for a perfect match of taste.
Price range and dining options
As mentioned in most of the tourists' comments, this place is not so children friendly and it will not be easy to go to Nancy's Kitchen with a big company. But if it's only a couple or a small family don't miss your chance to taste original and exotic food of local cuisine there! The place is good for breakfast and brunch, lunch, dinner and spending a good time late at night.
4. Amy Heritage Nyonya Cuisine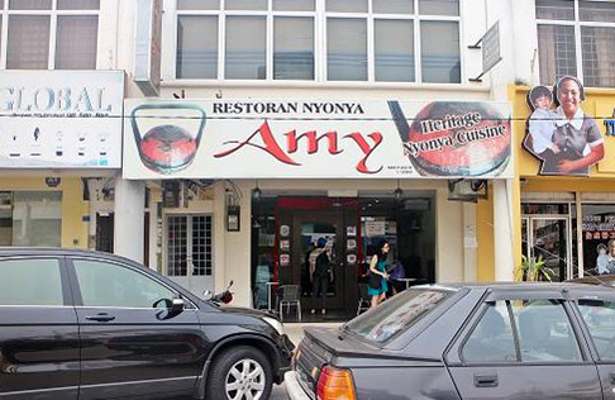 This restaurant of local cuisine is famous for two reasons: friendly ambience and tasty, homely prepared food with rich taste and fragrance. But be careful – almost all food there is sweet. If you are ready for such exotic dishes we recommend you to order first:
Otak-otak;
Sago gula melaka;
Pai tee cup;
Price range and dining options
You may have brunch or lunch there, be sure to make a reservation on weekends and holidays.
5. Jonker 88
The small but one of the most visited places in Malaysia is not just a cafe – it's a small museum with a great atmosphere, a great variety of food, affordable prices and good service.
Also read: Top 27 Things To Do In Malacca (Read Travel To Malacca)
The menu offers variety of Nyonya food and people advise to try everything there. But the most notable dishes are:
Chendol;
Gula Melaka;
Nyonya Laksa.
Price range and dining options
This restaurant is highly recommended for families with children or cheap dining on a budget (average prices are RM5 to RM10). Also, here you can always try the great dishes of local Malacca cuisine. Jonker 88 is good for breakfast and brunch, lunch, late night and having desserts.
6. Kedai Kopi Juat Lye
Since you are here in the city of baba and nyonya, let's try some Nyonya Laksa. Of all the Nyonya Laksa in Malacca, Juat Lye Restaurant homemade Nyonya Laksa is a true gem not to be missed. The ingredient in this laksa is simple and not fancy but the rich and creamy broth is what makes it stands out.
Don't be surprised by red chili oil covered on the surface, it is to lock and contain the flavor, same theory as the layer of oil in Japanese ramen.
Price range
RM4.00 to RM5.00
7. Cottage Spices Restaurant
The Cottage Spices Restaurant has limited space as it can only accommodate about 8 big tables. The deciduous smell of Nyonya food can boost your appetite as you entered the store.
The delicious cuisines served are
Lemak Sotong;
Cincalok Omelette;
Asam Pedas Fish;
Kankung Belacan.
Fish douse in Asam Pedas make up a perfect dish. Lemak Sotong is not too spicy and let you crave for more.
Also read: 13 Best Food To Eat In Jonker Street
Sambal sotong with petai aka spicy chili squids with stink beans tasted fresh and extremely spicy. The otak-otak is an exotic dish with heavy scent of lemongrass. In short, Cottage Spices Restaurant is a great place for Nyonya dishes.
Price range:
RM10 – RM25
You May Also Like:
Café
1. Geographer Café
Famous Geographer Cafe in Melaka is a great place for a meal, cold drinks or just chilling out. Very helpful stuff, nice music, and friendly atmosphere… no wonder this cafe won a certificate of excellence twice from the well-known website of TripAdvisor.
People are especially satisfied with ginger beer and pasta dish, but advise to try everything you found here. All meals will be great for sure!
Price range and dining options
Prices vary from RM4 to RM20. The most expensive meal price: RM15, average meal price: RM12.  Asian and Malaysian cuisines are available, also vegetarian dishes and a bar.
2. The Daily Fix Café
It is one of the popular best cafe in Jonker Street, Malacca. This cafe is famous for their coffee and delicious desserts. Among the long list of menu you may look for:
pandan pancakes with gula melaka;
tiramisu;
oreo cheesecake;
ham pie.
Some of the popular drinks are green apple juice, watermelon juice and ice cappuccino. But the most appreciated thing here is a great, lazy atmosphere where you can enjoy by just sitting and staring at the beautiful streets of Melaka.
Menu of the Daily Fix includes
pancakes;
sandwiches;
espresso;
local coffee;
fruit juice;
beers.
Price range and dining options
Quite affordable for Melaka people and tourists.
3. Hard Rock Café Malacca
This fancy place of classical American food offers a lot of western food, drink and excellent music! If you'll be lucky to visit this famous place to eat in Jonker Street, at the heart of UNESCO-World Heritage Zone, try these dishes:
chicken and chips with a very tasty smoky flavored sauce;
chicken Caesar salad;
nachos;
steak.
Also read: 19 Best Food In Jonker Street Night Market
Why is the Hard Rock Cafe worth visiting?
The spectacular view.
Great rock music and life concerts.
Helpful staff.
The best west cuisine in Malacca.
The place offers diverse dining, nightlife and cultural offerings.
Spacious (9,000-square-foot) place for dancing and having fun.
Considering all these, it is no wonder, that the Hard Rock Cafe became a favorite place among locals and a popular destination for tourist.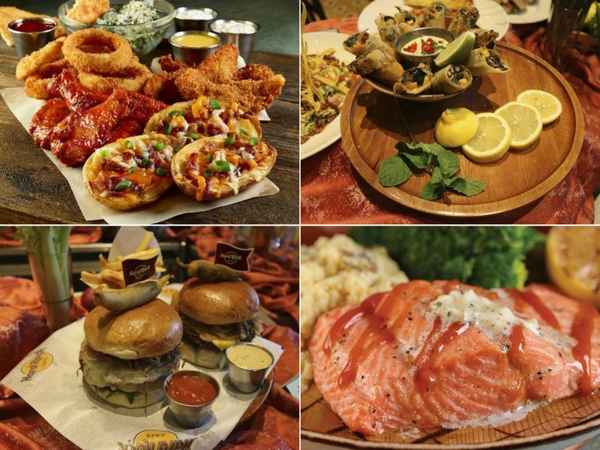 Price range and dining options
This Cafe of International cuisine offers breakfast and brunch or just chill out late at night. It's better to make a reservation.
4. The Baboon House
It's not just a cafe with a funny name. it's a small art-gallery and nice place for cozy beginning of the day. The Baboon House considered to be the best place in Melaka to eat burgers and pork bacon. As American tourists say, sometimes local burgers in The Baboon House are even better than in the USA.
Price range and dining options
This place is really cheap and delicious. The most expensive meal costs MYR10. The Baboon House is a great place to have breakfast and brunch.
You May Also Like:
Stall
1. Putu Piring Tengkera
It's not all about luxury restaurants – sometimes you just need quick, tasty and simple snack during the day. One of the stalls in Malacca can offer you this and even more. With such stalls you will forget about gourmet restaurants for sure!
The small stall belongs to a married couple, who manage to do all the work by themselves. Just remember, that the best time to enjoy the putu piring is while they are still warm and fluffy. But you couldn't wait to eat them anyway.
Price range and dining options
If you are in a hurry, you can always have something like their humble rice cake or other two "putus" (putu mayam and putu buluh). The small but delicious cake with young coconut and on a banana leaf will help to forget about hunger and good mood. Bonus: everything is cheap and is done in a few minutes!
Besides three fresh "putus" you can always buy pre-packed Gula Melaka and Nyonya Curry Powder there.
2. Klebang Coconut Shake
This stall is considered to be the best place to get a fresh, yummy coconut shake like you never taste before. Delicious and cheap- a big invitation for locals and tourists.
Price range and dining options
The famous Coconut Milk Shake topped with vanilla ice-cream costs only MYR2. Also, you can try their nasi lemak, popiah and curry puff here to munch while having the coconut shake.
3. Popiah Stall @ Jalan Bunga Raya
Actually, there are two stalls there, which can make every fan of Chinese cuisine happy. The best and always fresh Chinese food in Malacca is right here – on small stalls right in front of Madam's King Emporium.
Don't forget to buy and try:
zhu you zha popiah
BBQ sotong;
sotong and kangkung;
fish balls; fried bean curd skin;
prawn crackers;
Price range and dining options
Popiah food, Chinese cuisine. Quite affordable prices, ranging from MYR3.00 to MYR3.50 per roll.
4. Cockle stalls in Jalan Bunga Raya @ Tong Bee's stall (longkang siham)
Eating at the cockles stalls in Jalan Bunga Raya is an experience you won't forget. Just imagine you're seated in a small stool on the steer and eat still bloody cockles, motorcycles constantly ride past behind you and a lot of people are so close, that they are just inches away from knocking you off.
Sounds like a small adventure, right? But it's just a quick way to eat while walking on a back alley of Jalan Bunga Raya.
Why this experience is worth to try?
Strange, but all they have in order to cook this tasty food are two pots of boiling water, a few strainers and a chopping board. While waiting for your food, you can try one of the different sauces or eat seashells. It's a little bit exotic way to eat for tourists and a great way to have quick and delicious lunch in Malacca.
What can you eat there?
Among seashells there is a star dish like Cuttlefish with Kangkung (can be ordered either with boiled or grilled cuttlefish) and, of course, the fat and bloody cockles.
Price range and dining options
It's actually cheap to eat like this and you can enjoy a lot of different seafood there. Each plate of cockles/lala/snail costs flat MYR1.50.
5. Aunty Koh Cendol
Before you get there, be aware that you are close to try the riches and creamiest cendol ever, and after this other cendol will be just tasteless.
If you are not afraid of such perspective go and find this small stall in Melaka you will be totally in love with. It's true, that it's hard to find this place, cause the owner, aunty Koh has a stall right behind her house, which is situated far from the town. But it will be a picturesque and all-in-all pleasant drive.
Cendol Bukit Ramai is hidden in a small kampung called Bukit Rambai and located far away from the town. It seems that aunty Koh doing this small business only out of interest. She opens her small shop during the weekend for a short period of time in the afternoon. So consider yourself lucky, if you come in time and taste this best cendol in Malacca.
Price range and dining options
Besides rich Chendol with coconut milk you can also buy Tai Bak there, tasty Nyonya dessert. Everything is fresh, super delicious and homemade.
6. Baba Charlie Lee (nyonya kueh)
Make your visit worthwhile by heading to this small out-of-town shop selling cheap and authentic Nynoya kueh. A small cake shop in a traditional wooden house is very popular among sweet-tooth and here they sell a huge variety of cakes and biscuits.
The Nyonya kueh are conveniently packed in plastic containers to bring home as snack or gifts. This small place is specialized particularly in:
All kinds of Nyonya Cake;
Nyonya Popiah;
Cater for buffet party.
You May Also Like:
Local & Asian
1. Ban Lee Siang Satay Celup
Ban Lee Siang is one of the oldest original satay celup restaurants in Melaka. The key of success here is hot peanut sauce everybody fall in love with. If you'd visit this place, don't miss the special dish – Dip Satay (Satay Celup).
Other tempting dishes in their menu:
Restoran Ban Lee Siang Satay Celup;
Blood Cockles;
Century Egg;
Fish Ball.
Price range and dining options
This place of Chinese cuisine offers you a lot of originally cooked dishes at affordable prices.
2. Tengkera Duck Noodle Restaurant
The medium stall offers you famous Malacca-style Duck Noodles, mouth-watering local food you will be lucky to try. You can have Duck Noodles like in soup or dry version. In Tengkera Duck Noodle Restaurant you'll find:
friendly ambiance;
good service;
original plating;
famous and tasty local dish – Duck Noodles.
3. Sun May Hiong Satay House
This place is also famous for their original satay sauce. Unlike every other place, here the satay sauce is made of pineapples. The taste of it is very original and special, like the whole place by itself. A lot of people come here to try unusual pork or liver satay with great pineapple sauce. It's delicious!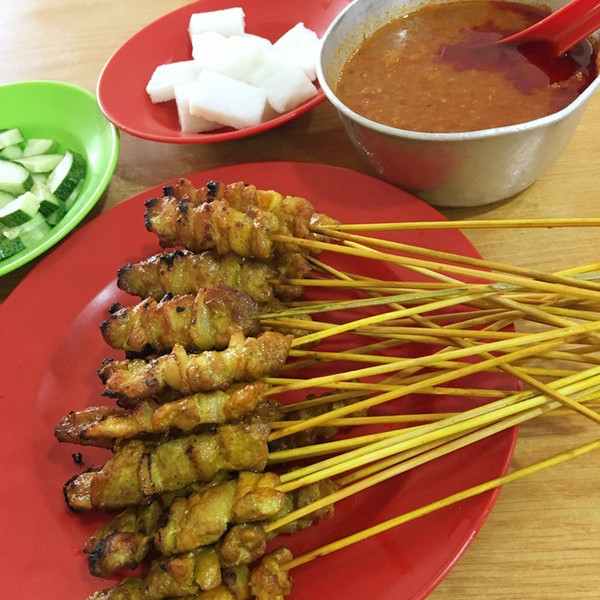 Price range and dining options
You can have brunch or lunch here, but be aware, that credit cards are not accepted.
4. Restoran Tong Sheng
Perfectly cooked seafood, reasonable prices and friendly atmosphere – no wonder, that there are always queues in this place. If you enjoy fresh seafood in Malacca and want to spend a good time, just visit Tong Sheng and be sure you ordered one of these notable dishes:
Cheese bee hoon that everyone raved about;
Prawns;
Salt baked crabs.
5. Abdul Rahim Jenu's Mee Kahwin
Here's another Malacca specialty not to be missed! It is a must-try if you have not heard of this infamous dish called "Mee Kahwin" at Restoran Ming Huat. "Mee Kahwin" means married noodles in English. As it's name suggest, this noodle is a combination of mee rebus and rojak. Here's a sneak peak from Chef Debbie Teoh of what to expect.
"It looks like a Malay coffee shop from the outside given the number of Malay customers but it's actually Chinese-owned and serves halal food. In Malacca, the muhibbah ('goodwill') spirit is well and alive; different races gather in harmony and enjoy their food together."
Can you imagine the deliciousness within this perfect combination? Remember to include this in your food list!
Price
Mee Kahwin: RM4.00
6. Heng Hong Tin Kee Restaurant
Ditch the ordinary and lets go for something unique! Hainanese Mutton Herb Soup from Heng Hong Tin Kee Restaurant will truly amaze you food lovers.
The thick and aromatic soup is boiled for hours until the mutton is tender. This soup is a perfect mixture of the taste of mutton and herbs, making it flavorful yet not overboard. Try it once and you will fall in love with this.
This 60 years old restaurant is specialized in Hainanese cuisine and they serve a variety of Hainan food other than their signature mutton herb soup.  Definitely a go for this authentic taste of Hainan cuisine!
Price
RM35 (smallest portion for 2 pax)
7. Pak Putra Tandoori & Naan Restaurant
Ok, you might be thinking what's so special about the tandoori chicken and naan here. It's different! It's been claimed to be the best in Malacca and even some said the best in Malaysia.
In this restaurant, you will find juicy succulent tandoori chicken paired with fresh fluffy naan and not to forget their mint chutney, absolutely lip-smacking! Do try their cheese naan especially for cheese lover!
Price
Tandoori Chicken & Naan set –RM 9.00
Triple Cheese Naan –RM 5.00
8. East and West Rendezvous
Keep your eyes wide in the busy street of Jonker, as you might find the famous Nyonya rice dumpling (Nyonya Zhang) shop at East and West Rendezvous. Nyonya rice dumpling sold here is known to be the best Nyonya rice dumpling in Malacca!
The natural blue coloring sourced from blue pea flower makes it looks appetizing, tasty fillings wrapped with glutinous rice that is cooked to perfection, no wonder these dumplings are selling like hot cakes! You wouldn't want to miss this stylish yet delicious Nyonya rice dumpling for sure!
Also, their Chendol here is as 'hot' as their rice dumpling. It's another 'must-try' here!
Price
Nyonya Rice Dumpling – MYR5.00 per piece
Chendol – MYR3.00
Nyonya kuih – MYR1.00 each
9. Hoe Kee Chicken Rice
Hoe Kee Chicken Rice is one of the famous Malacca chicken rice ball with its tantalizing chicken rice ball and other side dishes since 1962. The side dishes that you mustn't miss are:
Asam fish,
Fried cabbage
Black bean soup
The place is always packed with customers, so it is best to come early or just queue in line. They close quite early either in the evening or when every thing is sold out.
Price
Riceball: RM0.30 per rice ball
Quarter Chicken: RM15
You May Also Like:
How To Get To These Malacca Restaurants From Singapore
1. Driving will be the best way to discover the hidden gems in Malacca. You may use waze or sometimes is best to ask the locals too as some of these places are hard to find.
2. Malacca Local Taxi will be pricey as most of the Taxi driver refuse to use the rates meter but you can try to haggle the price with them.
3.  Private Car  offers 7 seaters MPV car services from your door step, the best option for family/group trip. You can also book a MPV car for a one day trip, as they're providing flexibility transfer service that will satisfy your special travel request.