Any travel-savvy folk keen on exploring Malaysia will have Malacca in their bucket list!
For a small city, there's surprisingly a lot of things to do in Malacca.
27 Best & Cheap Things To Do In Malacca
We've got quite a long list to get through so without further ado:
Here's 27 things to do in Malacca – the new, old and everything else that's worth checking out!
If you plan right, it's possible to do a Malacca one day trip too!
New Things To Do In Malacca
Aside from the usual touristy things, here are some other things to do in Malacca that are a little more unorthodox:
1. Immerse Yourself In Culture At Encore Malacca
If the outside exterior of the building doesn't impress you, the theatrical shows here will!
Encore Malacca has daily 70-minute shows that will delight your visual and auditory senses!
Their stories take inspiration from local heritage, diversity and culture told through intricate dances by their 200 local performers that combine traditional and contemporary moves.
Walk away with a greater appreciation for performing arts and Malaysian culture!
Tip: They have family packages for sale on their website!
Encore Malacca Highlights:
State of the art theatre – The multi-stage auditorium can rotate 360 degrees
Good view of the Malacca Strait!
2. See Malacca From Up High At The Shore Melaka Sky Tower
If you can deal with heights, you might want to check this place out:
With 43 floors in total, Sky Tower Malacca is the tallest building in Malacca's skyline.
From the top, you can have fantastic views of the city that stretch for up to 50 kilometers all around!
It's one of the most exhilarating things to do in Malacca!
And you can go either in the day time or night time!
Also read: 19 Top Rated Weekend Getaways From Singapore (Local Guides!)
The Shore Melaka Sky Tower Highlights:
Sky deck with transparent glass flooring
Telescopes available
360 degree panoramic views of Malacca
Other sources of entertainment in the same building (e.g. Oceanarium, Toy Museum, etc)
3. Pet And Cuddle Huskies At The Huskitory
Huskies are arguably one of the world's most sought-after dog breeds.
They can be more than a handful to look after even for the inexperienced dog owner!
So if you can't afford to look after one but really enjoy their accompany, you can meet the 17 huskies at this unique dog cafe.
Reservations are required as this place is usually packed.
Note: You cannot bring your own husky over for a visit anymore.
The Huskitory Highlights:
2 outdoor feeding sessions (6:00pm to 7:00pm and again at 9:00pm-10:00pm)
Visitors can purchase treats to vie for the attention of the dogs!
They have a Golden Retriever and a Japanese Spitz too!
4. See More Than Fish At The Shore Oceanarium
The Shore Oceanarium is another reason to make a trip to the Sky Tower Malacca.
There are 12 different zones to explore! The main highlight is the sea turtle zone where you can see live sea turtles!
And if you like, you can snap a photo of yourself with one of the life-sized replicas of giant shark jaws!
The Shore Oceanarium Highlights:
Ocean Journey
Living Fossil
Ocean Theatre
Fun Freakish
Interactive Touch Pool
River Story
Jungle Quest
Dangerous Marine Species
Shark Quest
Kampung Penyu (Turtle Village)
Sea Shell Madness
Magic Aquarium
5. Stroll Down Kee Ann Food Street
Kee Ann Food Street is a relatively new attraction in Melaka!
Every Friday to Sunday, Kee Ann road (Jalan Kee Ann) in New Chinatown will be car free allowing vendors to set up their stalls.
Also read: 5 Best Dim Sum In Malacca That Tourists Have Yet to Discover
International visitors will get to experience the atmosphere of open-air street dining here.
You can try all sorts of local fare here from char keow teow, wan tan mee, rojak, radish cake, duck mee, sugar cane drink, roti canai and many others!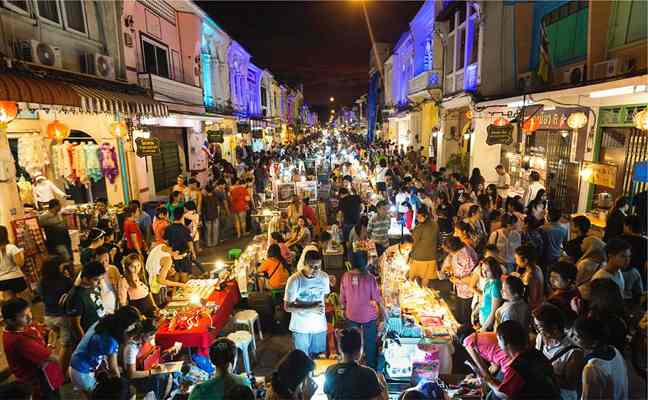 Outdoor Activities In Melaka
Many of the places on this list are within walking distance from each other!
Which is completely doable during the early morning or evening when the heat is more tolerable!
Else, you can always hop on one of the many eager trishaws hanging around the historical city center.
6. Browse The Jonker Street Night Market
Most first-time visitors to Malacca will definitely include Malacca's Chinatown on Jonker Street somewhere in their itinerary!
Walking distance from the Red Square, this is possibly the most touristy street in Malacca with lots of shops and eateries to pique your interest!
If you're here during a weekend, you'll have a chance to see the night market on Jonker Street! Street performers and hawker stalls will ensure a fun night out!
Don't miss out on Jonker Street food while you're there!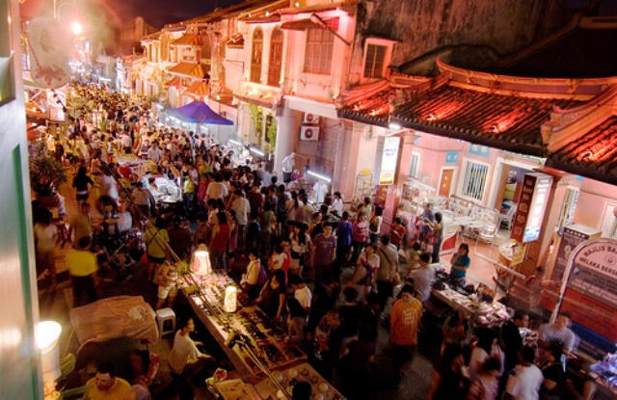 Also read: Top 7 Nightlife In Jonker Street
Jonker Street Night Market Highlights:
Craft & souvenir shops
Traditional pastry shops
Antique shops
7. Take The Melaka River Cruise
Of all the touristy things to do in Malacca:
The Melaka River Cruise is the most effortless way to see Malacca's finest architecture of Portuguese, Dutch, and British heritage along the river banks of the Malacca River.
Each boat trip takes about 45 minutes to complete, including the return journey.
Note: If you go during the daytime, make sure you bring your hat, sunglasses and put some sunscreen on!
Melaka River Cruise Highlights:
Sail underneath landmark bridges
Enjoy the evening breeze and lights of the city
Walking distance to the Red Square and Jonker Street
8. Stop By At The Butterfly & Reptile Sanctuary
This one requires an excursion (30 minutes' drive) from the city.
And you can easily spend half the day here!
They have over 20 different species of butterflies. Not least among them is the Rajah Brooke's Birdwing.
At their reptile section, you'll get to see their 20ft long reticulated python among their other snakes.
Butterfly & Reptile Sanctuary Highlights:
Take picture with a snake around your shoulders
Butterfly Aviary
Koi Garden
Wild Photo Lane
9. Go For A Ride At The Menara Taming Sari Melaka Tower
Before you start shaking your head in disbelief on why we have two towers in this list:
Menara Taming Sari Melaka Tower has a revolving observatory deck.
You board from ground level and ride all the way up to the top at 80 meters (i.e. 24 stories) while the deck revolves slowly.
Note: Not wheelchair-friendly
Menara Taming Sari Melaka Tower Highlights:
First and only gyro tower in Malaysia
360 degree panoramic views
Short walk from Dataran Pahlawan Megamall and Mahkota Parade Shopping Mall
Binoculars are provided
10. Ride A DUKW For The First Time With Melaka Duck Tour
Why duck, you say?
A DUKW (or "duck") is an unusual truck from World War 2 that was developed by the United States as a means for transporting supplies and their troops over both land and water!
It was later replaced by another model due to its lack of power and vulnerability to rust.
The duck boat in Malacca has its origins back in September 2008 and has the maximum capacity of 33 passengers.
Each trip takes about 45 minutes.
Melaka Duck Tour Highlights:
Beautiful seaside mosque along the route from Menara Taming Sari to Melaka Island
Fun for kids
11. Explore The Portuguese Settlement Melaka
Did you know?
Malacca has its own little Portugal with a community that has Portuguese roots!
There's even a replica of the famous landmark of Rio De Janeiro by the seaside – the Christ the Redeemer statue!
You can try Portuguese and Malaysian food at the food court and have a beer at one of the pubs while enjoying the sunset too!
The atmosphere here is particularly lively as Christmas or the San Pedro Festival (mid-June) approaches!
Portuguese Settlement Melaka Highlights:
Portuguese-style homes
The Portuguese Square
Excellent sea views
Seafood
12. Rent A Bicycle Around Melaka
Bicycles are another way to get around Melaka and take in the sights!
Some hotels offer bicycle rental services for their guests.
Otherwise, you can also rent from any  bicycle rental shop around the city.
The downside of cycling is that you have to take extra care because there are no dedicated lanes for cyclists.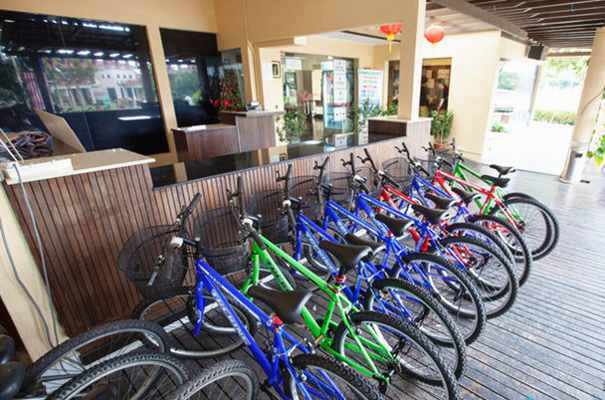 Museums & History In Melaka
Malacca has a rich history due to its geographical advantages as a port.
Many ships stopped by Malacca to take refuge from the monsoons and to re-supply before heading back out to the Straits of Malacca.
Furthermore, Malacca was under the colonial rule of Portuguese, Dutch and the British.
13. Learn About Admiral Cheng Ho At The Cheng Ho Cultural Museum
Chinese history buffs will love this one:
Cheng Ho Culture Museum dedicates the majority of its galleries to Admiral Cheng Ho's fleet and travels.
If you didn't know, Cheng Ho is an extremely prominent figure in the Ming Dynasty history of Chinese exploration and trade!
You'll see how Malacca was developed by trade at this museum!
Cheng Ho Cultural Museum Highlights:
Display gallery showcasing the life of Cheng Ho and his world voyages.
Close to Jonker Walk
Different sections in the museum – Old Malacca Village, Treasure Ship, Ship Gallery, and the Antique Gallery
14. Visit A Real Peranakan Home At The Baba & Nyonya Heritage Museum
Malacca owes its Nyonya heritage to the Peranakans – descendent of the Chinese settlers who made Malaysia their home and integrated with the local Malay community.
As the former home of 4 generations of a true Peranakan family, you can imagine the family's opulent lifestyle as you wander through the ancestral home.
Note: This elaborate museum requires advance bookings, especially during busy periods.
Baba & Nyonya Heritage Museum Highlights:
They have self-guided tour books in four different languages – English, French, Japanese and Chinese
Photo books of the house and an illustrated biography for the family are available for sale as souvenirs
15. Experience Pre-Colonial History At Melaka Sultanate Palace Museum
Made without any nails, the Melaka Sultanate Palace is a direct replica of Sultan Mansur Shah's extraordinary wooden 15th-century palace with a copper and zinc roof.
Inside the three-storey museum (also called Muzium Kebudayaan), are various galleries.
One of which is a depiction of a royal meeting back in the time of pre-colonial rule.
There are around a thousand historical and cultural artifacts here!
Melaka Sultanate Palace Museum Highlights:
Signage in both Malay and English
Galleries with dioramas featuring famous local legends (like Hang Tuah and Hang Jebat)
You can visit The Forbidden Garden
16. Pay A Visit To Cheng Hoon Teng Temple
It's clear why many historical sightseeing tours include Cheng Hoon Teng Temple into their itinerary:
Built in 1673, this is Malaysia's oldest Chinese temple.
A popular place of worship for the existing Chinese Buddhist community especially during big festivals like the Lunar New Year and Winter Solstice.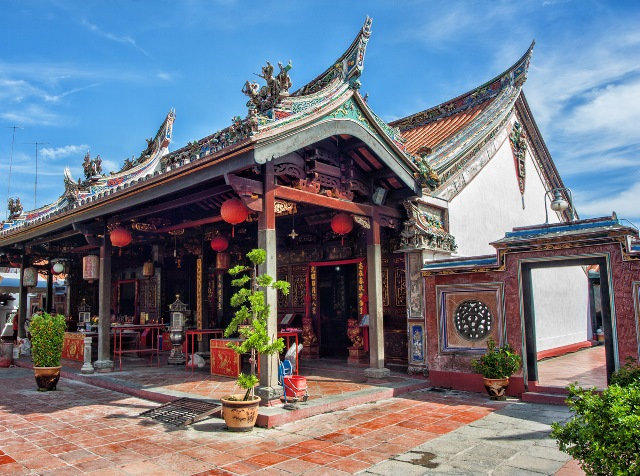 The ornate temple is tribute to Guan Yin, the Goddess of Mercy.
UNESCO heritage site
Beautiful architecture
Anyone can enter the temple, and donations are accepted.
17. Take An Obligatory Selfie At The Red Square
Visiting the Windmill Dutch Square Melaka (or the Red Square) is another one of those things to do in Malacca that everybody seems to do.
Because you can walk to it from Jonker Street! And if you walk to the other end, there's the A Famosa Fort.
Also read: 10 Attractions Near Jonker Street To Visit On Your Next Vacation
At the Red Square, you can see the Malacca clock tower with a small photogenic fountain in front, and also the former office of the Dutch governor, Stadthuys and Christ Church.
Red Square Highlights:
There are museums inside the Stadthuys (e.g. Museum of History and Ethnography)
Architecture from the Dutch colonial rule
18. Visit Malaysia's Oldest Church – St. Paul's Church, Malacca
In addition to Christ Church at the Red Square:
You might want to check out the well-preserved ruins of St. Paul's Church on the top of St. Paul's Hill too!
A statue of catholic missionary, St Francis Xavier stands in front of the church while his empty tomb lies inside.
Do expect a lot of tourists to be here too. Unless, you come early in the morning!
St. Paul's Church Highlights:
Oldest church in South-east Asia
Hilltop view of the city
Stairs are a must to get up the hill
Free entrance
19. Sail Through History At The Flora de la Mar Maritime Museum
You might think it's strange that there's a ship next to the Malacca river.
This is actually a replica of a Portuguese galley but half the size!
It houses the Melaka Maritime Museum where you can learn about Malacca's trading history.
Model ships and dioramas help to paint a picture of the historical trading scenes in Malacca!
Note: Be careful if you have small kids with you – the stairs have narrow rails and are quite steep!
Flora de la Mar Maritime Museum Highlights:
Three museums in one – Royal Navy Museum, Flora del Mar and the Maritime museum
You can walk around the ship deck for a view of the Malacca river!
20. Go Back In Time At The Villa Sentosa
Over at Kampung Morten are over 50 traditional Malay-style houses.
The name, Morten comes from the British administrator, Frederick Joseph Morten.
You can actually visit the inside of one of these houses!
Villa Sentosa (or the Malay Living Museum) is a private museum but visitors can come to see it every day.
An open-air courtyard is the main component of the house. Which is essential for keeping the house cool!
Villa Sentosa Highlights:
Fully furnished with many antiques
Guided tours
Well-preserved
Art & Indoor Activities In Melaka
If you have time to spare, you can visit these unexpected art galleries!
21. Be Bamboozled At The Illusion 3D Art & Upside Down House Melaka
It's a 15 minutes' walk between these two places:
Illusion 3D Art has more than 35 hand-painted 3D murals that will bring out the child in anyone!
Upside Down House Melaka meanwhile, is close to Parameswara Jetty.
The rooms inside look like a normal contemporary home but upside down!
Regardless of which place you choose, prepare to have tonnes of fun taking photos with friends and family!
22. Hang Out At The Orangutan House
It's hard to miss the huge mural of an orangutan on the outside of the yellow building along Jonker Street.
Also read: Top 11 Attractions In Jonker Street Makes A Great Weekend Getaway
This is the art gallery of the local-born artist, Charles Cham.
You'll be tempted to get a couple of original graphic tee-shirts or canvas bags with his prints due to their reasonable prices and high quality!
Note: This isn't the only outlet in Malacca.
The Orangutan House Highlights:
The artist himself is very friendly and up for a chat if he happens to be at the store!
Prices in the shop are cheaper than online
Prints available for sale
Exclusive tee shirt prints available only at the shop
Melaka Food
One of the things in Malacca that you absolutely cannot miss out on, is the food!
23. Savor The Best Food In Melaka
Malacca food is highly diversified.
Make sure you put Malacca Nyonya food on top of your list of food to try while you're in Malacca!
Nyonya dishes like otak-otak, ayam pongteh and asam fish will have you relishing the flavors with gusto!
Another item on your list has to be the chicken rice balls of Malacca!
Sure, you can find chicken rice anywhere in Malaysia but Malacca does it a little differently:
They shape their rice into balls!
This was for ease of transport back in the days when labourers would take their lunch back to work.
And if you're looking for a way to cool down from the heat, a bowl of sweet cendol with gula melaka and fresh coconut milk is the way to go!
24. Have A Coffee Break At Calanthe Art Café
Dozens of Jonker Street cafes may catch your eye but Calanthe Art Cafe is a peculiar one that definitely deserves closer inspection!
Firstly, the interior is a visually stunning artwork in itself!
They use an eclectic mishmash of crockery and empty photo frames to adorn their colorful walls.
Also read: 12 Best Restaurants In Jonker Street That Will Keep You Returning For More
And lastly, they have a superb coffee menu to be proud of!
This is a cozy spot to do some people-watching!
Calanthe Art Café Highlights:
13 states' coffees of Malaysia are available here
Homemade desserts
Creative beverages
They serve many other drinks besides coffee
Excellent laksa
Alcoholic beverages – try their royale Bailey cocktail
25. Pick Out The Perfect Souvenir Melaka
Whether you're looking for a unique item to take back home or wanting suitable gifts for your family and friends, there are plenty of souvenir shops to sift through in Malacca!
Gula Melaka, pineapple tarts, Chicken Floss Tou Sar Kok, Dodol, and handmade beaded shoes are some of the things you can find!
Tip: Packaged pastries are usually a failsafe option if you don't know what to get!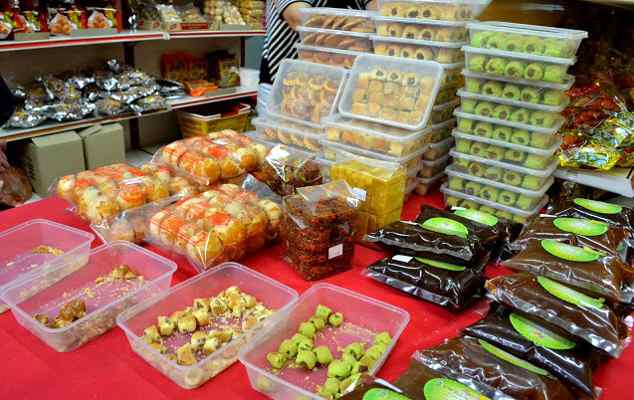 Here are some of the best ones:
San Shu Gong (三叔公)
Jing Yuan Biscuit and Bakery
Jonker Gallery
Nyonya Story Enterprise
Tan Kim Hock Product Centre
Ah Lan Beaded Shoes & Accessories
LW Nyonya Pineapple Tarts House
Nyonya Story Enterprise
Orangutan House
Sweet Summer Cottage
Melaka Shopping Mall
Sometimes, it's nice to splurge on yourself.
Or maybe, you just need to escape the heat for a bit!
26. Bargain-hunt At Melaka Premium Outlet (Freeport A'Famosa Outlet Village)
Ever been to an outlet village before?
This one has an open-air concept complete with a lake, fountains and a windmill.
Obviously inspired by Malacca's Dutch heritage.
They have more than 1,500 spaces in their free carpark.
You'll find dozens of different fashion brands spread over 180,000 square feet, including some renowned sportswear titans like Nike.
And if you happen to run out of cash, the ATM machine is at the entrance opposite the Customer Service office.
Check out the Melaka Premium Outlet directory now!
27. Catch A Movie Or Shop At Dataran Pahlawan & Mahkota Parade Shopping Mall
When you want a break from the touristy things to do in Malacca:
You can hop over to any of these two multi-storey malls that are across from each other in the historical center of the city.
Also read: Top 11 Hotels In Jonker Street (Travellers Recommend List)
Both malls offer a myriad of international fashion tenants but if you're in need of a supermarket, then Mahkota Parade will be the obvious choice.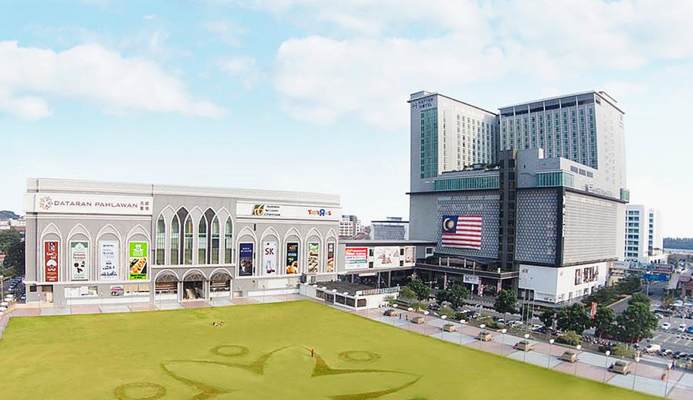 Dataran Pahlawan Melaka Megamall Highlights:
Golden Screen Cinema (GSC)
A skating rink (The Super Roller)
Coral Wonderland (touch pool, aquarium, etc)
Famosa Idol Family Karaoke
See the full directory of Dataran Pahlawan Melaka.
Mahkota Parade Shopping Mall Highlights:
Giant supermarket
Lotus Five Star Cineplex
In Box Karaoke
See the full Mahkota Parade Shopping Mall directoty.
How To Go To Malacca From Singapore
It takes a total of almost 3 hours to reach Malacca from Singapore if you drive via the AH2 highway.
And that is without taking into consideration of any congestion at the border between Singapore and Johor!
Private Car From Singapore To Malacca
Of course, you can always hire a private car service like SGMYTAXI so you don't have to drive!
Pros:
Direct transfer to Malacca – no transits required!
You get to choose your own pick-up destination and time in Singapore
No need to get in queues for the bus or wait for other passengers
Comfortable and spacious cars – choose from their impressive MPV fleet
Drivers know the roads well
Safe – The cars are well-maintained and drivers are reliable
Easy booking process
Affordable rates
Cons:
Expensive for solo travellers
You can book online and contact them through Whatsapp for a booking today!