Whether is your first time or you've been here countless times.
Malacca will make you fall in love all over again with its unique blend of ancient buildings and modern living alongside breathtaking sights!
Malacca is a famous tourist destination with a rich cultural heritage, subsequent to the colonial rule of Portuguese, Dutch and British.
Traditional culture is carried on by the Baba & Nyonya who are descendants of the Chinese delegates of Ming Dynasty where they emigrated from China and settled here.
What to do in Malacca, you may ask?
Don't worry,  we've listed 18 top attractions in Malacca that is definitely worth visiting!
Why Malacca is Worth Visiting?
This place is like a mixture of culture, where you can find traces of East countries (China and Japan) and West (Portugal, Spain, England).
Pleasant climate.
Friendly people around.
A lot of unique places to see and visit!
It's almost impossible to see all the breathtaking places of Malacca in a few days, but you can try. There are 18 places Malacca attractions you must visit! So make a detail "to-do" list before your trip and be ready to have the most wonderful days in your life!
Before you start planning a trip to Malacca from Singapore, get your FREE Singapore Public & School Holidays Calendar to max out your holidays.
Also read: Singapore Travel Tips: 17 Travel Essential You Need To Know About!
Tips: I'm sure you will look for great food in Malacca, discover here  ===> 26 Best Malacca Food And Where To Find Them
Tips: Planning a one day trip or two days Malacca trip, useful info you may find here  ===> Jonker Street: Ultimate Travel Guide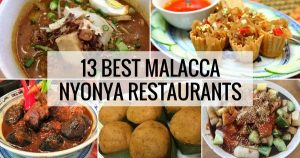 Tips: If you looking for more great Nyonya food in Malacca, click here  ===> 13 Local Nyonya Food In Malacca You Must Know Where To Find
One more tip: searching for Melaka homestay?, discover here  ===> 12 Pocket Friend & Unique Design Melaka Homestay
Top 18 Melaka Attractions To Visit
While it's almost hundreds of interesting places there, there are 18 of them that you just must-see during your trip. If you didn't see Jonker Street or Melaka River during your visit, you just didn't see Malacca! So use your time carefully and take the opportunity to become a witness of rich history of Asia.
Also read: How To Go To Malacca From Singapore
1. Malacca Jonker Street
Jonker Street is a center of Chinatown and it's a huge market, where you can buy everything!
With rich history, a lot of different people, goodness, historical landmarks, cafes, restaurants and attractions, Jonker Street in Malacca City's Chinatown is a complete delight to walk through.
Even during busy weekdays, this Street is crowded with people and interesting stuff to see and to buy.
Also read: Top 19 Weekend Getaways From Singapore (Perfect For Short Trips!)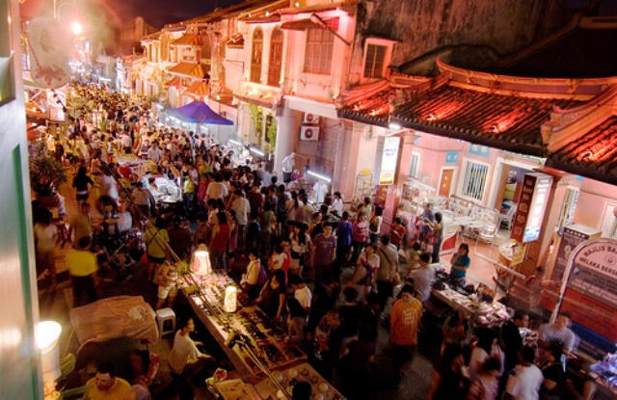 What you can visit in Melaka Jonker Street:
Jonker Street Night Market – it's a real event with live music, the wide array of stalls, polite and friendly hawkers and ubiquitous bargains. Jonker Walk comes to life at nights in full color with a lively party-like atmosphere.
Baba Nyonya Heritage Museum – a collection of three restored houses from the 19th century.
Hard Rock Cafe, which was opened in 2013, it is situated idealistically by the Malacca River.
Mamee Jonker House – the perfect place for parents and children, which offers fun activities for visitors of all ages.
Jonker Street Library, which is decorated with traditional Chinese furniture and has a unique collection of Buddhist literature.
But the best attraction of Jonker Street is, of course, shopping and eating!
The best places for shopping in Malacca Jonker Street:
Orang Utan House – an art house of Malacca-born Artist Charles Cham. It's a studio gallery with the brightly painted exterior;
Jonker Gallery is a great place for inexpensive souvenirs to bring back home;
The giant San Shu Gong local produce shop;
Joe's design – the most-wanted place of everybody, who just in love with hand-made, one-of-a-kind jewellery.
Natural Wellbeing – a shop with a unique collection of beauty products.
Reviews from the tourists:
Tourists are just obsessed with Jonker Street. Like a lot of them say after the trip, it is a great place to go and shop and night life there is just awesome. A lot of them advise to visit modern and classic restaurants, to taste different types of food there and just have a great time!
Location: Jonker Street Night Market, Jalan Hang Jebat, 75200 Melaka, Malaysia.
Opening Hours:
Friday to Sunday: 6:00pm – late
2. St. Paul's Church Malacca
St Paul's Church is a popular tourist destiny among the people, who are interested in history and rich culture of this country.
History of St. Paul's Church
The ruins of the ancient church are very popular among tourist and native people of Malaysia. This historic church was built in 1521 and situated at the summit of St. Paul's Hill. Right now, this Church is a part of the Malacca Museum Complex.
Armless Statue
A marble statue of St. Francis Xavier (built in 1953), which is situated in the complex, has only one arm, and here is why. Stories tell that when the best-known missionary was to be canonized in 1614 the Vatican demanded the right arm (the one Francis used to bless his converts) from the body. So they cut it off and blood appeared even after his death. They say that when the statue was erected, a large tree fell on his right arm.
Transport
It will be hard to go to the Church using public transport, so think about taxi or go by car, locals would be happy to help you find the way to this famous landmark.
Reviews from the tourists:
People, who already visited St. Paul's Church highly recommend being aware of a little climb you take and big crowds around this landmark. A lot of them point, that this is a romantic, historical place you will fall in love with.
Location:
 Jalan Kota, Bandar Hilir, 75000 Melaka, Malaysia.
GPS: 
https://bit.ly/2GzH5Gh
Opening Hours:
Daily
Admission Fee: Free
3. Baba Nyonya Heritage Museum
This wonderful living museum was established in 1896 and once was the family home for the Baba Chan family.
This heritage building is a unique blend of cultures, east and west countries and illustrates the lifestyle of the Peranakan at the end of the 19th century.
The original design is influenced both by the European architecture and Eastern traditions and history.
Reviews from the tourists:
This museum shows a rich side of Malacca and exactly where you can feel and touch the past. Moreover, the museum has very good guides and interesting program. As a lot of tourists say:  "Baba Nyonya Heritage Museum is one of the main attractions in Malacca that tourist should not miss." Cameras inside the museum are prohibited.
Location: 48 & 50, Jalan Tun Tan Cheng Lock, 75200 Melaka, Malaysia. (a street adjacent to the Jonker Walk)
Contact: +6 06-283 1273
Opening Hours:
Daily: 10:00am – 1:00pm & 2:00pm – 5:00pm
Ticket Price: RM16 (adults), RM11 (children aged 5-12 years old)
4. Cheng Hoon Teng Temple
The most notable landmark of Malacca situated in famous Jonker Street and was built in 1646. This old Chinese Temple considered being the oldest Buddhist place of worship in Malaysia.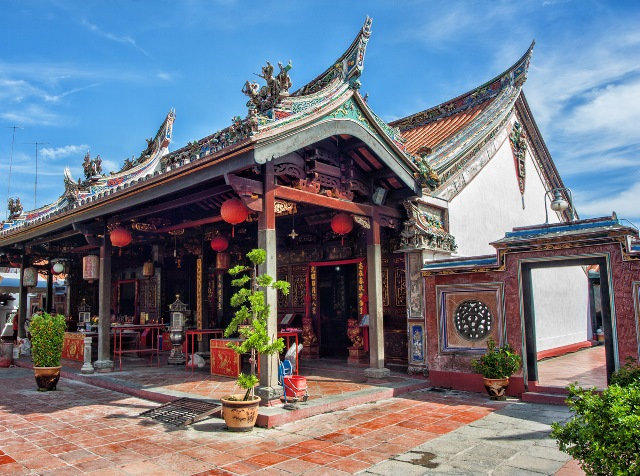 Interesting facts about the Temple:
The temple is dedicated to Goddess of Mercy (Kuan Yin);
The building was designed by son-in-law of Captain Li, Malacca's second Chinese captain;
The temple is managed by the same trustees that serve Bukit Cina (significant hillside and burial ground few kilometers away from the town);
Traditional Chinese Opera Theater is directly opposite Cheng Hoon Teng Temple. Next to the Opera's building is a newly constructed Xianglin temple;
This is a huge black, gold and red statue of the main Goddess of the Temple in the central prayer hall.
Reviews from the tourists:
Among tourists, this Temple is known as "A treasure of Malacca", "The place you must see" and "A heritage landmark". This place is open and inviting for everybody and is famous as a first Chinese temple in this country, which is made in a very unique and Malacca-like style.
Location: 25, Jalan Tokong, 75200 Melaka, Malaysia.
Contact: +6 06-282 9343
Opening Hours: 7:00am – 7:00pm
Admission Fee: Free
5. Christ Church Malacca
This church was built by Dutch, when they took possession of the country. The most defining structure of Malacca is notable for unique design and history. A picture of a brick-red building with a huge white cross is famous all around the world.
What do you need to know about this attraction:
The church is located in Church Street, near to Malacca's Chinatown center.
Christ Church is situated across the bridge from the Jonker Street and it's almost the most popular sight in the Stadhuys area.
Close to Church are two museums, so you visit three places in a short period of time.
Reviews from the tourists:
This peaceful and historic place welcomes everybody, who wants to spend one day in harmony and to see history with his own eyes. As people say, there are tree services during the day in two languages – English and Chinese.
Location: Jalan Gereja, Bandar Hilir, 75000 Melaka, Malaysia.
Contact: +6 06-284 8804
Opening Hours: 9:00am – 5:30pm
Admission Fee: Free
6. Melaka Wonderland Theme Park
Visiting this famous Park and Resort in Melaka is the best way to cool down and have great fun on a hot day in Malaysia. The highlights of this Malacca's tourist attraction and huge multi zone park are high-speed water slides and thrill rides.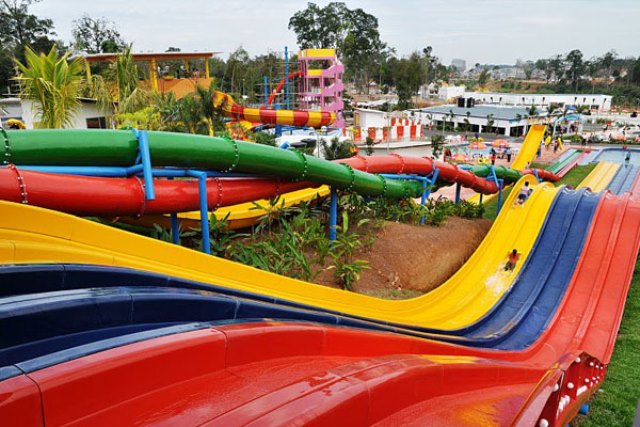 The key facts about the sparkling-new Wonderland Theme Park in Melaka:
The park is surrounded by 360 hectares of forest;
This Theme Park features a whopping two million liters of water.
The water theme park offers 16 different and equally exciting attractions.
The most popular attractions are the Lazy Cum Crazy River, the Big Wave pool, the Adventure Island, Anaconda Twist, The Pendulum slides.
The park is very close to the city center, so it's not necessary to spend a night there. But if you want to have more than one day of fun, there is a big hotel in this Park you will be comfortable in.
Reviews from the tourists:
People say, that it's real fun there and pool security is friendly and do their job well. But you need to remember, that tickets are a little bit expensive and there are a lot of people during the holidays and weekends.
Location:
 Lot PT 17178, Lebuh Ayer Keroh, Hang Tuah Jaya, 75450 Ayer Keroh, Melaka, Malaysia.
Contact:
+6 06-231 3333 / +6 06-231 1119
Opening Hours:
Tuesday to Friday: 11:00am – 7:00pm
Saturday to Sunday: 9:00am – 7:00pm
Closed on: Monday except during
Malaysia public holidays
&
Malaysia school holidays
Ticket Price:
Weekdays: RM33.20 (adults), RM26.05 (children above 90 cm up to 12 years old)
Weekends: RM37.90 (adults), RM32.00 (children above 90 cm up to 12 years old)
Non-Malaysian: RM45.00 (adults), RM37.90 (children above 90 cm up to 12 years old)
7. Maritime Museum & Naval Museum Malacca
The Maritime Museum is a huge Portuguese ship, which sank near the Malacca. It's 34 meters high and this ship-museum will take you hundreds of years ago.
What you can see in Maritime Museum & Naval Museum Malacca:
The Maritime Museum is a great place for people, who love history, sea and all, that connecting with it.
For ship fans, there are a big collection of different ship models that are on display at the museum.
Others can find exhibits of porcelain, silk, textile and spices used by the seamen of the past. And you can just enjoy the atmosphere of sea travels, ancient ship and old times.
Transport
The best way to get to the Maritime Museum is by car or hiring a cab. Also, it's located just ahead of the Stadthuys, so it's better to go by foot there and enjoy all local shops, museums, galleries, churches.
Reviews from the tourists:
All as one say: This museum inside the old ship is worth visiting!
Location: Jalan Merdeka, Bandar Hilir, 75000 Melaka, Malaysia.
Opening Hours:
Monday to Thursday: 9:00am – 5:30pm
Friday to Sunday: 9:00am – 9:00pm
Ticket Price:
Malaysian: RM5 (adults), RM3 (children)
Non-Malaysian: RM10 (adults), RM6 (children)
8. Melaka River
The Melaka river divides Malacca town into few parts and goes straight through the middle of it.
So just take the river cruise and you will see the beauty of the town from the inside! During this 45 minutes ride you'll see famous historical buildings, churches, old warehouse and villages.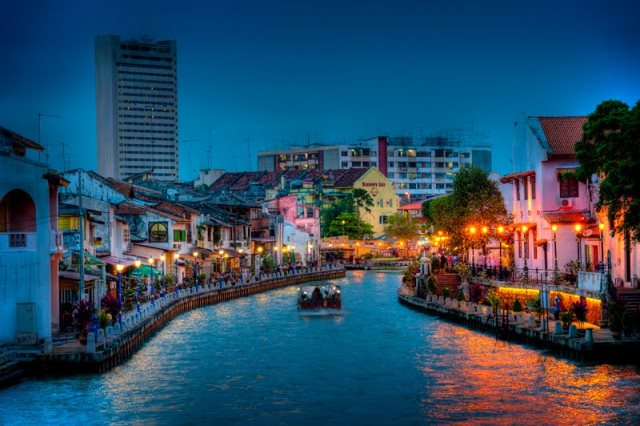 Address and open hours
The departure of the ship is on Muara Jetty, close to famous Maritime Museum. The cruise is available every day, without any holidays, from 9:00am to 11:30pm
Reviews from the tourists:
As it known, Malacca began from this river as a fishing village. So this cruise shows the history of the town and its unique beauty. Tourists advise to take 3 tours in different time:
one during daylight to enjoy old buildings:
another one before sunset to enjoy colors
the third one in darkness in order to enjoy lights and breeze.
9. Dutch Square
Feel the time travel back to colonial era at Dutch Square – where you can find the Melaka's surviving parts after the war. According to the experts, Dutch Square is believed to be the oldest Dutch building ever existed in the East.
Distinguished by red classic buildings, this historical place serves as the prominent landmark in Malacca. With an elegant fountain dotted in the centre and surrounded by colourful trishaws, you will find endless tourists here every day, trying their very best to capture the best angle of Dutch Square.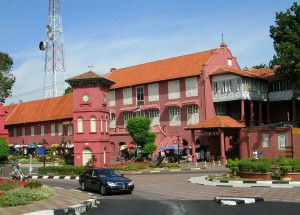 A visit to Dutch Square is rewarded with great historical knowledge. There are renovated galleries, museums and churches around. Do check out the Stadthuys in Dutch Square which used to be the Dutch governors' official residence. Currently, it houses numerous museums displaying the history of Malacca in the most interesting way.
Attraction Highlight:
Very near to various historical sites in the state such as The Christ Church, Youth Museum and Art Gallery.
You can hire a trishaw to tour around the major tourist destination in Malacca.
Few minutes' walk to Jonker Street.
Location: Jalan Gereja, Bandar Hilir, 75000 Melaka, Malaysia.
Opening Hours:
Daily: 12:00am – 12:00pm
Ticket Price: Free
10. Melaka Straits Mosque
Built on stilts over the sea, Melaka Straits Mosque is a modern designed mosque perfectly blends with both Malaysian and Middle Eastern mosque architecture. Situated on Pulau Melaka, the was opened on 24th November 2006 whereby the opening ceremony was done by the Sultan of Malaysia at the time.
The grand main dome follows the Middle Eastern mosque style while the turrets are similar to the rooflines in typical Malaysia's mosque. While for the minaret, it has an unusual and striking design and the walls of the mosque are fully decorated with beautiful glass window.
During high tide, it looks exactly like it's floating on the ocean. If you come here in the evening, the view is so stunning that it surely wipes away all stresses of the day. Due to the scenic view, the mosque also attracts lots of photographers throughout the year.
Attraction Highlight:
Offer a panorama view of the Straits of Malacca.
Non-muslims are welcomed inside to admire the contemporary Islamic architecture.
11. Freeport A'Famosa Outlet Village
This open air Dutch colonial era styled shopping village is the biggest shopping outlet located at Alor Gajah.
It consists of more than 70 international brands offered at superb prices.
Freeport A'Famosa is located just outside A'Famosa Resort Malacca and is just on your way to Malacca's UNESCO World Heritage Site.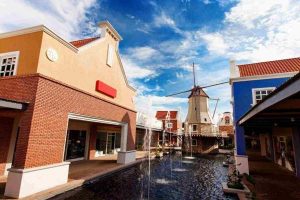 What you can visit in Freeport A'Famosa Outlet Village:
The village houses a pool with miniature geysers and a large windmill. For the kids, there are carousel rides, strollers and tricycles to keep them occupied.
Popular brands will offer discounts ranging from 30% to 70% depending on the season. Among the listed brands are Nike, Clarks, Hush Puppies, Forever 21, Versace, Elle, Playboy and many more.
Food-wise, there's a food courts selling local and international food, Pappa Rich café, Marry brown fast food restaurant so you can't go hungry here.
While you're around Malacca, Freeport A'Famosa Outlet Village is a must place to satisfy your shopping desires with attractive deals.
Location: Jalan Kemus, Simpang Empat, 78000 Alor Gajah, Melaka, Malaysia.
Contact: +6 06-552 8961
Opening Hours: 10:00am – 10:00pm
12. The Shore Sky Tower
For a near 360° bird's eye view of Malacca city, a visit to the 43 storied Sky Tower will give you a view of 50 kilometers at all direction.
It is just a short walk away from the UNESCO World Heritage district and it's located beside the river bank facing Morten village.
What you can do in The Shore Sky Tower:
The Sky Tower is a great place to take a scenic landscape picture of Malacca or a family photo with a breath taking view.
The Sky Tower can be accessed through the 42nd floor of the skyscraper.
From the Sky Tower, facing inland you can see Gunung Ledang. By facing to the sea, you can easily see the Straits of Melaka and even Pulau Besar and other small islands.
There is a glass ledge for those who aren't afraid of heights, where you can see the view of the ground and have your picture taken by a professional photographer.
The Shore Sky Tower is the best place to enjoy a panoramic view of Malacca city be it during the day or during the night.
Location:
Tower 1, Level 42, The Shore Shopping Gallery, 193, Pinggiran @ Sungai Melaka, Jalan Persisiran Bunga Raya, 75100 Melaka, Malaysia.
Contact:
+6 06-288 3833
Opening Hours:
Sunday to Thursday: 9:00am – 11:00pm
Friday, Saturday & Public Holiday: 9:00am – 12:00am
Ticket Price:
RM25 (adults), RM18 (children aged 3-12 years old)
Website
13. A'Famosa Fort
This historical fort was built by the Portuguese in 1511 after they defeated the Malacca Sultanate. On 1641, it fell to the Dutch and subsequently in the early 19th century to the British.
The fort was to be destroyed in 1806, but was spared by the founder of Singapore, Sir Stamford Raffles.
The fort is just a 5 minutes' walk from Christ Church. It is a very peaceful place away from the busy-ness of Malacca city.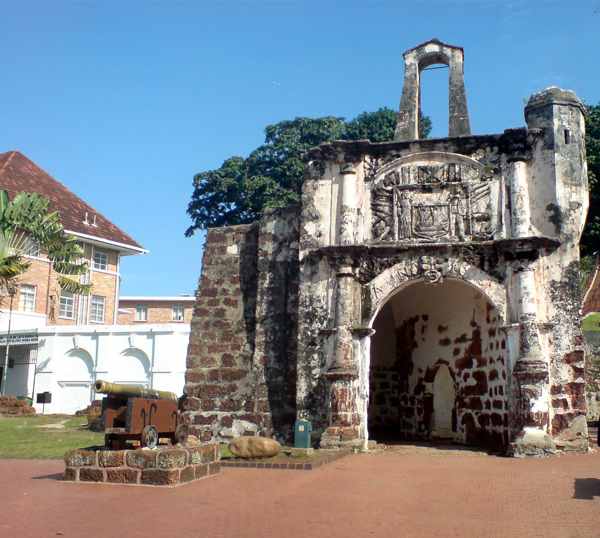 Interesting facts about A'Famosa Fort:
The remains is the gate house Porta de Santiago which is part of A'Famosa fort is what you can visit and see today.
The remains of the fort are well preserved and white stone carvings which are still readable, the canon placed in front of the entrance is a replica.
The Portuguese, Dutch architecture still looks well preserved despite its age.
Wooden walkways and bridges are laid carefully so you can safely enjoy your walk inside the historical ruins.
Location: Jalan Parameswara, Bandar Hilir, 78000 Alor Gajah, Melaka, Malaysia.
Contact: +6 06-552 0888
Opening Hours: 9:00am – 5:00pm
Ticket Price: RM2 per entry
14. Pantai Klebang
Ever wonder where to get a piece of dessert in Malaysia? You don't have to go so far as Malacca has its own dessert at Pantai Klebang.
Klebang dessert is a reclaimed land made by Malacca developers and years of land excavation placed at the edge of Pantai Klebang resulted in this unique looking desert.
What you can do on Pantai Klebang:
It looks exotic like the Gobi desert, the perfect place to have some sand sliding fun and desert hill hike.
Before entering the area, be sure to use at 4×4 as the terrain is slippery and can sink your tires deep into the sand. It might take 15-20 minutes' walk on foot to reach the desert.
This unique desert scenery is perfect for a wedding photo-shoot as well as a unique family photo. The best recommended time to come is before the sun rises or before the sun sets.
As in a real desert, it might get quite hot if you decide to stay for the day, so make sure to have umbrellas, sun blocks, snacks and plenty of drinking water.
Location: Pantai Klebang, Melaka, Malaysia.
15. Alto Sky Lounge @ Hatten Hotel
Looking for a romantic rooftop dinner after an eventful day at Malacca? Alto Sky Lounge is the place to be to witness the skyline of Malacca while fine dining.
The view of Malacca's coast is stunning, while the interior of the lounge is luxuriously comfortable and grand.
What you can taste and enjoy at Alto Sky Lounge in Hatten Hotel:
Unique fine dining cuisine such as the Salmon Fume Boursin Marcotte, Atlantis Black Cod in Truffle Abalone White Consommé, Sun-God Poseidon Nage Hokkaido Molluso, and Thai Tamarind Nectar Sorbet are among the many dishes served.
As you enjoy the good food, great music graces the Alto. The live band performs professionally which grants a very rewarding entertainment for the evening.
Highly recommend this venue for romantic dates, business dinner or just catching up with mates over excellent food, wine and music.
The rooftop dining experience overlooking the city skyline is breath-taking.
Location:
Level 22 (Roof top), Hatten Hotel, Hatten Square, Jalan Merdeka, Bandar Hilir, 75000 Melaka, Malaysia.
Contact:
+6 06-221 9558
Opening Hours:
Sunday to Thursday: 4:00pm – 12:00am
Fri, Sat, Eve of Public Holidays & Public Holidays: 4:00pm – 1:00am
Website
|
Facebook
16. Upside Down House Malacca
A replica modern Malaysian house which is unique because everything inside is up-side down. This exhibition is quite a new addition to the normal attractions in Malacca.
As in a normal sized house, the house is made up of five areas, the living room, kitchen, master bedroom, children's room and bath room. Everything is inverted.
What you can do in Upside Down House Malacca:
This is where you can let your photography creativity set the limits, just by fixing the right pose and photo angle, you can have a photo that will blow your mind away.
It is also a nice place to have a fun family photo-shoot and even out of the box pre-wedding photos. Highly recommended to have a visit while you're in Malacca city.
Location:
G12 & G14, Jalan PM 5, Plaza Mahkota, Bandar Hilir, 75000 Melaka, Malaysia.
Contact:
+6 011-1072 2260
Opening Hours:
Monday to Thursday: 10:00am – 7:00pm
Friday to Sunday & Public Holidays: 10:00am – 9:00pm
Ticket Price:
Malaysian: RM15 (Adult), RM10 (Child)
Non-Malaysian: RM20 (Adult), RM16 (Child)
Facebook
17. Machap Walk
Machap Baru Street Walk is located in the small district town of Alor Gajah, Malacca. The town is located just 32km away from the city of Malacca.
Machap Walk unites all the famous dishes of Malaysia in one place. The street is filled with every race in Malaysia which shows the 1 Malaysia spirit.
Do not miss the opportunity to go to Machap Walk, open during the weekends if you happen to be in Malacca.
What you can do and eat at Machap Baru Street Walk:
Machap Walk's main attraction is the bizarre and exotic food. To those who are looking for special type of meat such as wild boar, deer or even snakes, well this is the place to be.
Street hawker food such as the fried kuey teow, wantan, panda bun and bihun mee cake are among the best-selling. Other types of food offered at Machap are, roasted duck, laksa, dim sum, sambal petai and many more.
Special for the meat enthusiast, Alie 7 Corner Aneka Soup serves beef, mutton and chicken soup. There is also the famous Malaysian nasi lemak.
Location:
Machap Walk, Alor Gajah, Melaka, Malaysia.
GPS:
https://bit.ly/2Jk8vSp
Contact:
+6 017-390 7806
Opening Hours:
Friday to Sunday: 6:00pm – 12:00am
18. Menara Taming Sari
One of the unique attractions at Malacca is the Menara Taming Sari. It is the only revolving tower in Malaysia. It measures 110 meters in height and its revolving tower offers a wide and far landscape scene overlooking Malacca city.
Menara Taming Sari is located nearby Bandar Hilir at Jalan Merdeka. If you happen to be at Dataran Pahlawan Megamall and Mahkota Parade Mall it is just a short 3 minutes' walk away.
The tower's name is taken after a famous keris, which is a magical weapon belonging to legendary Malay Admiral named Hang Tuah.
The design of the structure of the tower takes on the shape of the weapon, while the highest point of the tower resembles its hilt.
What you can do at Menara Taming Sari:
The tower can carry up to 66 people per session which will revolves as it ascends from the ground level till the highest level of the tower. The whole session takes about 7 minutes.
It is recommended to have a ride as you can see the magnificent landscape of Malacca city, including the historical sites, such as Independence Memorial Building, Flor De La Mar Ship, St.Paul's Hill, Samudera Museum and the beautiful blue Straits of Malacca.
Location: Jalan Merdeka, Plaza Mahkota, Bandar Hilir, 75000 Melaka, Malaysia.
Contact: +6 06-288 1100
Opening Hours:
Daily: 10:00am – 11:00pm
Ticket Price:
Malaysian: RM17 (Adult), RM11 (Child below 12 years old)
Non-Malaysian: RM23 (Adult), RM15 (Child below 12 years old)