Interested to know more about the unique historic character of Malacca?
Then you must not forget to visit the heritage and historic buildings in Malacca that always open their doors and welcomes you warmly!
In this article, we have compiled 10 of the most famous tourist attractions near the Jonker Street for you.
Since some of them have spanned on Earth for many centuries, they might offer you a special feeling of the past too!
And after paying the visit, you will how amazingly Malacca has shaped and turned into this beautiful heritage town.
Let's move on!
You can make the history of Malacca come alive again!
Top 10 Attractions Near Jonker Street
1. A Famosa
Being the most iconic attraction in Malacca, A Famosa stands as one of the oldest European architectural buildings in Asia. Also known as Porta De Santiago, it has the meaning of "The Famous". True to the name, it is the most photographed spot in Malacca.
In 1511, the Portuguese who successfully conquered Malacca decided to build this fortress to consolidate their gains and defend against invasion. Due to the strategic location of Malacca, they believed that Malacca could be the major port plying between Portugal and China too.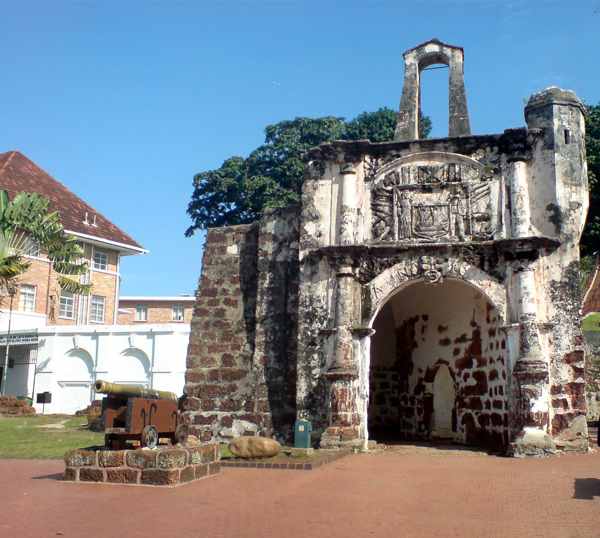 The fortress housed all Portuguese administration such as 4 key towers, 5 churches, hospitals and elongated stockades. In 1586, they expended the fortress to sustain the growing population.
Also read: Top 11 Jonker Street Attractions
Years later, A Famosa was modified by Dutch when they took over Malacca. But when British ruled over Malacca, they demolished the fortress, leaving only a small gate house untouched. And this is the only part of A Famosa that you see today.
Address: Jalan Parameswara, Bandar Hilir, 78000 Melaka, Malaysia.
2. St. Paul Hill & Church
Built in 1521, St. Paul Church is one of the ruins of A Famosa located at the top of St. Paul Hill. There are a statue of St. Francis Xavier and several tombstones beside. It is also the oldest church built in Malaysia.
Dedicated to Mary, the mother of Jesus, the church was constructed by Duarte Coelho, the Portuguese nobleman captain. He built the church to express his gratitude as he'd just escaped from the massive storm in South China Sea.
During the Dutch colonisation, the church was repaired and used as Protestant church. Later when British took over Malacca, they built a lighthouse and stored gunpowder in it. Since then, the church had fallen into disuse.
As the church is at the summit of hill, it offers wonderful view of Malacca. The well-maintained staircase has firm iron handlings and wide green field beside. It's just only a short walk to reach the top.
Address: Jalan Kota, Bandar Hilir, 75000 Melaka, Malaysia.
3. Maritime Museum Malacca
Maritime Museum Malacca is an outstanding museum established in 1994. Audio facility is provided inside the museum.
Easily spotted from far, the architecture of the museum is the replica of a Portuguese ship named "Flora de La Mar". The structure is approximately 36m long, 8m wide and 34m high.
Also read: 27 Best Things To Do In Malacca
Maritime Museum Malacca highlights the role of Malacca as an international and regional business centre in old times. Despite showcasing documents and artefacts of Malacca's trading history, it also reveals the political control of Malacca in old times.
Besides, the well-restored ship showcases lots of ancient currency and ship models of different eras that went through by Malacca. These eras include the Melaka Sultanate, Portuguese, Dutch to British colonisation.
Kids and the elderly must be careful of the steep staircase. Watch out the kids because some are not able to grip the high railing.
Address: Jalan Merdeka, Bandar Hilir, 75000 Melaka, Malaysia.
Opening Hours:
Monday to Friday: 9:00am – 5:30pm
Saturday & Sunday: 9:00am – 9:00pm
Entrance Fee:
Adults: RM3.00
Children: RM1.00
4. Menara Taming Sari
Menara Taming Sari is a 110m high gyro tower that opened to public in 2008. It is built with high Swiss technology, costing RM24 million in total.
Featuring a unique revolving platform, it offers an amazing 360-degree view of Malacca even to the island nearby. Other interesting sights include St. Paul's Hill, Dataran Pahlawan, Pulau Besar, Straits of Malacca and the Maritime Museum.
Also read: 13 Famous Local Foods In Jonker Street
This is also the very first yet only revolving gyro tower in Malaysia. Holding 66 passengers at once, the air-conditioned ride begins by lifting to 80m high.
At the same time, the glass cabin is slowly rotated, offering you a grand panorama. Excellent weather adds a bonus to the view too! In overall, the ride takes around 7 minutes.
Besides, the attraction is fitted with commercial outlets that consist of souvenir shops, restaurants and cafes.
Address: Jalan Merdeka Banda Hilir, 75000 Melaka, Malaysia.
Contact: +606-288 1100 / +606-281 3366
Opening Hours:
Daily: 10:00am – 11:00pm
Entrance Fee:
Adult (Malaysian): RM17
Children Below 12 (Malaysian): RM11
Adult (International Traveller): RM23
Children Below 12 (International Traveller): RM15
5. Malacca Sultanate Palace
Situated at the foot of the St. Paul's Hill, Malacca Sultanate Palace is a cultural museum that looks exactly same as the palace of Sultan Mansur Shah in 15th century. Hence, all historical documents inside are taken from the era of the Sultan Mansur Shah from 1456 to 1477.
To your surprise, the entire wooden palace was built without using nails. The palace even features zinc and copper roof and supported by beautifully carved pillars.
Using the data and information obtained from Malay Annals, the palace successfully preserved the golden era of Malacca. Thousands of prints, artefacts, drawings and photographs of Malacca Sultanate's amazing history are exhibited in the museum.
The three-storey cultural museum is divided into 8 chambers showcasing traditional costumes, jewellery, weaponry, brassware, decorative arts and more. There are also 3 galleries depicting the legendary warriors of Malacca Hang Jebat and Hang Tuah.
Address: Jalan Kota, 75000 Melaka, Malaysia.
Contact: +606-262 7464
Opening Hours:
Daily: 9:00am – 6:00pm
Closed on: Monday
Entrance Fee:
Adults: RM2.00
Children: RM1.00
6. Melaka River Cruise
If you want to sightseeing the heritage town of Malacca at the most leisurely pace, Melaka River Cruise is definitely your top choice. It is also one of the most popular tourist destinations in Malacca.
There are 3 jetties available where you can board the cruise: Muara Jetty, Taman Rempah Jetty and The Shore Jetty. The 9km round trip takes around 45 minutes. On the boat, there will be recorded commentary that introduces you the surrounding attractions.
As the cruise offers their services from day to night, you can choose the time and atmosphere that you like the most. During the day, you get a better view of the street arts and nearby attractions.
Also read: 11 Best Cafes In Jonker Street
While at night, the ambience is very romantic and wonderful. You can also board the cruise in the evening to catch the wonderful sunset.
Entrance Fee:
Monday to Thursday
Friday To Sunday / Public Holiday / School Holiday
Local Adult
(12 years and above)
RM10.60
RM15.90
Local Adult
(12 years and above)
RM5.30
RM5.30
Foreigner Adult
(12 years and above)
RM15.90
RM21.20
Foreigner Child
(2-12 years old)
RM7.50
RM7.50
Contact: +606-281 4322 / +606-281 4323
Opening Hours:
Daily: 9:00am – 11:30pm
7. Melaka Straits Mosque
Widely known as the Masjid Selat Melaka, Melaka Straits Mosque is built above the sea of Pulau Melaka, the man-made island in Malacca. The mosque was formally opened by the Malacca's king on 24th November 2006.
This is truly one of the most elegant mosques in Malaysia. Especially during the high tide, it looks exactly like a floating mosque on the ocean.
Despite following the modern Islamic architecture, it mixes with some Malaysian rooflines and Middle Eastern elements too. The large yet extraordinary prayer room inside can accommodate up to 1500 people.
While you are here, you can see the full coast of Melaka and it looks extremely stunning during sunset. And due to the scenic spot, it is more likely a popular tourist destination instead of the place of worship.
8. St. Francis Xavier Church
With the prominent twin spired neo-gothic architecture, St. Francis Xavier Church serves as one of the main historical buildings in Malacca. The church is easily spotted from far because the architecture is so different from the buildings surrounding it.
In 1856, the church was constructed by a French priest named Father Farvé and completed by Father Allard later in 1859. In 1874, the presbytery was constructed and used until present day.
Many said that the church's architecture resembles the Cathedral of St. Peter located in France, except for the portico that was added in 1963.
Nowadays, it still functions as a catholic church that offer services in different languages such as English, Tamil and Mandarin. Due to the long history, you might discover that the church leans a bit to the left.
Address:  12, Jalan Banda Kaba, Bandar Hilir, 75000 Melaka, Malaysia.
Contact: +606-282 4770 / +606-282 4817
9. Straits Chinese Jewellery Museum
Opened in 2012, Straits Chinese Jewellery Museum is set in a heritage building filled with Baba Nyonya culture.
Before the establishment, it was a home of a wealthy Peranakan Chinese. It consists of two spacious courtyards, dining room, living room, several bedrooms and more. Hence, the museum showcases the opulent lifestyle of them as well as their traditions and customs.
Displaying close to thousands furniture and jewellery of the era, you get to learn the Peranakan culture in detail. Most of the design are highly influenced the motifs of Chinese ethnic. by Gallery and several jewellery-making equipment are displayed here too.
There will be tour guides who are friendly and knowledgeable to lead you all the way round. The tour takes around 45 minutes and you can opt for either Chinese or English language tour.
Address: 108, Jalan Tun Tan Cheng Lock, 75200 Melaka, Malaysia.
Contact: +606-281 9763
Opening Hours:
Monday to Friday: 10:00am – 5:00pm
Saturday & Sunday: 10:00am – 6:00pm
Entrance Fee:
Adult: RM15
Children (6-12 years old): RM10
Children (below 6): Free
10. Masjid Kampung Hulu
Built in 1728, Masjid Kampung Hulu is the second oldest mosque in Malacca. Originally, the mosque was build out of wood. Due to environmental exposure issues, the wooden structure was replaced with concrete materials in 1892, in case of collapse.
When Portuguese ruled over Malacca, they demolished all religion buildings except the Christian establishments. However, Dutch who took over Malacca from Portuguese helped the locals a lot in rebuilding their worship places. Masjid Kampung Hulu is one of them.
The mosque has a distinctive architecture design as it combines both Javanese and Chinese elements. With 3 ascending layers of pyramidal roof, it also boasts precious adornment from Ching Dynasty. In the front yard, there are 2 cannons that seem to guard the entrance.
Only Muslims can enter the mosque. For non-Muslims, you can walk around the mosque and find some scenic spot for pictures.
Address: Jalan Kampung Hulu, 75200 Melaka, Malaysia.
10 Best Attractions Near Jonker Street
How To Get To Attractions Near Jonker Street
If you wonder how to go to the attractions above from Singapore, you can always consider the private car services offered by SGMYTAXI. They will bring you to any of the destinations above safe and sound.
With designated pick-up point and drop-off point, they make your journey more pleasant by offering luxury 7-seater fleets where you can sit back and relax all the way. Plus, you don't need to get off at customs as the driver will take care all of it.
Book online NOW to get your private car service from Singapore to Malacca.
However, if you already in Malacca, there are 2 transport options for you. If the destination is quite far from your place, consider the local taxi because it is faster. But if you are going somewhere near, ride on any of the trishaw around. It could be a wonderful ride to you.