Normally when we talk about Bak Kut Teh in Malaysia, Klang first comes into our mind.
We cannot deny the fact that Klang is truly a hometown of Bak Kut Teh in Malaysia.
Other than tourist spots in Malacca, do you know that Malacca boasts delicious Bak Kut Teh too?
The special part is that they serve yam rice instead of white rice. To me, it tastes great!
If you happen to be in Malacca town and really crave for Bak Kut Teh, then you've come to the right place!
5 Best Malacca Bak Kut Teh
1. Soon Huat Bak Kut Teh Melaka (马六甲顺发肉骨茶)
Origin from Johor, Soon Huat has the most outlets in Malaysia that serves delicious Bak Kut Teh. This shows that the Bak Kut Teh here is truly favoured by the locals.
With typical Chinese character of "Soon Huat" on the red shop sign, the restaurant is easily recognizable from far. Inside, the environment is clean and spacious. It is ideal for large groups of friends and families as the table is very big.
Also read: 12 Best Restaurants In Jonker Street
Soon Huat serves the Teo Chew style Bak Kut Teh. It stands out from others by using charcoal in their cooking. Served in the clay pot, their Bak Kut Teh has a light herbal taste and full of typical ingredients. Besides, their sesame oil chicken and pickled vegetables are worth a try too!
Location: No.64, Jalan Melaka Raya 14, Taman Melaka Raya, 75000 Melaka, Malaysia.
Phone: +6019-778 0709
Opening Hours: 8:00am – 5:00pm
2. Teo Chew Bak Kut Teh Melaka (潮州肉骨茶)
The Bak Kut Teh at Teo Chew is out of ordinary. Instead of white rice, they serve the yam rice which is totally scrambled and not too moist in texture. All you can smell is the scent of yam and once bitten, you'll notice there are small slices of yam in between. It's best if you enjoy it with soy sauce.
The clay pot of Bak Kut Teh is always full loaded with pork belly, pork balls, mushrooms and complemented by generous amount of you tiao (fried beard stick).
Besides, the broth is garnished with celery instead of green lettuce to give a more flavourful taste. It has a stronger peppery taste rather than herbal taste. You can always refill it as much as you want.
Almost all ingredients are sold out by 1pm especially on Sunday. So we advise you to plan the visit in the morning.
Location: Jalan Melaka Raya 4, Taman Melaka Raya, 75400 Malacca, Malaysia.
Contact: +606-282 7454
Opening Hours:
Daily: 8:00am – 2:00pm
Closed on: Monday
3. Lim Kee Bak Kut Teh Melaka (林记沙煲肉骨茶)
With more than 40 years history, Lim Kee is always one of the favourite destinations among food hunters. Though it only offers Bak Kut Teh and pig trotters, the unique taste has successfully retained customers and keep them coming back again and again.
The owner himself came out with the secret recipe. According to the owner, they usually close the doors at 2pm. However, customers can make a reservation in advance otherwise they'll close once sold out.
Complemented with white rice or taro rice (it's up to you to choose), the Bak Kut Teh boasts 13 different ingredients such as pork ribs, pork balls, mushrooms, dry bean curd and some vegetables. The broth looks dark and it gives off a strong herbal smell.
Their vinegar-braised pig trotter is another highlight here. You should give it a try too.
Location: 180, Jalan Laksamana Cheng Ho, 75000 Melaka, Malaysia.
Contact: +6016-644 5555
Opening Hours:
Daily: 7:30am – 2:00pm
Closed on: Thursday
4. Ah Lang Bak Kut Teh (阿兰肉骨茶)
Ah Lang is another Bak Kut Teh restaurant in Malacca that favoured by locals for their reasonable price and unique taste. The place is usually crowded during the brunch hours.
The pork trotters and pork meat is the highlight here. The chef makes it really soft that it could instantly melt in your mouth. The tender meat even makes the broth sweeter and more flavourful. Some said that the broth is a bit salty but for me, it's just perfect!
Also read: 26 Best Malacca Food
Ah Lang offers yam rice too. What's best it that sliced yam inside makes the rice moister and sweeter.
Customers can ask for any parts of pork they want, either it is pork tongue or pork intestine. You can also add the pork meatballs to complement your meal.
Location: 70, Jalan Mutiara Melaka 2, Taman Mutiara Melaka, 75350 Batu Berendam, Melaka, Malaysia.
Contact: +6012-607 7010
Opening Hours:
Daily: 7:30am – 2:30pm
Closed on: Tuesday
5. Loi's Top Beef Bak Kut Teh (黎氏牛肉及肉骨荼)
Have you ever try the beef-based Bak Kut Teh? We're so used to the Bak Kut Teh that served with pork. Now here's a chance for us to try something new!
Also read: 13 Local Nyonya Food in Malacca
Located in a residential area, the Bak Kut Teh at Loi's Top has a vast difference in terms of flavour. Instead of a sweet herbal taste, the soup has a strong peppery flavour. They even use black pepper instead of white pepper to cook the broth. Quite spicy for those who can't eat spicy.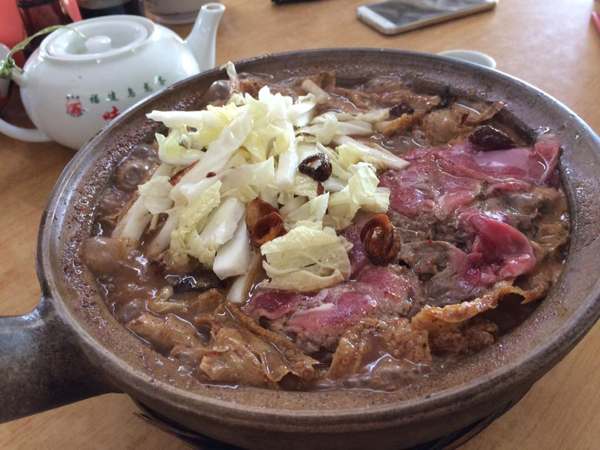 The taste of the soup may be overwhelming at first but slowly you will get used to it. For the beef, it is chewy and not so tough. Not to forget their beef balls too, it tastes so good and is worth added on.
Location: 26, Jalan Permai 2, Taman Perkota, 75350 Melaka, Malaysia.
Contact: +6012-694 5212
Opening Hours:
Daily: 10:30am – 2:00pm, 6:00pm – 10:00pm