Only had a day off from work but doesn't know where to go?
Why not soak yourself in a land of abundance culture, history and gastronomical delight?
Malacca was once a thriving trading port. Today it is teeming with history!
While it no longer enjoys the glory days of centuries gone by, it still is a melting pot of cultures that came to establish themselves through ancient conquests and trade.
In 2008, the city was awarded a UNESCO World Heritage Site thanks to its unspoilt architecture of the old town and its glorious history.
Today it is one of the top places to visit in Malaysia and the phenomenon is not fading anytime soon.
6 Recommended Itineraries For Malacca ONE Day Trip
Itinerary 1 –  St. Paul's Church –> A'Famosa Fort –> Dutch Square –> Baba Nyonya Heritage Museum –> Cheng Hoon Teng Temple –> Shore Sky Tower
Itinerary 2 – Cheng Ho Cultural Museum –> Menara Taming Sari –> St Paul's Church –> Dutch Square –> Straits Chinese Jewellery Museum –> Shan Shu Gong –> Jonker Street Night Market
Itinerary 3 – St. Paul's Church –> Stadthuys –> Upside Down House Malacca –> Maritime & Naval Museum Malacca –> Menara Taming Sari –> Alto Sky Lounge@ Hatten Hotel
Itinerary 4 – Taman Mini Malaysian & ASEAN –> Malacca Wonderland and Theme Park –> Malacca Bird Park
Itinerary 5 – Coral Wonderland Malacca –> Upside Down House Malacca –> A' Famosa Fort –> Stadthuys –> Malacca River Cruise
Itinerary 6 – Cheng Ho's Cultural Museum –> Straits Chinese Jewellery Museum –> Jonker Walk –> Sri Poyyatha Vinayagar Moorthi Temple –> The Shore Sky Tower

Malacca Popular Tourists Attraction Places
1. A'Famosa Resort Malacca
This resort is named after the famous fort built by the Portuguese to protect Malacca from invaders. A'Famosa Resort Malacca is set in a lush countryside with tropical greenery as far as the eye can see.
It is one of the region's most sought-after leisure spots and it welcomes thousands of visitors every year. The resort is easily accessible as you will see the resort when driving on the North-South Highway.
Coming from Singapore, it is a four-hour ride from downtown Singapore including the time it takes to navigate through customs and immigration at the causeway.
Visible from the North-South Highway, A'Famosa Resort is a short distance away from the historical town of Melaka. It is just a mere hour drive from Kuala Lumpur International Airport and one and a half hour drive from Kuala Lumpur.
Are you in Malacca for business or pleasure? This luxury resort will answer to both cases. It is built on all of 1,300 acres and there is a championship golf course of international standards here among other attractions.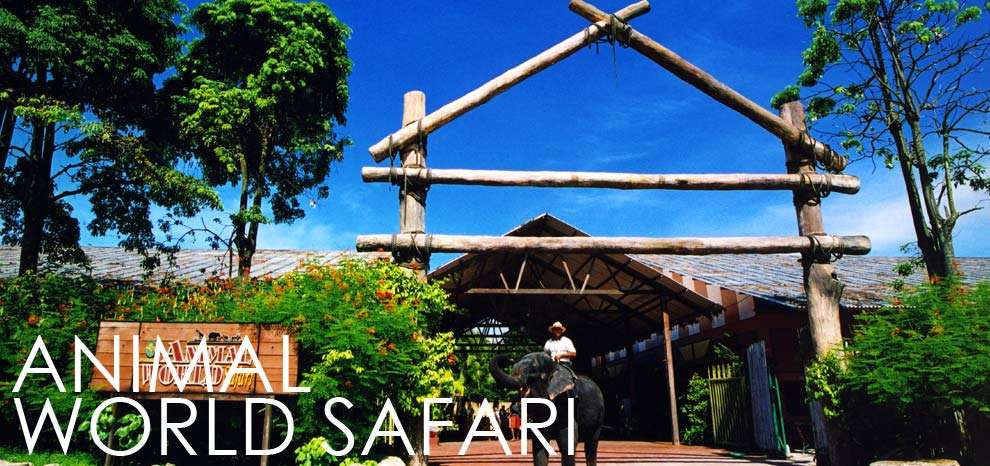 Attractions
The championship golf course: The golf course was designed by the master golf course architect Ross C. Watson, an Australian. It has beautiful greens and fairways fringed by tropical coastal flora. There are 27 holes overall at the golf course. The clubhouse has the best panoramic views of the whole resort as it is built on high ground. Here you will find fine dining, a business centre and VIP accommodation.
Animal World Safari: This is a fantastic place to see animals roaming in the wild, right inside the resort. There are tigers, lions, racoons, giraffes, rabbits and lemurs, and also their own Monkey Island.
The Water World Theme Park: Here you will find some of the best rides in all of Malaysia as well as many more water games and exciting activities for children and adults alike.
Accommodation: There is plenty of accommodation here. You can choose to have rooms or suites at the Resort Hotel, the villas or at the Condotel.
Cowboy town: Here, you will find enacted Wild West shows featuring almost real-life cowboys. The shows are exciting and they will leave you breathless.
Address:
Jalan Kemus, Simpang Empat, 78000 Alor Gajah, Melaka(Malacca), Malaysia
Contact:
+606-552 0888
Opening Hours:
Water World:
Monday to Friday: 11:00am – 7:00pm
Sat, Sun, Public & School Holidays: 9:00am – 7:00pm
Closed on: Every Tuesday except Public & School Holiday
Animal World Safari:
9:00am – 5:00pm
Old West Cowboy Town:
6:00pm – 12:00pm
Facebook
2. Melaka Wonderland Theme Park & Resort
Malaysia has some of the best theme parks in all of Southeast Asia. The Melaka Wonderland Theme Park & Resort is one of the best in Malaysia itself, it is also the latest addition to the theme parks that are already in Malacca. The theme park is located in the beautiful and exotic tourist area of Ayer Keroh, Malacca.
Also read: How To Get To Malacca From Singapore
The theme park is a wholesome collection of fun activities for everyone. Adults, teens and children will all have a fabulous time here and the memories will last you, your family and friends for a long long time. Set in natural surroundings, the greenery is enchanting as the water rides and slides are exciting.
The Melaka Wonderland Theme Park and Resort spreads across 360 acres of land which means that everything is not crammed in one place. It is ideal for a leisurely day out for family or groups of friends.
Attractions
The Tornado Chaser: A wild water slide where you will be thrown into a swirling pool after a fast ride down. It is the first of its kind in Malaysia and the memories of this ride will not fade for years. It is the most popular slide here and people come from far and wide for the extraordinary experience.
Lazy cum Crazy River: A slow-moving river with numerous twists and turns and plenty of fun activities for the young and the young at heart.
1 Big Wave pool: This is a beachfront like-place where gentle waves lapping the shore that kids love to play in very much. You can sit and relax or you can opt to join in the fun too.
Adventure Island: This is an island of fun for children of all ages. It is an 8 slide complex made to be one great play area that kids really love.
Natural Recreational Forest: This is a lush forest with local tropical foliage where a nature walk is always rejuvenating and a beautiful place to take pictures of the memories.
Address: Lot PT 17178, Lebuh Ayer Keroh, Hang Tuah Jaya, 75450 Ayer Keroh, Melaka, Malaysia.
Contact: +606-231 3333 / +606-231 1119
Opening Hours:
Tuesday to Friday: 11:00am – 7:00pm
Saturday to Sunday,  School & Public Holiday: 9:00am – 7:00pm
Closed on: Monday except during public & school holidays
Entrance Fee: 
Weekday:
Malaysian: MYR33.20 (Adult), MYR26.05 (Child)
Non-Malaysian: MYR45.00 (Adult), MYR37.90 (Child)
Weekend:
Malaysian: MYR37.90 (Adult), MYR32.00 (Child)
3. Jonker Walk – Famous Night Market
Jonker Walk is a street in Malacca right in the heart of the UNESCO World Heritage Site. It is a famous street globally for its rich collection of authentic antiques, the cultural aspect and the architecture; most of the shop buildings here are from the 17th century which makes them several hundred years old.
Lovers of antique items will always come to Jonker Walk as part of their Malaysian itinerary. Visitors come from far and wide, all over the world for the best bargains of items and jewellery of bygone eras.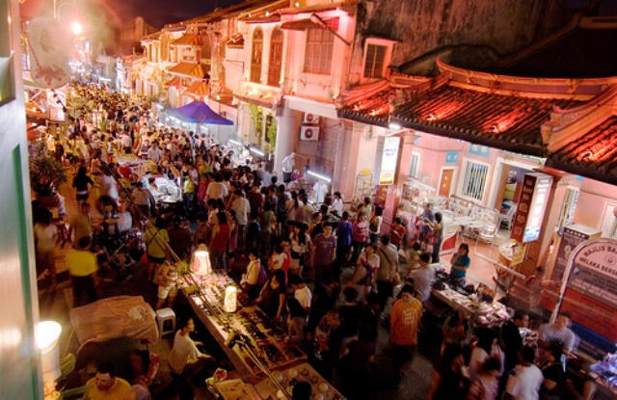 In the Dutch colonial period, it was the street in which the servants of Dutch masters had their homes. Soon the well-heeled locals started to live in the area and they opened shops as well.
The street has a strong Chinese influence; there is even a Chinatown owing to Chinese immigration over the centuries.
Attractions
The weekly market: The Street is closed to traffic on all Fridays, Saturdays and Sundays. This is to allow the market to thrive and it does this very well between 6:00pm and midnight. It is here that traders will display their wares and invite you to see and buy.
The antiques: It is on Jonker Walk that you will find genuine antiques from the Portuguese, the Dutch and the British colonial periods. You will also find ancient Chinese items on this street. There will be a wide collection of fabrics, jewellery, wooden clogs, arts and crafts and other memorable items at prices you will not get anywhere else in the world.
Jonker Street Food: It has some of the best eateries in Malacca. It is at the end of the street that you will find Geographer's Café, a famous place for great drinks and Nyonya food in Malacca.
Address: Jonker Street Night Market, Jalan Hang Jebat, 75200 Melaka, Malaysia.
Opening Hours:
Friday to Sunday: 6:00pm – late
4. Air Keroh Lake
The Air Keroh Lake is the place to visit if you are looking for a great water sports venue. The lake, clean, calm and vast is a great place for people who want to play in the water in a serene and attractive environment.
It is set in a splendid tropical environment and it is green all around. One of its best attributes is that it is only 11 kilometres from the Malacca city. This makes it ideal for people who are visiting the city but want the calmness of the countryside for part of their tour.
Also read: How To Get To Port Dickson From Singapore
This is an ideal place for lovers; there are cabins and huts for rent if you want to extend your stay at the lake. There are also facilities to ensure that it is family friendly. For a group coming from Singapore or Johor Bahru, it is only a few hours ride by car.
Attractions:
Water sports: Do you enjoy sailing? This is the place to be when you want a great day on the water. Here you will find safe, clean and reliable sailing boats that will soon have you feeling the wind in your hair as you skim over the lake. You will also find canoes and boats all for rental at the shore.
Fishing: Have you ever had the urge to catch your own dinner? You can do that at Air Keroh Lake. With a rental boat and some necessary equipment, you can have a part of the lake as your own where you can spend some quiet time with a friend or loved one floating on the water. With luck, you can catch some fish as well.
Other facilities: Other facilities you can enjoy include a large playground, jogging paths and kiosks where you can buy some good food and cold refreshments.
Address: Jalan Ayer Keroh/15 km east of Melaka Town, Melaka, Malaysia
Most tourists will prefer to walk around the city and attractions near Jonker Street as most historical places are within a small radius. For attractions outside town, most visitors will prefer to drive around.
There is an alternative way to make tours more interesting in and out of town; riding a mountain bike around the attractions.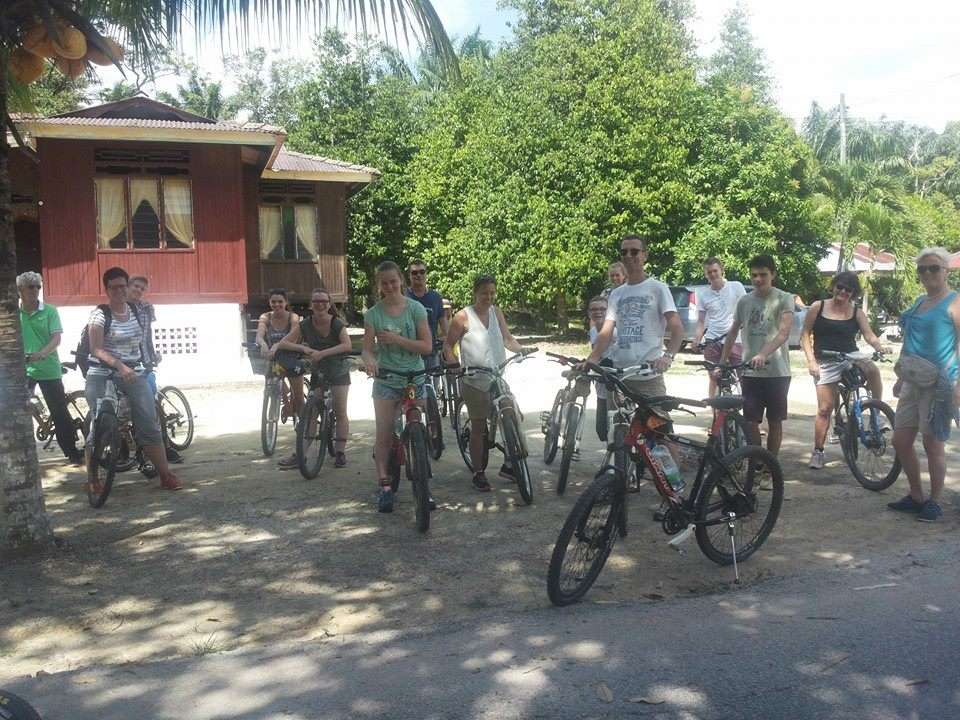 Malacca is known for its historical significance, but there is a whole world of beauty and adventure beyond the UNESCO World Heritage Site. There are many beautiful rubber and palm plantations stretching on and on and one of the best feelings is to feel the wind on your face where you are riding in a green plantation or open fields.
Malacca On Bike-Day Tours has been giving guided tours since 1999, cycling through villages and whiffing the taste of 'real' Malacca is another experience one should try!
Attractions
The bikes are well maintained, safe and reliable. They will take you all over the city and to the other attractions beyond. The freedom you feel when riding a bike on a guided tour makes for a great day out with your family and friends. The bikes are rented out depending on the duration you want. You can opt for a short ride of about 3 to 4 hours or a whole day package.
You will be provided with helmets for safety and the guides are well informed about the best sights of the terrain and they are also friendly and helpful.
Address: 117, Jalan Tiang Dua, 75460 Tiang Dua, Melaka, Malaysia.
Contact:+606-267 1539
6. Malacca River – Relax and Nice View
Malacca River is a slow-moving river that cuts across the city. This is one of the best things to do in Malacca that you should do after getting to Malacca. This tour will let you get a good overview of the city whether you choose the walk or ride on a cruise.
Have a slow and entertaining view of the city while cruising down the river. You may choose to ride either in the morning, afternoon or evening. The evening cruise is the most attractive one as every shop is lit up with colourful bright lights whereas the twinkling sparkle from the reflection of water makes the city glow!
If you choose to walk, you will find that it is clean, safe and easy to walk even when you are in a group or with small children. The graffiti here along Jalan Kampung Hulu is colourful and intriguing and lovers of street art will find plenty to look at and enjoy.
Attractions
The river cruise: The Melaka River Cruise operates every day between 9:00am and 11:30pm the cost is affordable and it is well worth the cost anyway because the sights are great when being seen from the river. The Malacca River is not very wide. This gives you the opportunity to take in the city sights at close range.
The river cruise at night: If your stay in Malacca extends to the evening, take a night cruise on the Malacca River and get ready for one of the most spectacular river cruises you will ever have in your life. Most of the buildings on either side of the river have bright decorative lights all about them which will excite your eyes to no end. Add the twinkling reflections on the water and the cruise will be as magical as it can ever be.
The Jetty: The jetty area is bright with canopies to shelter you from the hot Malacca sunshine during the day as you enjoy your time along the river walk. At night, catch the breeze here before you leave town; you will love it!
Address: Muara Jetty (close to Maritime Museum)
Contact: +606-281 4322
Opening Hours: 9:00am – 11:30pm
Ticket Price:
Monday to Thursday:
Malaysian: MYR13 (adult), MYR6.50 (Child)
Non- Malaysian: MYR18 (Adult), MYR10 (Child)
Friday to Sunday, Public & School Holiday:
Malaysian: MYR18 (Adult), MYR6.50 (Child)
Non-Malaysian: MYR23(Adult), MYR10 (Child)
7. Dutch Square
Dutch Square also known as Red Square is one part of Malacca that inspired the awarding city as a World Heritage site. It is situated just to the south of the main part of the city near the St. John's Fort.
It is easily accessible and a lot of locals and overseas tourists come to visit Dutch Square every day. Dutch Square is clearly visible from St Paul's Hill which is not far off. In the vicinity of the Dutch Square is the Cheng Ho Culture Museum.
The history that is held in this place is immense. You will experience the history from the Malay Empire days, to the Portuguese invasion days, to the Dutch period and the current situation. Having a good guide is a plus because he will put all the attractions in perspective besides adding an anecdote or two to his explanations.
Highlights
Mini Lisbon: It is the only site that maintains its true Portuguese identity so well in the entire country. It is the place where the culture of the Portuguese exhibits itself in all its splendour. This is a place that looks like nothing much has changed for the last 400 years. Today, it hosts lots of tourists looking to enjoy its restaurants, entertainment spots and its unique stalls.
Malacca Hotel: This is the main hotel in this part of the city. It offers accommodation with all budgets catered for.
The Stadthuys: It is the most recognizable building in the whole area together with its red clock tower. It was the seat of the government during the Dutch colonial era. Nearby are the A'Famosa Fort and St. Johns Hill.
Christ Church: This building is to commemorate the 100th anniversary of Dutch occupation in Malacca and to replace the earlier ruined Portuguese church.
Address: Bandar Hilir, 75200 Malacca
GPS Coordinates: 2.1945° N, 102.2488° E
8. The Shore Sky Tower
The best way to see the sights of a city is to visit the sights themselves, to see them from a distance and to see them from above.
For many years, the visitors would only see the sights from the ground; then came the Shore Sky Tower, the highest man-made structure in Malacca and many miles beyond.
Today, you can experience some of the most breathtaking views of Malacca from very high; as high as the 43rd-floor viewpoint from the Shore Sky Tower. Apart from the cityscapes themselves, you will be able to look as far as 50 kilometres from Malacca on either side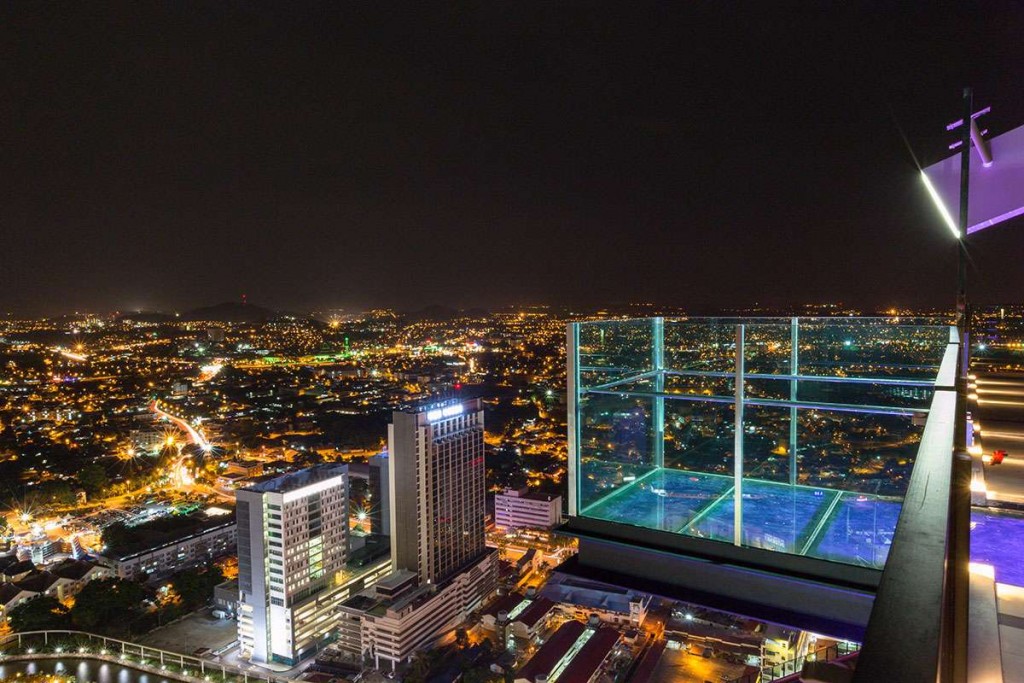 Apart from that, there is plenty more that you can do at the Shore Sky Tower.
The Shore Sky Tower is an elaborate development on the shores of the Malacca River. It is planned to be the premier shopping, dining and accommodation centre in the city.
Attractions
The Observation deck: The top floor of the Shore Sky Tower will give you the most panoramic views of the city and beyond. This is a part of your tour to Malacca that you will do yourself a disservice to miss. The fee is affordable for everyone and the photo opportunity are to die for up there.
Dining and wining: Enjoy fine dining at the Shore Sky Tower. You will find splendid restaurants with the widest local and international menus anywhere in Malacca. You will also find fine bars where you can have the best wines and classy cocktails among other refreshments.
Oceanarium Complex: This development will have the longest oceanarium complex in the whole world bringing together business, accommodation and fine shopping to Melaka.
Address: Tower 1, Level 42, The Shore Shopping Gallery, 193, Pinggiran @ Sungai Melaka, Jalan Persisiran Bunga Raya, 75100 Melaka, Malaysia.
Contact: +606-288 3833
Opening Hours: 10:00am – 10:00pm
Entrance Fee: MYR25 (adults), MYR18 (children aged 3-12 years old)
9. The Stadthuys Malacca
Are you a history buff? Do you like photogenic places where you can walk around and feel one with the heritage of a place rich in history?
Don't forget to visit The Stadthuys when you go to Malacca as it is also known as a matter of priority. It holds a lot of secrets and stories from the Dutch colonial period.
Here you will find a vibrant atmosphere with many tourists visiting The Stadthuys every day. They will be from locals, Asia countries and other countries in the world. It is also a good place to people-watch.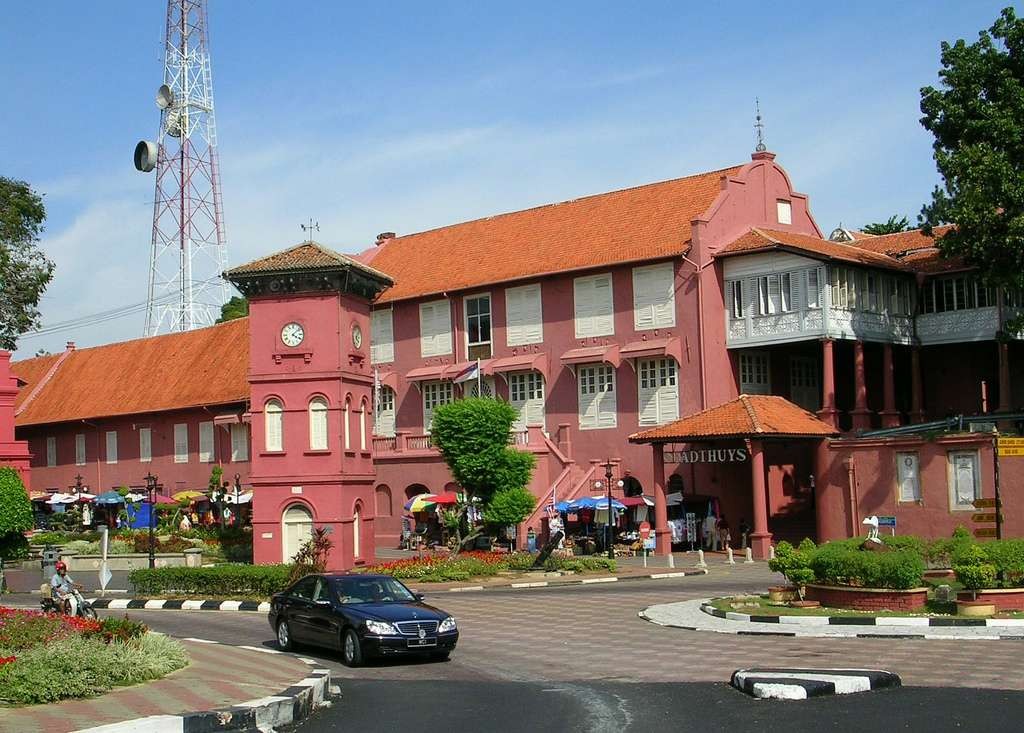 Attractions
The Dutch Administration Center: This is the large red building that hosted the offices and residences of the Dutch Governor during the colonial era. Here will be the famous and one of the most photographed buildings in the city, the Stadthuys. There will also be the Christ Church which is also from the Dutch period. From the British period in the Victorian years, you will find the Queen Victoria's Fountain. The Chinese have always had a presence here for centuries and this is represented by the Tan Beng Swee Clock Tower. It is dedicated to a benevolent Chinese trader who was highly admired and respected in his day.
Souvenir shops around Jonker Street: You can buy inexpensive souvenirs ranging from hand-crafting shoes, Nyonya attire, antique sculptures, jewellery to foods at the shops in Jonker Street and stalls that will be at the Red Square. You will find good bargains here and you may just land a great antique at an unbelievable price.
Nearby attractions: The best thing about The Stadthuys is that most of the other attractions in the city and especially in the World Heritage Site are all accessible easily on foot, by car or by riding a bicycle.
Great photos: Carry your camera along for some of the best sites to take pictures at The Stadthuys. It is these pictures that will remind you of the great times you had at Malacca.
Address: Jalan Gereja,75000 Malacca, Malaysia.
Contact: +606-282 6526
Opening Hours:
Monday to Thursday: 9:00am – 5:00pm
Friday to Sunday: 9:00am – 8:30pm
Entrance Fee:
Malaysian: MYR5 (Adult), MYR3 (Child)
Non-Malaysian MYR10 (Adult), MYR4 (Child)
Best Way To Get Around Malacca
If  you have planned for a short weekend getaways from Singapore to Malacca, you will need to have the best transport arrangements to ensure that you have the time of your life.
The most convenient way to get to Malacca and back to Singapore is to use a privately hired taxi to and from there. SGMYTAXI is the leading firm in this field.
The taxis are large 7-seater vehicles that are fully air-conditioned, well maintained, and spacious to give all passengers a comfortable ride even with their luggage. The drivers are well trained, professional and well versed with all the routes to Malacca and all its attractions.
What are you waiting for! Book online now with SGMYTAXI to get the service.