Have you planned your next vacation or perhaps weekend getaway?
If no, why not consider some of the best islands near Singapore for perfect relaxation and exhilarating water sports!
All these islands are easily accessible from Singapore by land or water transport whereby you don't need to go by plane.
Some of them can even be rented out as the whole island just to cater your needs!
Sounds unbelievable?
Move on and I will show you how.
11 Best Islands Near Singapore
1. Lazarus Island
Sick of crowded beach at Sentosa Island and look for a serene yet idyllic island?
Then head to the secret island in Singapore – Lazarus Island to enjoy a perfect island getaway.
Be sure dip your toes in the turquoise sea and build sandcastles at the white sandy beach. Most importantly, just enjoy yourself because it's so secluded and clean!
What To Do In Lazarus Island:
Trek into the northern part of Lazarus Island – Pulau Seringat until you reach a pavilion to snap the panoramic view of Singapore mainland.
Fly a kite when the wind is strong. You have unlimited space to run.
Make friends and feed the stray cats on the island.
Spot the Pirate Cat – the most famous cat here!
Bring delicious food for picnic.
Sunbathe if you desire to get tanned.
Look out the newly dropped coconut and enjoy the freshest coconut juice.
Where To Stay In Lazarus Island:
There is no place to stay and even no food on the island. Nearest accommodations offered at St. John island.
You can consider camping out the beach, renting a beautiful studio or staying in any one of their all-inclusive resorts.
How To Get To Lazarus Island From Singapore:
Take a ferry from Marina South Pier terminal to St John's Island. Return ticket are SGD$18 per adult and SGD$12 per child.
Earliest ride is 9:00am during weekdays and 10:00am during weekends. Then, lazarus Island is just 20-minute walk from the St John's Island through the link bridge.
2. Nikoi Island
The allure of Nikoi Island lies in the simplicity and romantic atmosphere where many couples are here to enjoy their very first honeymoon.
Accompanying the honeymoon are dazzling sea under sunlight, light ocean breeze and peaceful beach. It does feel like you're at Maldives!
Thrilled to know, you can experience Maldives here for just a fraction of the package price! What are you waiting for?
Also read: 35 Most Popular Places To Visit In Singapore
What To Do In Nikoi Island:
Enjoy non-motorised water sports such as paddle boarding, diving, sailing, snorkelling and kayaking.
Explore the island by rock climbing and jungle trekking through the exciting trails.
Play tennis, beach volleyball and Capture the Flag. Many games are available upon request.
Enjoy BBQ seafood, scrumptious local cuisine from seasonal ingredients and tropical rainforest.
Indulge in the Spa for perfect rejuvenation.
Take a speedboat to nearby secluded island for ultimate privacy.
Catch the stunning sunset at Sunset Lounge or Yogi's Beach Bar.
Where To Stay In Nikoi Island:
1. NIKOI
Wake up to glorious sea view with NIKOI. Featuring only 15 beach houses, each is specially designed in traditional Indonesian architecture incorporated with modern bathroom. Privacy is absolutely guaranteed because all beach houses are spaced out more than 5 hectares.
Also read: Lotus Desaru Beach Resort (Top Rated Johor Beach Resort)
Rooms are non air-conditioned with mosquito net for every bed. Spectacular swimming pool, bars, and restaurants are offered, providing a simple barefoot luxury.
How To Get To Nikoi Island From Singapore:
Go to Tanah Merah ferry terminal and take a 1-hour ferry to Bintan. Then, take the taxi to the jetty (1 hour) where you can ride on another ferry to Nikoi Island.
3. Pangkil Island
Ever dream to rent the entire island where you and your group are the only guests? Pangkil Island is here to make your dream come true!
Being a private island paradise, Pangkil Island is best suited for birthday parties, weddings, reunions and corporate team-building events.
Staff and workers are very friendly and caring to help you with everything, ensure you a pleasant and comfortable stay.
What To Do In Pangkil Island:
Enjoy water sports like snorkelling, canoeing, stand-up paddling and sailing.
Wind down at the lounge after a tiring day.
Pamper yourself with a massage at the Pool House for SGD$25 per hour.
Enjoy indoor activities such as board games, movie screening and table tennis, pool table and lounging with music.
Watch the sun goes down while laying down on a hammock.
Sing and dance around the campfire to end the day on the island.
Chilli omelette, barbequed fish, curries and stuffed squids and pancakes are the must-try food here.
Where To Stay In Pangkil Island:
1. Pulau Pangkil Private Island Resort
Everything in the resort feels so rustic and beautiful. The open-air palace is equipped with beautiful garden, hammocks and balcony overlook the gorgeous sea.
Some come with no window so guests can hear the waves clapping all night. Lots of hammock and outdoor benches around for perfect unwind too.
Be sure to book at least 6 months in prior because the island is often booked out!
How To Get To Pangkil Island From Singapore:
From Tanah Merah Ferry Terminal, take a 2-hour ferry to Tanjung Pinang Ferry Terminal located on Bintan Island. Then, board the bus to Pama Jetty (1 hour) and ride on another ferry again to Pulau Pangkil (30 minutes). There will be staff leading you to the resort.
4. Karimun Besar Island
Just southwest from Singapore and west from Batam of Indonesia, is Karimun Besar Island  (Great Karimun).
This stunning island paradise is one of the Riau Islands in Indonesia and is home to pristine white beaches! The main town is Tanjung Balai.
Its location makes it a perfect getaway destination to escape the stresses of the city!
Also read: Batam To Johor Bahru (JB) Ferry Tutorial (The Most Complete Guide!)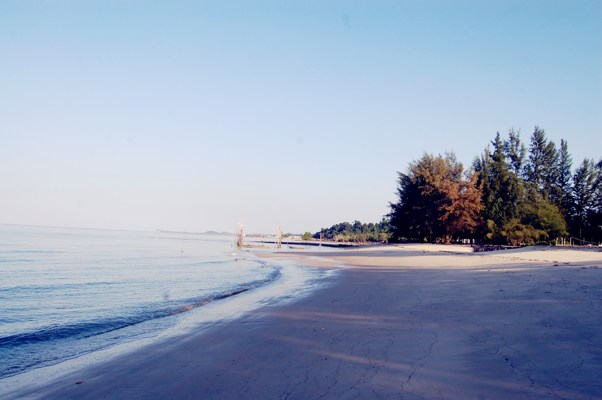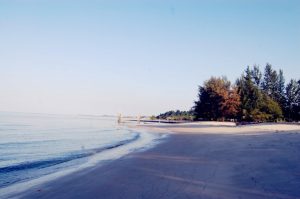 What To Do In Karimun Besar Island:
Explore the beaches (Pelawan, Ketam, Telunas, Batu Limau and Pongkar beach)
Snorkeling
Go island hopping (Terkulai and Soreh)
Visit a waterfall pool (Pongkar Waterfall)
Get fresh seafood (Long Beach)
See the historical temples(Panggung Tua Pek Kong), mosques (Karimun Great Mosque) and churches
Hiking (Mount Jantan or Gunung Jantan)
Diving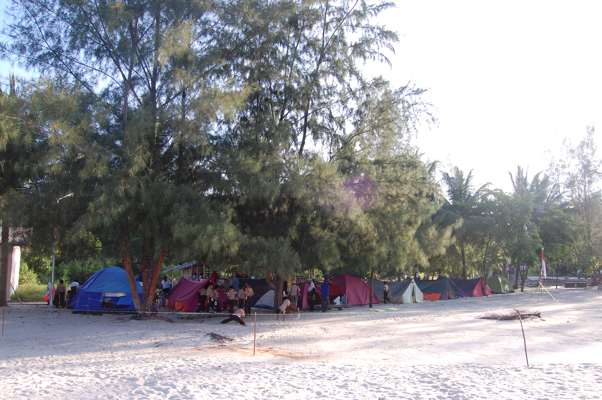 Where To Stay On Karimun Besar Island:
1. Balai View Hotel
The spacious rooms, reasonable rates and a convenient location (close to a market and eateries) make this hotel popular with tourists!
2. Hotel Maximillian
2 minutes' walk from Balai View Hotel, and often fully booked, this hotel has spacious and clean rooms with a fridge, TV and tea-making facilities.  There is an in-house spa and sauna.
How To Get To Karimun Island From Singapore:
From Harbourfront Ferry Terminal in Singapore, take a ferry for 1.5 hours to Tanjung Balai. Sindo Ferry and Indofalcon ferries depart 4 times a day. It is ~SGD $30 for a one-way trip.
5. Bintan Island
Embark on a holistic island escape to Bintan island to rejuvenate your mind, body and soul.You can easily release all stresses in this beautiful island!
Known as the second Bali, this island has so much to offer – luxury resorts, seafood feast, thrilling water sports and amazing beaches, same as what Bali offers to you!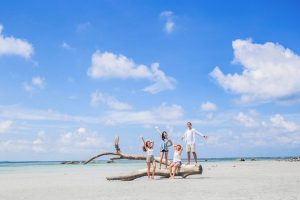 What To Do In Bintan Island:
Go for Mangrove Tour at around SGD$38 per head.
Enjoy snorkelling and explore the underwater world.
Conquer the 340-metre Gunung Bintan.
Play a game of paintball at SGD$50 per person.
Watch turtle hatching if you happen to be here around May, June, August and September.
Learn about the Chinese culture in Indonesia by visiting to Senggarang Village. Bayan Tree Temple here is the must-visit.
Ride the Jetovator, a kind of motorised water sport which lifts you up the surface of water.
Explore the forest by taking ATV rides.
Also read: Top 15 Best Dive Sites In Malaysia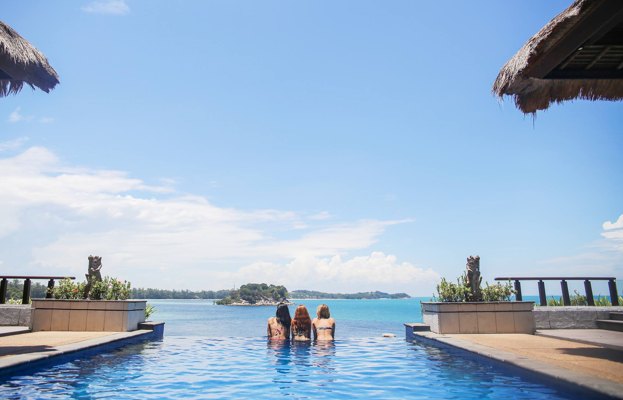 Where To Stay In Bintan Island:
1. Club Med Bintan Island
With 311 suites and rooms offered, this resort also offers families and couples club rooms with private balcony overlook the sea and lush green.
Gold course, spa and flying trapezeadd to your stay too.Besides, this resort is very children friendly because kid's entertainment and facilities are offered too.
2. Bintan Lagoon Resort
The largest resort on the island with 2 championship golf courses. Rooms offered ranging from suites, villas and even self-catering villas.
You can enjoy both land sports and water sports with the resort.
How To Get To Bintan Island From Singapore:
Take ferry from Tanah Merah to Tanjung Pinang at approximately SGD$50 return ticket.
Ferry operators include Sindo Ferry, Majestic Fast Ferry and Mozaic Ferry Lines. Mozaic Ferry Lines directly brings passengers to Bintan Lagoon Resort.
6. Joyo Island
With shoreline dotted with crystal clear waters and pale sands, you are very welcomed to catch the true laid back atmosphere of island living at Pulau Joyo.
The whole island can be rented out for celebration more than 10 adults.
Offering sense of peacefulness, time spent in this picturesque island is truly one of the best experiences in lifetime.
But avoid coming over in monsoon season because some activities cannot be carried out within this period.
What To Do In Joyo Island:
Jog at the gorgeous beach and spot the wildlife.
Play sports such as badminton, bocce ball, football, table tennis and beach volleyball.
Enjoy Indonesian-style fishing arranged by the resort.
Achieve high level of relaxation at the spa – Bale house.
Request for fireworks if you are here for celebration.
Catch both sunrise and sunset from the palace.
Hunt for beautiful shells and corals along the beach.
Enjoy star gazing after dinner.
Set up a bonfire and play around with friends.
Where To Stay In Joyo lsland:
1. Joyo Resort
A private island beach resort equipped with luxury, excellent food and exciting activities. Built with driftwood architecture, the very spacious beach palace offers no air conditioning but ceiling fans to keep the rooms pleasantly cool.
All come with a private balcony and just few steps away from beach.
Also read: 15 Best Beach Resorts in Johor You'll Absolutely Love
Transport to the resort from Tanjung Pinang Ferry Terminal can be arranged.
How To Get To Joyo Island from Singapore:
From Tanah Merah, take the ferry to Tanjung Pinang at SGD$50 per person (90 minutes).
Then, embark on the bus to the private dock at Joyo Island (45 minutes). From the private dock, take another speedboat to Pulau Joyo (20 minutes).
7. Cempedak Island
Another private island near Singapore – Cempedak Island is famed for barefoot luxury escape which offers perfect relaxation and disconnection from city life. Opened all year round,
However, this island is not family friendly because only teenagers above 16 can visit the island. If you wish to bring little ones along, consider their sister island, Nikoi island which is as beautiful as Cempedak Island.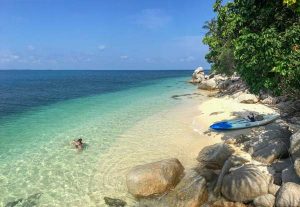 What To Do In Cempedak Island:
Dip in the sea or private pool and watch the sun goes down.
Enjoy water sports such as sailing, snorkelling, standup paddle boarding, canoeing and windsurfing.
Play croquet, tennis or boule at the resort.
Indulge in the spa for perfect relaxation.
Go for mountain biking to explore the mysterious island.
Request for cultural trips to learn about the native culture.
Enjoy island hopping to some of the most beautiful islands in Asia.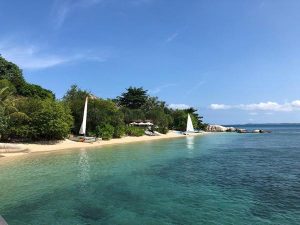 Where To Stay In Cempedak Island:
1. Cempedak Private Island Resort
Offers very spacious and private sea-view villas and beach villas. Villas are specially designed to facilitate natural ventilation and maximise the cool see breeze.
Open-air restaurant and bars are beautifully designed too. Food are fusion of international and Indonesian dishes at outstanding standard. Wine can be ordered too. Lots of activities available such as island hopping, mountain biking and spa.
How to Get Cempedak Island to from Singapore:
From Tanah Merah Ferry Terminal, take the ferry to Bintan ferry terminal (1 hour). Then, take a taxi to the jetty (1 hour) where the resort will arrange speedboat for you to Cempedak Island (30 minutes).
8. Telunas Private Island
Amidst the Riau islands in Indonesia, there's a private island paradise that you can afford and very close to Singapore too! Everyone who's back from Telunas Private Island still longs for another trip to this island some day.
Tailored to families and couples, Telunas Private Island could easily wipe away all stresses and leave you a happy mood to enjoy the simple pleasure of life. Pure relaxation is the highlight of this beautiful island, without compromising on luxury.
What To Do In Telunas Private Island:
Pamper yourself with a personalised massage at the balcony overlook the turquoise sea.
Experience a 10m tower jump right into the ocean.
Look for the Black Pool waterfall and take a dip.
Hike into the jungle and discover the floras and faunas.
Enjoy stand-up paddling and kayaking too keep you active.
Attend the cooking class to learn the authentic recipe of making the Indo sambal.
Socialise with new friends at the bonfire.
Stargaze at the dazzling stars through the telescope provided.
Lazy around at the Sunset beach.
Where To Stay In Telunas Private Island:
1. Telunas Resort
Telunas Resort has 15 well-designed sea villas offering spectacular views of azure sea, king size bed and sitting room.
Resort facilities come with infinity pool and bars with outstanding views, overwater spa or spa treatment right on your balcony, variety of land and sea activities and exclusive meals presented by their executive chef.
How To Get To Telunas Private Island From Singapore:
Telunas Private Island is 50km away from Singapore. You can take a 45-minute ferry from Harbourfront ferry terminal to Batam. Staff from the resort will then bring you from Batam to the island by taking speedboat.
9. Rawa Island
Disconnect from work and reconnect with loved ones at the Malaysia's hidden gems – Rawa Island.
Covered with lush greenery and surrounded by blue ocean, the island offers a quiet and peaceful environment for honeymoon, family trip and corporate retreats.
Also read: Rawa Island Packages (Which One Should You Really Pick?)
With little development, this unspoilt island offers you the purest island living, making you long for longer and longer stay.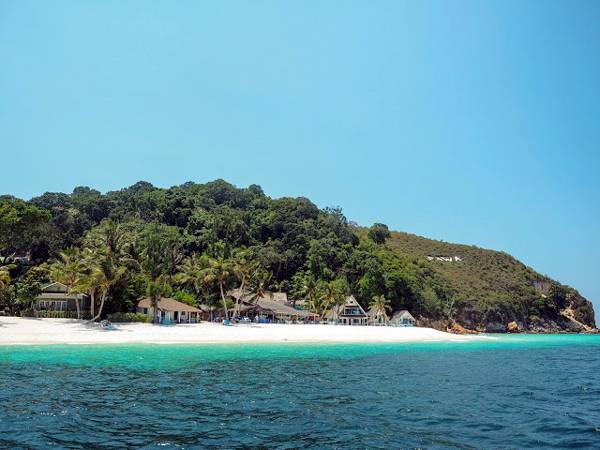 What To Do In Rawa Island:
Glide down the water slides into the ocean.
Explore the island by hiking up the trails to hilltop.
Enjoy island hopping to Pulau Mensirip and Pulau Harimau.
Admire the island from the ocean by kayaking.
Experience scuba diving with the dive centre on the island.
Snorkel in the sea to explore the underwater world.
Play beach volleyball with friends.
Relax on the hammocks and take a nap.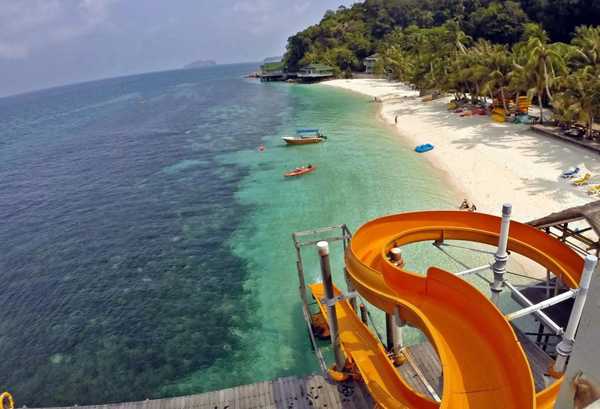 Where To Stay In Rawa Island:
1. Alang's Rawa Resort
A caring resort providing excellent hospitality and often offers deal packages. All rooms are gorgeous and come with charming sea views. Rawa Special Fish is the highlight at the restaurant.
2. Rawa Island Resort
A luxury resort with great facilities and offers sea view rooms. Wide array of water and land activities are offered. Indulge in their spa to maximise relaxation to the fullest. Food provided are fusion of western and local cuisines.
10. Tioman Island
Ranked as one of the world's most beautiful island, Tioman Island stands proud as one of the most visited tourist destination in Malaysia every year.
You are very likely to marvel at the cascading waterfall, dense jungle and see your feet through the water every time you dip in the sea.
What's even more surprising is that Tioman Island still retained the authentic life of a fishing village despite its development and popularity.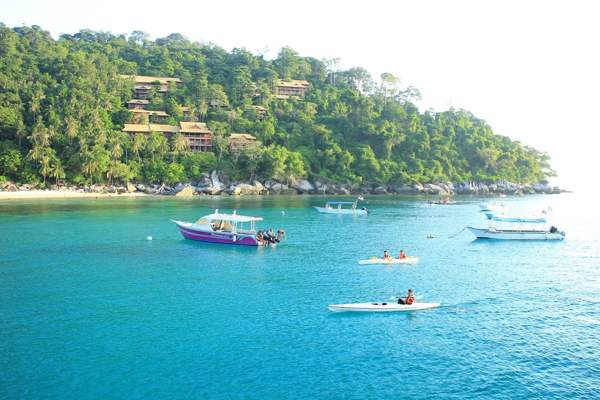 Play a game of gold at the Tioman Island Golf Club.
Participate in the scuba diving course and get yourself a diving license.
Enjoy snorkelling to see the beautiful corals and fishes.
Visit the Turtle Hatchery at Juara Village.
Hike into the jungle to find the amazing waterfall – Asah waterfall.
Enjoy stargazing while lying on the beach at night.
For exhilarating and exciting water sports, go to Juara Beach Tioman.
Where To Stay In Tioman Island:
1. Japamala Resort by Samadhi
Scenic view from rooms, exclusive spa treatments, variety of water sports and selection of Malay, Indochinese and Thai cuisines at this resort are just too perfect for a weekend escape.
Their warm and caring hospitality surely make your stay a pleasant one.
2. Beach Shack Chalet
Specially designed for budget travellers, this chalet offers elegant rooms at cheap rates.
Enjoy BBQ dinner or dine at the coffee shops and restaurants around. The place is very near to the Turtle Sanctuary.
How To Get To Rawa Island & Tioman Island From Singapore:
Singapore -> Mersing Jetty -> Rawa Island
Rawa Island and Tioman Island is only accessible by ferry (Tioman Ferry Schedule) or speedboat from Mersing jetty.
Normally when you book with the resort on the island, they will arrange the ride for you. But sometimes the ride could be delayed because of poor tidal conditions.
Also read: How To Get To Rawa Island From Singapore
To arrive at Mersing jetty, the fastest and the most convenient way would be taking a private car because unlike public transport which stops at every points, private car will bring you directly to Mersing jetty without the need to alight from vehicle even at the customs.
Besides, they will ensure your arrival before the ferry departs from jetty. And SGMYTAXI is the most trusted company offering this company in Singapore.
11. Kapas Island
Off the west coast of Terengganu lies an idyllic island – Kapas Island which homes to one of the world's most amazing coral reefs, attracting countless of divers all over the world.
This island is very small, with approximately 2.5km so getting around the island is very near and convenient. The best time to visit Kapas Island is around March to June when the days are in excellent weather.
What To Do In Kapas Island:
Go snorkelling to see the alive corals, colourful fish and even reef sharks!
Watch one of the best sunsets ever happened in Malaysia.
Start a beach volleyball battle with friends or other guests.
If you are a hiking fan, be sure to hike to the opposite side of the island.
Spot the owl around the Captain Longhouse.
Spot the turtles laying eggs at the ashore!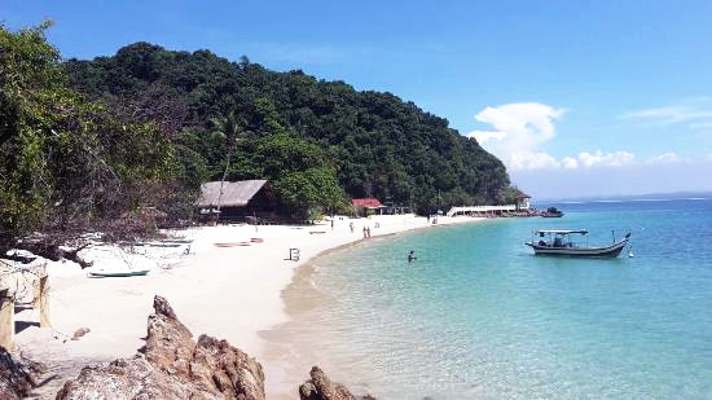 Where To Stay In Kapas Island:
1. Gem Wellness Spa and Island Resort
To experience a luxury island living, stay in this resort and enjoy their upscale facilities. Offering 45 water villas facing the sea, the resort also arranges water activities for guests such as kayaking, snorkelling and scuba diving.
2. The Lighthouse
For backpackers, this is a simple and budget place to stay by the seaside. You can just laze around, stroll along the beach or lying on the hammocks around. Note that you might be sharing bathroom with other guests.
How To Get To Kapas Island From Singapore:
Singapore -> Kuala Terengganu -> Marang Jetty -> Kapas Island
From Singapore, take the public bus to Kuala Terenggau located at upper east of Peninsular Malaysia.
Next, take a taxi or local bus to Marang Jetty and buy the round-trip ferry tickets at around RM30 to RM40. PulauKapas is just 20-minute ride from Marang Jetty.