Johor Bahru is a glimmering city at the southern tip of Peninsula Malaysia.
It is a popular city with amazing golf courses and golf clubs.
Visitors from all over Malaysia, Singapore, China, most of South Asia and all the way to Australia flock to the town for its theme parks, beaches, shopping, natural attractions and plenty of golfing activities all year round owing to its tropical climate.
Practically all the golf courses & country clubs in Johor Bahru are open to all golfer lovers.
Most of them combine golfing with other attractions to keep the golfers occupied when they are not teeing off and to accommodate their families and friends who are not golfers with activities that keep them from feeling left out.
They also welcome non-golfers to their resorts and the facilities that they offer.
There are many golfing establishments in Johor Bahru.
But the following are the most popular ones that you could consider when in Johor Bahru for a golfing holiday:
Johor Bahru Golf Courses & Country Clubs
1. Starhill Golf & Country Club
This is a country club that offers world-class golfing experiences and exceptional facilities for recreation and fitness. They also pride themselves with personalized service to all guests.
Starhill Golf Johor is located just outside Johor Bahru, the golf and country club is easily accessible from the North-South Highway by exiting from the EDL Highway at the CIQ. Starhill Golf & Country Club is only 30 minutes from the Singapore causeway through the city center.
Highlights:
Starhill Golf Course claims the plaudits of being the only golf course with 36 holes all of which are playable.
The club offers reciprocity for golfers from other clubs.
The 36 holes are shared by the Bintang course and the Bukit course.
Dining and lounging facilities are top-notch. The Hilltop restaurant, whose doors are open to the public, prepares delicacies to satisfy the local and international guests. The great food (local, Western, Japanese and Chinese) is complemented by the exclusive service and elegant ambience. There is the Lobby Lounge for drinks and winding down from the days on the fairways.
There is a Starhill Golf & Country Club Water Park for your enjoyment and that of your whole family or travelling party.
The Clubhouse sits proudly atop a hill with a superb view of the green courses. It has V.I.P
There is a Japanese Jacuzzi in there for proper relaxation.
Functional rooms allow for meetings and functions
For all golf provisions, there is a pro shop with the most modern goodies for sale.
Starhill Golf & Country Club
Address: KM6.5, Jalan Kampung Maju Jaya, Kempas Lama, 81330 Skudai, Johor Bahru, Johor, Malaysia
Map: 
https://bit.ly/2GVmik1
Tel: +607 – 558 8111 / +607 – 556 4102
Fax: +607 – 557 8267
Email: 
[email protected]
2. The Legends Golf & Country Resort
When you hear that the legendary Jack Nicklaus together with Arnold Palmer designed a golf course, you will stop to look and possibly try your drive there because it must be a great course. The course at Legend Golf Johor does not disappoint. An unequalled golf resort setting is what you will find here at The Legends.
Also read: 16 Fun & Memorable Outdoor Activities In Johor
It is a 40 minutes scenic drive from Singapore to Legend Golf Johor via Tuas 2nd Link. The almost rural setting gives the aura of an authentic country club feeling. Sitting on 1,200 acres, the resort offers a golfing experience to dream for.
Highlights:
Thoughtfully planned and designed, The Legends courses are what golfers look for; challenging, involving, scenic and serene.
The clubhouse: Erected to occupy several levels, the clubhouse has 110,000 square feet of space. With terraces for an outdoorsy feeling and a fine Chinese restaurant inside, relaxation is guaranteed.
The clubhouse also features a ballroom for corporate and private functions as well as high quality saunas to relax the body and mind.
The Legends Guestrooms: You have a choice of 32 rooms set in a special Asian style. You can choose from five categories of rooms depending on your needs and budget. All rooms are air-conditioned.
There is also an equestrian center for horse riding lovers.
3. Ponderosa Golf & Country Club
Taman Molek is a relatively new commercial hub in Johor Bahru. Apart from its thriving commercial activity, it also plays host to one of the finest golf and country clubs in Malaysia, the Ponderosa Golf & Country Club. The club is close to banks, malls, theme parks, hotels and residential districts.
With the city's skyline framing the horizon, playing golf at the Ponderosa Golf &Country Club is not only fulfilling and therapeutic, it is also an experience to remember as you will be playing with tropical greenery all around you. The other facilities make it more than a contemporary golf and country club.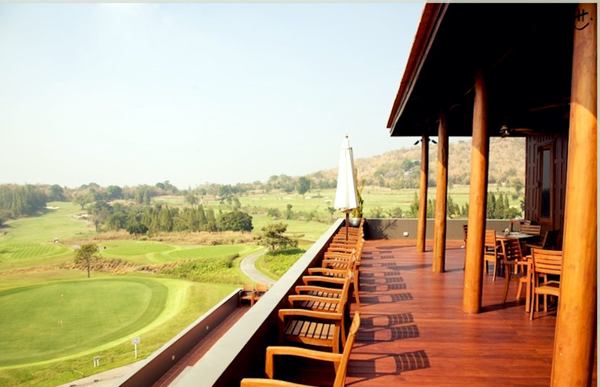 Highlights:
The clubs driving range is the main attraction here. This is where you can learn to golf as well as hone your skills. A resident golf pro helps with this. There is a children's program where your kids will learn the golfing basics and lead them on the way to be the next golf pros.
The MST pro-shop offers a wide range of golfing gear from a selection of premium brands as well as mid-range brands. There are usually promotions and stock clearances that you could look out for.
While the accommodation is not into the hundreds of rooms, what Ponderosa Golf & Country Club offers in all its 16 rooms would rival the best accommodation in Johor Bahru. The accommodation lodge is a 2 story facility with all the amenities available including parking, minibar and free WiFi. If you are staying over for the night, your catering is cared for.
Dining is at the Golfers Terrace, the Cantina Café and the classy Hop Sing Restaurant where you can savor the best of what two resident chefs conjure of authentic Chinese cuisine.
Ponderosa Golf & Country Club
Address: No. 3, Jalan Ponderosa 1, Taman Ponderosa, 81100 Johor Bahru, Johor, Malaysia
Map: 
https://bit.ly/2HagD7t
Tel: +607-354 9999
Fax: +607-355 7400
Email:
[email protected]
4. IOI Palm Villa Golf & Country Club (Near Senai Airport)
A few minutes' drives from Senai International Airport and 28 kilometers from Johor Bahru city center will get you to the IOI Palm Villa & Golf Resort.
The 27 hole course is set within the IOI development complex and it offers packages for residential and non-residential players. There are adequate facilities and enough space to accommodate pro golfers and amateurs as well.
Highlights:
Putra Course, Palm Course and IOI Courses are 9 hole courses where you can tee off from. This lets you have the feel of three different courses right within one golf club.
Palm trees line the sides of the fairways giving you an authentic feel of playing in the tropics all year round.
Other facilities include a world-class swimming pool to cool you down after a day in the greens.
The IOI Palm Villa Sports Complex adds to the facilities in the clubhouse. Here you will find the pools, tennis courts, the gym, and other sports.
The Ginza Health Spa: With well trained and experienced staffers, the massage parlors, the saunas and the Jacuzzis allow you to relax your mind and soul to prepare for another challenging round of golf.
IOI Palm Villa Golf & Country Resort
Address: PTD 44500, Jalan Indah Utama, Bandar Putra, 81000, Kulai Jaya, Johor, Malaysia.
Map: 
https://bit.ly/2EhUcKt
Tel : +607 – 599 9099
Fax : +607 – 598 8101
Email:
[email protected]
5. Horizon Hills Golf & Country Club
This golfing result has done well for itself for a golf establishment that opened in 2008 by becoming one of the most sought after golfing places in this part of Malaysia.
Also read: 11 Best Things To Do Near Legoland Malaysia (Utilise Your Trip At Legoland Malaysia!)
Designed to blend with the surrounding topography, Horizon Hills Golf & Country Club is located right inside Nusajaya with the property sitting on a 1,200-acre plot.
For Horizon Hills residents, the golf and country club has established itself as their epicenter of recreation.
Getting to Horizon Hills is easy as it is accessible via the Skudai Expressway, Perling Expressway, and the North-South Highway.
Highlights:
A 10 million dollar course designed by the famous Ross Watson, an Australian golf course architect, whose course designs have won him international acclaim.
The fast fairways here are a true golfer's dream as are the mint fairways.
A 17 million dollar architectural wonder club house that was designed by Ernesto Bedmar, an Argentinian architect of no mean repute.
5-star amenities for guests and residents. This is fine dining and lounge areas, an equipped gymnasium, a pro shop, a grand ballroom for grand events, and tennis courts.
An Olympic-sized swimming pool.
Horizon Hills was chosen to be a venue for the Iskandar Johor Open tourney which forms part of the Asia Tour.
The club offers reciprocity and affiliation to golfers from other clubs.
Horizon Hills Golf & Country Club
Address: No.1, Jalan Eka, Horizon Hills, 79100 Iskandar Puteri, Johor, Malaysia
Map: 
https://bit.ly/2ItPUCe
Tel: +607 – 232 3166
Fax: +607 – 232 3919
Email:
[email protected]
6. Senibong Golf Club
For avid golfers from Singapore, Senibong Golf Club (previously known as Poresia Golf Club & Resort) offers the closest greens to Singapore on the Johor coast.
It is only 30 minutes from Singapore to Senibong Golf Club via Second Link Tuas Checkpoint, golfers on day trips will have an easier time accessing the golf course than any other who travel further inland.
The club offers the same facilities to Malaysians as well as other international golfing visitors in the 1,700-acre property.
Highlights:
Pristine greens and fairways intelligently designed by the renowned Pete Dye.
The surrounding area is beautiful with tropical greenery on all sides of the fairways.
The closeness to the Tuas enables for golfers from Singapore to beat the causeway traffic jams as they can get there early and leave before the evening rush.
36 championship holes for all golfers; pro and amateurs alike.
Very well maintained courses in the gently contoured club.
A risk reward course with some holes featuring creeks across them.
Plenty of water hazards make for a challenging course.
The club house has a fabulous restaurant where you can recharge your batteries after tackling the holes. The dishes served are local fare made with an experienced touch and it is affordable.
Senibong Golf Club
Address: KM 36, Mukim Tanjung Kupang, 81550 Gelang Patah, Johor, Malaysia
Map: 
https://bit.ly/2IvMaQP
Tel: +607-596 4211 (Malaysia)  / +65-6734 3733 (Singapore)
7. Daiman 18 Golf Club
Daiman 18 Golf club is one of the most welcoming golf clubs for non-members who would like to tee off in Johor Bahru. It is situated right on the Pasir Gudang-Johor Bahru Highway in Johor Jaya, the scenic township.
Apart from golf, you will find a good place to relax and recreate at Daiman18 Golf Club.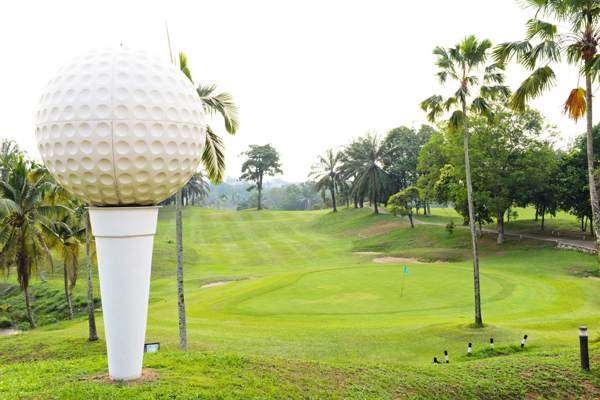 Highlights:
A beautiful and well-planned clubhouse to support the golfing function.
A welcoming culture for non-members especially those from the city, Malaysia and Singapore across the causeway.
Daiman Johor Jaya Sports Complex: An elaborate sports complex to complement golf is always a welcome addition to golf clubs. This resort has maximized this effect by opening their sports complex to the public and not making it look like a distraction to golfers and their families and friends.
The sports complex boasts an Olympic-sized swimming pool.
There are vast badminton courts as well as lessons in other sports like scuba diving.
Contacts Information:
Daiman 18 Golf Club
Address: LOT 115-630, Jalan Ros Merah 4/1, Johor Jaya, 81100 Johor Bahru, Johor, Malaysia
Map: 
https://bit.ly/2uNwLJx
Tel: +607 – 351 6813
Fax: +607 – 351 6823
Email:
[email protected]
Golf Resorts In Johor
8. Tanjong Puteri Golf Resort
Pasir Gudang, a vibrant and constantly growing industrial township a 45 minutes' drive from Johor Bahru and the Causeway to Singapore. It is also the location of the famous Tanjong Puteri Golf Resort.
An award-winning golfing resort which has been bestowed with The Best Golfing Experience in Johor honors, Tanjong Puteri Golf Resort is a wholesome golfing, sports and recreation establishment which has been maintaining its popularity all these years.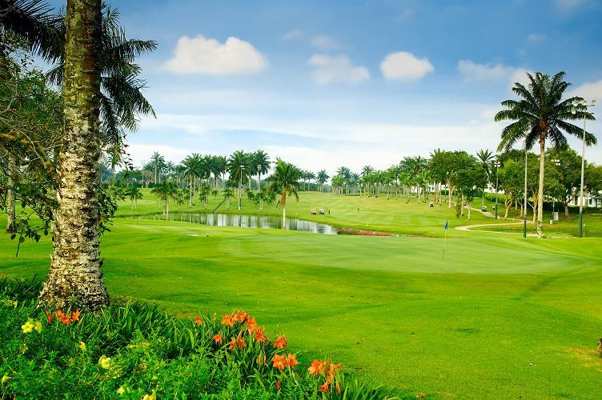 Highlights:
Tanjong Puteri Golf Course where you can play rounds and rounds of satisfying golf with friends or in competitions. These courses are: Plantation, Straits and Village courses.
There is a well-stocked pro-shop where you can select your gear from a wide variety of high quality to premium brands.
Accommodation is in 34 double story villas as well as 20 elegant guestrooms.
Dining is taken care of by restaurants, bars and lounges in five outlets in the resort.
There are meeting rooms and banquet halls
The sports and recreation departments have swimming pools, a gym, sauna and other sports to take part in when you are not golfing.
Tanjong Puteri Golf Resort
Address: Jalan Tanjong Puteri 1, Tanjong Puteri Resort, 81700 Pasir Gudang, Johor, Malaysia
Map: 
https://bit.ly/2q6YYX3
Tel: +607 – 271 1888 / +607 – 2596100
Fax: +607 – 271 1333
Email:
[email protected]
9. Austin Heights Golf & Hotel Resort
The elegance and class exhibited by this pristine resort is not by accident. Austin Heights Golf & Hotel Resort was built with utmost grandeur to attract the kind of person who seeks only the best.
The 18 hole golf course is a masterpiece and players who come here are left longing for the next round of golf. The course was designed by Peter Dalkeith Scott and the teeing off started in 1995.
The golf resort is about 43 kilometers from Tuas Second Link. Private car from Singapore to Austin Heights Golf & Hotel Resort via Johor-Singapore Causeway which is only a 30 minutes' drive.
Highlights:
The 18 holes are divided into two courses: Austin Course and Heights Course.
Professional staffs maintain the courses to ensure great conditions for golfing all-round the year for golfers who come from Malaysia, Singapore and other countries.
The undulating course has well-planned water hazards and rolling fairways which makes it challenging when playing for each hole.
Accommodation is at the hotel in the resort. A meaningful design has gone into each of the 65 rooms available for guests.
There is a free-form swimming pool that will keep you and your family and friends cooled enough and everybody will have a good time when they are not out in the fairways.
Facilities like the gymnasium and the sauna make your golfing holiday even better.
Austin Heights Golf and Hotel Resort
Address: Lot PTD 58061, Jalan Mutiara Emas 8, Taman Mount Austin, 81100 Johor Bahru, Malaysia
Map: 
https://bit.ly/2qcjyW3
Tel: +607 – 352 4300
Fax: +607 – 353 8500
Email:
[email protected]
A golf itinerary is not complete without teeing off at the two 18 hole golf courses at the Pulai Spring Resort which boast of USGA championship credibility.
The Melana Course was designed by Peter Delkeith Scott who is famous regionally for great golf courses while the Pulai course was the handiwork of Robert Trent Jones Jr.
The resort is 20 kilometers from Johor Bahru along the Jalan Pontian Lama Highway just off the North-South Highway.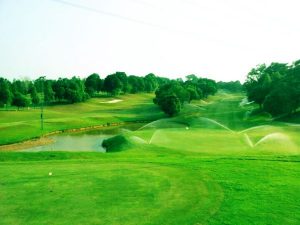 Highlights:
All the 18 holes are signature holes which add to their allure to golfers from all over Malaysia, Singapore and beyond.
The Clubhouse is filled with high quality contemporary facilities to keep all the guests comfortable, well fed, refreshed and occupied.
The Pulai terrace is the most popular spot in the club house because it is where golfers meet for snacks and drinks before or after a round of golf.
Executive staff and elegantly furnished rooms guarantee your comfort during your stay. The Anugraha is the residential section of the resort where you will find the Cinta Ayu All Suites for the discerning golfer who needs classy accommodation as well and serviced apartments too.
The Pulai Spa: With all the best treatments from south Asia, your quest for rejuvenation and relaxation is catered for here.
11. Sebana Cove Resort
Here is a Ted Parslow designed golf course; a hint that you can expect a great course beyond the clubhouse.
What Sebana Cove Resort has done is to is to fashion the golf course around the natural terrain and not the other way round as most courses are wont to. It is a great place to play your golf.
This resort is set in a developed township that is an hour's drive by way of the Senai Desaru Highway from Woodland.
It is also only 30 minutes from the ferry terminal at Tg. Belungkor-Changi Point. 2016 will see the launching of a car ferry which will simplify access from Singapore in a great way.
Highlights:
18 hole golf course is one of the main attractions here. Get your partners and enjoy golf in truly natural surroundings and you will cherish the experience for a long time.
The course is appropriate for the pro and non-pre golfers and it is open for new membership.
Accommodation is in tastefully low lying blocks where you have the choice of 40 rooms and 20 suites in complete luxury. If you are looking for tastefully furnished and well-appointed rooms, you will be in the right place. Expect all the modern luxuries coupled with traditional service which places a very high value on customer satisfaction. Whether overlooking the Marina or the lily ponds, the views from all the rooms are spectacular.
The Marina: There is a 100 berth marina at the result.
Sebana Cove Resort
Address: Lot PTD 2940/92/93/93 & 2931, Mukim Pengerang, 81620 Kota Tinggi, Johor, Malaysia
Map: 
https://bit.ly/2GVrPqW
Tel: +607 – 826 6688
Transport From Singapore To Golf Courses & Golf Resort Johor
When you are on a golfing trip, whether with your family or as a group of friends, the last thing you need to have on your mind is your transport arrangements.
This you can leave to SGMYTAXI that have the experience, the capacity and the right vehicles to take you to all golf courses and golf resort in and around Johor Bahru.
Book online now to get private car service from Singapore to golf courses in Johor and vice-versa.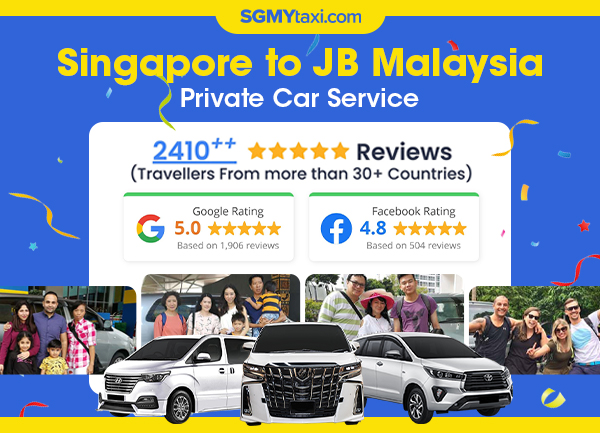 The MPV cars are well maintained, air-conditioned and staffed by professional drivers who are punctual and well versed with the complex highway systems in both Singapore and the Johor region.
Your reliable & excellent choice of private car service, SGMYTAXI for Singapore to/from Johor golf course.
We guess you would want to know….