Ponderosa Golf & Country Club Johor

Conveniently located within a 15 minute drive away from Johor Bahru city, this golf and country club is situated within the modern township of Taman Molek.
Covering a total area of 6467 meters wide this 18 hole golf course was redesigned in 1996 by Ronald Fream and is no less challenging from other bigger turfs with its many water, sand and sloping green and fairways.
Modern facilities in the clubs' grounds offer guests other alternatives to golfing, with activities such as swimming, and tennis.
This is one destination to tee off at, for golfers who wish to play at night, as the club offers nighttime golfing with the aid of flood lights.
1. How To Get To Ponderosa Golf & Country Club From Singapore
Driving to Ponderosa Golf & Country Club from Singapore is easy via the AH2, and should typically take an average of just 50 minutes. Conserve your energy for the upcoming game, and why not opt for a private car service from Singapore to your destination.
1.1 Private Car/Taxi From Singapore To Ponderosa Golf Johor
Have your muscles take a rest and save them for your game on the green, by choosing a private car services from Singapore to Ponderosa Golf Johor.
Advantages of Private Car Services:
The MPV cars are spacious
Golfers do not need to alight the luggage at immigration checkpoints
Great service at affordable rate
Pick up at any location in Singapore at your preferred date and time
Non-sharing with other individual
Easy to make reservation
Golfers do not need to disembark from the vehicle to get passport stamp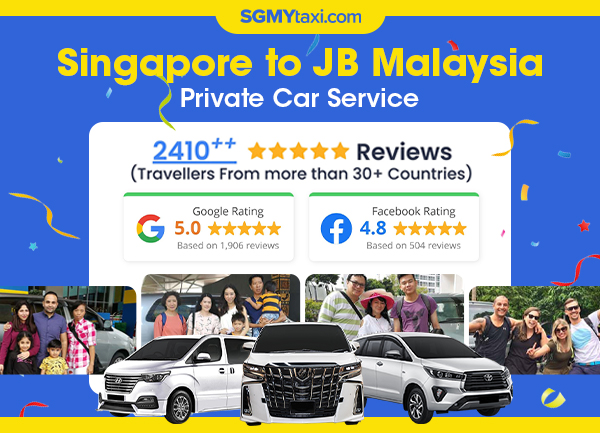 Book online today for a super comfortable ride and the cars can carry all your luggage and golfing equipment in these models with SGMYTAXI:
SGMYTAXI Fleet & Capacity:
(i) Toyota Innova (6-seater MPV)
4 passengers with their 4 golf bags
(ii) Toyota Alphard (7-seater MPV)
5 passengers with their golf bags
(iii) Hyundai Starex (10-seater MPV)
6 passengers with their golf bags
Whatsapp us for private car service from Singapore to your golf course in Johor Bahru today! Don't delay book you ride with SGMYTAXI today!
Also read: Taxi From Singapore To Legend Golf Johor
2. Ponderosa Golf Course Johor
With scenic and sweeping views of the hills on the green coupled with competitive sand and water features and slopes, will provide for a stimulating game for any golfer of any handicap.
The golf course is closed on Monday until 12:00pm for maintenance. Members and guests are expected to adhere to attire guidelines while on the green. Check here for more details.
2.1 Signature Holes
The course features 3 signature holes for players to test their shot and skill along the green. These featured holes are as follows:
(i) 7th Hole
The toughest of the par -3, the 7th hole requires players to be precise with the shot among the bunkers while not forgetting the wind factor especially when playing in the late afternoon.
Feature: Khaya trees, bunkers
Area: 168 meters
Par: -3
(ii) 9th Hole
This is the most challenging and longest hole on the course, with the overall design providing golfers a tough play.
Feature: Creek, Khaya trees, bunkers, hollows, mounds
Area: 543 meters
Par: -5
(iii) 16th Hole
The most interesting hole, as the area features a waterfall with a huge pond with views of Tebrau river in the background.
Feature: Waterfall, pond, sand bunkers
Area: 370 meters
Par: -4
Signature Holes Opening Hours:
Morning Session (AM): 7:00am – 9:30am (Daily)
Afternoon Session (PM): 12:15pm – 2:30pm (Daily)
Last Tee Off: 7:30pm
Also read: Taxi From Singapore To Poresia Golf
2.2 Night Golfing
For players who's up for something different, night time golfing may spark renewed interest.
Night Golfing Opening Hours:
Tuesday & Friday
Time slots available: 4:45pm – 5:30pm
3. Ponderosa Golf Rates & Membership Price
3.1 Ponderosa Golf Course Rates & Buggy Fees
Looking for Ponderosa golf rates? Here is the summary of golf rate for 9-holes and 18-holes for weekday and weekend. Golfers can refer for rates and charges of the course and buggy rentals:
18-Holes
Weekday (AM/PM): RM131.10
Saturday & Sunday (AM): RM253.70
Saturday (PM): RM169
Sunday (AM): RM230.00
Sunday (PM): RM131.10
Night Golfing (18H): RM93.40
9-Holes
Weekday (AM/PM): RM66.05
Saturday & Sunday (AM/PM): RM77.85
Night Golfing (Monday to Friday): RM70.75
Caddy Fees (optional): RM65/pax
Buggy Fees: RM40/pax
3.2 Ponderosa Golf Membership Price
Full term memberships are available and rates are including of golf (except social term membership), 12 month subscriptions and GST. The full term memberships for social, individual, family and corporate rates are stated below:
Individual Social Term Membership: RM1500 nett
Individual Golf Term Membership: RM4300 nett
Family Social Term Membership: RM2000 nett
Family Golf Term Membership: RM5500 nett
Corporate Social Term Membership: RM10,000 nett
Corporate Golf Term Membership: RM14,000 nett
3.3 Ponderosa Golf Driving Range Rates
The place where talents young and older sharpen their skills, the driving range has trainer Resident Golf Pro, Valli to assist and advise, and available for lessons as well. Do call the club and make advanced booking for lessons with Valli.
Driving Range Opening Hours:
Monday: 1:00pm – 10:00pm
Tuesday to Sunday: 7:00am – 10:00pm
Range Ball Charges
50 balls: RM7.00 Members / RM8.00 Non-members
100 balls: RM10.00 Members / RM12.00 Non-members
3.4 Proshop
Operated and owned by MST Golf, the pro shop on club grounds stocks all a golfers needs from equipment to apparel of various brands.
4. Outdoor Activities At Ponderosa Golf & Country Club Taman Molek
While golfers take a break from the game, and non-golfers seek to get active, the club offers an Olympic sized pool, a fitness center and a tennis court. For children, there's a wading pool as well.
Also read: Taxi From Singapore To IOI Palm Villa Golf Kulai
4.1 Swimming Pool
The swimming pool area is wide and has an open plan, perfect for events or gatherings too.
Rates:
10 Hours/10 Times Swimming:
Member: RM 235.85 nett
Non-member: RM 283.02 nett
Sunday Training (Group):
Member: RM 40.57 nett
Non-member: RM 61.32 nett
4.2 Tennis Court
Guests can play at the courts until night time, a nice respite from the heat of the day, though surcharges apply for the use of lights after 7:00pm.
Rates are published here.
Also read: Taxi From Singapore To Horizon Hills Golf Johor
4.3 Green Fitness Ponderosa
The fully equipped gymnasium is now managed by Green Fitness which promote outdoor sports activities outdoors with nature.
Many programs are available for guests to participate including:
Mixed Martial Arts,
Body Combat,
Muay Thai,
Yoga,
Zumba,
Pilates,
Aerofit
5. Dining At Ponderosa Golf Malaysia
A few eateries on club grounds provides guests with food and beverage of various styles whether it's for a quick bite or for a complete meal.
5.1 Golfers Terrace
A local menu of Chinese and Malay mixed dishes right up to more Western dishes such as burgers and pastas and sandwiches, this terrace café overlooks the green for impressive views from its verandah.
5.2 Cantina Sports Pub & Cafe
A lounge area, steps from the concourse of Golfers Terrace, has two pool tables and the space is a spot for catching live sports as the evening brings in live performances by a singing duo or group. Light snacks are available for guests.
5.3 Hop Sing Chinese Restaurant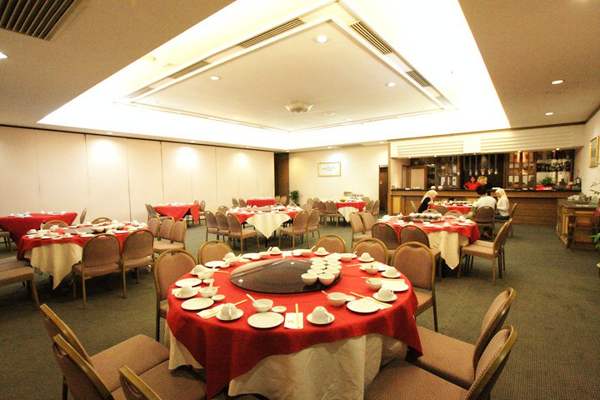 Headed by a team of professional and experienced Chinese chefs, this Chinese restaurant on the second level of the main club house boasts a menu of dishes replicating traditional Chinese fare right up to versions of imperial court influenced dishes.
Recommended dishes:
Peking Duck,
Herbal Chicken
Bird's Nest
Buddha Jumps Over the Wall
6. Banquet, Seminar & Wedding At Ponderosa Golf & Country Club Johor
For meetings, office gatherings and more, various areas and rooms are available on club grounds to accommodate groups large and small.
6.1 Banquet & Seminars Setup at Ponderosa Golf & Country Club
Guests may select their preferred dining style and function area, together with special rates and packages here.
6.2 Weddings at Ponderosa Golf & Country Club
Planning for your special day? Ponderosa Golf & Country Club has two great locations with on club grounds to host your memorable day. Guests opting for a garden themed wedding can host the event outside and of course the halls are available for use as well.
Complete wedding packages are available here.
Also read: 6 Best JB Wedding Venues
Ponderosa Golf & Country Club

Location: 3, Jalan Ponderosa 1, Taman Ponderosa, 81100 Johor Bahru, Johor, Malaysia
Contact: +607 354 9999
Email:
[email protected]
Fax: +607 355 7400
Website
|
Facebook