Horizon Hills Golf & Country Club Johor
Operating since 2008, Horizon Hills Golf & Country Club is hailed as one of the top premier golf clubs in the southern state of Johor, Malaysia.
The club was developed at the cost of USD$10 million in the massive 1200 acre region of Nusajaya Johor.
The 18 hole international golf course itself was designed by revered Australian course architect, Ross Watson and the clubhouse by Argentinean Ernesto Bedmar ensuring guests are welcomed to a 5 star environment from fitness to dining and more.
Wonder no more, we've the breakdown of the Horizon Hills Golf & Country Club for you in this entry so let's read on.
1. How To Go To Horizon Hills Golf & Country Club Johor Bahru From Singapore
Transport options from Singapore to Johor golf courses are fairly limited since these golf course and resorts can be quite a way from any public transport hub, so the logical and straightforward method of travelling is by private car or own transport.
But don't add on to your pre-holiday stress and book a door to door private car service. Never considered this? Don't worry too as we're about to share with you why you should, so read on.
1.1 Private Car From Singapore To Horizon Hills Golf & Country Club Johor
Dealing with the stress and bother of navigating, luggage and golf bags, travelling with family or friends and having to drive early to make it for morning tee off can be stressful.
Why not consider taking SGMYTAXI private taxi from Singapore to Horizon Hills Golf Course Johor that'll take you door-to-door, without having to step out of the vehicle at immigration checkpoints and more, for you.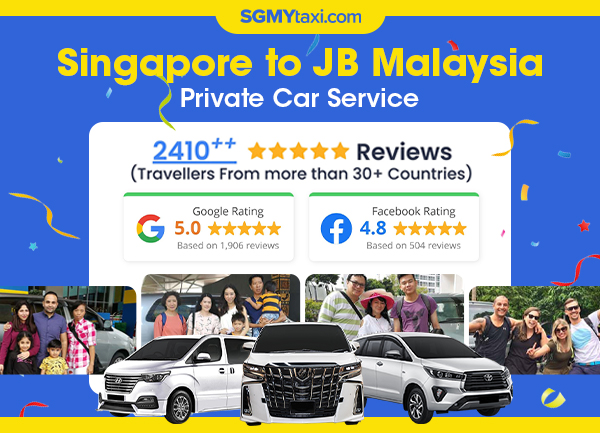 With a private car service from Singapore to Horizon Hills Golf & Country Club, Golfers and travelers can arrive at their destination rested and ready for activities and rounds on the green.
Advantages of Using Private Car/Taxi
No need to bring your golfing equipment up and down of Immigration buildings to get passport stamp
Provide a smooth and comfortable ride
Spacious MPVs and suitable for a group of golfers
Direct pick up at any location in Singapore and drive you to Horizon Hills Golf & Country Club
Competitive rates
Choice of select fleet
Experienced drivers familiar with Singapore and Johor routes and destination
Easy booking process
So, what are you waiting for? Book online for your next journey to Johor golf course with SGMYTAXI today!
Save your time and energy for your golf game. Discover how to make your trip a more memorable one, where SGMYTAXI passengers can be assured of great service at affordable prices.
2. Horizon Hills Golf Course Johor
With plenty of awards and accolades under its belt, Horizon Hills Golf & Country resort is host to the renowned championship, the Iskandar Johor Open.
The terrain of the course will bring out the best in any level of player, and guests will surely be impressed with the layout providing players with plenty of risk shots.
Also read: Taxi To Palm Resort Golf & Country Club From Singapore
The 18 hole Par 72 course was built with nature in mind and is nestled among the valleys of Horizon Hills, beautifully landscaped for an unforgettable play.
Featuring sand faces and bunks with fairways of paspalum grass amid a challenging layout, the course will test the skill of any avid player.
The legendary Ross Watson had designed the course so players are challenged at every hole and where strategy comes into play a lot, even for the most experienced golfers, here's a quick look at some of the notable holes on the course:
(i) Hole 2 Par 5
On the left of two creeks is a small waterway and the teebox is at an angle, but think ahead before you swing your drive, as you'd require more drives should the first attempt land you in more tricky creeks.
Also read: Taxi To Pulai Spring Golf Resort From Singapore
(ii) Hole 4 Par 4
A short hole with stunning views, be warned not to get distracted by the landscape as this hole isn't easy to get by with sloping fairway, water and paspulam hazards around the hole. Take a aimed shot depending slighting on the slope of the tee point to give you a better advantage.
(iii) Hole 17 Par 3
Known as the best of the Par 3 holes, it's one to experience as though it's a short hole, its large area means it can have several pins at once, and offers players a dramatic game at this hole depending if you're comfortably on the green or on the other side of the pond.
Also read: Taxi To Starhill Golf & Country Club From Singapore
(iv) Hole 18 Par 5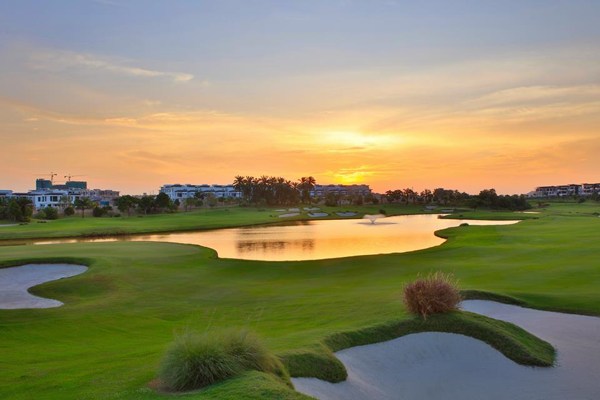 The final hole is a special one that's well known in the golf community for it has its own island where if you land, more skills and strategy comes in to play as it could land you in the waterways. It is exciting to play and ideal with a partner.
Length: 6271 meters
Par: 72
# Hole: 18 hole
Greens: Tifeagle
Fairways: Seashore Paspalum
3. Horizon Hills Golf Rates & Membership Price
Rates below are for members and non-members alike. Do contact the club to make prior bookings to ensure you've a spot to play on the green.
3.1 Horizon Hill Golf Rates
(i) Weekday Golf Package
Rate per player: RM 203.00 nett
Tee off time (morning session): 7:15am – 9:35am
Tee off time (afternoon session): 12:29pm – 2:42pm
(ii) Weekend Golf Package
Saturday:
Tee off time (morning session): 7:15am – 9:35am (RM 387.00 nett per player)
Tee off time (afternoon session): 12:29pm – 2:42pm (RM 350.00 nett per player)
Sunday:
Tee off time (morning session): 7:15am – 9:35am (RM 350.00 nett per player)
Tee off time (afternoon session): 12:29pm – 2:42pm (RM 218.00 nett per player)
Note:
1.) Rates are inclusive of golfer's insurance, twin sharing caddy fee, buggy fee, 18 holes green fee
2.) 7 days prior bookings are required
3.) Golfers must already have a valid Handicap card
4.) For maintenance purposes the course is closed on Mondays, except on Public Holidays
5.) For confirmation on bookings, players are required to fill up credit card authorization
6.) For cancellation of bookings allow for 48 hour prior notice as later notice will incur a RM 400 notice billed on credit card
7.) On the greens, players are advised to adhere to the attire guidelines
8.) Final tee off for 18 hole is 9:00pm and 8 hole 5:30pm
9.) Golfers to be at Golf Counter 15 minutes before tee off time to personally register themselves
3.2 Horizon Hills Golf Membership
If you want to become of Horizon Hills golf membership and also benefits as a member, you can email them at [email protected].
4. Horizon Hills Golf Club Facilities
For all guests golfing and non-golfers alike can enjoy the wide range of facilities at the club, to stay fit, get energized and be ready for the next play on the green way.
You truly won't find a dull moment at the club with various fitness programs on offer that'll keep you on your toes.
Also read: Taxi To Tanjong Puteri Golf Resort From Singapore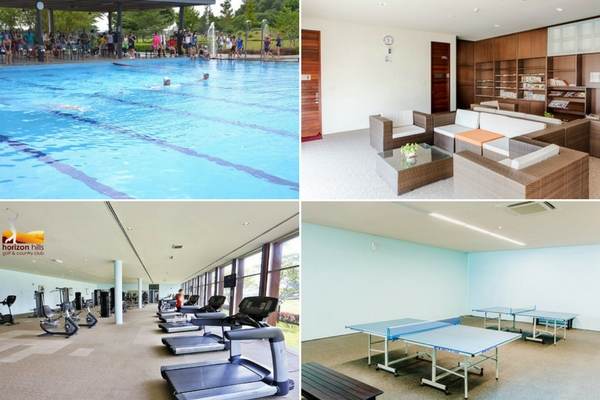 Swimming pool and kids pool
Reading room
Table tennis for up to 4 pax
Modern gymnasium
Kids playground
Sports shop for various attire and equipment
Special fitness programs available as below:
Swimming lessons
Taekwondo lessons
Zumba class
Yoga class
Yogalates class
Aerobic class
General fitness class
Circuit Training class
Also read: Outdoor Activities In Johor
5. Dining at Horizon Hills Golf & Country Club Johor
Guests have four choices to dine in at and have their fill while taking a break from the green or to just to sit back with a snack to enjoy the breath taking views and scenery.
5.1 Golfers' Terrace
Diners can enjoy a wide range of popular Western and Asian dishes at the terrace with beautiful views of the course. Don't take our word for it try out some of these tasty dishes for yourself:
Baked Tortilla Lasagna with Tuna
Quail Baklava
Ox-tail Soup
Prawn Fritters
Indonesian Seafood Curry
Baked Pasta
Cornish Pie
Thin Crust Beef Sashimi Pizza
Monday: 11:00am – 7:00pm
Tuesday to Friday: 7:00am – 9:00pm
Saturday & Sunday: 6:30am – 9:00pm
5.2 Cross-Over Bar
A café like eatery located on the ground floor of the main clubhouse, is perfect for some light snacks, with servings of sandwiches, fried noodles, and nasi lemak.
Tuesday to Friday: 8:00am – 6:00pm
Saturday & Sunday: 6:30am – 6:00pm
Closed on: Monday
5.3 Cathay Chinese Restaurant
With an all glass left exterior that reveals the lush tropical greenery of the course, guests here truly enjoy a complete dining experience, elevated by the dishes prepared by a world class team of professional chefs.
Tuesday-Sunday: 11:30am – 3:30pm; 6:00pm – 10:00pm
Closed on: Monday
5.4 Poolside Cafe
As the name suggests, this cafe is located by the main swimming pool and kids pool, where guests can cool off from the heat of the day and recharge with light meals and snacks. The cafe open space also means it's a great event venue as well.
Tuesday to Friday: 12:00pm – 8:00pm
Saturday & Sunday: 9:00am – 8:00pm
Closed on: Monday
6. Banquet & MICE Events Facilities At Horizon Hills Golf & Country Club
Look no further for a formal or entertainment venue to host your annual dinner, wedding or conference as the Horizon Ballroom is fully equipped to make your event a memorable one, as it has a grand stage, ample light and sound systems, and drop down projectors.
For smaller events, the ballroom can be divided into room ideal for meetings and seminars. Guests can personalize the menu for their event, and the ballroom can accommodate up to 450 pax.
Horizon Hills Golf & Country Club Johor
Location: 1, Jalan Eka, Horizon Hills, 79100 Iskandar Puteri, Johor, Malaysia.
Contact: +607-232 3166
Fax: +607-232 3919
Email:
[email protected]
Website