Have you ever wondered where is the best place around Johor Bahru to escape from the busyness of urban city life?
You're about to find out the perfect getaway to calm and relax your mind.
Engulfed in pristine garden-like location, Le Grandeur Palm Resort surrounded by natural greenery which calms the soul.
Be prepared to indulge yourself in the warmth and relaxation.
You'll be there in just 3 minutes swift drive from Johor Senai Airport and 30 minutes smooth drive from the city of Johor Bahru or Woodlands Causeway.
It is just less than an hour drive from Singapore.
Le Grandeur Palm Resort Johor Review
It is a 4-star luxurious resort offers its guests all modern amenities you would expect from such accommodations.
With a touch of exclusiveness and luxury, it's the perfect place for a honey moon or even just a short family get away from all the hustle and bustle of city life.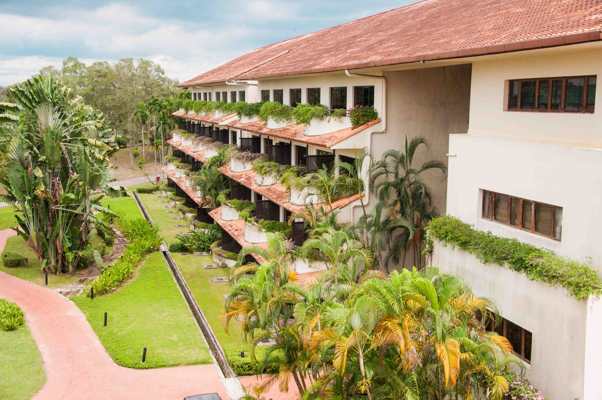 As you step out of the cab, you'll be warmly greeted by courteous concierge and kind receptionists.  Ensuring smooth check in to your room and all your luggage are transported in the safest and fastest way possible.
The lobby is finished with vibrant beautifully carved timber, majestic jade-like marble which is not only grand but gives away a feeling of royalty. It indeed reflects the resort's name in its architecture.
As you walk up the timber stair case to your rooms, and walk by the halls you will be surprised to find out as you open the doors to find a very warm roomy and welcoming sight.
So, take a quick trip from Singapore to Le Grandeur Palm Resort Johor to enjoy the regal accommodation of this hotel.
Type of Room Available In Le Grandeur Palm Resort Johor
Depending on the room of your choice, be it the top of the line, Presidential Suite, Signature Suite, Executive Suite, Deluxe Suite or the Deluxe King or Twin rooms, expect a very pleasant stay.
The rooms are luxuriously defined by the spacious rooms, beautiful marble works on the bathroom with bath tub and a plethora of amenities that will give you relaxation after an eventful day.
This exclusive twin bed room consists of two single bed which is perfect stay for two people be it friends or a pair of siblings.
24 hours room service, high speed Internet connectivity via Wi-Fi, designer label toiletries, towels, bathrobe and slippers, flat screen HD TV with satellite connection and so much more.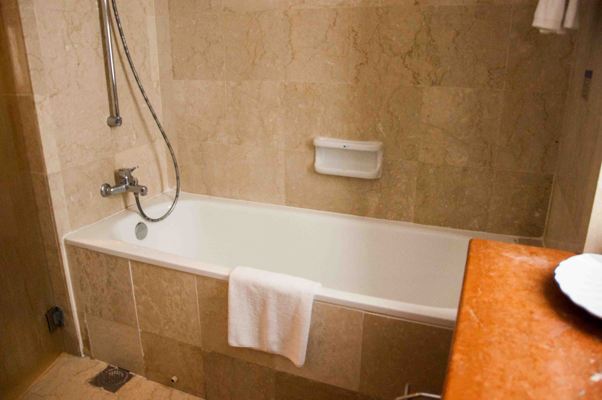 The decor and ambient of the room makes you for a comfortable stay. There is a large window balcony which oversees the resort.
The deluxe king room offers a large king size bed which is perfect for the couple. The large comfortable bed is overwhelmed by the soft pillows and fluffy comforter. With unbelievable softness, you can sleep on this bed like a cloud.
For the suites, a special mini bar in-room for hang-outs and drinks with your friends and loved ones, the furniture are all of the best quality and is properly selected to match the room's design.
Lay back and relax from the seats as you enjoy the majestic tropical garden view of the resort from the balcony window.
Exclusive to the suites, two ergonomically placed side by side so you can brush your teeth or wash face together with your love one, a perfect honeymoon set-up.
Going up the grand black marble, the large bath tub also fits two for the newlyweds.
Exclusive room lighting is carefully placed to lighten up the mood and lamp stands for your night light or just for a quiet relaxing reading light before you go to bed.
No worries, everything you simply need is in the room, mini refrigerator, tea and coffee making facility, high definition television with all your favourite channels and radio and most importantly a speedy wireless broadband internet access.
When you're lying on the bed, everything from lights to your air-conditioning can be controlled from the bedside electronic control device.
If you're leaving your room rest assured as you can keep your valuables in the safe deposit box provided.
If there is any in room dining or service requirement, you can just simply dial the number at any time of the hour as the resort provides 24-hour room service for your ultimate convenience.
Executive Suite

Signature Suite

Presidential Suite
Café & Restaurant Available in Le Grandeur Palm Resort Johor
To fulfill your food cravings, in the resort itself, there are 6 multi-cuisine restaurants including exclusive Japanese and  Chinese restaurants – with chefs from many countries.
Each giving unique tastes of Asian and Western food. Each has different atmosphere. Feel free to pick your delicacy and enjoy the vibe. Any food and beverage promotion, you can click HERE to know more details.
A fusion dim sum based restaurant which brings the unique "Yam Cha" culture from Hong Kong. Xin Shan Long is located at the heart of Le Grandeur Palm Resort Johor.
The dim sum cuisine is prepared by chef Hong Kong and not only offers traditional dishes but also a fusion of other regional and local cuisines.
The special dishes such as Hainanese Herbal Mutton Soup, SzeChuan Clay Pot Chicken and others are served in a very contemporary Chinese atmosphere.
2.) Sobashei Japanese Restaurant
True to its tradition, Japanese cuisine namely tempura, sukiyaki, sashimi, sushi you just name it.
These foods are easily one of the healthiest with concentration on fresh fish, seafood, rice and vegetables among the ingredients used. The pungent sauces and delicate flavour complement each other beautifully.
3.) The Bar
A simply nice and warm place to meet up with friends and catch up for evening. Simply own the menu in order to quench the thirst and satisfy your hunger.
It's located at the resort's concourse, and gets alive on the evenings. The cool open ambient of The Bar, with its unique timber rafters, makes for a nice entertaining evening.
Also read: What To Eat In Johor Bahru: 65 Good Food To Eat In JB
4.) The Grill at Cocomo
Located at Le Grandeur's poolside, housed in a Malay inspired architecture, houses an engaging venue with a very colourful setting of signature cakes, pastries, barbeques, buffet and fine dining.
Specialty teas, coffees are provided making it a very nice place to hang-out and enjoy the crowd.
5.) The Ishwara Brasserie and Terrace
This beautifully timber designed restaurant with warm lightings overlooking the pool. The brasserie provides a various array of buffet based on Asian based and local delicacies.
Occasionally the chef's will display their culinary expertise by cooking outside making you inspired in awe.
6.) Torquoise Poolside Bar
While you're wading in the pool and looking to chill with a drink, the Poolside bar will provide all your refreshments.
Be it a sandwich or a cool mango smoothie, the pool side bar will provide your leisure and pleasure for an enjoyable relaxing chill.
Golf Course in Le Grandeur Palm Resort Johor
Le Grandeur Palm Resort provides excellent golf courses for the avid golfers. There are 3 golf courses in Palm Resort and each provide 18-hole golf course namely as below:
It is designed as the resort's course, as it is the golfer's most favourite course which spans through beautiful water passes, daunting sand bunkers and beautiful manicured gardens.
It is a championship course with pro-level difficulty and demands the golfer's full concentration. It measures 7,156 yards from the pro's tees, which requires focused execution.
It is an open course and carpeted with beautiful greens complimented by Serangoon fairways. It is also played as a link course with a first tee only start and is the longest of all the three courses at 7,205 yards.
Spa & Massage in Le Grandeur Palm Resort Johor – Le Spa
After a tired day of activities and for those just wanting to relax, the spa in resort is perfect with every possible pampering for complete tranquility. Just define your leisure, nothing is impossible.
From the moment you step into Le Spa till the moment you step out you will be pampered like royalty. The warm and kind therapists will attend to your every request with the right amount of pleasure.
Also read: Top 13 Spa & Massage in Johor Bahru
The ambience of Le Spa is relaxing and filled with fragrance that cures your soul. It is a wellness center where you can receive the best massages, facials, body scrub, manicures, pedicures and other services by the professionals.
Le Spa is devoted to provide services that enhance your overall well-being through a variety of professional services that encourages the renewal of mind, body and spirit.
Things To Do At Le Grandeur Palm Resort Johor
There are a lot of activities to be had at Le Grandeur Palm Resort, among those are,
1.) Garden by walking or bicycle
In order to enjoy the stunning view of the tropical gardens of Le Grandeur Palm Resort, you can get a cool drink and sit at one of the few small gazebo just outside the resort's open space while breathing in fresh warm tropical air.
Rental bicycles are also available for exercise and touring the large expanse of the resort's garden.
The gardens is perfect for morning or evening walks.
2.) Swimming pool and children facilities
As for outdoor activities at Le Grandeur Palm Resort, as you have already noticed, there is a super large outdoor swimming pool.
For families with little children, you can bring them to Kid's World playground where you can let them loose at the children play room. This is also where you can keep your toddlers entertained.
3.) Shopping facilities
Shoppie mart, a little shop where one will find Malaysian culture trinkets, souvenirs, snacks and sweets. Simply convenient for those who are looking to bring back trinkets for memory or gifts for friends and love ones.
Your stay at Le Grandeur will be memorable and if you have cravings to shop, Johor Premium Outlet is just a stone throw away. Johor Premium Outlets is a collection of 130 designer and name brand outlet stores which will satisfy your shopping needs.
Also read: How To Go To Johor Premium Outlet From Singapore
4.) Indoor Activities
There is no end to the facilities in Le Grandeur resort. For those who are into bowling, there is an 8-lane bowling alley. It is indeed a great place to have fun with family and friends.
Equipped with indoor squash courts, dartboards, billiards and snooker, table tennis, board games and even a mahjong room for those uncles and aunties who enjoy a friendly game of mahjong.
5.) Outdoor Activities
There is no shortage of outdoor activities, with 4 tennis courts, a lawn court for any games ranging from futsal, volleyball, netball, athletics and team building activities, tele-matches to outdoor aerobics, you just name it. There is also an archery range to test your skills as well.
6.) Gymnasium
The gym is there for those looking to keep their fitness to the tip-top level, it is equipped with all your muscle building tools. The gym coach is a bodybuilder who can advise you the correct technique to work out your muscles without inflicting injury.
7.) Tourist Landmarks
Landmarks of tourist interests are nearby, namely the Putuo Village, Twin Peaks Dive Center, Kulai Waterfalls and many more interesting places. The hotel concierge will gladly provide more tour info. Just kindly give them a call and they are at your service.
How To Get To Le Grandeur Palm Resort Johor From Singapore
Since Le Grandeur Palm Resort is just close by to Singapore, this makes it so popular with tourists and honeymooners looking for a hidden nearby escape.
In a nutshell, Le Grandeur Palm Resort is the perfect getaway. So make sure to choose the best private car service when holidaying out of Singapore.
Book with us for private car service that will ensure safe and pleasant travelling experience to Le Grandeur Palm Resort Johor from Singapore and vice versa.
At premium MPV taxi service rates tailored just for you, contact us today and let us make your trip an unforgettable one.
Address: Le Grandeur Palm Resort Johor, Jalan Persiaran Golf, Off Jalan Jumbo, 81250 Senai,  Johor, Malaysia.
Contact: +607-599 6000
Fax: +607-599 6301
Email:
[email protected]
Website
|
Facebook