Planning to visit Johor Bahru soon?
But worry to squeeze in the bus and wait for more than 2 hours in Singapore-Malaysia border?
Other alternative is using direct TRAIN that travel across Singapore and Malaysia DAILY with fix schedule.
You can take the train from Woodlands Train Checkpoint to JB,
But how to take bus from Singapore nearest MRT to Woodlands Train Checkpoint?
No worry, we will guide you how to go to Woodlands Train Checkpoint in details!

Woodlands Train Checkpoint
Woodlands Train Checkpoint is a well-known cross-border railway station in Singapore that located right after the JB Sentral- Singapore Causeway.
Shuttle Tebrau train travel passengers across the Causeway for only 5 minutes and most importantly less passenger volume at the custom. That makes this transport very high demand and popular.
Due to these reasons, passenger must keep updated online to purchase their ticket as most of the peak hour ticket will be sold out within second especially for holidays.
1. Bus To Woodlands Train Checkpoint From Nearby MRT
There are few buses that can take us to Woodlands Train Checkpoint. People can choose either one that is convenience to their area.
But the best way to get to Woodlands Train Checkpoint is from Marsiling MRT station.
1.1 Marsiling MRT To Woodlands Train Checkpoint
Once you reach to Marsiling MRT station, walk out through Exit C. Head to the bus stop opposite Marsiling Station by crossing the bridge.
Double confirm your station by checking the station name on the board.
Wait for #856 bus. Hop in the bus and ride for 3 stops to Woodlands Train station at Woodlands Centre Road bus stop.
Follow the signboard and walk for few minutes, you will reach the train station
Alternative ways
1.2 Kranji MRT To Woodlands Train Checkpoint
Cross the bridge to the bus stop at the opposite of the station.
1.3 Woodlands MRT To Woodlands Train Checkpoint (Woodlands Integrated Transport Hub)
There will be signboard leading you to the integrated transport hub, once you exit from the MRT station.
Recommend to queue at Berth 12 for #911 buses for shortest travelling time.
2. How To Go From Woodlands Train Checkpoint To JB
2.1 Firstly, Purchase Shuttle Tebrau KTM Train Woodlands To JB Ticket
Online
Step 1: Access to KTM Shuttle Tebrau website https://shuttleonline.ktmb.com.my/Home/Shuttle
Step 2: Choose your Origin point, date, and number of people up to 6 people.
Step 3: Choose your preferred timeslot
Step 4: Fill in your personal information, along with your passport ID number
Step 5: Payment via credit card payment or online banking
Notes:
Payment can be easier if you download their apps and top-up credit into e-wallet
Cannot find destination for Woodlands CIQ? Make sure the type of KTM is under Shuttle Tebrau.
Tickets in weekends sold out rapidly
Over Woodlands Train Checkpoint Counter
As another method, you can purchase the ticket physically at the train station counter. But make sure your purchase 20 minutes before the train depart.
Not recommend because the timeslot might be sold out, and you to waste your time return to bus station.
Don't risk your time while you can get everything online!
2.1.1 Woodlands To JB Train Schedule
Woodlands Train Checkpoint to JB Sentral (Total 13 rides daily)
8.30am | 9.45am | 11am |12.30pm | 1.45pm | 3pm | 4.15pm | 5.30pm | 6.45pm | 8pm | 9.15pm | 10.30pm | 11.45pm
JB Sentral to Woodlands Train Checkpoint (Total 18 rides daily)
5am | 5.30am | 6am | 6.30am | 7am | 7.30am | 8.45am | 10am | 11.30am | 12.45pm | 2pm | 3.15pm | 4.30pm | 5.45pm | 7pm | 8.15pm | 9.30pm | 10.45pm
2.1.2 Woodlands To JB Train Peak Hour
Morning Session:
Long Weekend Eve Session:
Notes:
To be aware morning and evening ride are hot sale which people purchase for their travel to work and school purposes
Purchase ASAP for hot sale ticket such as peak hour, holiday, and long weekend eve. (Link to long holiday post)
2.1.3 Woodlands To JB Train Ticket Price
One-way trip from Singapore to JB – SGD 5.00
One-way trip from JB to Singapore – RM5.00
Notes:
One pricing only, no seniors and student price
Children below 4 years old are free, but registration needed at counter before departure
Malaysian to be recommended purchase round trip ticket ONLINE, as both tickets can be purchase in MYR.
2.2 Secondly, Make Your Way To Woodlands Train Checkpoint From Singapore City
2.3 Then, Take Woodlands To JB Train
Queue in-front of departing border
There will be a signboard showing your departure status. Once its shown Gate open, enter and keep walking and enter the immigration counter.
After immigration process, you may enter the train.
Hop on the train and get seated. Its free seat, means you can sit where ever you prefer.
Food and beverage are allowed in the train. Fresh up yourself during this short travel.
2.4 Lastly, Arrive JB!
You will arrive to JB Sentral in 5 minutes. Good news is that you don't have to share the same custom area with people that taking buses.
Enjoy the less crowded and faster way to go through the custom, this is the reason why people are more prefer to take train and their ticket always sold out.
Once you arrive JB Sentral and exit the custom, you will see the road sign that leading to several places.
JB Sentral is directly linked to City Square Mall, where most of the Singaporean will visit this mall right after custom for their shopping craving.
Or you can exit JB Sentral and take the lift down to the main gate and head to the Pick Up/Drop Off spot for GRAB, Taxi that bring you to your destination.
But.. What If You Don't Want To Take Train?
Not everyone want to take train and sometimes you just want to sit back, relax and enjoy your trip and have someone else do all the stressful navigating.
If that's the case, private car from Singapore to JB (SGMYTAXI) are for you.
For family trip especially with elderly or children, private car transport is the best option.
Easy to book via WhatsApp.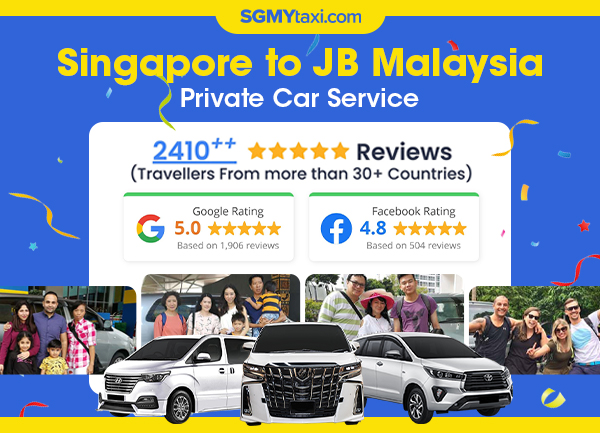 Why Choose SGMYTAXI?
Enjoy your trip with your family without travel hassle
Fair prices
Flexible pick-up location, date and time
Reliable and experienced drivers
No need to queue at immigration custom
Great condition of vehicle that can provide comfort ride
Clean and Sanitized vehicles
No need to pay for parking fees
EASY BOOKING via WhatsApp!
Recommended for:
Group of more than 3 travellers
Family vacation with elder and children
Traveller that has tight and urgent trip
Tip:
Book in advance to avoid fully booked, especially during peak holidays & long weekend.
Inform in advance if any child seat
Trip to JB, ii is no longer a difficult task!
Hope this sharing can help you to get you well-known about an alternative way to Malaysia.
You may try this quick and easy guide to Johor Bahru for your short vacation.
Which takes only 5 dollar, and 5 minutes!