Planning on visiting Malaysia through JB Sentral during school holiday with your friends?
But always got confused at the buildings after exiting immigration…
Wondering where exactly and what JB Sentral is?
Here is the guide for Singaporean that is first time visiting JB Sentral that we have summarize so that you don't have to!

1. Overview Of JB Sentral
For first-time visitors, they might be confused about which building is the JB Sentral because of the complicated geographical location, especially after exiting Singapore Immigration.
Therefore, for better understanding hereby it is the pictures of the nearby building

JB Sentral is considered the Transportation Hub that is surrounded by CIQ and City Square Mall..
Visitors from Singapore will mostly go through 3 of these buildings every time when they exit Singapore from Immigration.
2. JB Sentral Transportation
JB Sentral is a main transportation hub in JB that can be divided into:
2.1 JB Sentral Bus Terminal
Located under at the basement of JB Sentral.
Walk across Gate 6 in JB Sentral.

Follow the signboard instruction that lead to basement.
Go down using the escalator
Arrive at the bus terminal
Several bus company providers are heading to different locations in Johor.
Destination and pricing can be checked through their website.
Notes:
This terminal mostly travels inbound in JB
For cross state, recommend to take bus at Larkin Terminal where located 10-15 minutes from JB Sentral
2.2 KTM JB Sentral
Well known by its Shuttle Tebrau which takes only 5 minutes to Singapore.

But people do not know that KTM also provide cross-state service to different states in Malaysia.
Strongly recommend for Singapore traveller that wish to have a train travel in Malaysia.
2.3 JB Sentral Taxi / Grab
Convenient for visitors that wish to continue their journey from JB Sentral to Senai Airport, Legoland Malaysia or Johor Premium Outlets after arriving JB Sentral.
Easy and fast pick up!
2.4 Walking Pathway
Essential walkway to enter and exit Singapore. Located at Gate 6 near Rotiboy
Singapore visitors and Malaysian must be very familiar with this pathway. It link between CIQ and JB Sentral.
3. JB Sentral Sim Card
Do you have a Malaysia number?
Could not surf the internet?
Expensive data roaming?
First thing to do will be to purchase a sim card to continue for further journeys.
Several Malaysia telecom service providers for you to choose based on your preferences.
Notes:
Singaporean required to show your passport for number registration
Maxis, Digi, Celcom, Umobile will be the top choices for people
4. JB Sentral Food
Felt hungry after a long wait and queue at immigration?
Still have time before KTM departure?
JB Sentral has few choices for visitors that are craving for food.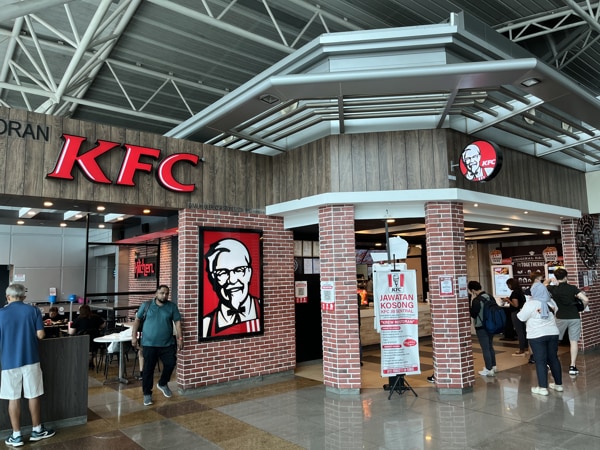 From light food that for children to main course for adults
Notes:
Recommended for visitors that have packed time but wanted to fill up themselves
There are more restaurants and food choices in JB City Square Mall for those who are not rushing time
5. JB Sentral Currency Exchange
Many exchange counters you can look out for in JB Sentral.
Do not worry if you did not bring enough cash or rush to exchange in Singapore.
Notes:
Always compare the rates between each counter
Check out (link) for latest rates.
6. JB Sentral Informational Counter
Most importantly their informational counter, located just right in-front of the KTM counter.
Look out for them for more travelling details or doubts!
Staff are friendly and willing to help!
7. Additional Info
Convenience Store
Singaporeans that have a Malaysia phone card but expired can settle their bills at the counter here.
Perfect place for traveller to purchase any items that is missed out from your journey
Washroom
Located right next to KFC
For your information, immigration process to Singapore may take long times during peak holidays.
So, its better you can visit the washroom before entering to CIQ!
ATM

The only spot that has an ATM is right in-front of the washroom.
Might have a long queue at some peak period!
Ultimate guide of JB Sentral so that you will not be panicked for your first visit here!
Summarize info for travelers that would like to study on how to travel to Malaysia though JB Sentral!
But.. What If You Don't Want To Take Public Transport?
Not everyone want to take public transport and sometimes you just want to sit back, relax and enjoy your trip and have someone else do all the stressful navigating.
Here I recommend hiring a private car from Singapore to JB such as SGMYTAXI.
For family trip especially with elderly or children, private car transport is the best option.
Easy to book via WhatsApp.
Why Choose SGMYTAXI?
Flexible pick-up location, date and time
Reliable and experienced drivers
No need to queue at immigration custom
Great condition of vehicle that can provide comfort ride
Clean and sanitized vehicles
No need to pay for parking fees
EASY TO BOOK via WhatsApp!
Recommended for:
Group of more than 3 travellers
Family vacation with elder and children
Traveller that has tight and urgent trip
TIPS:
Book in advance to avoid fully booked, especially during peak holidays & long weekends.
Inform in advance if any child seats are needed.